When I first sat down with Katie Bilancini and Phil Kerlin at Caribou Coffee in Avon, I got the feeling that these two would be a great couple to work with. The two were really easy to sit down and connect with, a very warm and inviting couple. As we got to talking, I discovered that we had a ton in common – not the least of which is Phil's personality (a bit of an organizer, likes to talk and tell stories).
After a bit of deciding (picking your photographer is a huge choice!) they gave me a call and told me they were ready to book. Being in a bit of a hurry to secure their date, Katie & Phil chose to come to visit me the next evening to finalize their booking. And what followed was exactly why I am excited about shooting their wedding next July. These two didn't just come over and sign a contract, drop off a check and leave – nope – they spent a couple of hours with my wife and I, just shooting the breeze! It was a really great time, resulting not in just new clients for my business, but new friends as well.
Truthfully? This is one of the reasons I love shooting weddings. I've never wanted my photography to simply be a transactional element of a couple's day… I want it to be more relational. Good pictures come from a couple being comfy with their photographer, feeling free to be themselves And a good photographer knows how to bring out a couple's unique personalities in an image. I'm so excited to be shooting their wedding in July, and so confident that the photographic art-work we'll be creating together will be top-notch, all because of how well we've connected so far.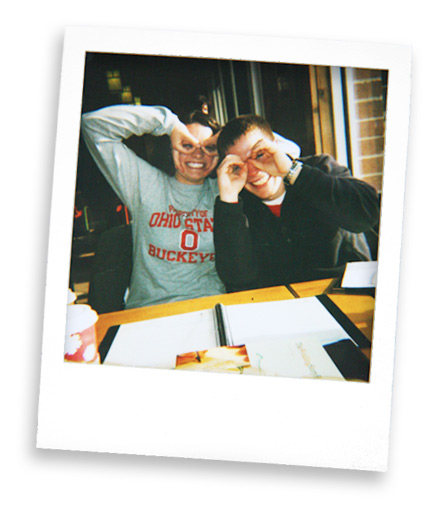 Here's a snapshot of these two – just so you can get a little imagery to their hilarious personalities. Our goal in this little Polaroid snap was to have the two of them make the "batman" mask with their hands… but one of them wasn't quite able to pull it off.

With a little bit of improvisation, Phil came up with a sweet substitute, and now we've got a nice starter for their wedding photography.
Posted In Bookings