Every day is different – every day is unique. You must embrace this reality as a creative wedding photographer. Without that simple mind-set, you can easily find yourself locked into the confines of predictable photography. And that is precisely why I love couples like Shauna & Jason – ready to make their wedding their very own, ready to let go and have fun, and enjoy one of the biggest days of their lives in – in their own style.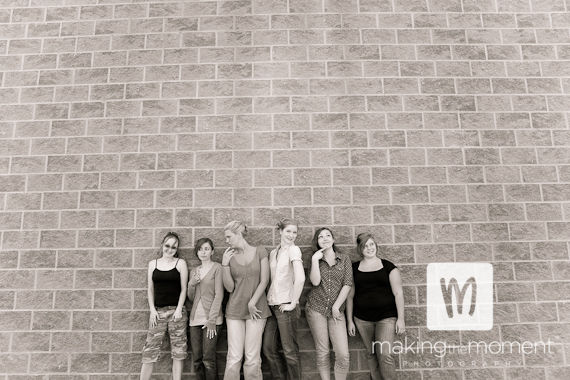 Our day started at Lavish Color Hair Salon in Cleveland – and it was a sweet and fun time.  The girls were a fun group (as you can gather) ready to laugh and enjoy Shauna's big day.  Of course, they were pretty gracious with a certain photographer creatively spying on their morning.
Don't let the hiding fool you – by the end our morning they were digging how much fun candid photos can be. 🙂
Shauna looked BRILLIANT throughout the morning – this girl has a smile and a laugh that don't quit!  I so enjoy photographing ladies like Shauna – she's uber-photogenic, and loves to laugh and play with the camera.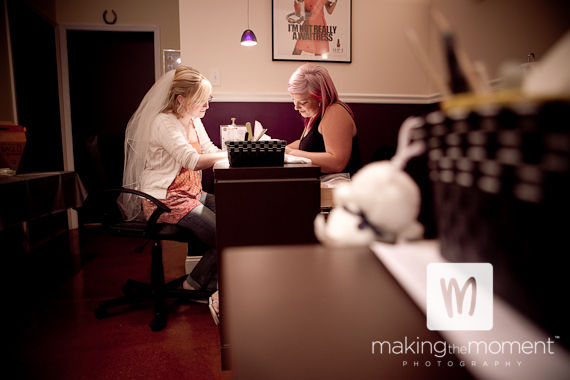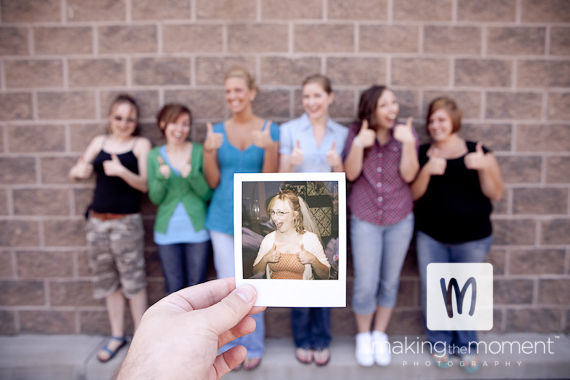 While Shauna was finishing up her nails, the ladies and I stepped outside for a quick shot.  Shauna really wanted a shot with all the bridesmaids together, but was stuck inside.  Some "MacGuyver-like" Polaroid action saved the day! 😉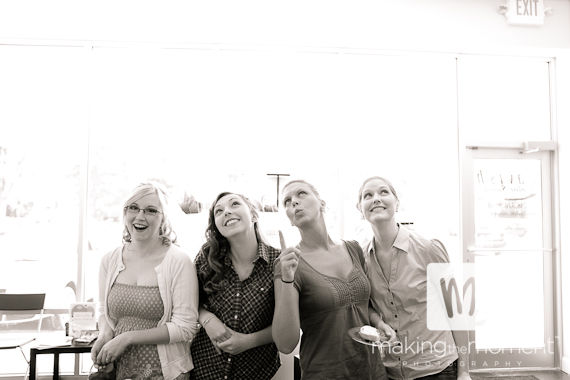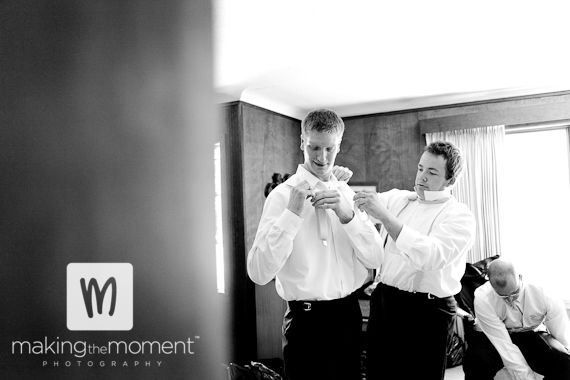 The guys?  What can I say – I love a group like these.  Good friends to the end – I tracked them down a bit later as they were getting dressed.  Of course, when it came to getting some creative shots, I can't tell you what a blast it was.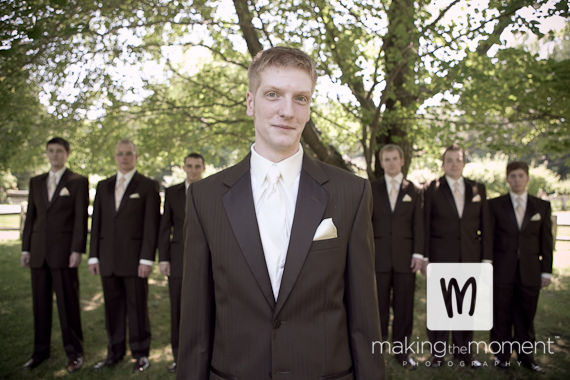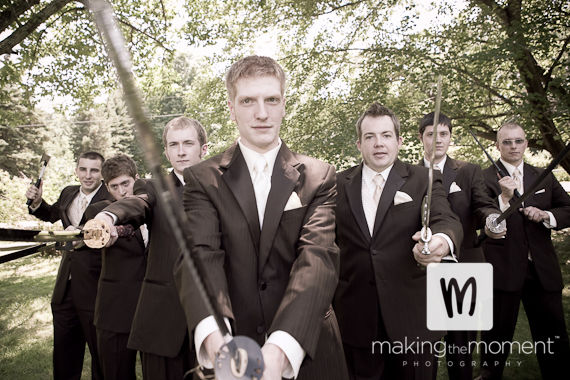 When doing creative portraiture – the simple rule is "no idea is a bad idea".  So when the topic of conversation drifted to weaponry (This type of conversation is more prone to groomsmen than to bridesmaids for sure!), somebody suggested that we pull out some swords for our creative shots.  Only problem is – who has swords?  These guys do!  One of the groomsmen actually had a nice stash of swords in his trunk!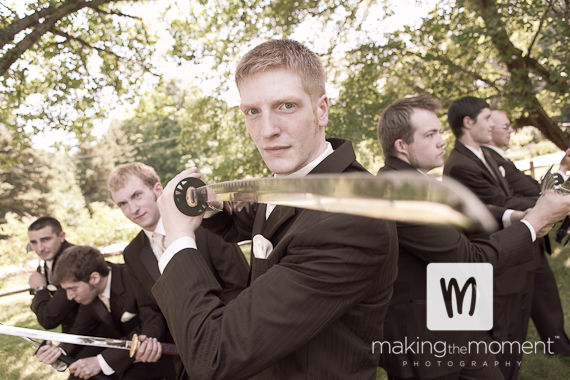 Now, I'm not going to comment to deeply on why or why not swords would be in someone's trunk, but I'm pleased to announce that this twist of fate might have landed the coolest groomsmen pictures to date.   Challenged to pull of some "300"-esque poses, these guys had a great time.  The full set is unbelievable, and I'm pleased to add it to my portfolio. 🙂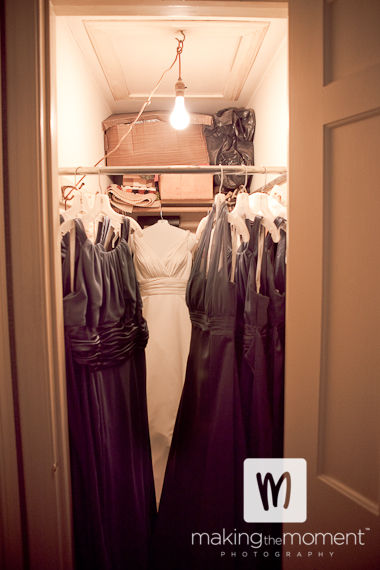 Eventually I was able to make it back to find the ladies – although not armed, they were raring for some fun shots of their own. I tracked down Shauna's dress hidden away in a closet with the bridesmaids dresses. I always love bridal gown shots – but sometimes you don't even need to set them up.
These girls were knock-outs – Shauna picked out some fabulous bridesmaids dresses for the girls! Albeit, I am a male – but I've started to pick up on bridal-wear – and Shauna can definitely pick out some stylin' lady-wear!  After getting ready, we went over to Howl-at-the-Moon in the flats, where one of the bridesmaids was able to hook us up with a private session in the bar area.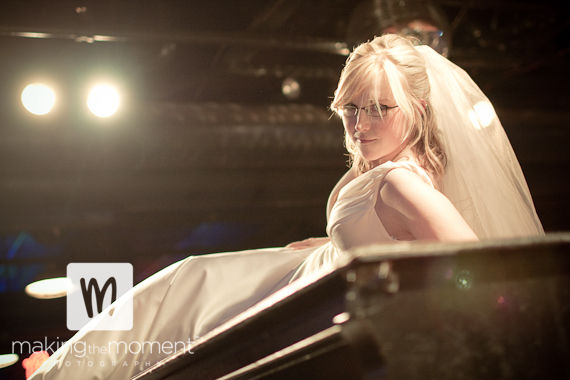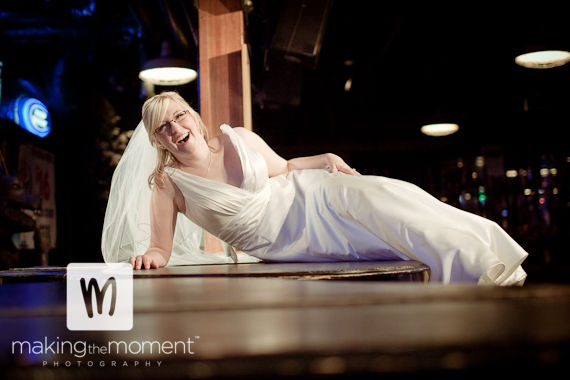 I love Shauna's willingness to play it up on the piano bar – she did such a great job playing the part!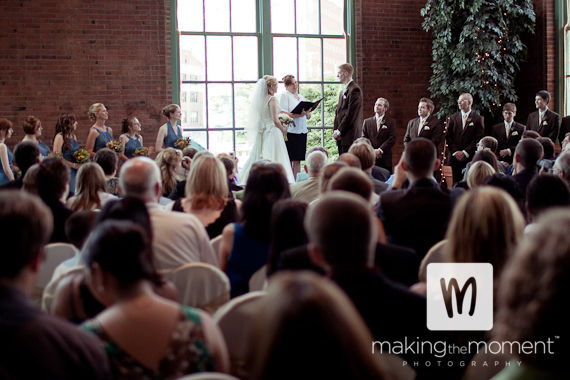 Their ceremony was BEAUTIFUL.  Notice the caps there folks – I mean it!  The formalities were conducted at Cleveland's Windows on the River , a phenomenal reception hall and ceremony site.  With the floor to ceiling windows, the natural light spill-in was just gorgeous.  I love the ironwork pillars and riveted columns that decorate the room – it really plays up on what a Cleveland wedding can be.  The photos from their ceremony are top-notch – I can't wait to shoot there again!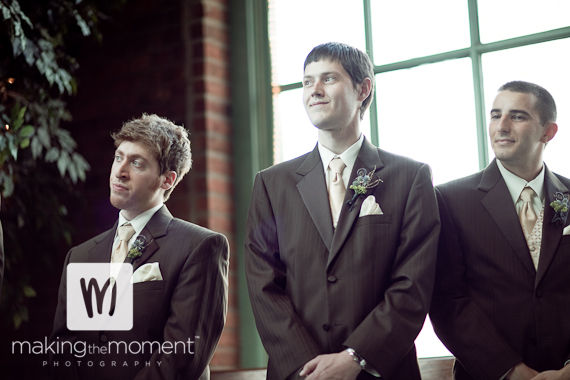 And their Creative Session?  With a last minute change of plans on location – we got innovative, and had a blast!  We explored the gritty-once-glorious Cleveland flats, and found some awesome shoot spots – we had a great time together, and made some awesome imagery together.
Of course their reception was amazing as well – taking place in the same room, at Window's on the River.  Check out the fun Ring shot I snagged below – an old Irish Tradition of placing rocks for the couple (engraved and autographed with well-wishes and hopes for the couple's marriage) was initiated, and I had a lot of fun with some of the rocks for the ring shots.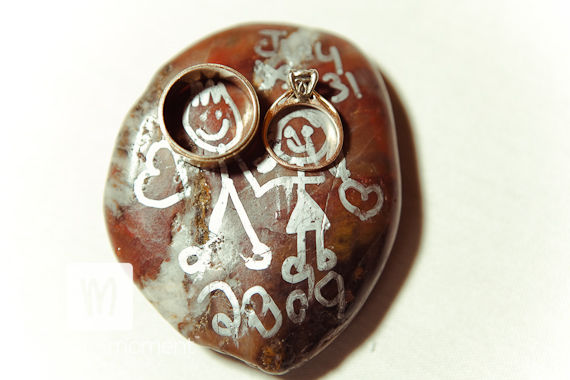 Their cake was stunning as well – covered to the hilt with fun and attractive floral arrangements – it looked fantastic.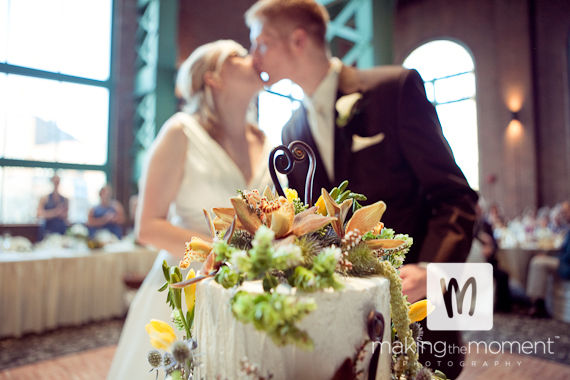 Anyways – I could write volumes on the day and how much fun we had, but I'll let the photos do the talking.  Here are a handful more of my favorites!  Shauna, Jason – I hope you enjoy – congrats you two!  It was such a pleasure serving you two!