One fun part of being a photographer is getting new toys to play with. Maybe it's the inner-geek in me, or just being a guy who likes shiny stuff, buying new gear is always fun. And as a business owner, it's a nice tax write-off



But beyond that, part of being a good artist is having quality tools to work with. And in the spirit of creative artistic photography (and nothing to do with loving shiny things…) I proudly present to you the two newest members of the Making the Moment family. My brand new Canon 5D Mk II 21.1 MP camera, and my Canon 24-70 2.8L lens!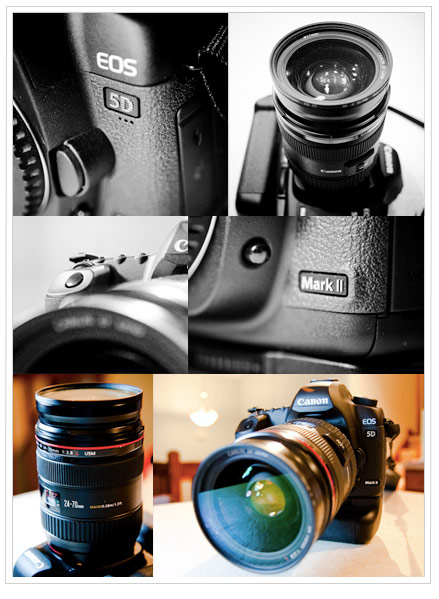 Understandably – these product names might not hold much meaning – if that's the case – suffice to say, they're sweet stuff. Another way of looking at these, is that they are an important "behind-the-scenes" detail for any bride I'll be working with in the years to come.
So why do they matter so much? Well, without getting into a lot boring "nerd-photographer" lingo, what it breaks down to is simply this. Better gear = better pictures. Now, as we know just having the right gear doesn't guarantee quality photography, but this equation holds true most of the time.
That being said, I'm a huge fan of "good glass" (quality lenses) – and the addition of the 24-70 is an important mid-range lens for me to work with, complementing my growing collection of high-quality lenses. Of course, it's a constant 2.8 aperture – this matters mostly for my ability to shoot low light situations without a flash. For the bride, this translates into me being able to candidly capture images in "low-light" situations (beauty parlor, dressing rooms, churches, etc) without the obtrusive firing of a flash. (Not only do I think flash photography can be annoying in private situations, but it also tends to make most images ugly – natural light is so much nicer!).
And the 5D Mark II? I don't even know where to start. This is THE camera. I'm blown away by it on so many levels. The truth is, I've been following this camera's production story for almost two years, waiting for Canon to release it. And now that it's out – it lives up to my expectations, and exceeds. Coming from my Canon 40D and 20D, this is a huge step up.
As I've been asked by multiple people for my thoughts on the new camera body – here are some quick reviews on the camera. I'll soon post a more in depth review as I get more field use out of it – but here are some immediate thoughts.
21.1 Megapixels
Ok – I've said it before, I'll say it again, I'm not a mega-pixel fan boy. There is way more to a camera than the size of the image it can shoot. The 21.1 will be very handy for cropping shots, as well as giving me the ability to print ginormous (is that a word?) images.
Low-Light Performance
This is revolutionary. The ISO settings on this camera expand to 25,600. If you're not familiar with ISO, it's one setting a photographer uses to allow the "film" of the camera (digital in this case) to capture light. The higher the number of the ISO rating you can lay onto the "film", the more light you can bring in from low light situations. The downside (there always is one!) is that graininess tends to trickle in on your images the higher the numbers go. What is exciting here – is that even at 3200 and 6400 (very high ISO speeds) I see very little grain at all. It's really amazing. And the fact that I can get to 25,600 now? Amazing! (I was previously limited to 3200). Two nights ago I shot a rock-show with it – and using no flash at all – shot wonderful night-time images. (I'll post those eventually too).
Shutter Button
Incredibly soft – at first, I was a little shocked by it – it's more organic than machined. I'm used to subtle clicks that my 20D and 40D possess while focusing and firing… but this feels more natural and soft. I'm still getting used to it, but it's growing on me fast.
Menu System
Although it's nearly identical in navigation to the last round of Canon EOS bodies, the system is WAY more fluid. It's pretty and fun to use – it feels much more well thought out, and not as utilitarian as previous installments of the Operating System.
Video Capability
Yes – that's right – it shoots video. Although on the consumer end of digital cameras, this is fairly normal – on the pro side of the world this camera is only the second to boast HD video as part of a respectable DSLR camera. I did say HD – this thing shoots full 1080P footage! It really is wonderful – but I still feel that this feature falls short of what it could be. I'm surprised I can't adjust my framerate to a cinema 24p, and the controls for adjusting the aperture and shutter aren't intuitive at all. You'd think that these would work just the same as while shooting still photography – but for some reason they don't. For my wedding work the video feature won't be used, but for my short film endeavors (yes, I have aspirations) I now have a great tool to play with. The best part is that I can use my entire lens collection for video now!
Alrighty – as this blog entry is getting a bit winded – I'll stave off my review here. I'll add in more as it goes. Feel free to hit me up with questions on the either of these!
Posted In Around Here, Photography Gear, photos