Being a Cleveland wedding photographer means that in the winter and spring months you're not doing a lot of wedding photography – so it's with sweet joy I am pleased to present the first wedding of 2010. Ladies & Gentlemen. I present to you Mr. & Mrs. McCoy!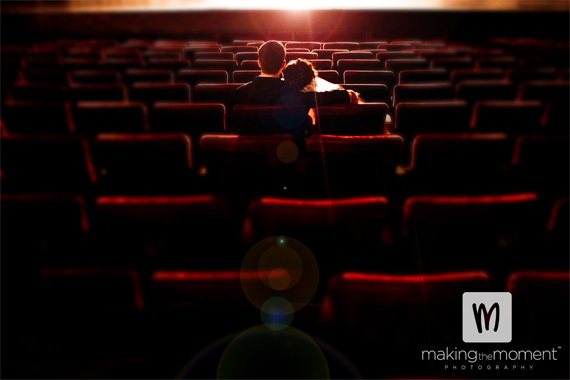 Bill & Katie are one of those couples you just simply enjoy. After spending the day with the two of them, I couldn't help but feel welcomed into a friendship with them – they're just that sweet!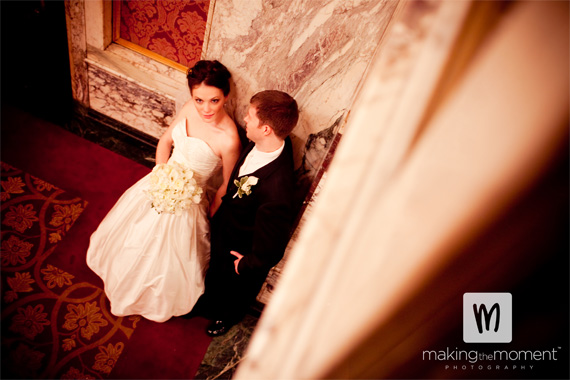 If you hadn't noticed – these two are uber-photogenic. That's a killer combo right there for a Cleveland wedding photographer – getting to work with couples that are fun, loving & good-lookin'! Now – you might feel as I'm brown-nosing to my clients here (maybe a bit?) but these two so deserve it. The day serving them was simply wonderful – and because we had such chemistry the photos are some of the best I've ever snapped.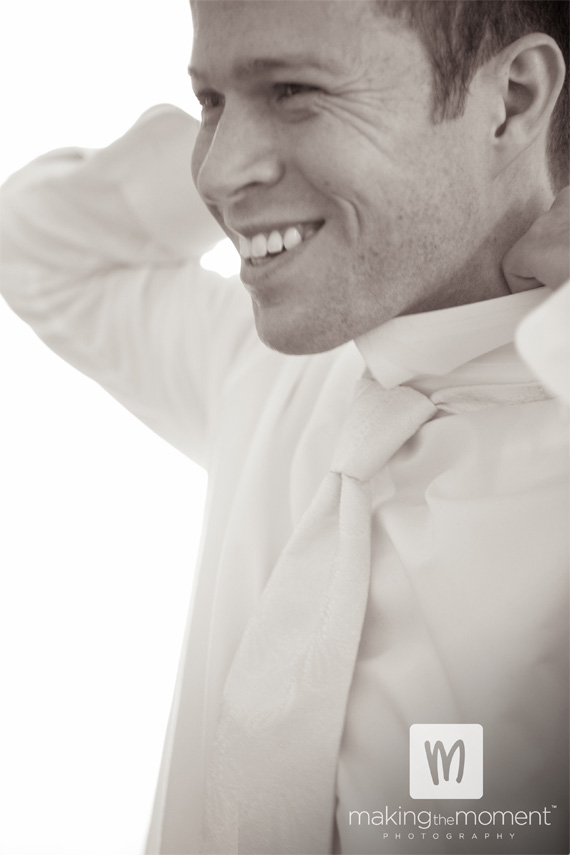 Our day started like a typical one – me spending time getting some nice candid photos of the two separate groups getting ready. I tracked down the gentlemen getting dressed  in their hotel rooms in Westlake – what a fun group. The guys were a nice eclectic group of personalities, ranging from a bit shy on one end – to a couple of really charismatic guys whom you couldn't help but enjoy being around. I snapped some classy shots of Bill putting on the ol' suit – I love how these came out!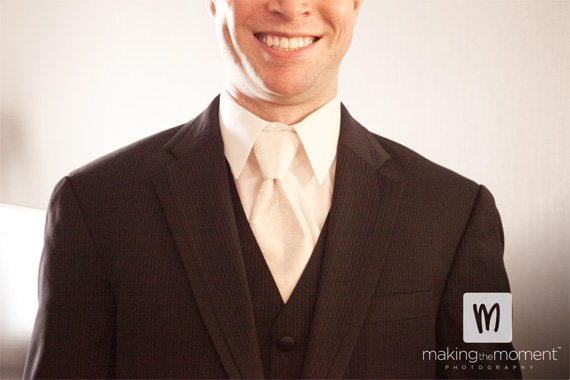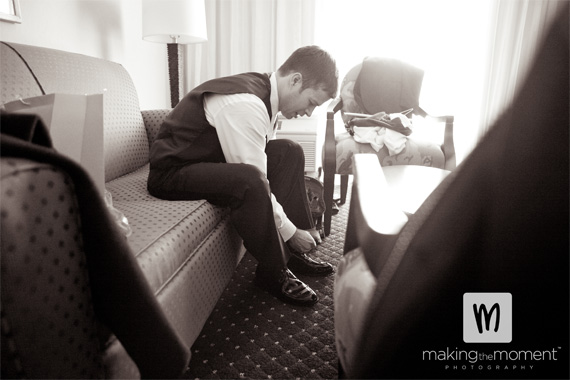 The ladies began getting ready for the wedding at Spa West in Westlake. That place ROCKS! They took great care of the girls, and the environment is so perfect for photo-journalistic coverage.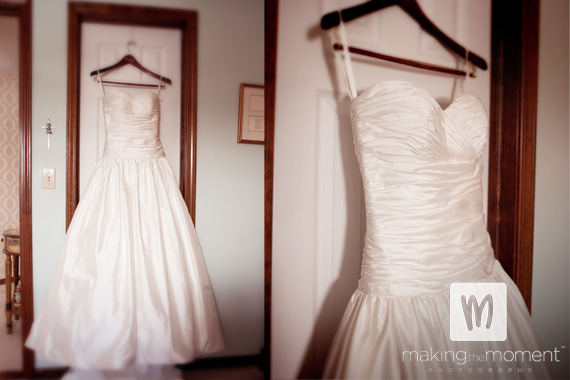 Katie's Dress was GORGEOUS – if memory serves me correctly she picked it up from the Perfect Bride – a nice little boutique wedding dress store in Rocky River Ohio.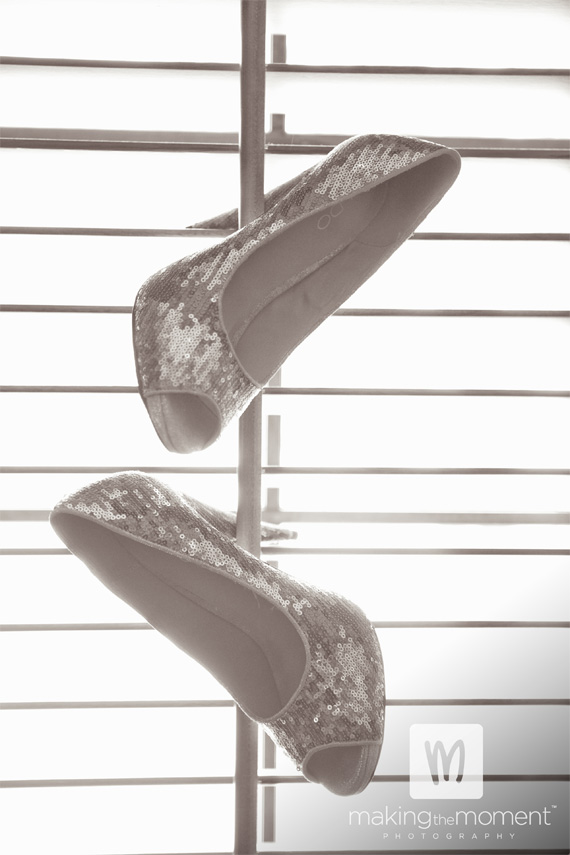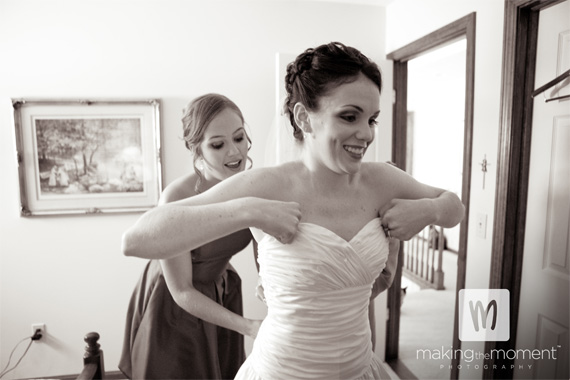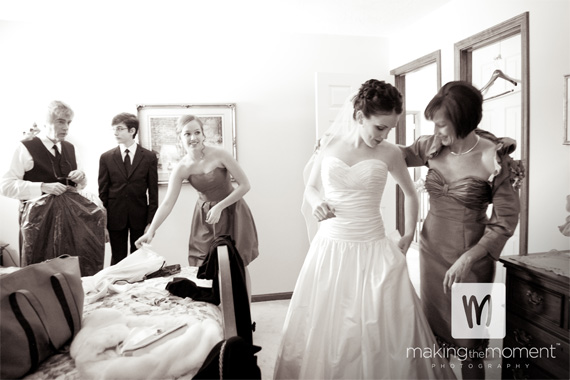 I simply LOVE this candid image of Katie & her mom Doreen enjoying the first few moments of having her wedding dress officially on. There is such a story happening here – with Katie's brother, sister & father contributing in the background. Love it.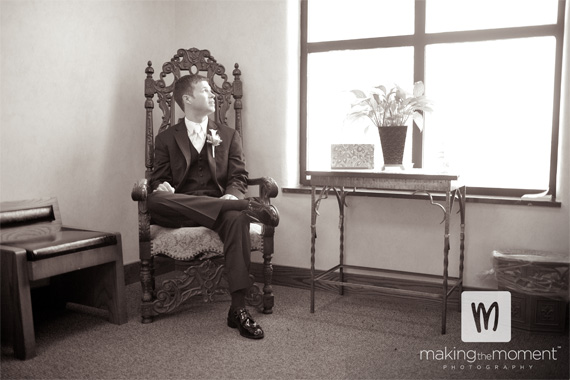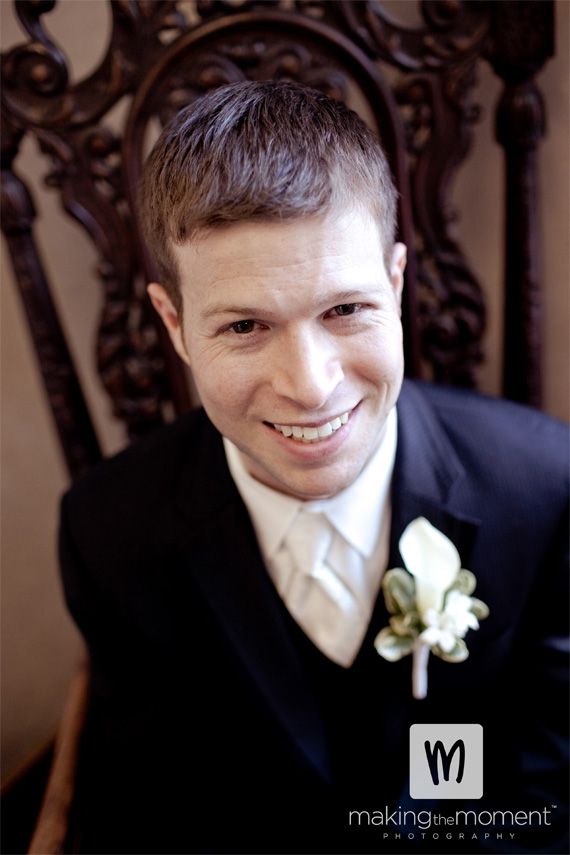 When I tracked down Bill again at their church – St Raphael's in Bay Village – he was a combination of nerves and excitement.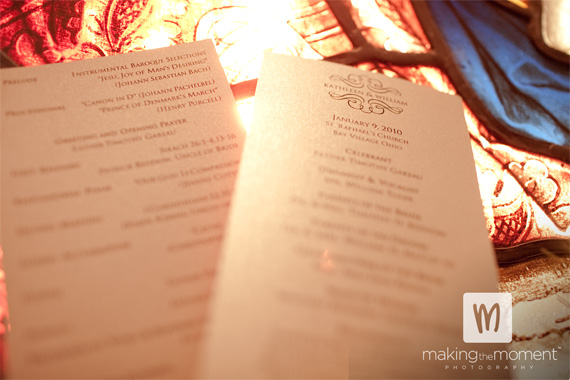 When it comes to creating quality wedding photography coverage for a couple – you cannot forget the details. I snagged this quick shot of the couples wedding programs before the ceremony started.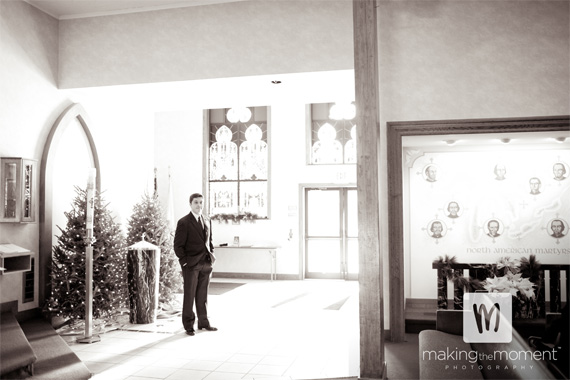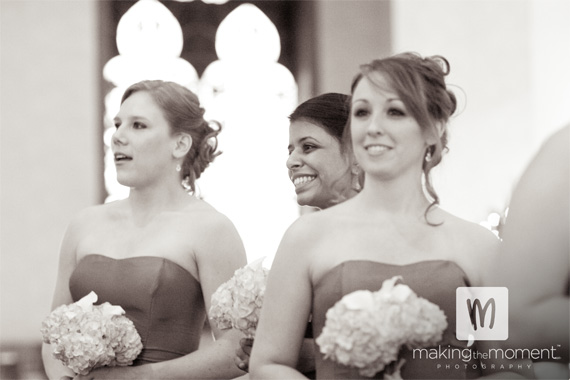 It didn't take long for the wedding to start. The moment Katie came down the aisle escorted by her father was epic. All eyes were fixed upon her entrance – she looked incredible! It was a perfect moment, and I was able to snag some fun candids of her bridesmaids (totally wowed if you can't tell) and her lucky groom (also very wowed!).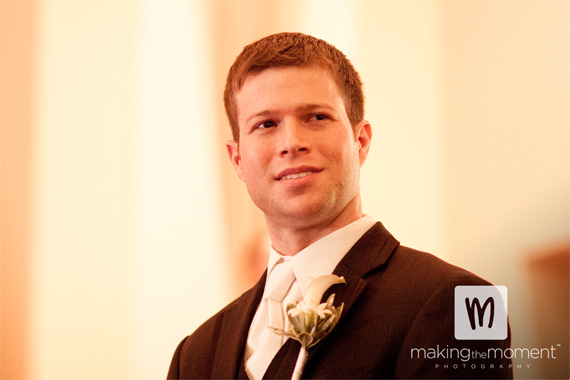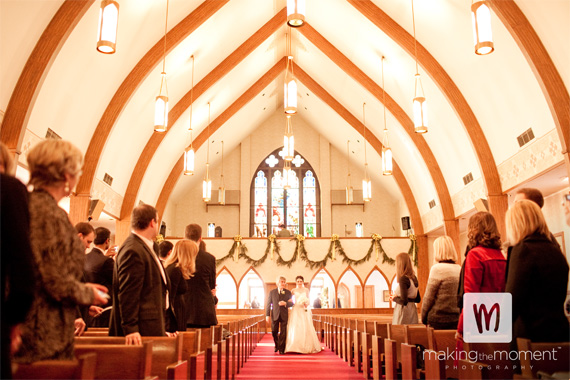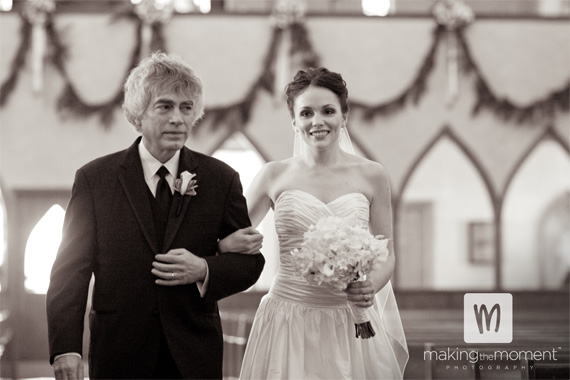 The ceremony was sweet and full of love. Katie & Bill's full set is full of some really telling imagery that show the heart and love that made this wedding ceremony happen.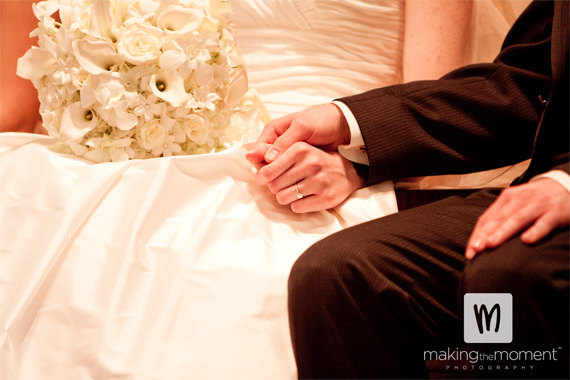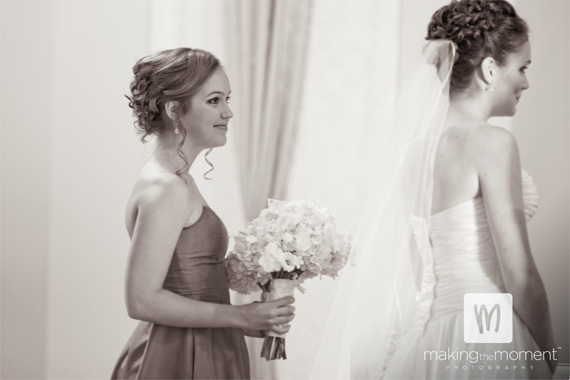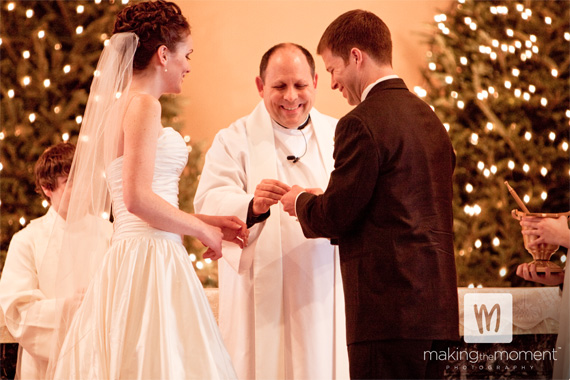 After the ceremony – the fun began. Katie took some good advice from a certain wedding photographer (*ahem) and chose to book the Palace Theatre in Cleveland for her Creative Wedding Photography session. We booked a one hour session there – and spent every moment of it.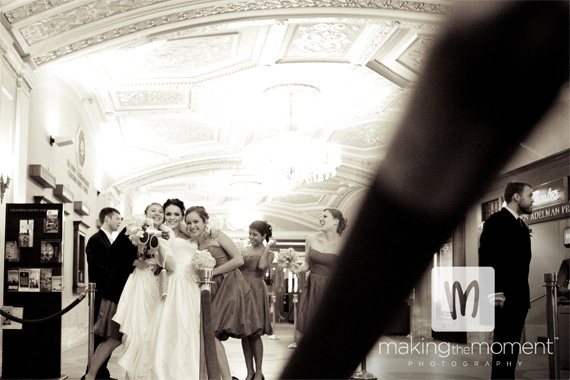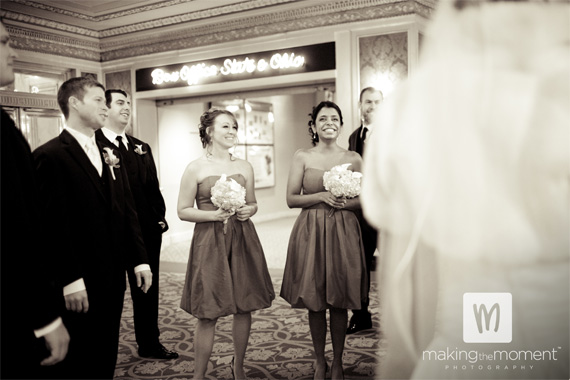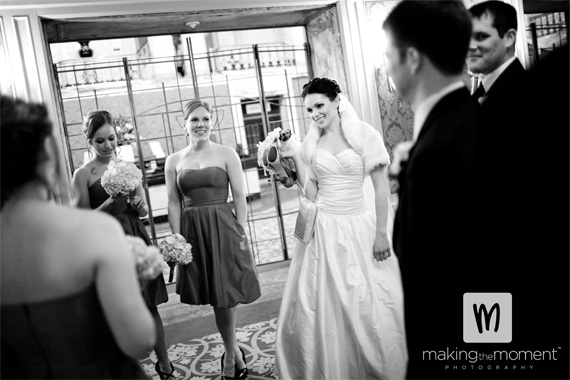 The palace theater  in Cleveland is PERFECT for wedding photos. The classy & elegant decor combined with the massive space provided me a ton of options for creating some unique wedding photos.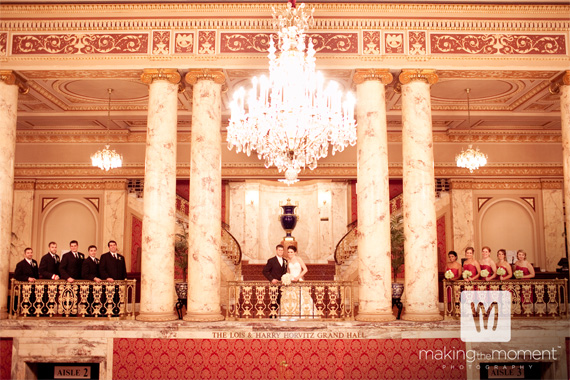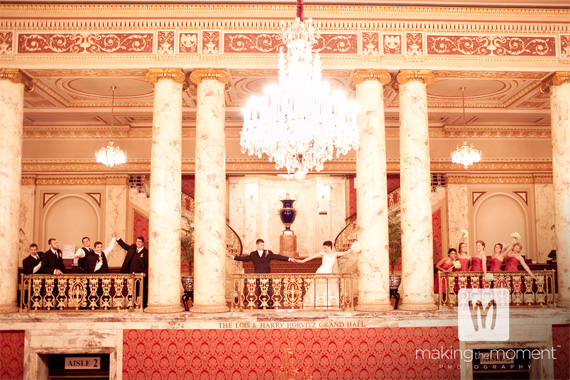 I had a blast coaching these two through our creative session – they were so fun to work with – and their love simply shines through these images.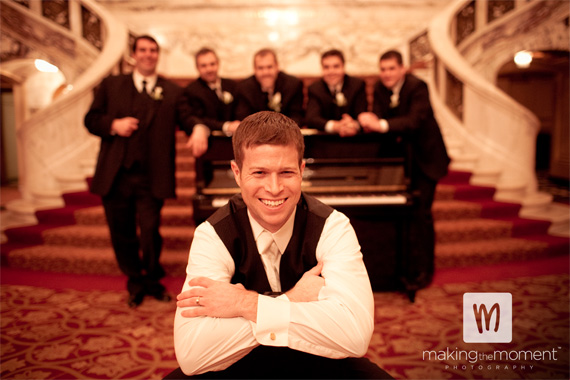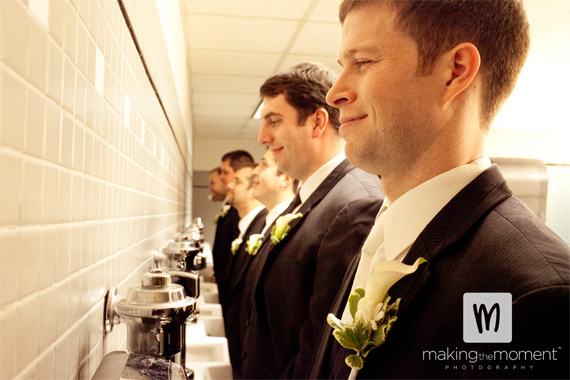 The groomsmen had some fun ideas of their own for creative photos. Love it.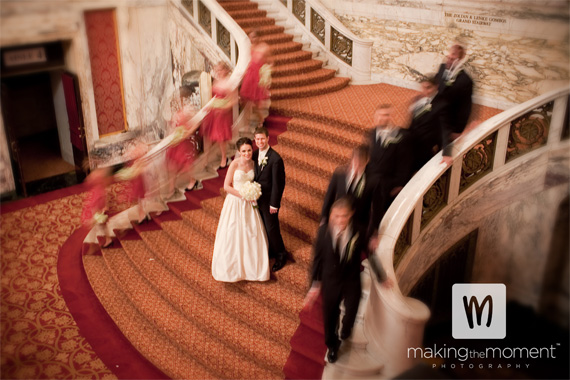 Some of my favorite shots from our time at the Palace Theatre, are the photos of Katie & Bill staged in the theatre itself. The ambience created by some fun off-camera lighting make it seem as if these two are watching a classic film.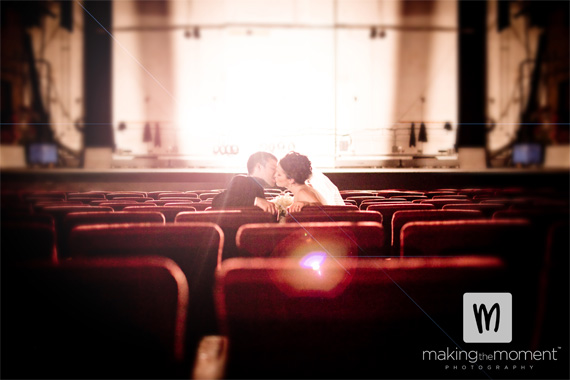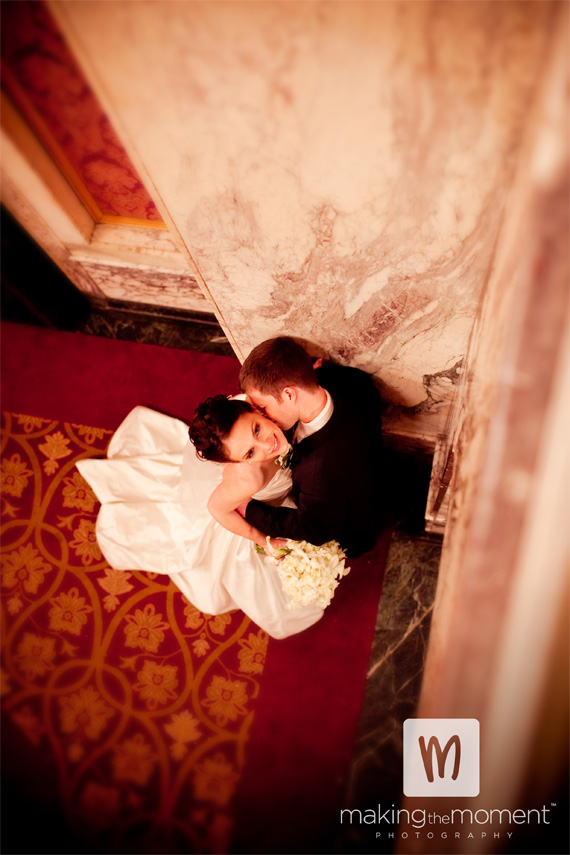 Of course, we had a lot of playful moments too. I love embracing elegance and romance in my wedding photography – but I also love to push the envelope of the traditional.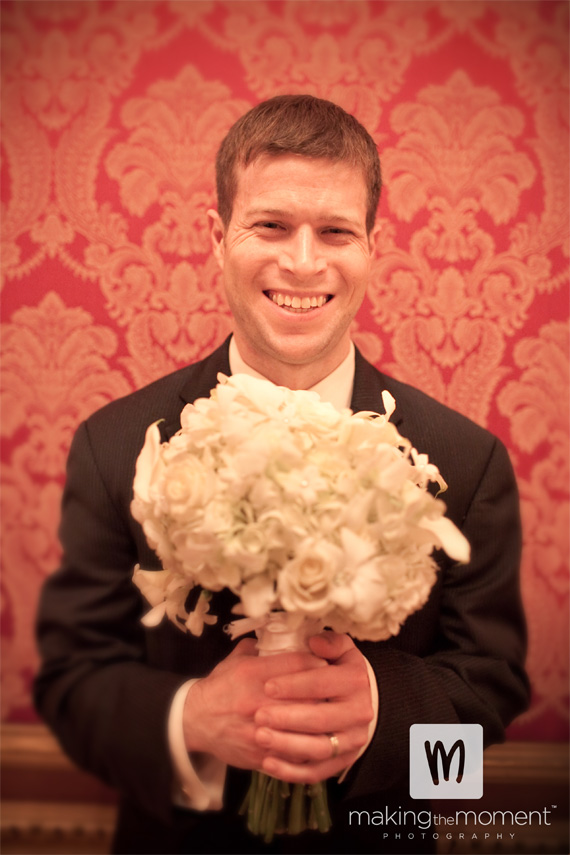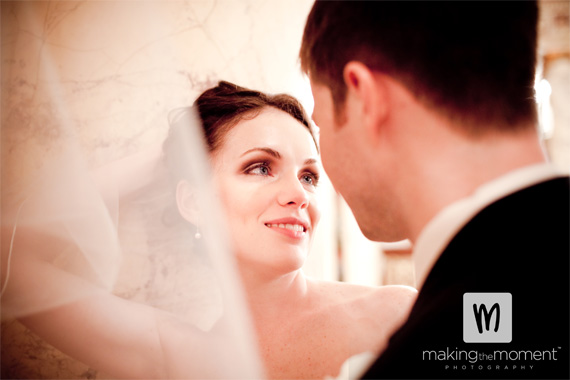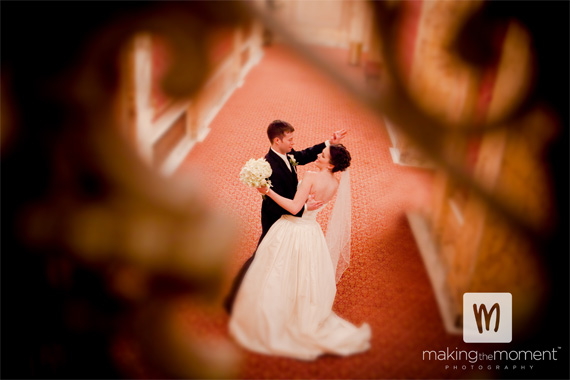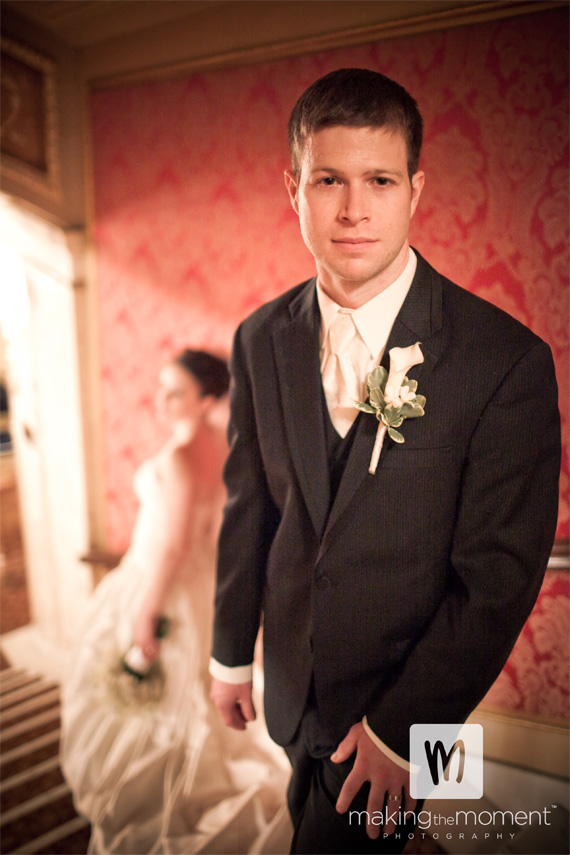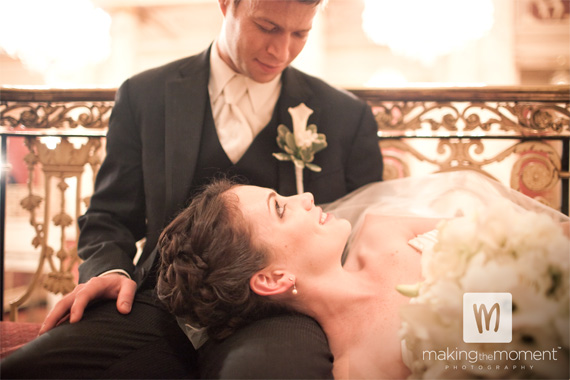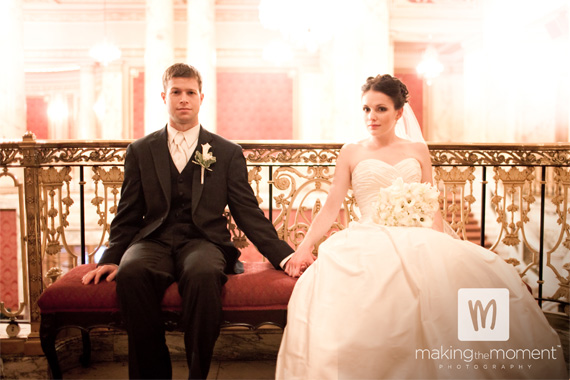 Their wedding reception was at LaCentre Party Center in westlake. LaCentre is one of my absolute favorite Reception Venues for Cleveland Wedding Receptions. The staff take great care of everyone (including your wedding photographer!) and can cook up some sweet food.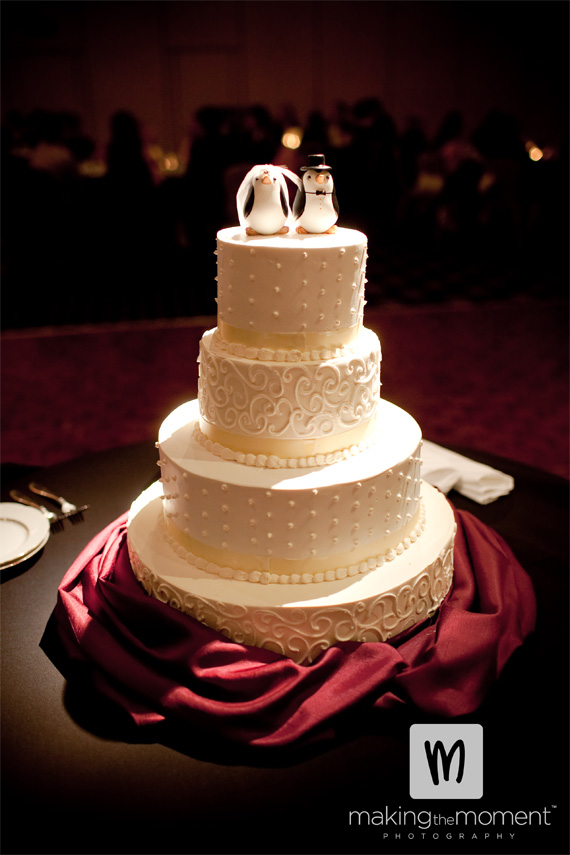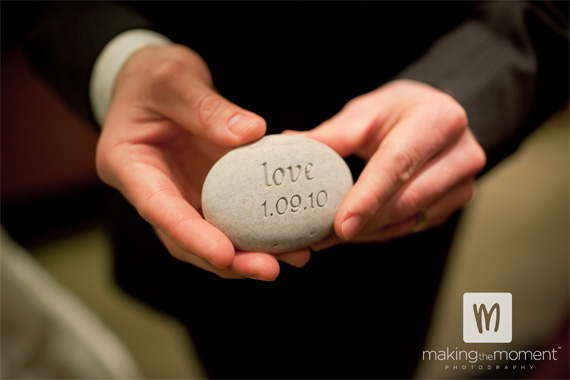 There is a sweet story behind the pebbles and the penguins you're seeing featured here – that is deep to their relationship and engagement story. I want to respect their praivacy here so I will avoid a re-tell – but the signifacance of the stone here in their ring shots and the penquins adorning the cake is all too adorable and sweet.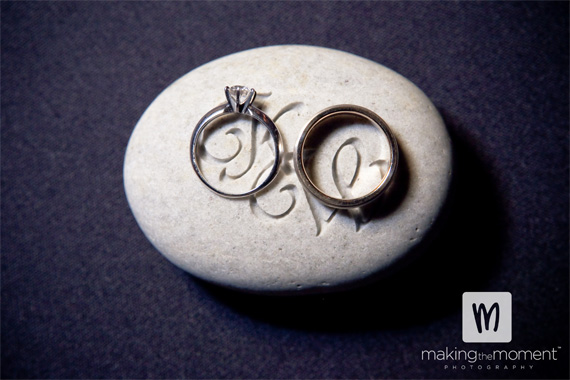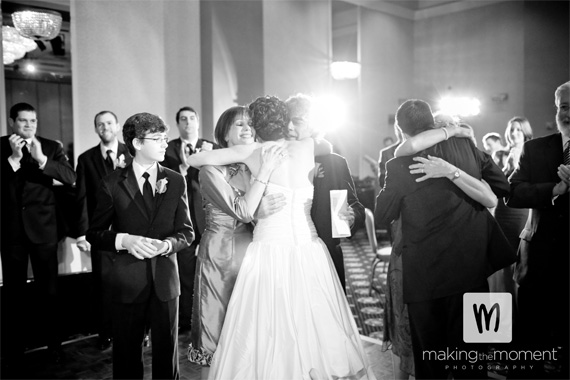 After a heart-warming entrance into their parents arms, the reception was on. Katie & Bill's parents & bridal party gave some incredibly kind and well-thought out speaches. It's always fun being the wedding photographer when it comes to speach time – there is a certain drama and importance to this photography time that Iove approaching.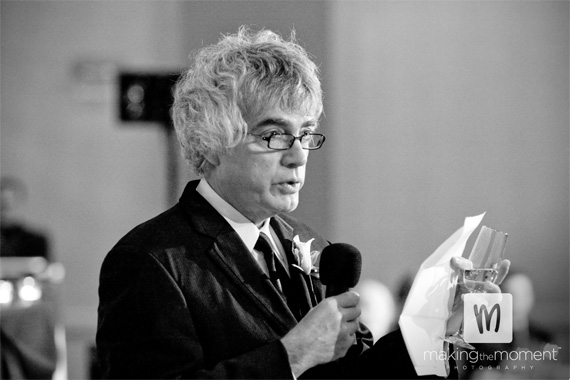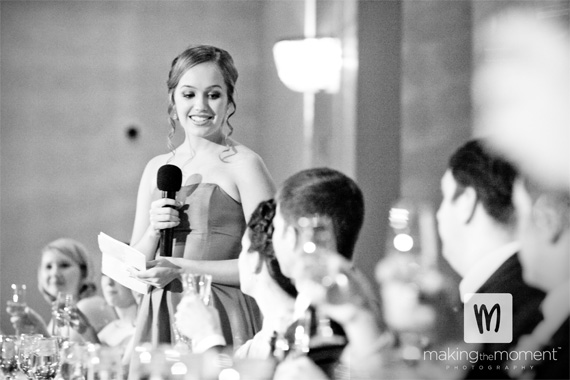 Katie & Bill's first dance was beautiful. I'm having to assume that they took some professional dance lessons – as their first dance wasn't the "awkward prom sway back and forth" that can easily happen. I had a great time working the room, pulling out some fun angles for each photo.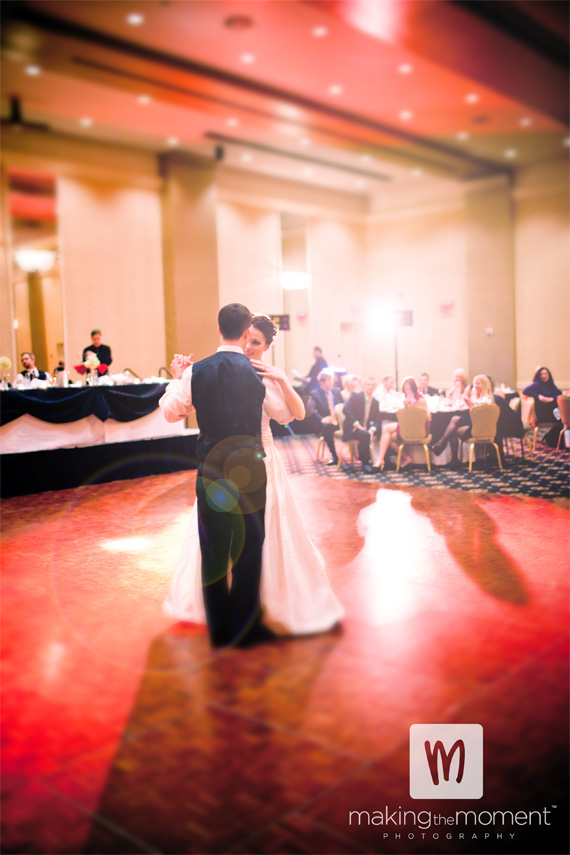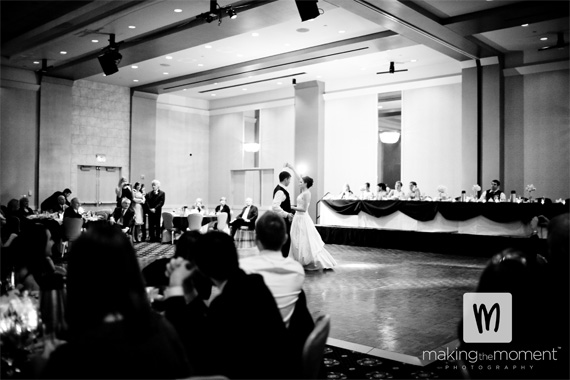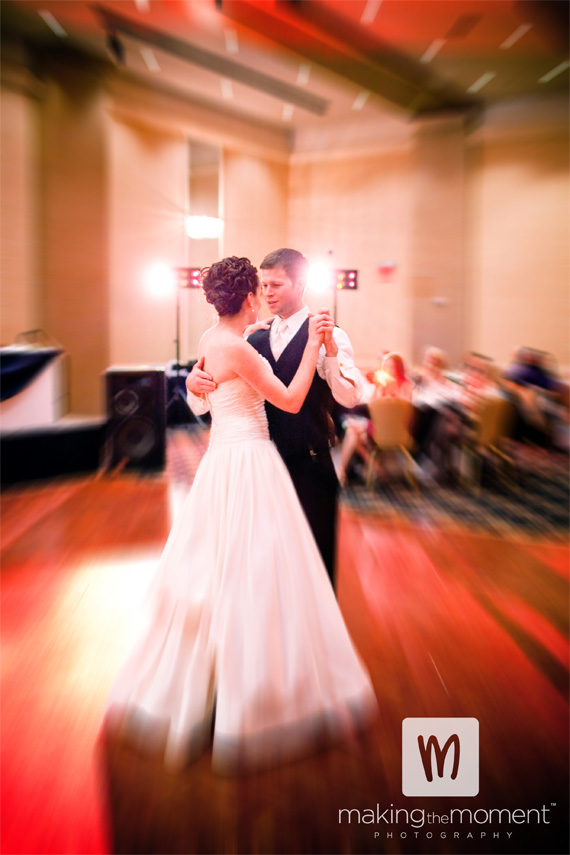 And as you might have guessed – the wedding reception rocked, and I stayed late. I couldn't help but leave either – it was by no means a typical reception. The party was hoppin'! That night I had the good pleasure of working with Pete Troy from Troy Entertainment. I've worked with quite a few cleveland wedding DJ's – and Troy & his wife are some of the best I've ever worked with. Troy took such pleasure at keeping people on the dance floor – it was awesome. At one point, some really fun props came out of his bag – what a blast.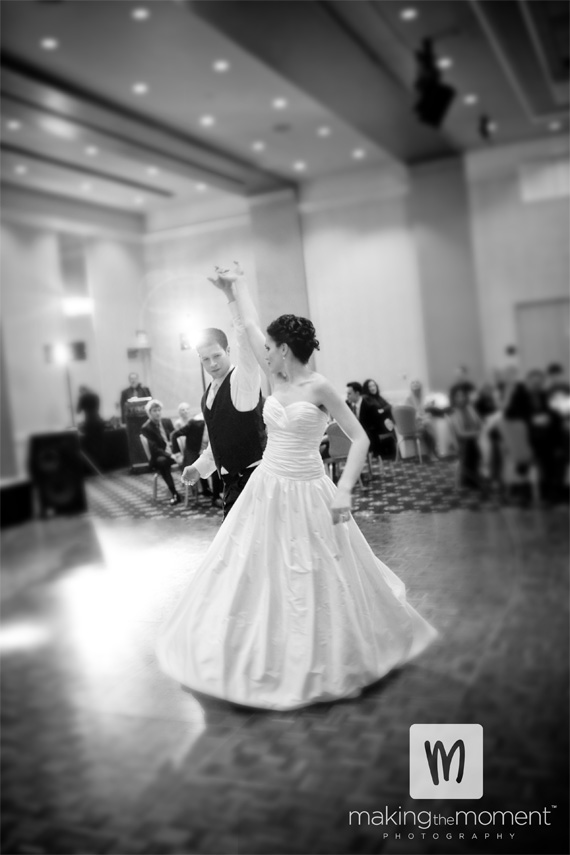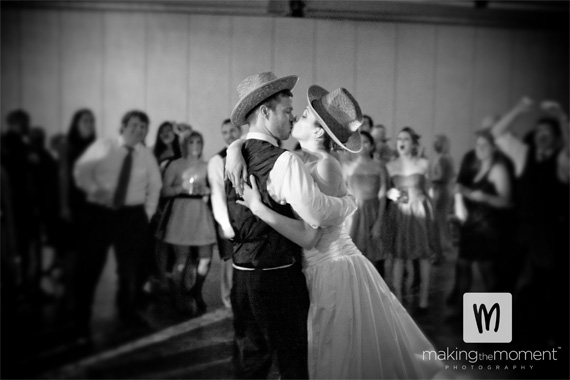 Katie & Bill – I wish you two the best. I hope you (and all who have graciously visited this blog post) have enjoyed sharing in a few of my favorite shots & memories from your wedding day. I so loved being your cleveland wedding photographer for your big day – thank you SO much for choosing me. I'm so excited and proud of the artwork we created together that day. Much love and well wishes to you both!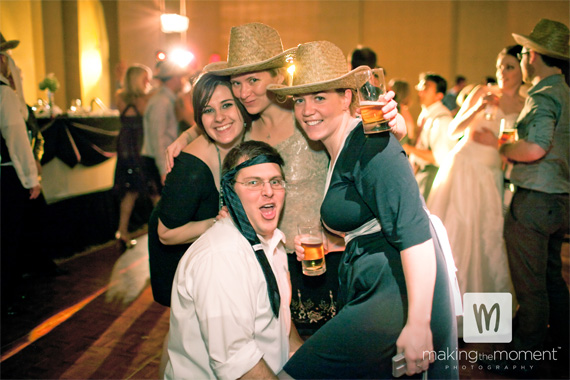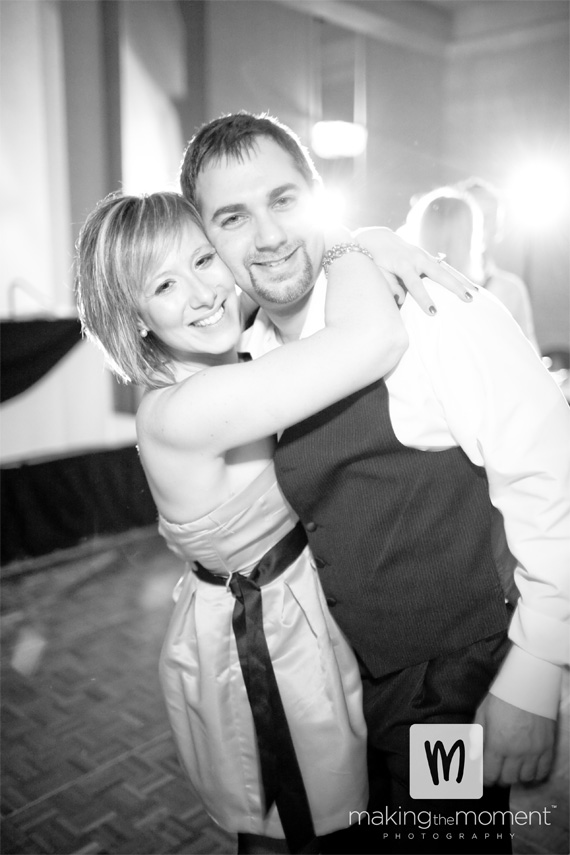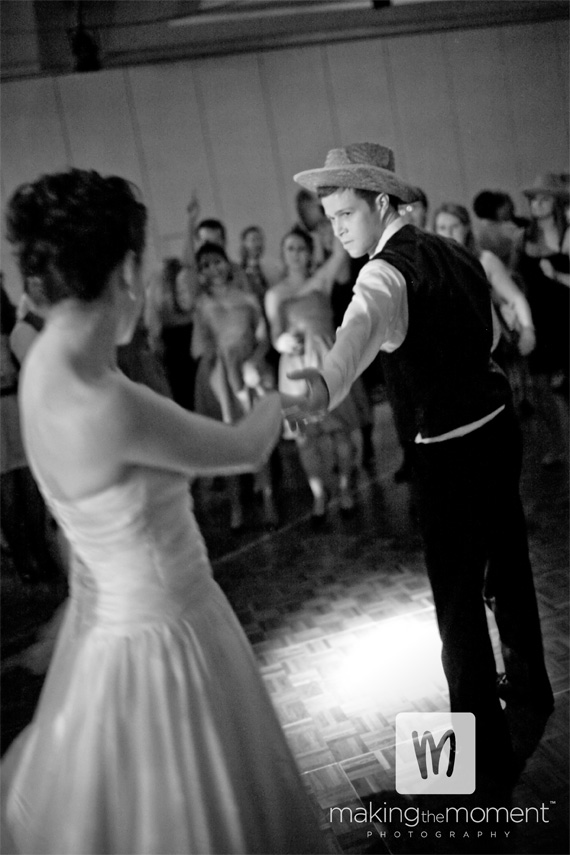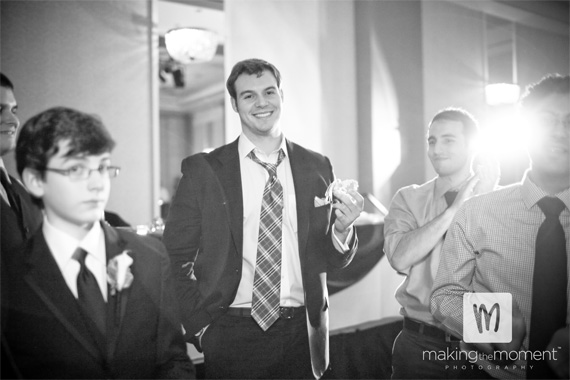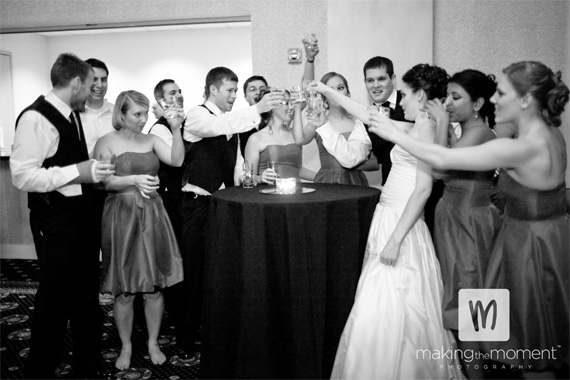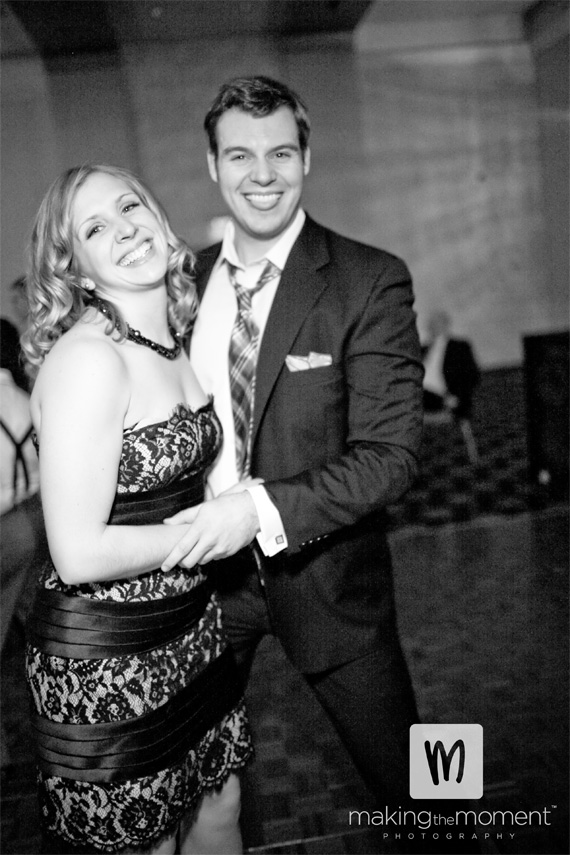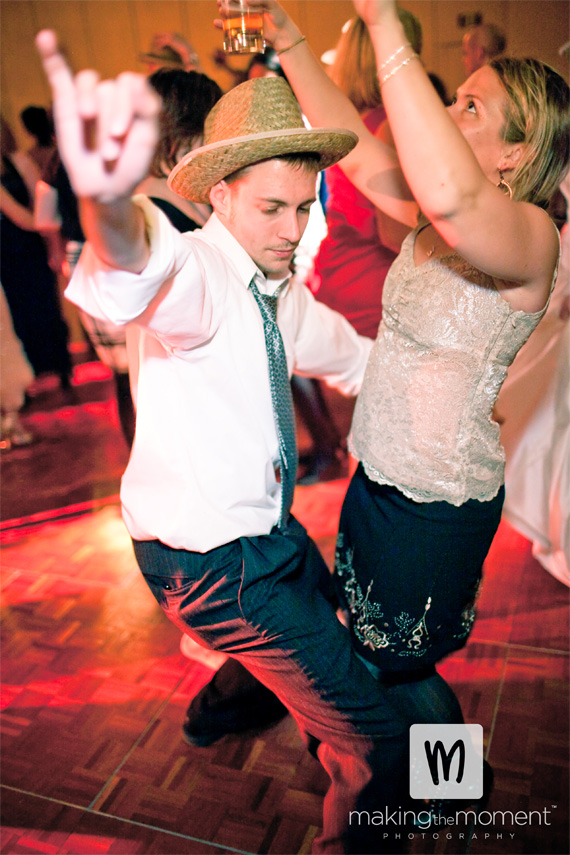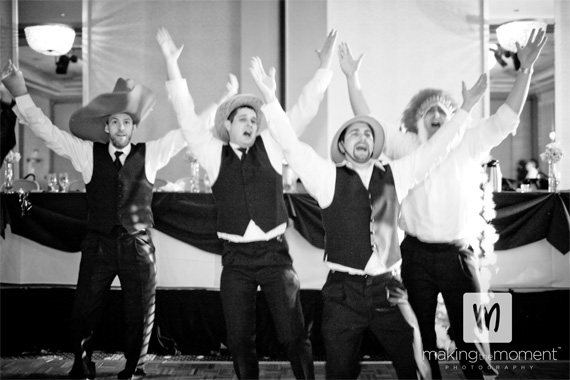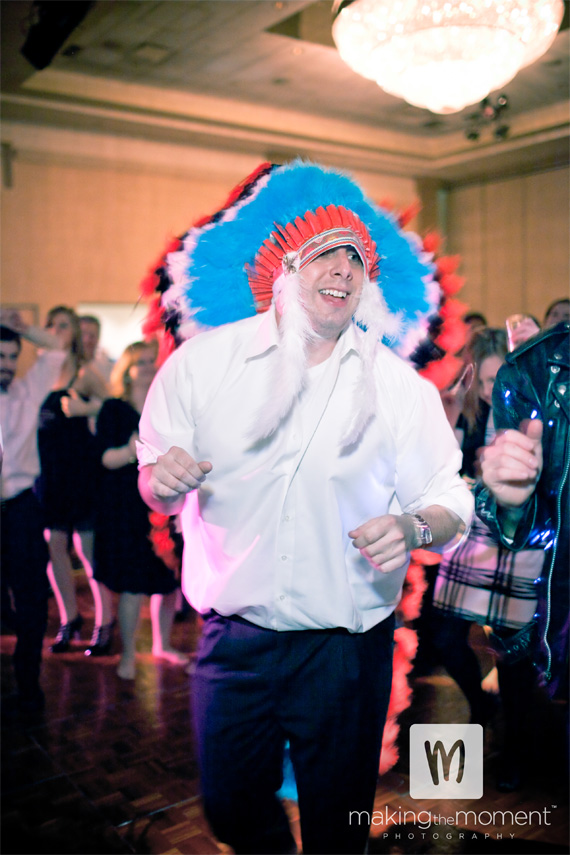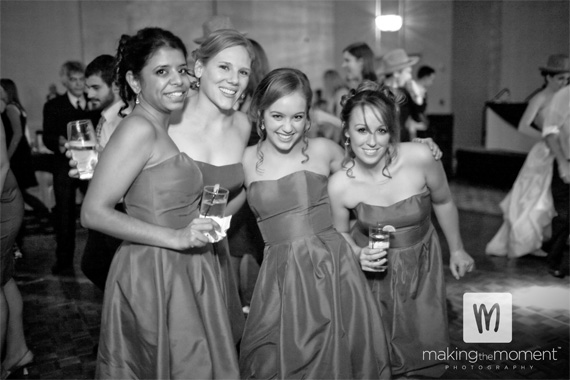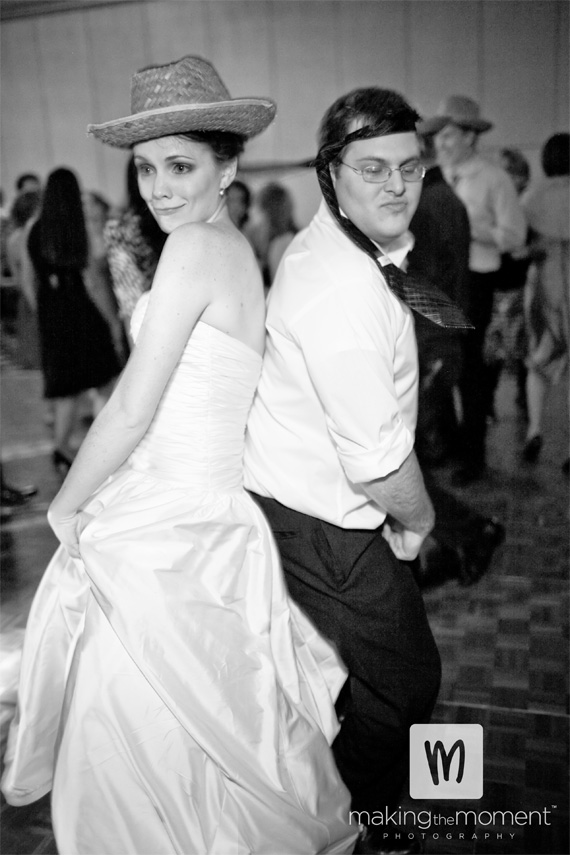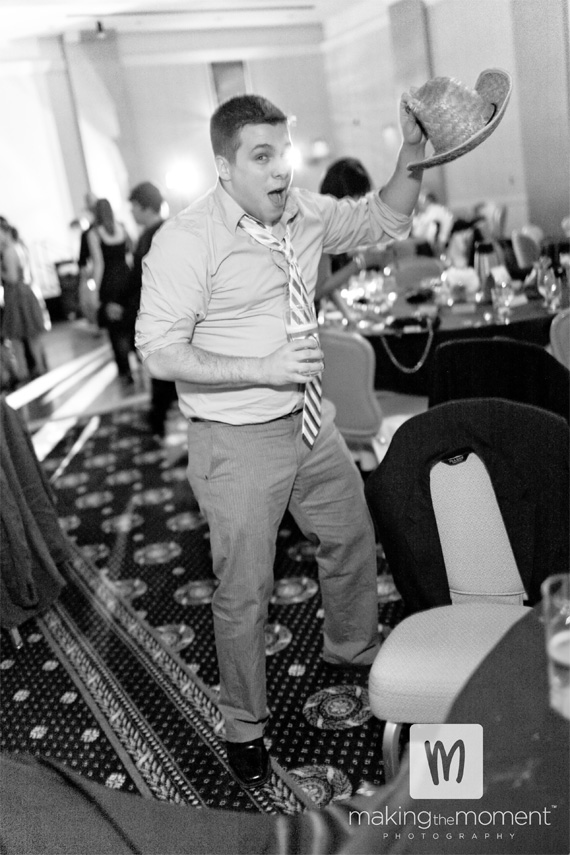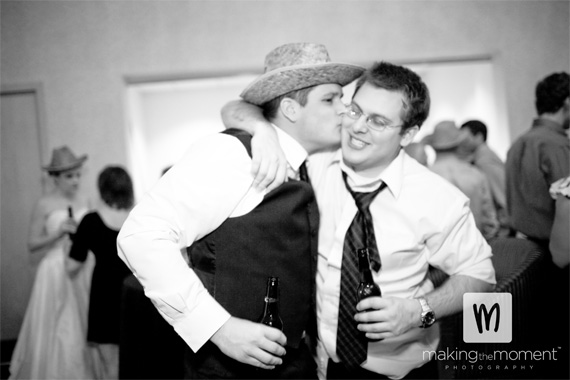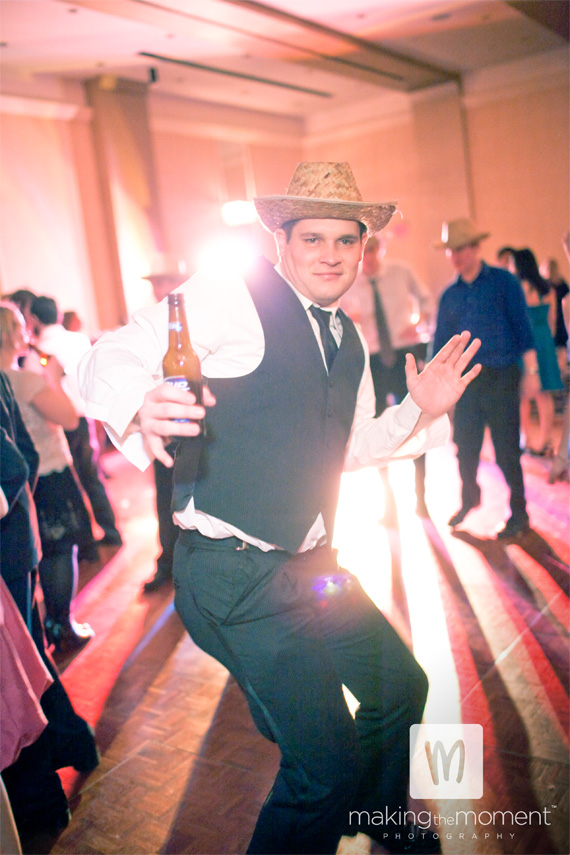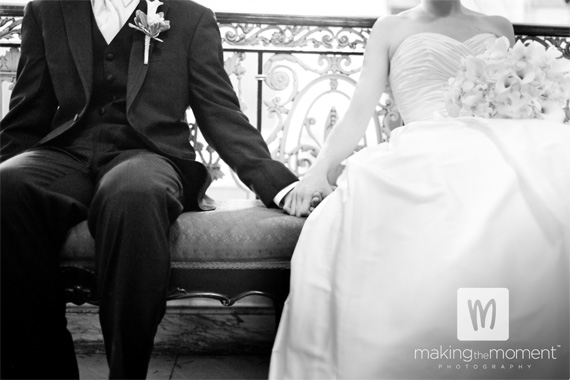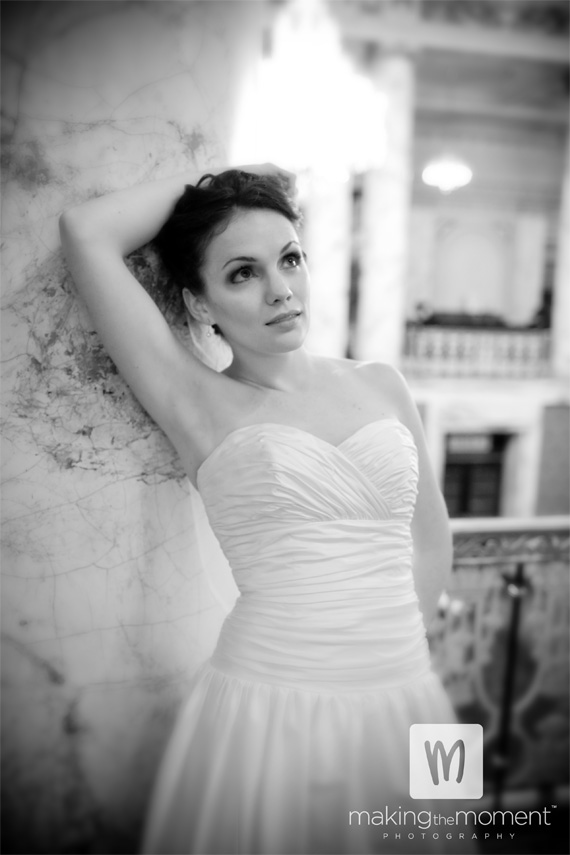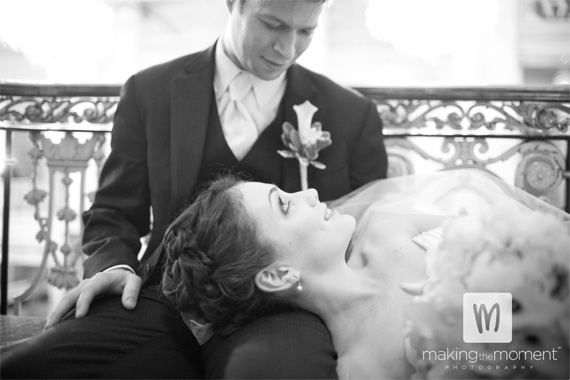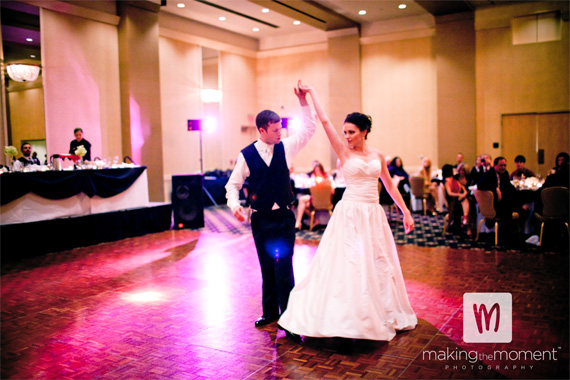 Posted In Around Here, photos, Wedding