With us just being a few short weeks away from our first weddings of our busiest wedding photography seasons ever (woohoo!), I thought it best to share a few of my favorites from a Cleveland engagement session I photographed recently.
And what better photos to show off than Margan & Adams? These two will be having their wedding on the east side of Cleveland in just about two weeks, having Benjamin (one of our rockin' photographers) as their Cleveland Wedding Photographer.
In light of that – I'm pleased to show off a few of my favorite photos from Margan & Adam's fun-tastic engagement session!
Spending the afternoon with these two just a few weeks back, I had SO much fun. These two have a sweet way about them, from the moment they welcomed me into their loft-style Cleveland condo downtown, I felt right at home with the both of them. They're friendly, sweet – and totally in love with eachother!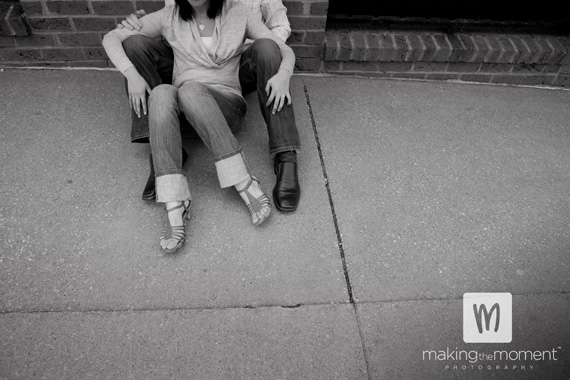 We had quite the explorative city engagement session – full of urban flavor and character. We started our photo session just west of downtown Cleveland, and created some really fun & elegant photography in their neighborhood. One of my favorite parts of the session was our little Cleveland roof-top adventure – you have no idea how fun it is to jump some loft-roofs in the city. 🙂
After-wards, we traveled to Tremont (one of my favorite Cleveland neighborhoods) for some fun artsy-photos. I am a HUGE fan of architecture and classic brick/iron work – and the little nooks and crannies of Tremont I've found host some wonderful places for fun shooting.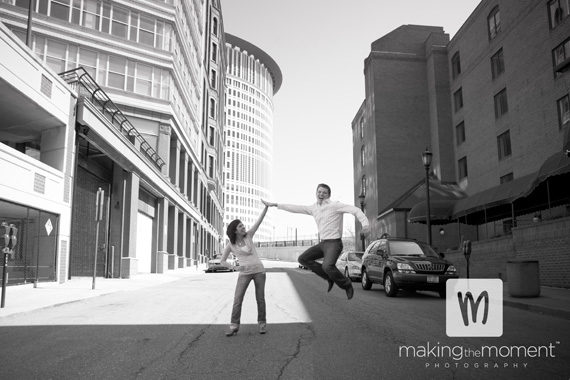 All in all, it was an awesomely fun afternoon, proving to me again that engagement sessions are some of my favorite types of creative photography. Yes, I LOVE being a Cleveland wedding photographer, and I so enjoy crafting creative wedding photos during a couples wedding day, but nothing can top the free-style photography that is a Making the Moment engagement session.
Margan & Adam – I'm SO excited we're serving you on your wedding day – you're going to have such a blast with Benjamin! Many congrats and much love to you both as you walk into your marital journey!