This was so fun. It was so unbelievably fun. Earlier in the summer we spent the day with an incredibly awesome couple from Making the Moment's past & an incredibly talented film crew.
I'm thankful to everyone who made this happen. What exactly am I talking about? We recently commisioned Dave Gawron and the amazingly awesome staff at Illuminate Design to create for us an epic video advertisement for some upcoming ad campaigns. And they rocked it, crafting a unique video piece to share the unique approach on wedding photography we take here. [youtube width="570″ height="346″]http://www.youtube.com/watch?v=1e7AlB9W4EY[/youtube]The above represents months of planning, 12+ hours of shooting, and oodles of amazing dedication from all involved. This came out so absolutely amazing – so thankful for it!
Jeff & Rachel were clients of ours from last season. These two had an epic wedding, and I knew they'd be the right fit to show off how we work with our clients. I'm SO thankful for them – they both gave up an entire day for the filming of the ad spot, both taking off of work to be a part. Talk about amazing and awesome clients!
We gave Rachel the entire bridal treatment, hiring a hair and make-up artist to come in and get her ready for the shoot.
Dave and his film crew were phenomenal, setting up really cool rigs and set ups in our offices to really show off our creative offices and meeting space.
We spent the first part of our day with the film crew capturing footage of me working on a photoshoot with Jeff and Rachel. So the video wouldn't come off forced, but rather authentic, I actually walked them through an entire photoshoot. Check out the images – awesome!
I have a huge heart for the vintage look of polaroids, and when mixing them with my wedding photography it can be pretty fun.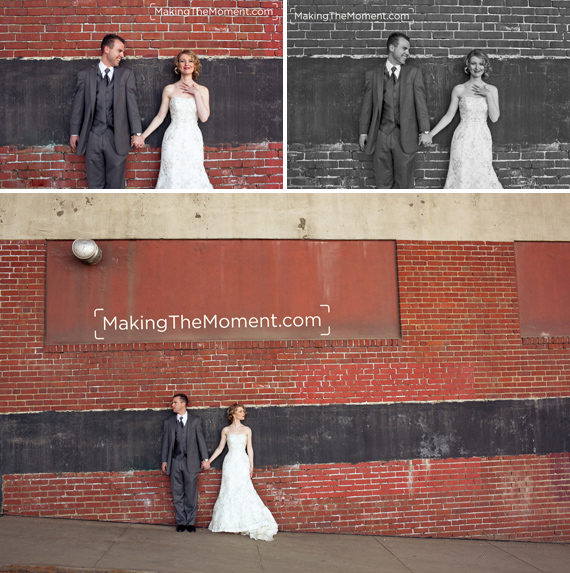 Rachel has such a sweet and innocent way with Jeff, I love the way these two make eachother laugh. I didn't know if it would be weird being a wedding photographer while being filmed, but it all felt pretty natural.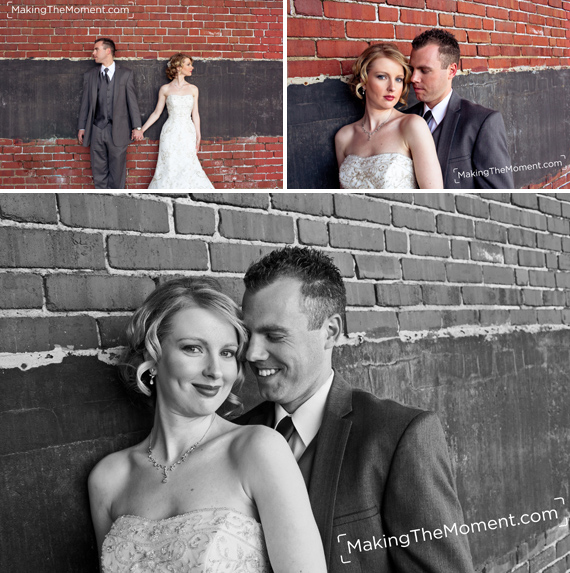 Check out director Dave – we had a five man film team, and Dave captained them well. I love the shot he puts together here, you can see it in the video around 1:32 seconds.
We crafted this image in the middle of lunch hour on a wednesday in busy downtown cleveland. I love the hub-ub of it all, the business of the city streets, and how the people in the background don't detract from Rachel and Jeff. You should have seen the crowd too while were putting this set up together, I'm pretty sure I told a passerby that Rachel was Taylor swift and we were doing a shoot for her new music video 😉
It was a lot of effort to make this promotional shoot happen, and I'm forever in debt to not only Dave & his team (seriously all wicked talented), to Rachel & Jeff, but also to Renee my awesome assistant. She selflessly worked all day to keep us together – she rocks! And if you're a Making the Moment Client, you probably know what I mean! She is just absolutely awesome at keeping all of our wedding, family & senior shoots together and on track!
A huge part of being a Cleveland Wedding Photographer is creating unique engagement session photography for our clients. So of course, we took Rachel and Jeff out for a fun little country photographic session.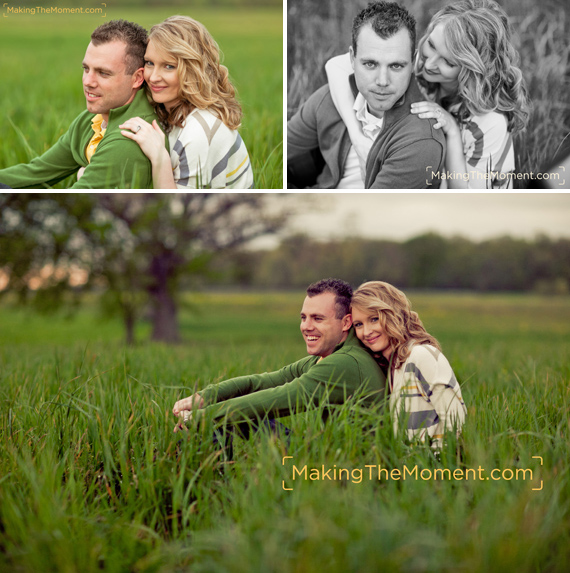 I owe a million thanks to Rachel & Jeff for their hard work that day. They gave their all, and had a lot of fun with us – sacrificing their day for the Wedding Photographer. I am beyond thankful.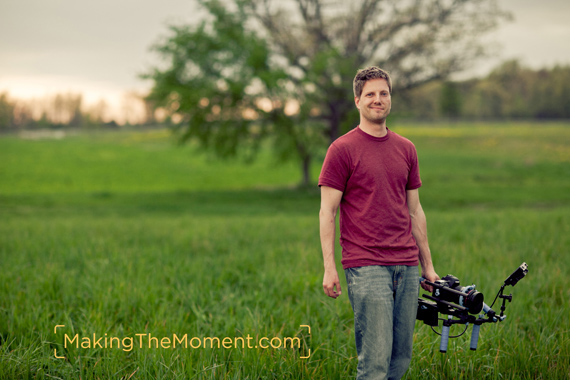 Dave, you're a talented director, film-maker, and an incredible friend. Thank you SO much to you and Illuminate Design for crafting this awesome promotional piece for us!