Love from the beginning to the end, best describes Kari and Steve's feelings for each other. From the moment these two met, magic happened and it is still causing their hearts to skip.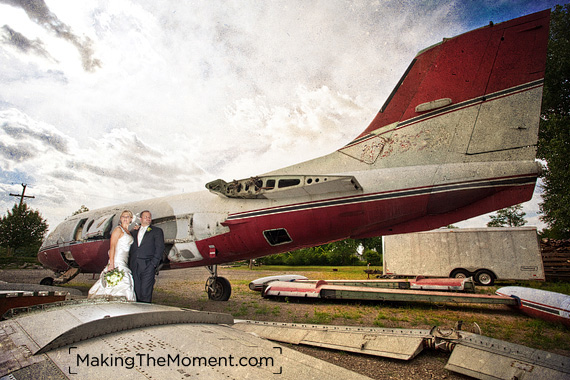 Kari and Steve are perfect for each other, they both love sports, dancing, and goofing around. They also made me feel like I was their best friend even though we had just met.  It really showed in their images as well, because they were willing to do anything I asked, allowing me to create some of the most unique and fun images I have captured to date.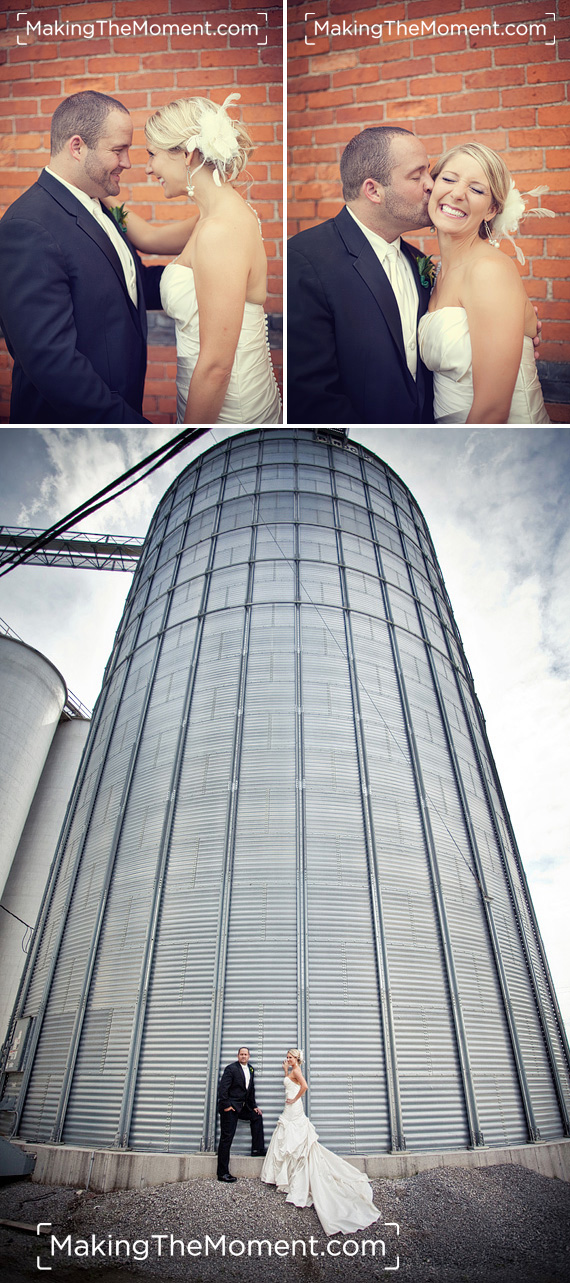 We started the day at a salon which had mirrors everywhere…love it!  It also had amazing natural light which made for some beautiful images.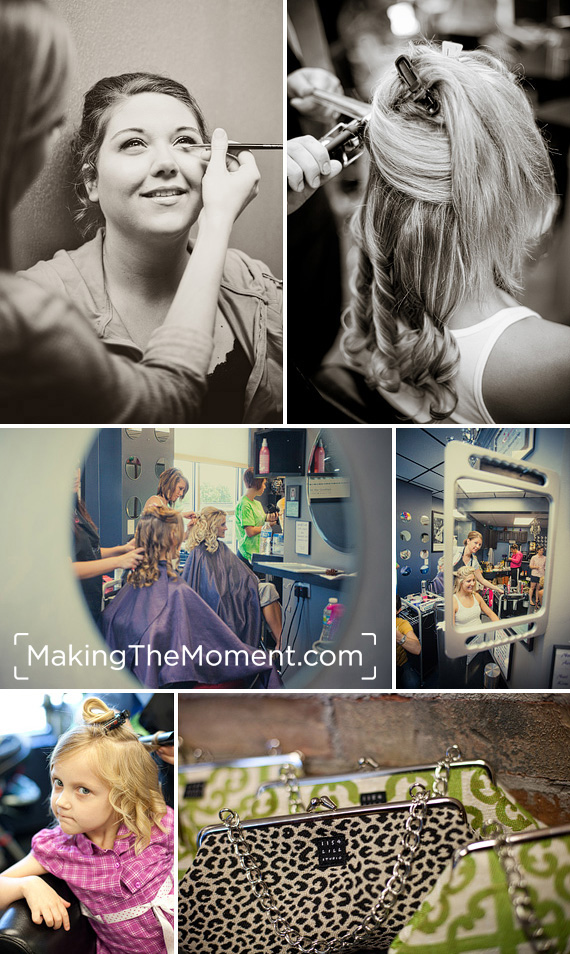 Gift to the bridesmaids were these cute little purses.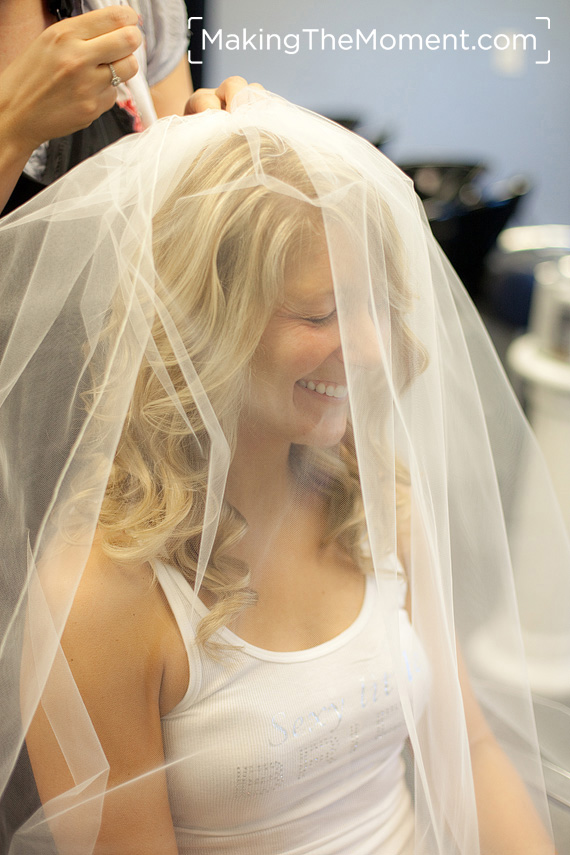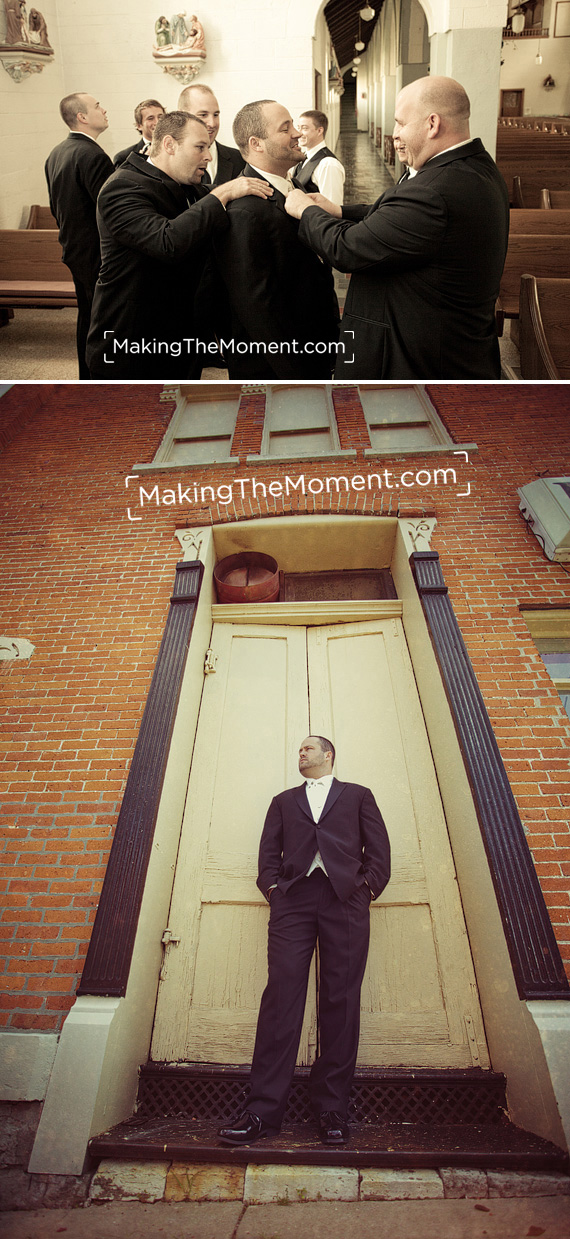 Working with the guys in the morning was so much fun.  Most of them have been friends since the glory days of  high school football, so we had to do some touchdown celebrations.  After hamming it up for the camera I told the guys to go across the street for a group shot.  It was at that time that I noticed a window that had mirrored glass and I was able to capture one of my favorite wedding images from the day.  I love it when something unplanned  happens.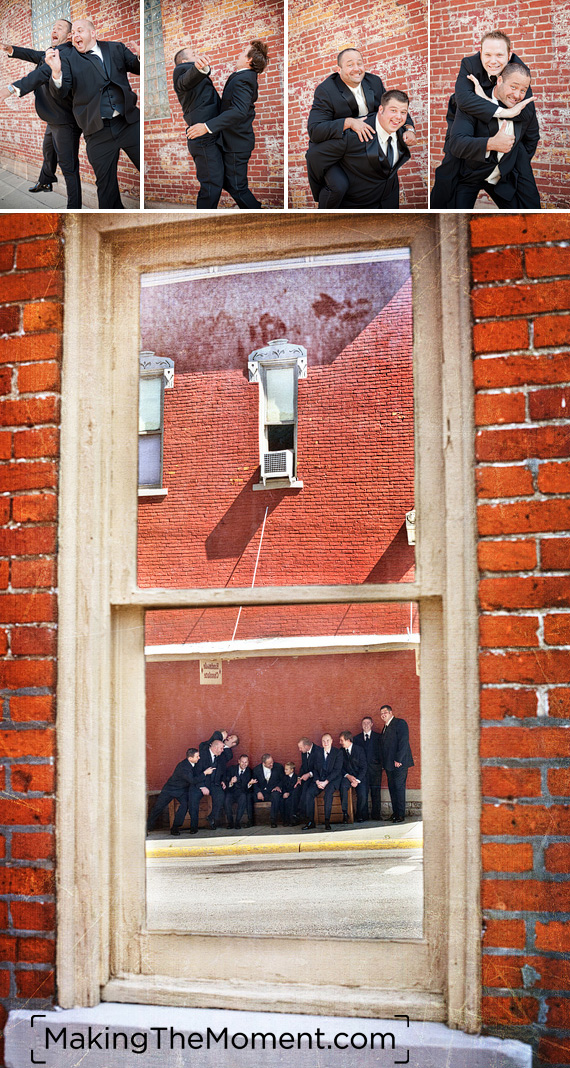 The girls got ready at the church in the basement,  so I took the dress and shoes on a little journey for something different.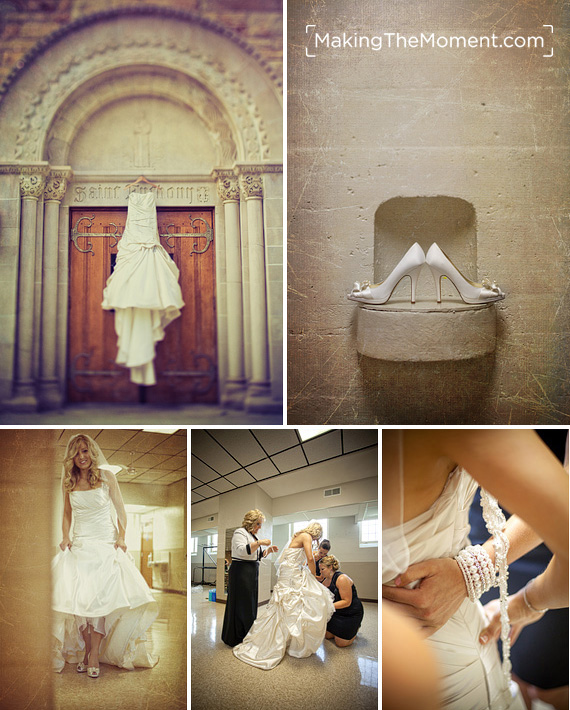 Kari was a beautiful bride – when she laughed I think my camera smiled 🙂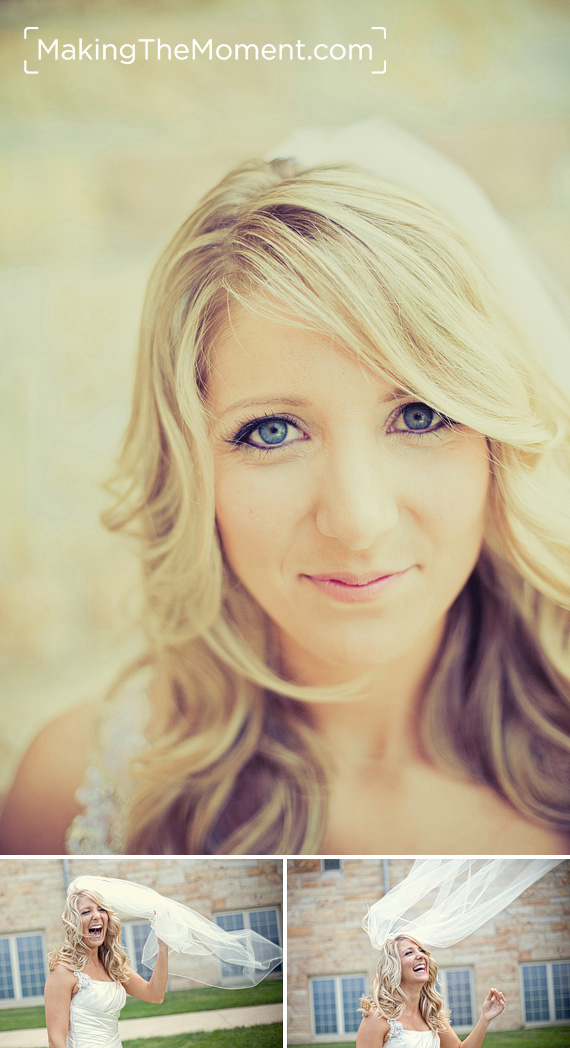 You go girls….ROCK STARS!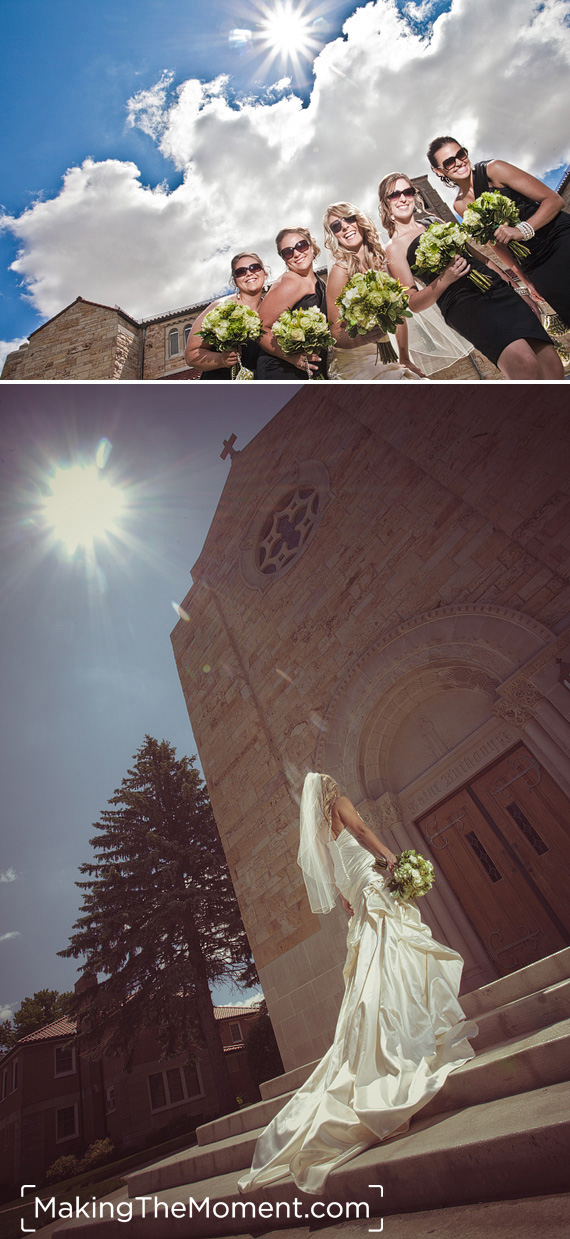 One of my favorite things about Catholic weddings are that the bride and groom get to come down and see their family during the service, In essence making them part of this moment in a special way.
I loved being there to capture when Kari received a kiss from her grandmother.  It makes me tear up evey time I see it, thinking how special a photograph can be.
We drove up to the small town of Gilboa for the creative wedding photography session. As you enter the town there is this large bull so I had to do some old school photos in front of it.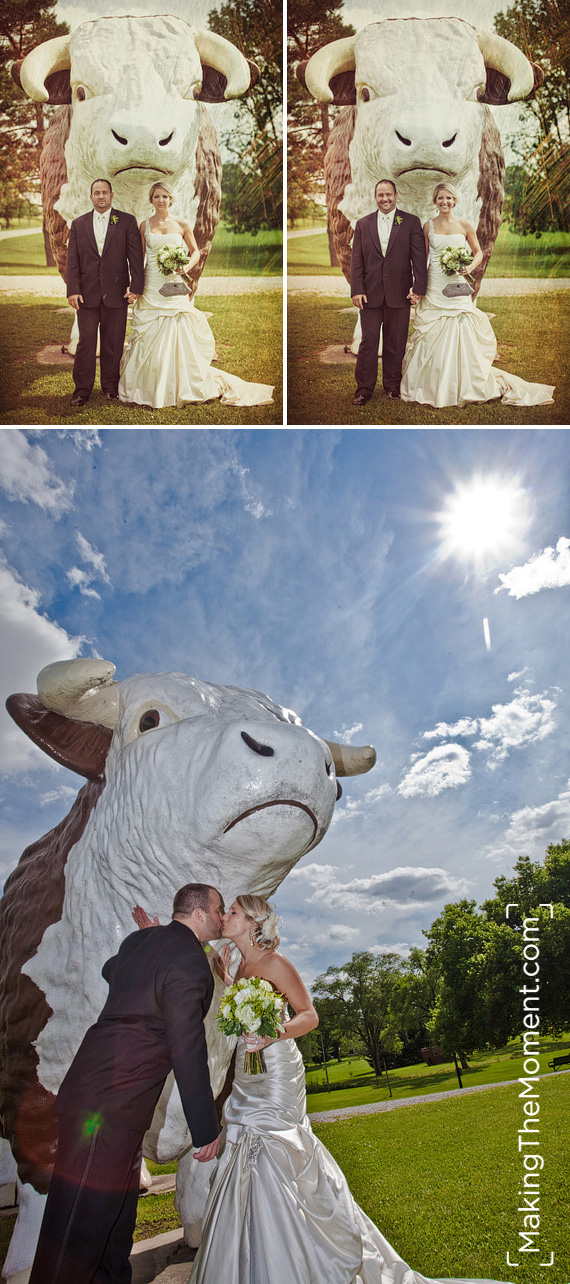 Across the street there were some large silos with awesome lines, and remember when I said these two would do anything? That included riding a teeter-toter, and putting the whole wedding party on a very small merry-go-round.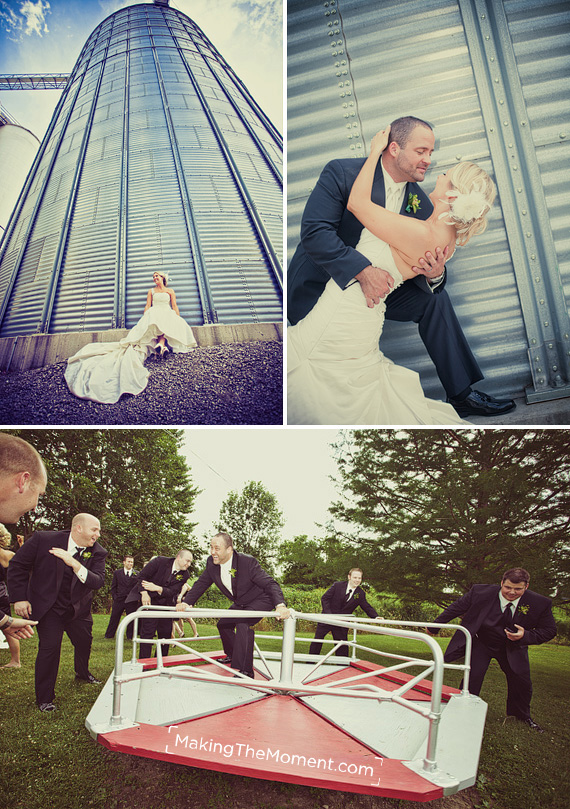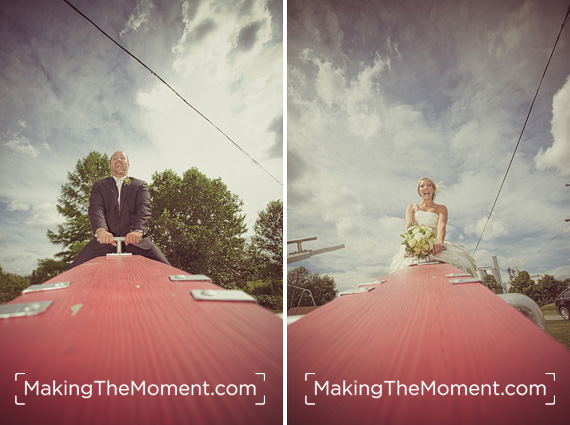 We went to an old rock quarry that has been converted into a dive location so they had all this old stuff that they put down into the water for people to see. I used it for some fun photos with the bride and groom.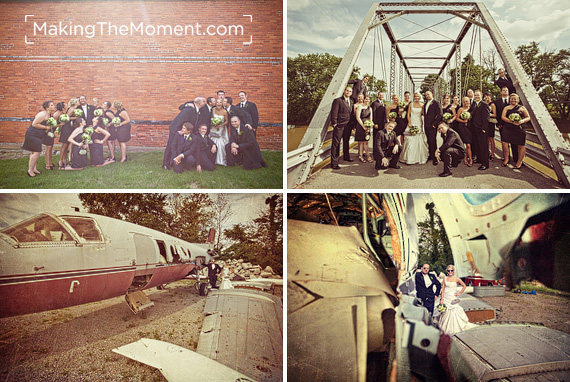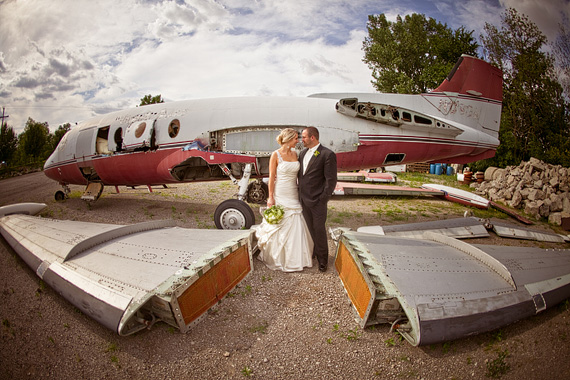 You can never judge a book by its cover.  When I first drove up to the American Legion it was just a plain building tucked within a small neighborhood in Columbus Grove.  It was made known to me that Kari and Steve first met at this location and this is why they decided on booking this place for their reception.  I was pleasantly surprised by the  transformation inside that made this a magical venue for their wedding.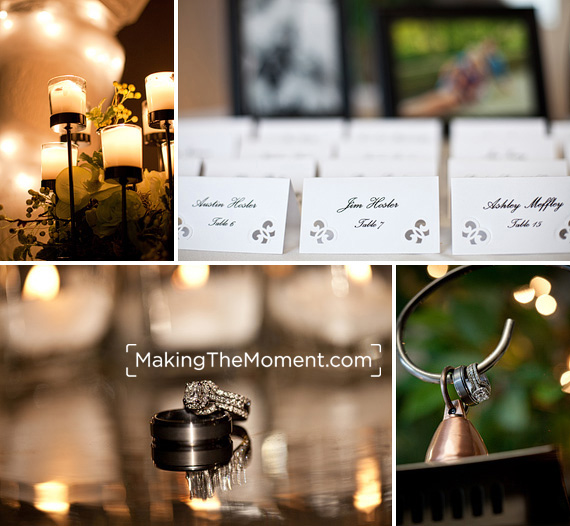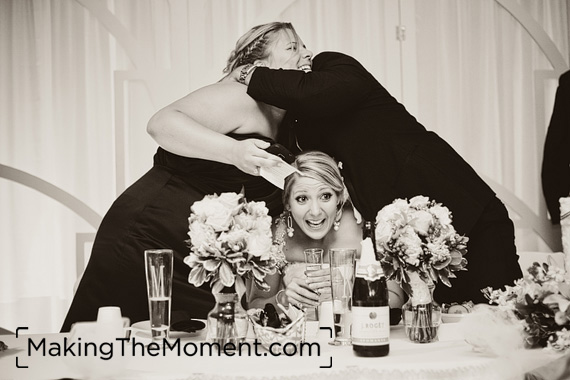 Hilarious toast, a chorus of "You Lost that Loving Feeling", and some wild and crazy dancing filled the night's events. The DJ was our favorite Toledo Wedding Decorative Sound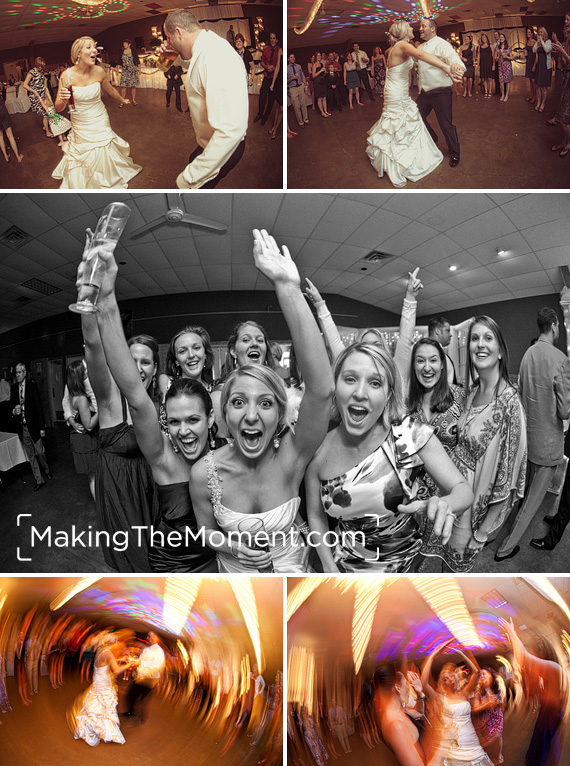 These two truly love one another and will laugh their way through what will be an amazing life together.