What else can you say about Margaret & Tony's wedding at the Cleveland Rock & Roll Hall of fame, other than that it Rocked? Lot's actually – there is a ton of story behind these funky & fun wedding images – and so much heart to this couple.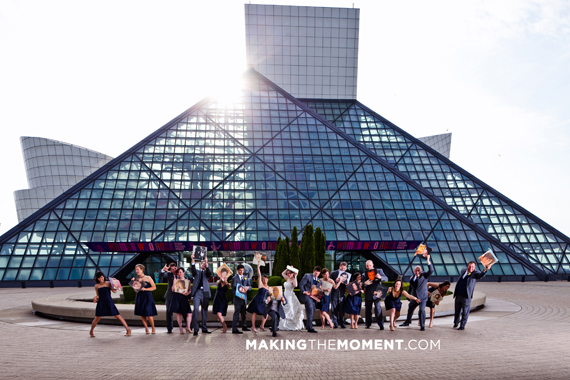 Before we get started – how awesome is this? Many thanks to Renee (rock-star assistant!!) who went out on a whim the morning of the wedding to pick up a bunch of old school funky albums from local record stores to pull of these iconic images. What better says "rock & roll themed wedding" than album covers that match your faces?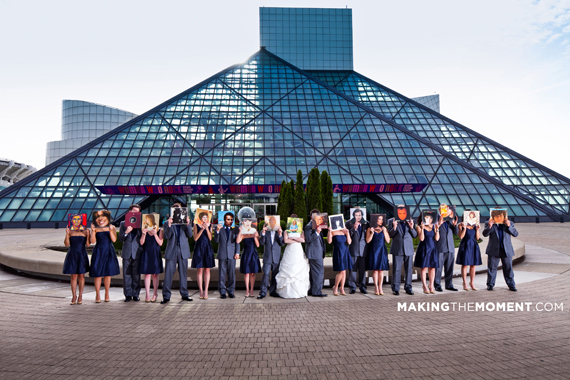 Allow me to introduce our rock-stars of the day – Margaret & Tony – two amazingly awesome people. I really dig these two – they were just in my home last night for our "image premier" night – we laughed and even teared up a bit together as we relived their wedding day together.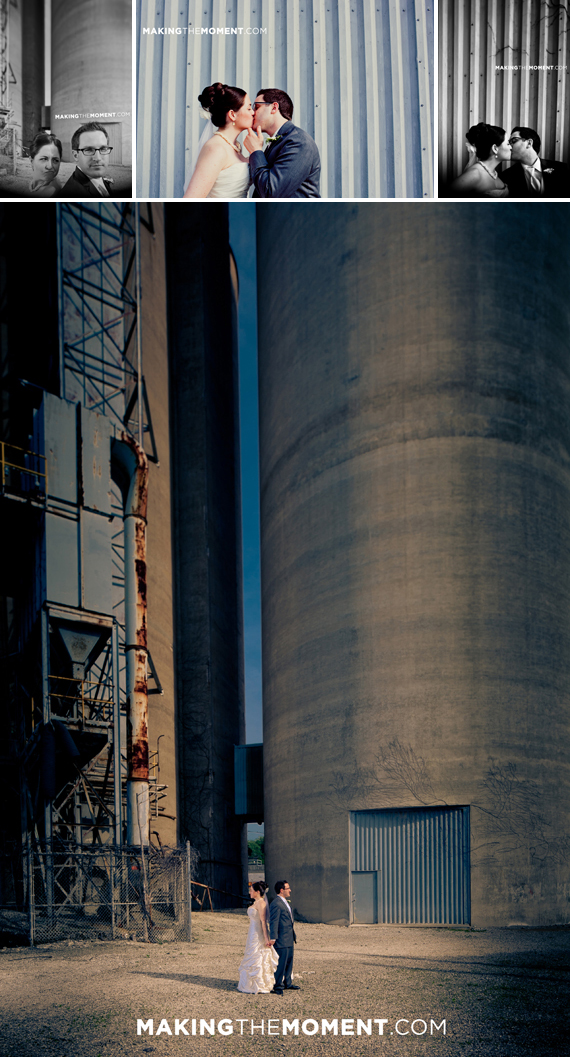 I had a blast on this wedding day from the get-go. Margaret's girls were awesome, and so much fun to be around. I loved being a fly on the wall, catching some sweet and fun candid moments as they happened.

Thanks to some good pre-planning (I'm a freak for helping our brides think through a good wedding photography itinerary) I was able to get some time in with Tony and the men getting dressed downtown too.

One of my favorite parts to being a cleveland wedding photographer, is capturing all the small details and memorable things that most wedding photographers would miss.  I set up Margaret's wedding dress in the room she grew up in her parent's house, and captured some brilliant wedding dress photographs.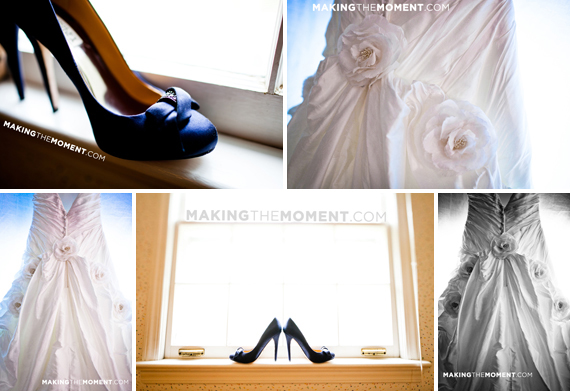 Margaret's Mother hand made the Margaret's necklace for her as a gift, and I dedicated a mini photo-session to it as well. Priceless!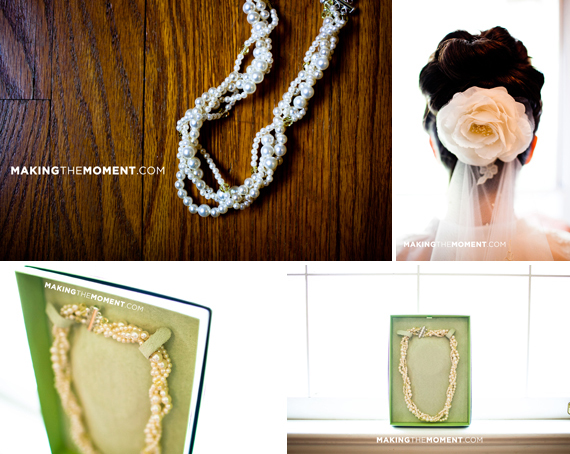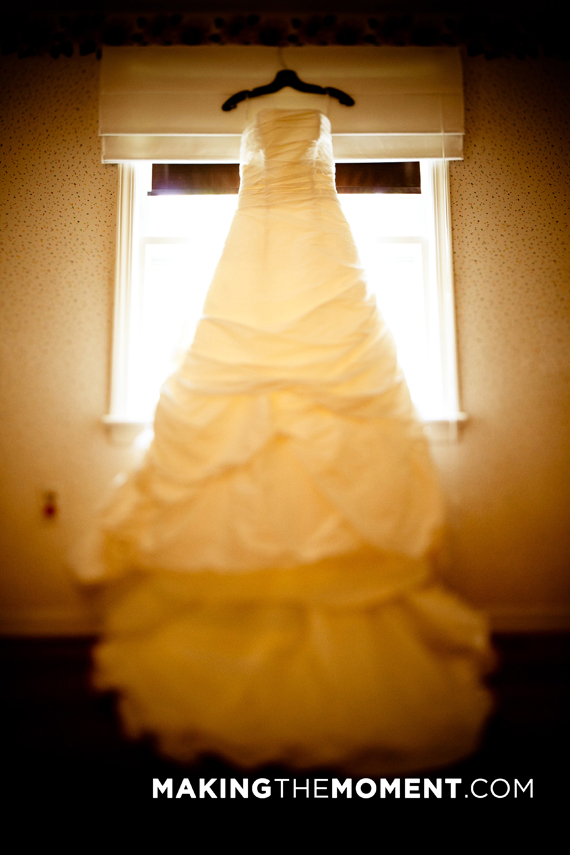 Capturing candid moments is an important job for any photojournalistic wedding photographer, and I love being able to retell my client's wedding day through their imagery.  These candid wedding photographs of Margaret dressing tell so much of the fun & love that was happening in the moment!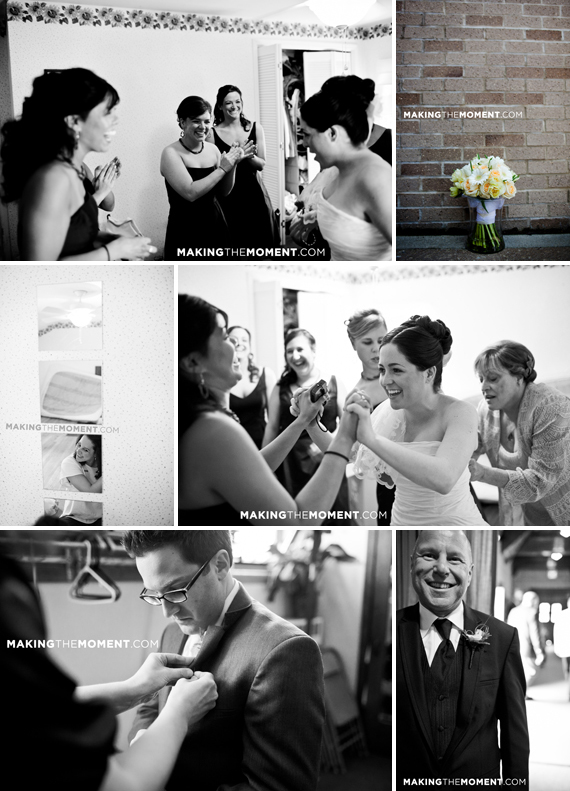 There were some incredibly wonderful floral arrangements that day – all presented by our friends at Fresh Tendrils.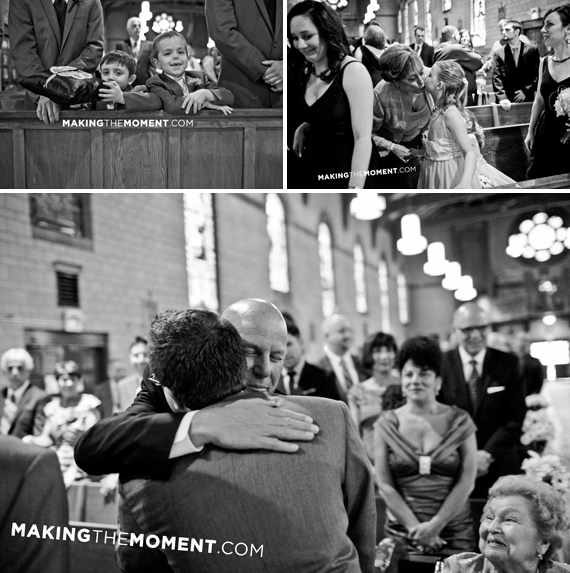 I LOVE the image of Tony hugging his father above – what a moment.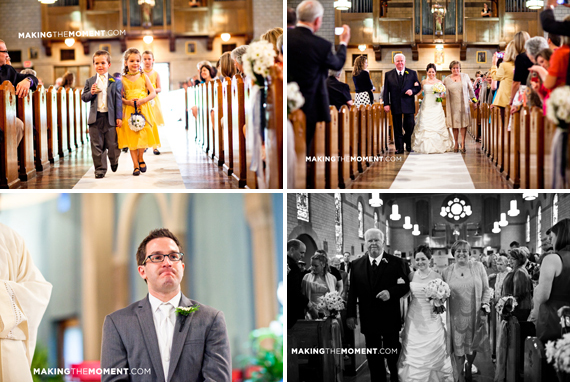 I LOVE when a groom loses it when seeing his bride walk down the aisle

 When my wife Colleen came down the aisle four years ago, I felt the same, and was a crying mess.  Tony was just the same, and I loved being able to capture his emotion, as well as the joy of seeing Margaret come down the aisle all at once.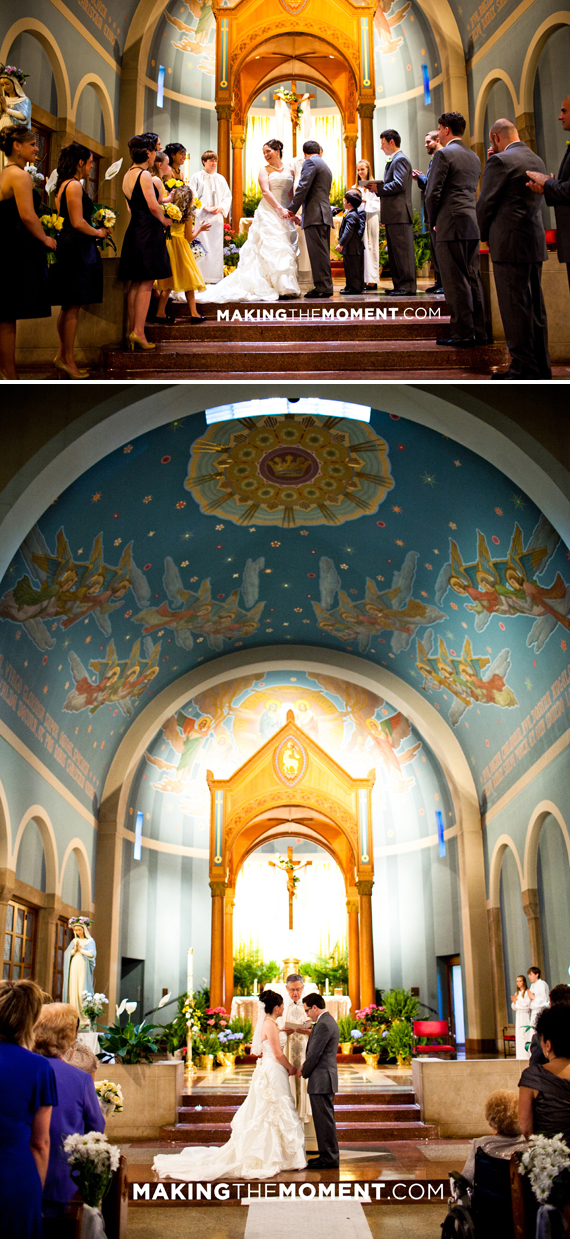 Tony & Margaret were married at Our Lady of Angels Church in Cleveland, Ohio.  I loved being a wedding photographer there – the light was so easy to work with, and the old-world charm of this church really stands out.  Seriously – check out the ornately painted ceiling above the altar.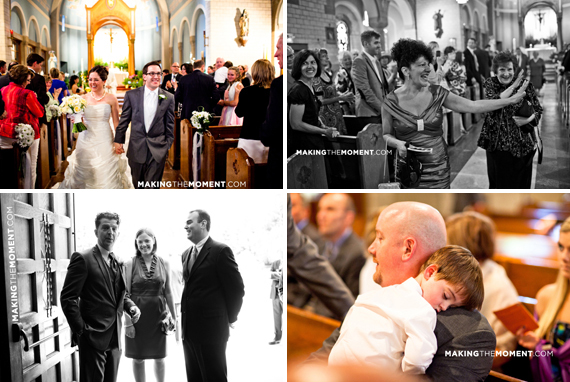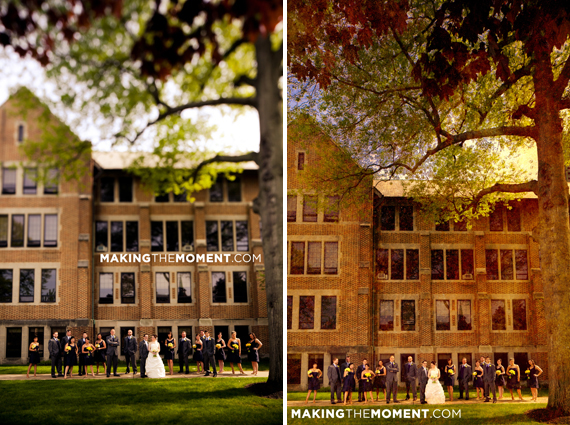 After the wedding, we then jumped right into our creative wedding photography session – perhaps my favorite part of the day.  We first went to St. Joseph Academy, where several of the girls had gone to school together.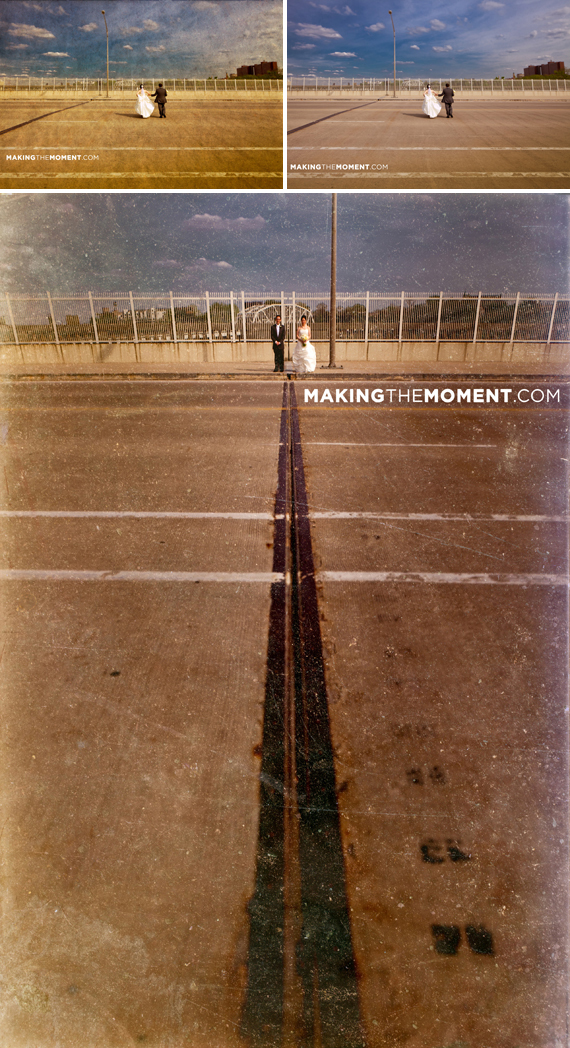 A big part of my job as a cleveland wedding photographer is location scouting.  I often spend time just "looking" for cool places to take couples for unique wedding photography.  I took Margaret & Tony to some fun & Funky photo locales, and created some awesomely fun imagery for just the two of them.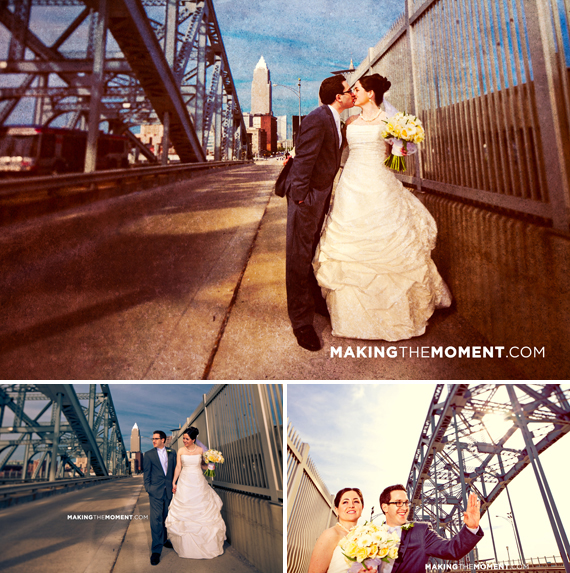 I love the above – we were getting honked at on the bridge by tons of onlookers – Tony took a moment to give a little wave to a particularly excited passerby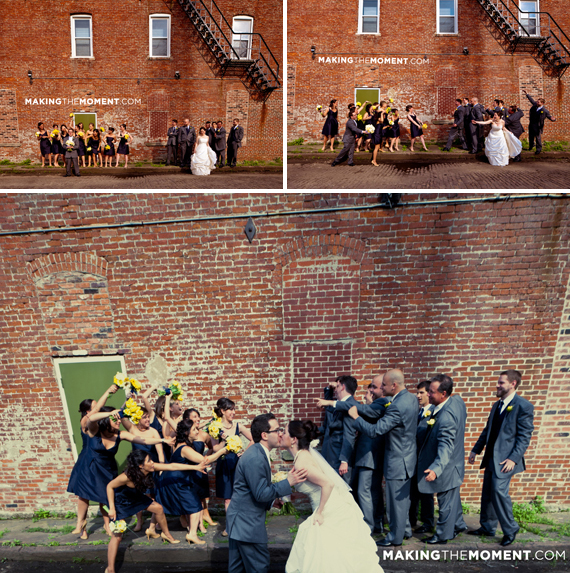 Above?  We had a little "west-side story"-esque brawl between the bridesmaids and groomsmen.  I loved creating wedding photography with large groups – you can have a lot of fun, if you know how to keep it fun for everyone involved.  We laughed for the rest of the session about how much fun this was!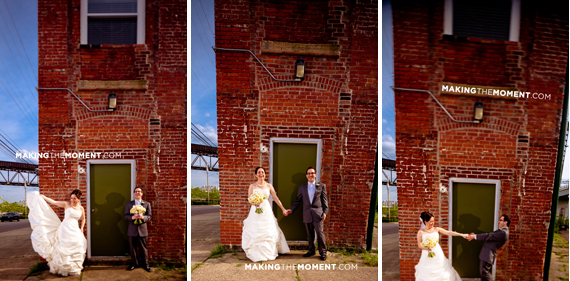 Goodness – I love this set.  The contrast of the above playful images of these two, with the more serious and romantic images below are a nice contrast and showing of who Margaret and Tony really are.  Too often photographers only opt for "serious" photos – not understanding that real relationships are far more dynamic than that.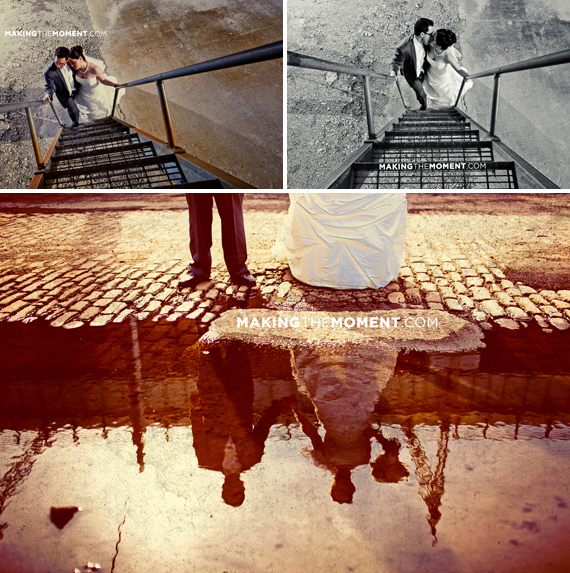 We caught a really sweet puddle shot or two while we were out there!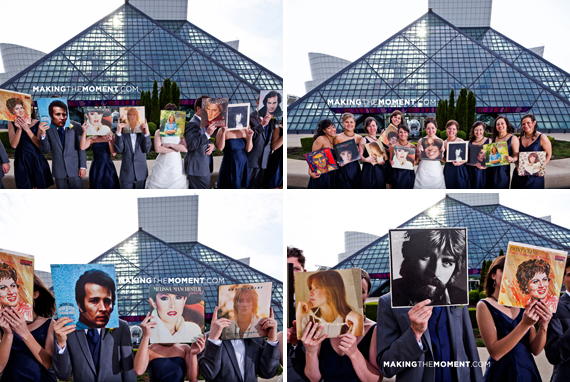 As I mentioned previously, Margaret & Tony had their wedding reception at the Cleveland Rock and Roll Hall of Fame.  When you're having your wedding reception at the Rock Hall, you need some seriously fun & funky images to pair with the theme.   The old-school vinyl albums we picked up that morning before the wedding were just perfect for such an occasion.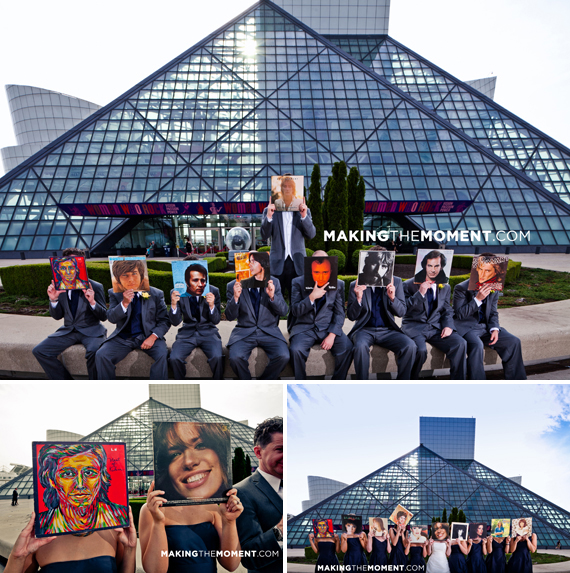 I seriously LOVE the way these two decorated the Rock & Roll hall of fame for their wedding reception.  Every wedding detail was paid meticulous attention to, and so fitting for the rock & roll theme of their wedding.  When you have a highly gifted wedding planner like Gina at  Shi-Shi Events. Great job Gina!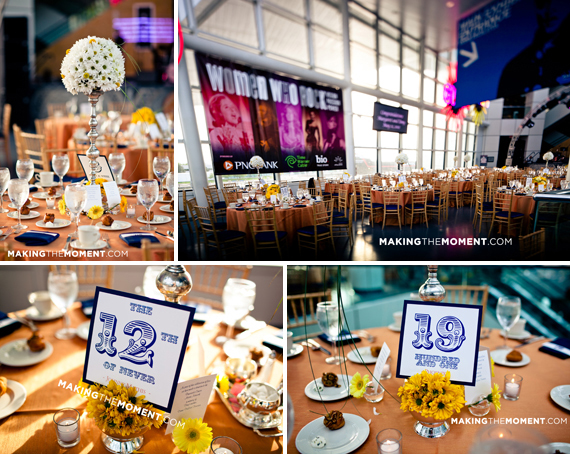 Did you catch it?  Each table marker  is themed – representing an iconic album, song or artist that fits the number.  What a sweet idea and way to fit the theme of having your wedding reception at the Cleveland Rock & Roll hall of fame.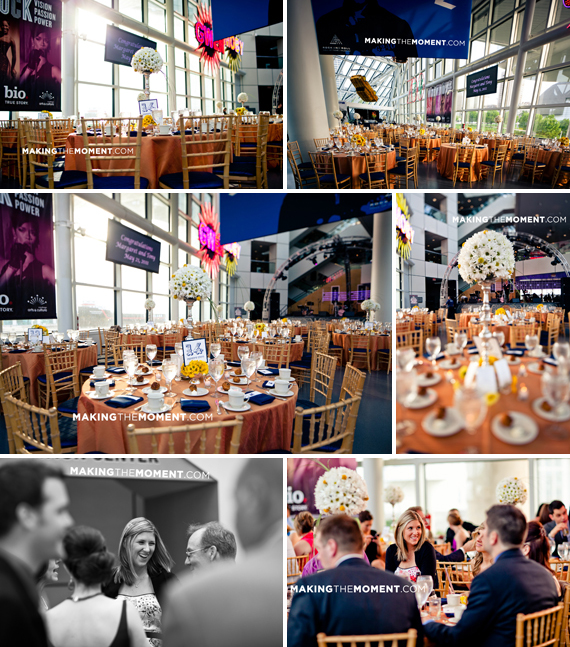 After capturing some candid photojournalistic wedding images of their reception guests, the bridal party made an awesome rock-themed entrance.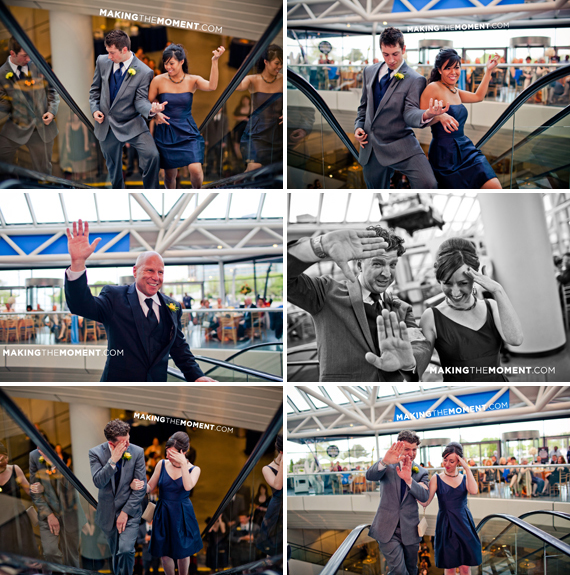 Perhaps my favorite entrance was Mark & Sandy – they put up a faux paparazzi act as I was photographing them.  I was laughing the whole time – so fun!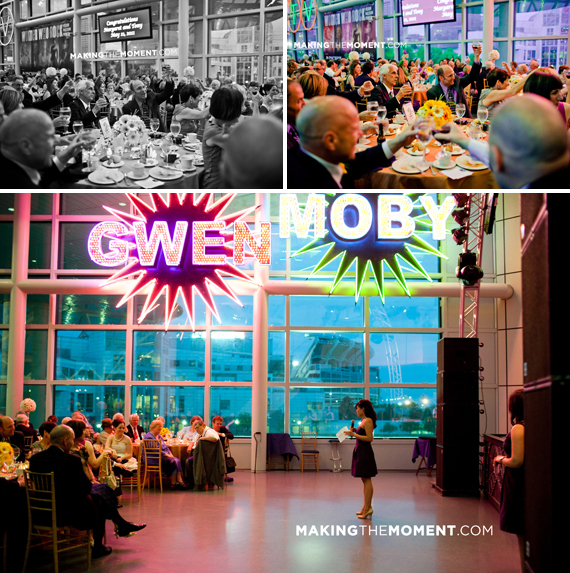 Speeches?  Epic & lively.   Dancing?  Meaningful & well done.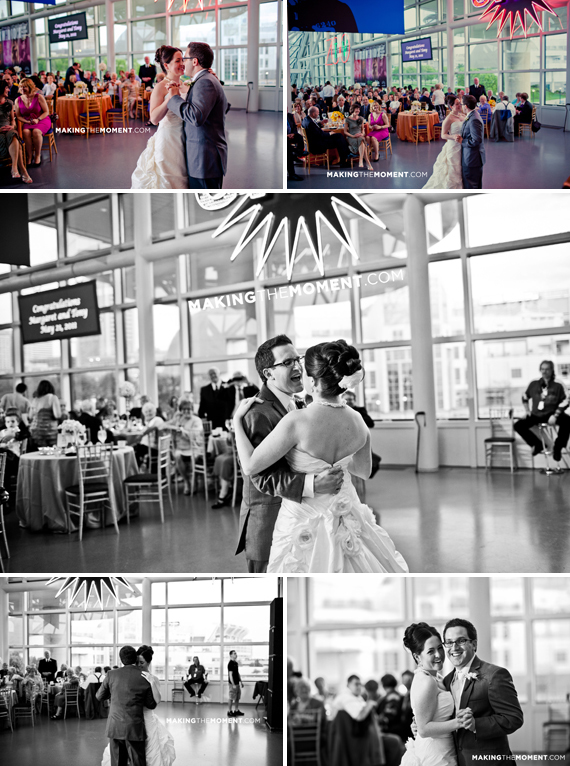 And in case you didn't catch it – Tony is in fact singing to his bride in the image above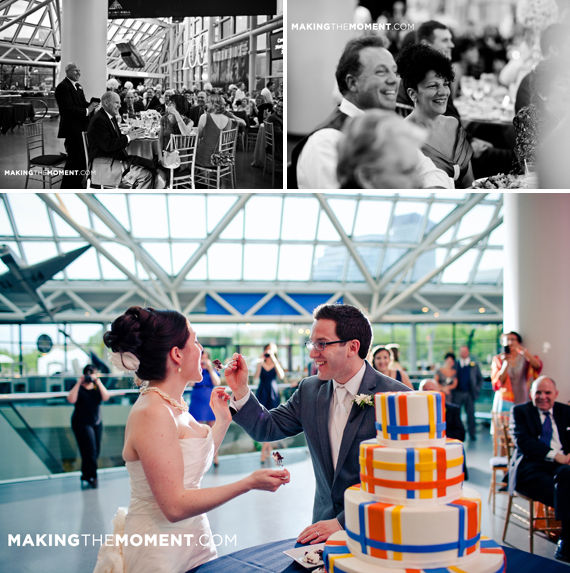 Their wedding cake was incredibly beautiful – I LOVE how Michael Angelo's Bakery found a way to creatively fit the color-scheme into the cake.  Georgeous! (and tasty!)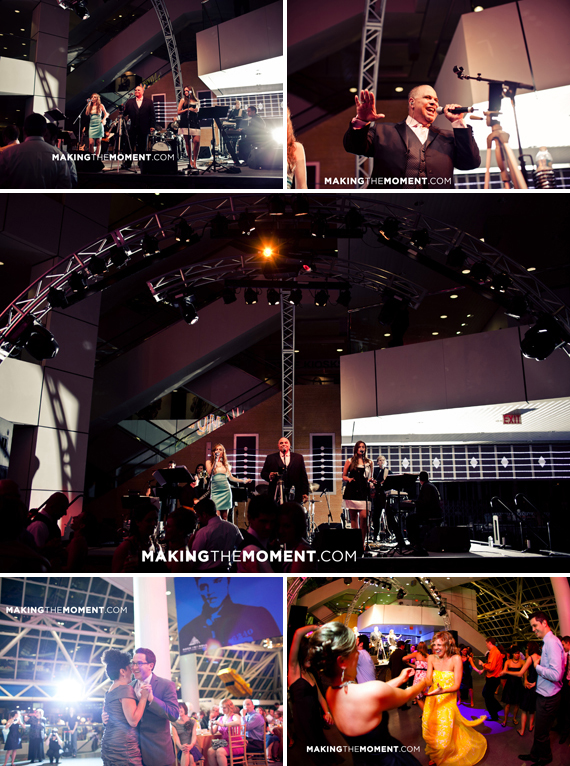 And what would fit a Rock & Roll Hall of Fame Wedding reception better than having a live rock band as your entertainment?  The awesomely gifted band, "the Avenue" rocked it out that night – all thanks to Jerry Bruno.  Seriously – awesome stuff – they even played a Ke$ha song at one point – how crazy!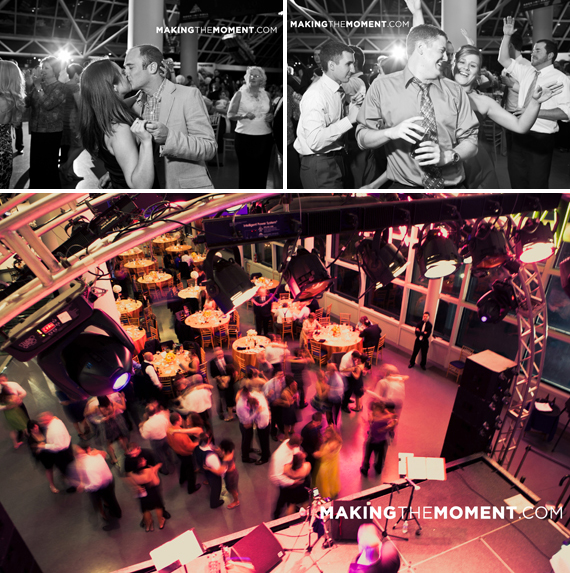 Margaret & Tony – seriously – so thankful you chose me to be your Cleveland wedding photographer – I enjoy you both so much, and am so proud of the imagery.  Thank you also for the awesome chocolates you brought over – you know the way to this photographer's heart.
Posted In Around Here, photos, Wedding