Jeanna and Brian are exceptional. From our first sit down meeting, I knew I had to work with these two – full of life & joy, they are one of my favorite couples of the year.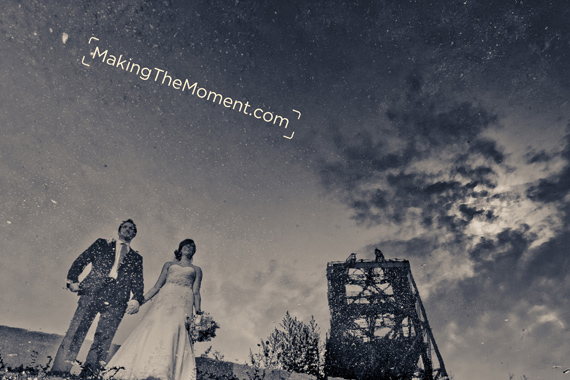 I'm so incredibly thankful I was able to serve them this summer as their Wedding Photographer, it was simply a joy. You know what's cool? When two days after a client's wedding they stop by and drop off cookies for you and your assistant. That's freakin' cool 🙂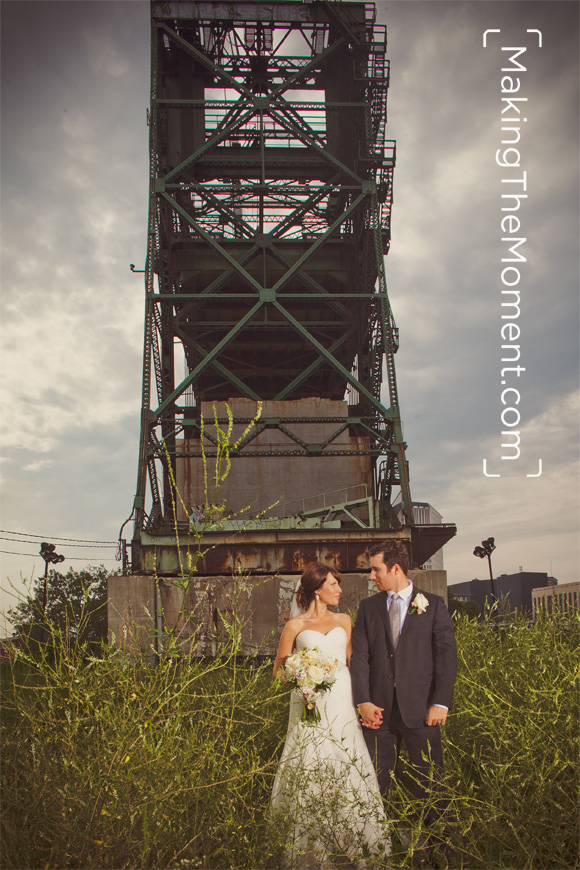 And that's who these two are – simply loving and kind people. It shows too in their wedding images – I'm a big believer that true artistic wedding photography is always a representation of who the couple really is at heart, rather than some posed & false set up image.
For sure, their heart shows through these artsy images – you can see it in their candid and photojournalistic wedding photographs. Being a candid and photojournalitic wedding photographer in Cleveland means that I have a keen eye for capturing true and lasting moments as they unveil.
I also have a heart for the small stuff – the wedding details. There is so much story in all the little bits and pieces of a wedding day.
I took some time and found Brian getting ready in his hotel room. He had a little bit of nerves, but he was excited and ready to see Jeanna.
This is the joy of being a modern cleveland wedding photographer – being able to capture all this story and preserving it. I was there and ready when Jeanna entered St John's Cantius church in Tremont for her wedding.
Moments like this is why I am a big believer in all day wedding photography coverage, not just hours of coverage. How could I miss this stuff? All these candid moments are so important to Jeanna's wedding day!
And Jeanna is beautiful – strikingly beautiful. We took a few moments before her guests arrives for a quick image session. I let her be her natural self – no surprise – she looks great 🙂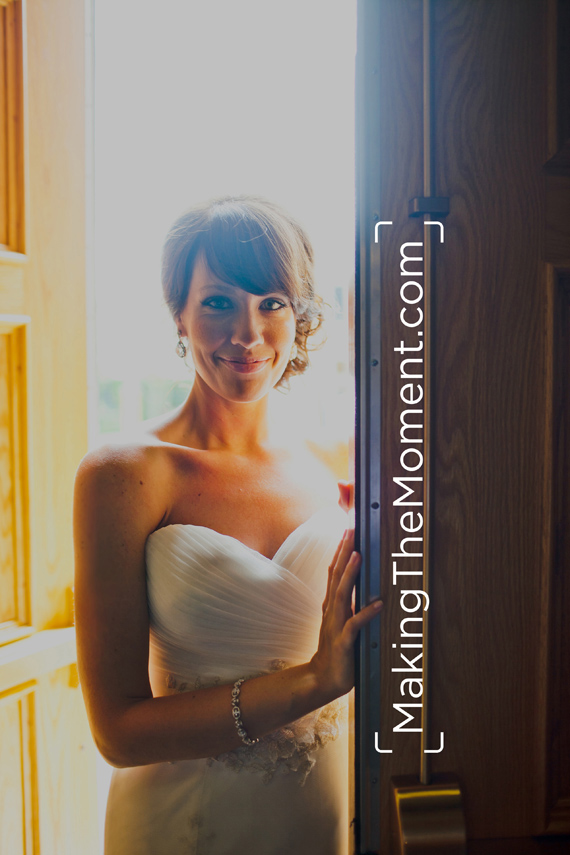 As I said, the wedding was at St.John Cantius Church in Cleveland (tremont). St John's Cantius is a simply beauitful church for a cleveland wedding. Full of old world architecture and charm, and set in one of my favorite Cleveland neighborhoods.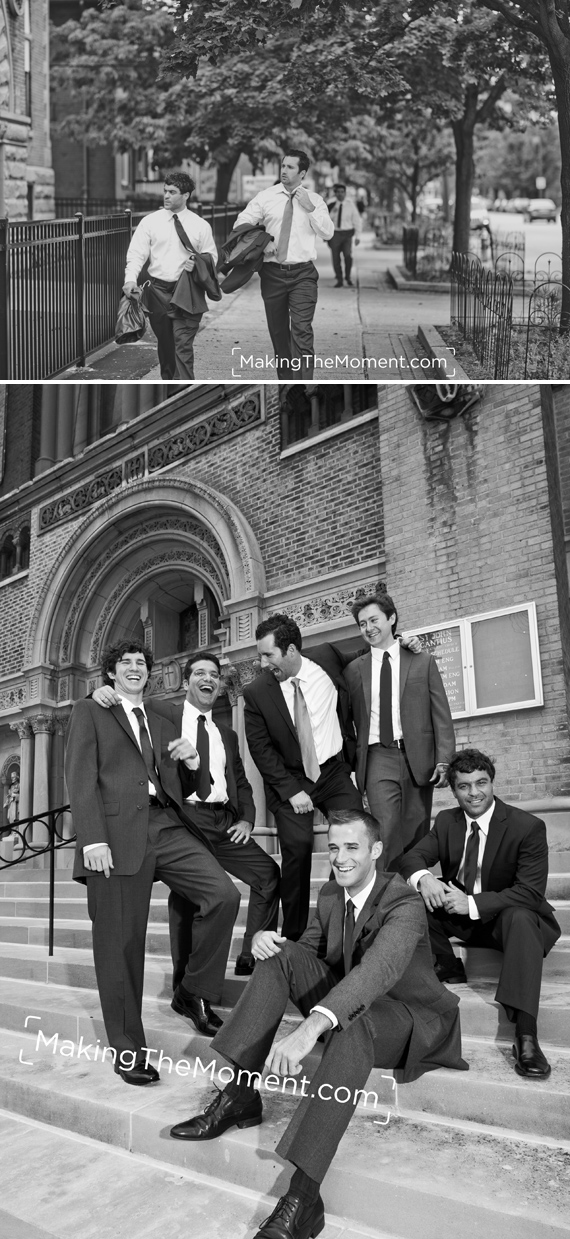 I caught the guys walking to the church and stole a few moments for a quick creative wedding photography session. So much fun!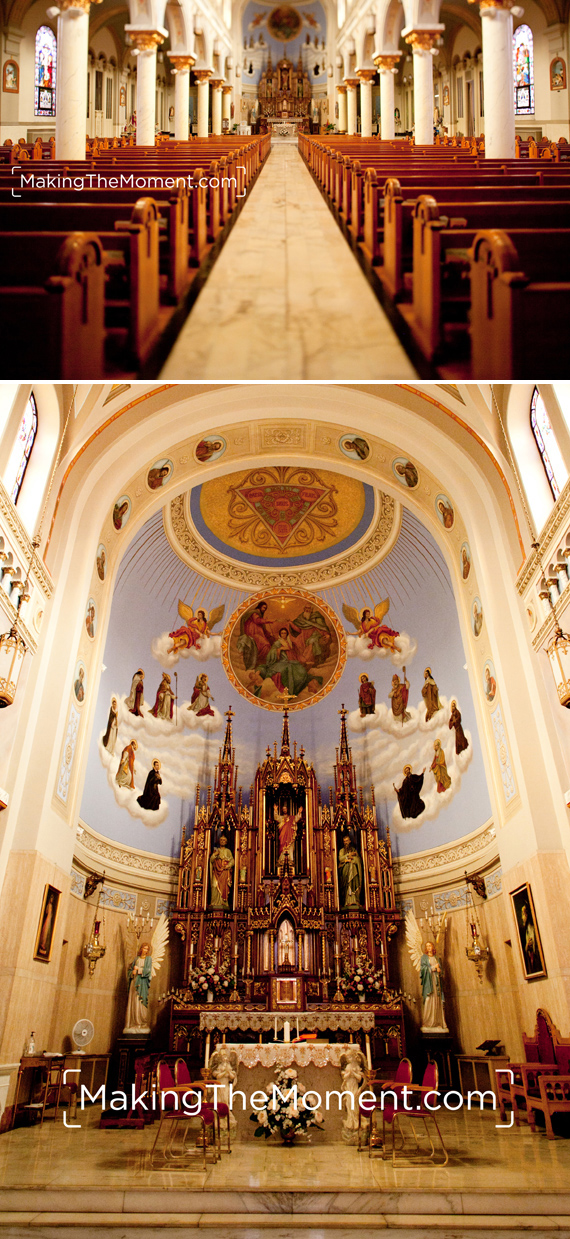 How awesome is St John's Cantius church? Seriously – epic beauty.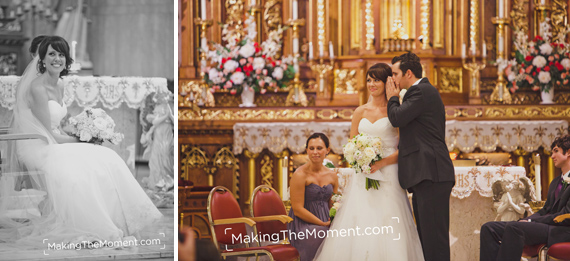 After the wedding at St John Cantius, we then embarked on our creative wedding photography session. We struck out in the neighborhoods of tremont – I know some really cool nooks and crannies that are just wonderful for modern cleveland wedding photography.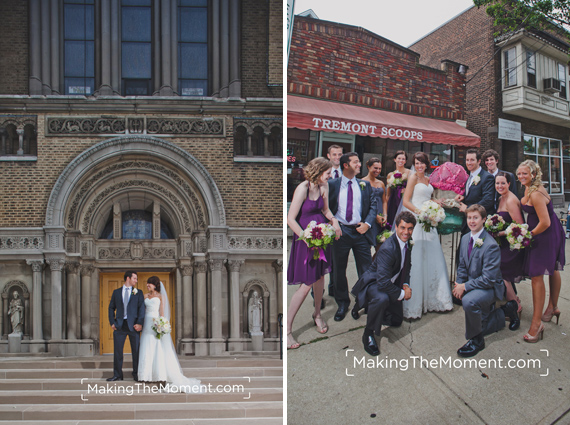 I love working with bridal parties – there's always so much energy and fun to be had, and this group was no exception.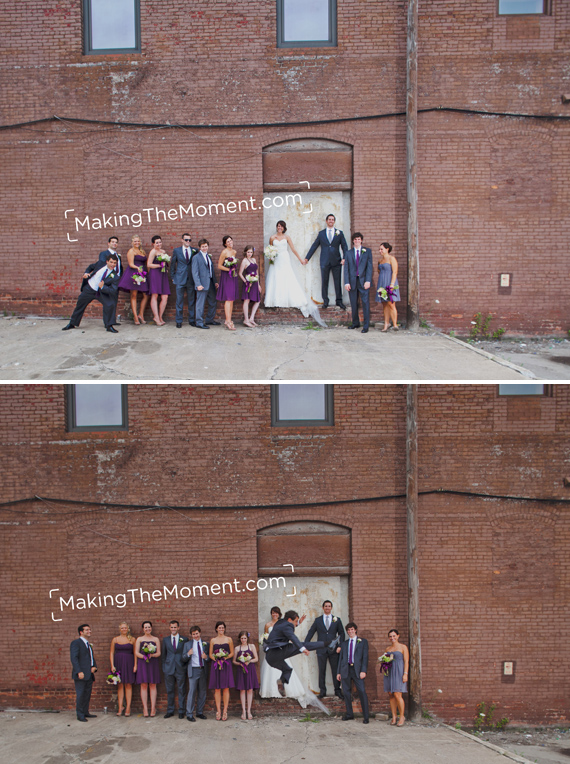 One of the groomsmen showed off his mad karate skills by showcasing an awesome jump kick.
Epic. Love this image.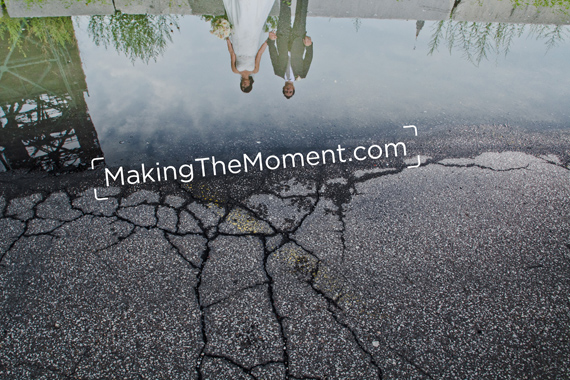 And this is creative and different cleveland wedding photography. We found some awesome puddles in the area I took them (it was something of a rainy weekend!) and rocked it.
Seriously – I ♥ the clouds in this reflection shot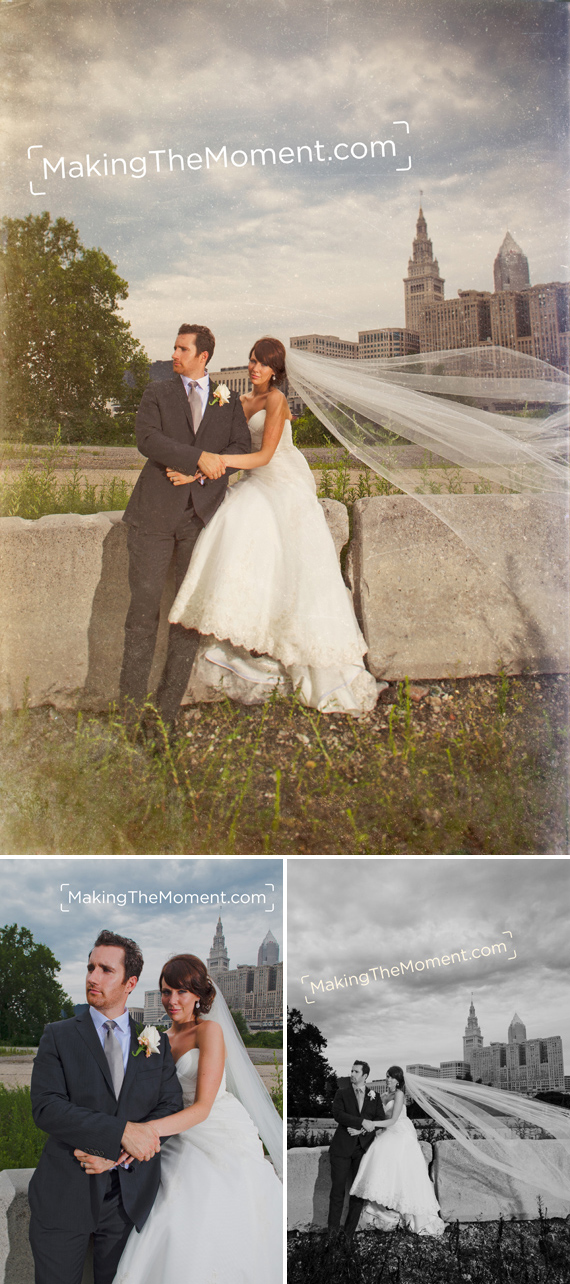 This set of artistic cleveland wedding photography above is some of my favorite ever crafted. A little cleveland skyline in the background, and Jeanna's veil naturally blowing (no joke) in the wind. So cool.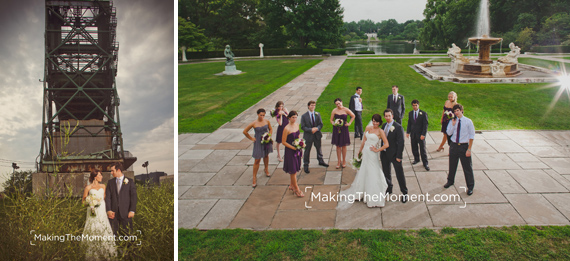 I love the fun and joy of creative wedding photography sessions. They are relaxed and laugh-out-loud fun, not awkward and stiff.
After rocking their creative image set, we headed to Pine Ridge Country Club at the Clubhouse for their wedding reception. Pine Ridge country club is awesome for wedding receptions – Check out the glory and grandeur of this reception venue!Much credit goes to Michael Angelo's Bakery for their epic wedding cake.
Jeanna & Brian's first dance was a knockout – full of sweet glances and laughs. These two are so in love.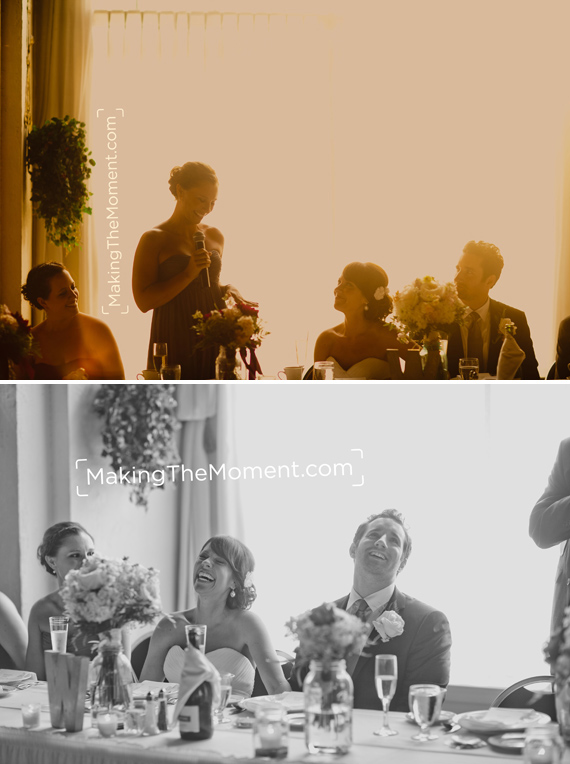 Here you can for sure see the beauty of a wedding reception and Pine Ridge Country Club, the late summer light created an enchanted feel to the evening.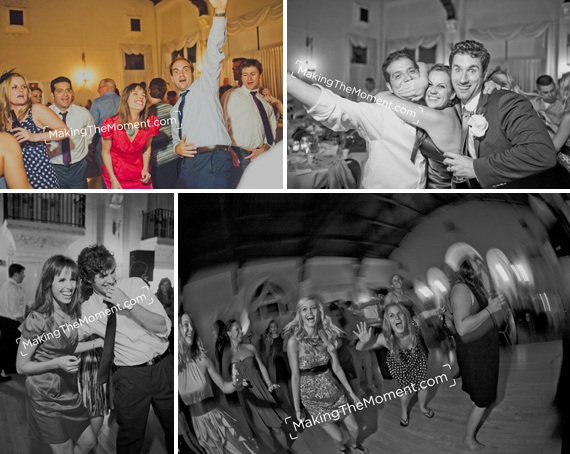 I love wedding reception dance photography – so fun and funky to capture.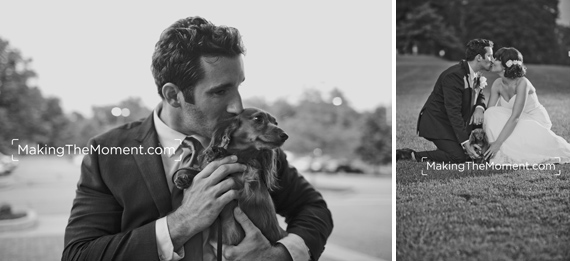 Jeanna and Brian have a special spot in their heart for Ruby – their sweet little pup. She made a planned appearance at Pine Ridge Country Club during the reception for a little evening pet photoshoot. So sweet.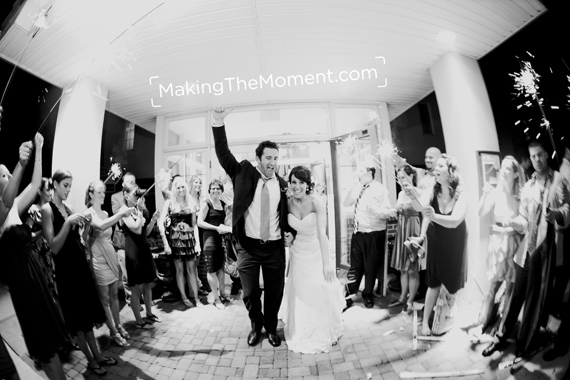 Sparkler exit from the reception? Love it.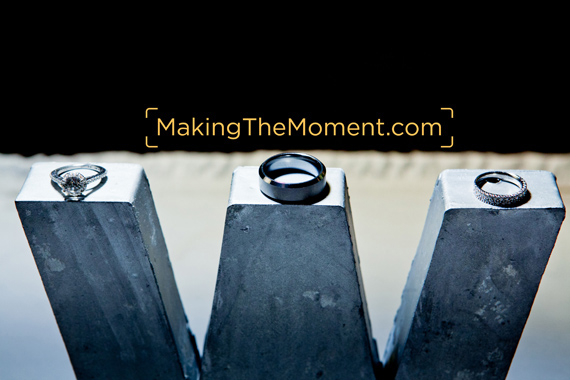 We are freaks about wedding ring images around here too – and using their giant metal letter W (I think from anthropologie?) for their ring photograph seemed so perfect.