I legitimately call Ashley & Adam friends of mine. These two clients are one of the many couples over the years that have become more than just a bride and groom I get to serve, but have become people I simply enjoy.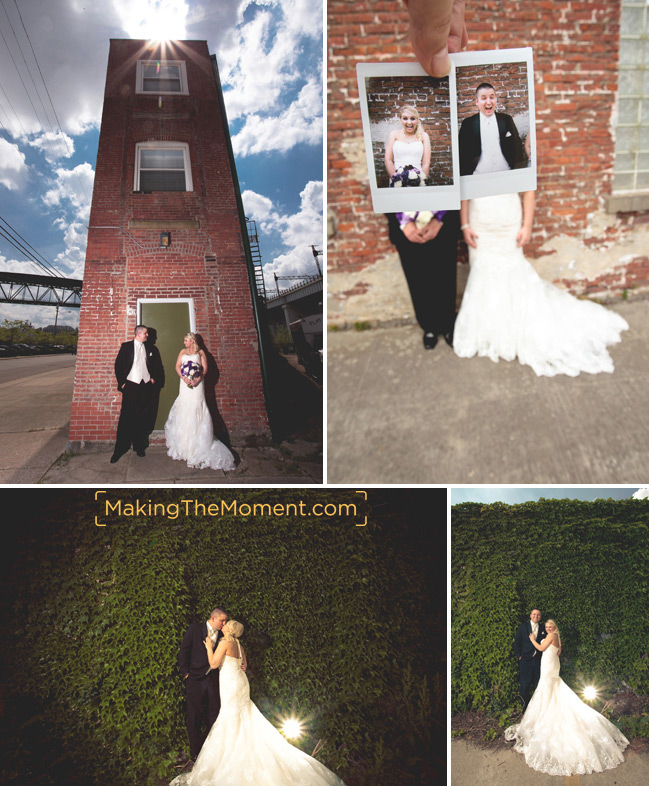 That's not to say I don't enjoy all of the couples we work with (I really do, we get the BEST clients around here), it's just that Ashley and Adam have got it goin' on – they're a super-sweet mix of laid back and sassy. Oh yeah, and ridiculously photogenic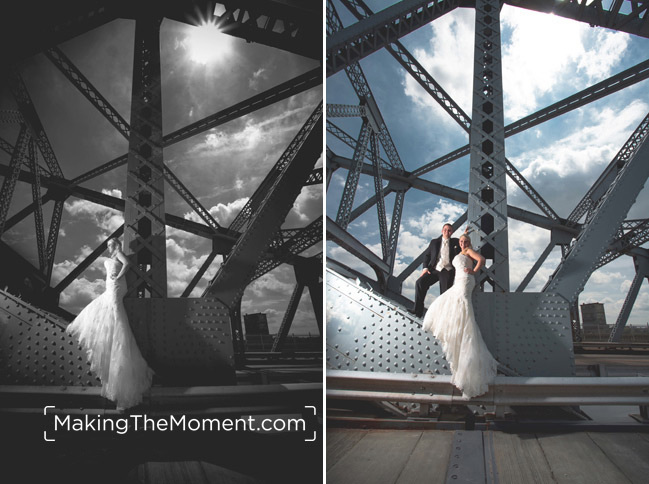 Ok – let's chat wedding photography now. These two had an awesome wedding in cleveland, and I love being a cleveland wedding photographer. We had a pretty sweet and modern creative wedding photography session in cleveland that day, and I'm pretty proud of the images. As always though, all good images have a story behind them, and I'm excited to give you a peak into their wedding day.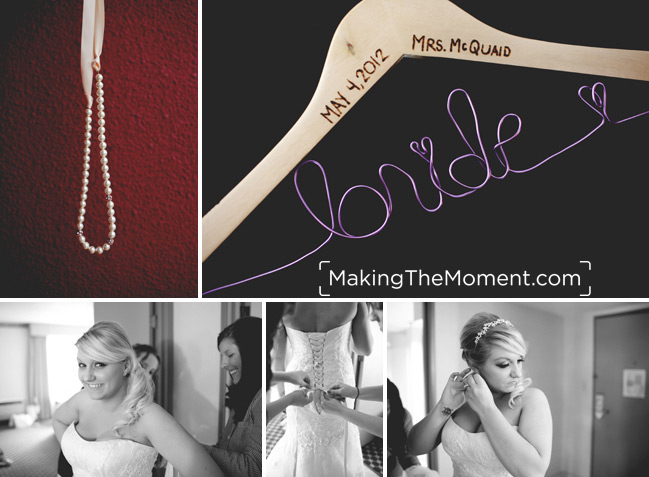 I found Ashley and Adam getting ready separately at their hotel in North Olmsted, and spent the morning casually photo-stalking them as any good photojournalistic wedding photographer in cleveland would. I'm a huge fan of using photojournalistic wedding photography or candid wedding photography as a story telling tool. Without these natural images, so much of the heart of the wedding day would be forgotten.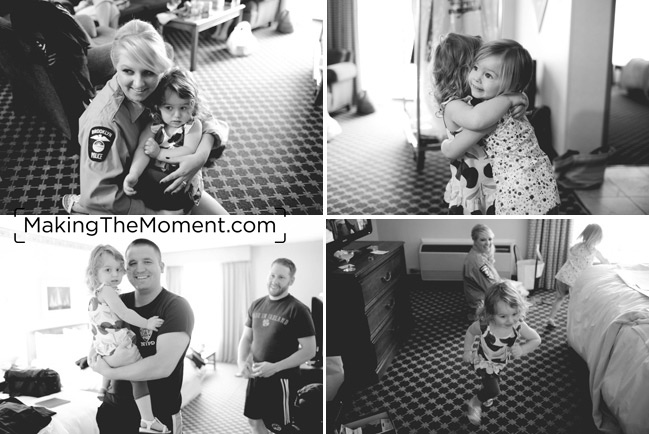 Ashley & Adam have the cutest little girl – Layla. She was there throughout the day, bounding with energy. It was so fun capturing these natural and real moments as they occurred. They are full of story and reality – much more so than any "posey-pose" photo could handle.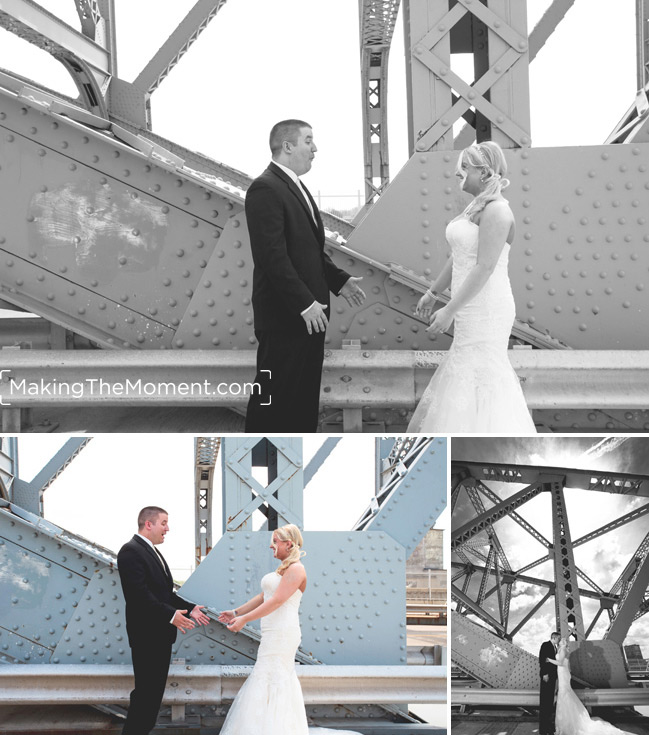 After they got ready? Ashley and Adam asked us to do a private introduction or a "first look" as we're fond of calling them around here. Not every couple goes this route, but this provided a nice window of time for the creative images, and allowed for Ashley and Adam to see each other privately for the first time. Check Adam's face as he sees his bride – I love it. That's real.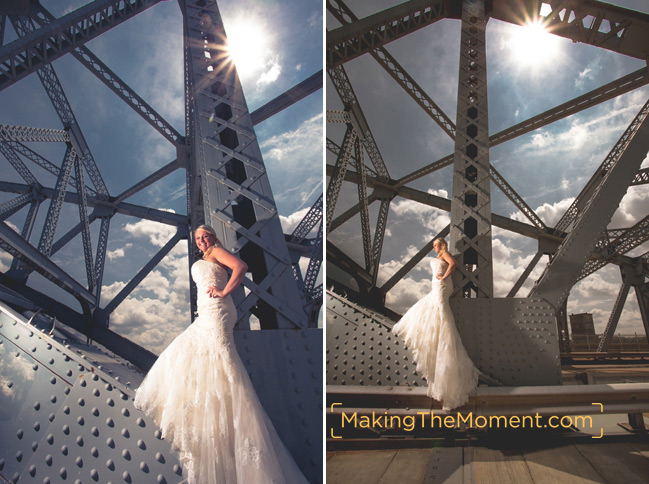 After I gave them a few moments to enjoy each other, I escorted them into their creative wedding photography session, right in the heart of cleveland. I absolutely love my job as a creative cleveland wedding photographer.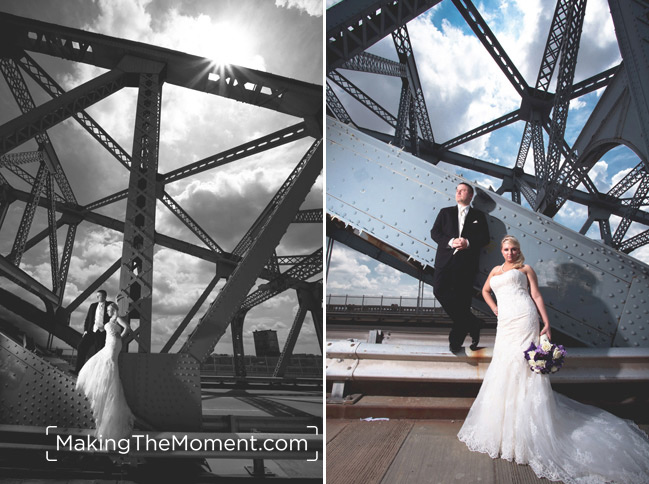 Thinking out of the box and coming up with fun and funky new locations for creative cleveland wedding photography is my passion, and I loved working with Ashley and Adam to make wedding images that are theirs – not everyone else's.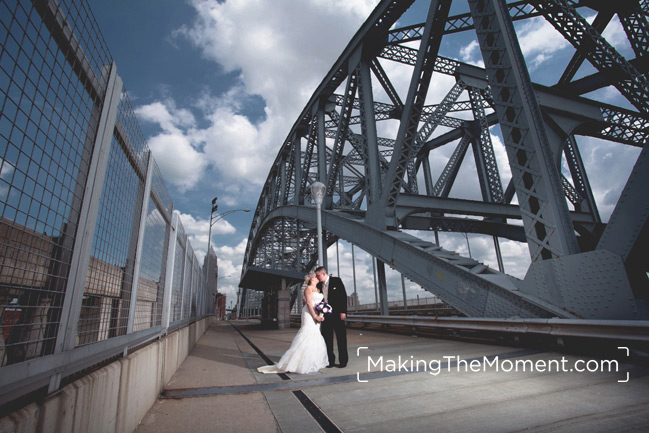 I'm a huge fan of incorporating environment and architecture into my cleveland wedding photography. There is an art to Cleveland found in the buildings and alleys that make up our city. Finding a way to bring that art into modern wedding photography is a joy to this wedding photographer!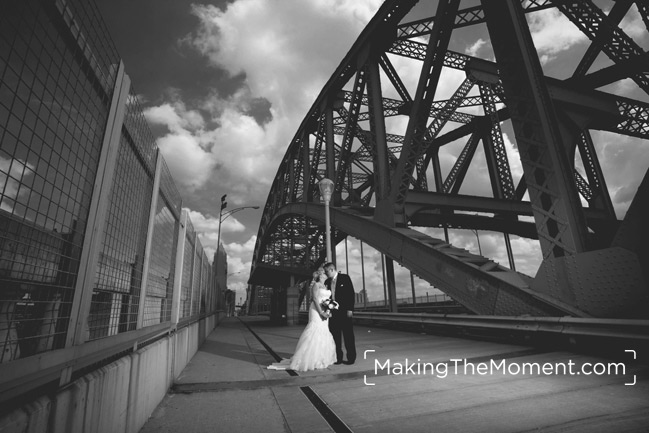 Rarely do I present and image in both black and white and in color, but this image just needed the double representation. I hand tone and artfully color correct all of my wedding images, and each edit decision is full of taste and thought. I just felt like this image was worth of both presenations.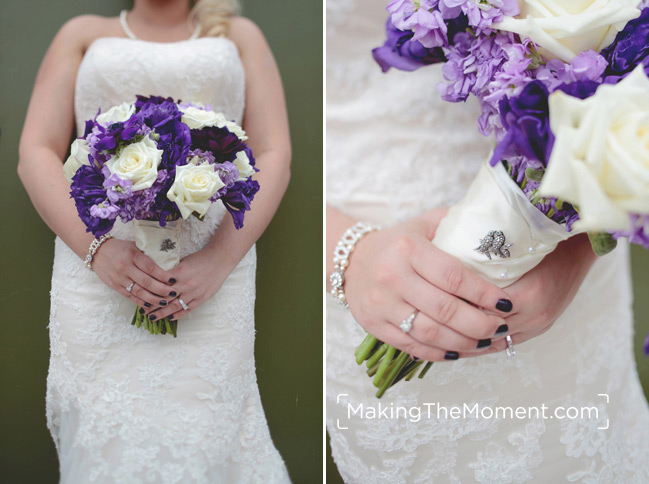 Ashley had a sweet bird theme to her wedding, and had found a really cool vintage pin to go on her bouquet. Yup – her flowers were gorgeous – perfectly hand made by Rose Haven Flowers and Decor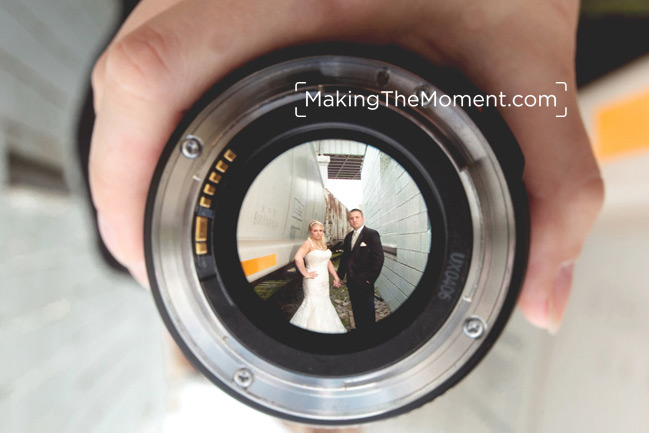 This was a fun image to create – this image is literally shot through a camera lens. Two of them actually. I'm dreaming up what combining a few of them would do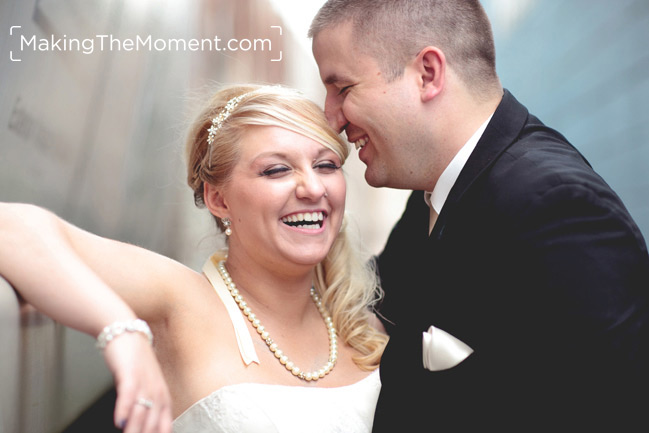 This natural and easy-going style of cleveland wedding photography is my favorite approach to be an artistic wedding photographer in cleveland. I think it's important to help couples be themselves in front of the camera, rather than over-posing and manipulating every nuance to their being.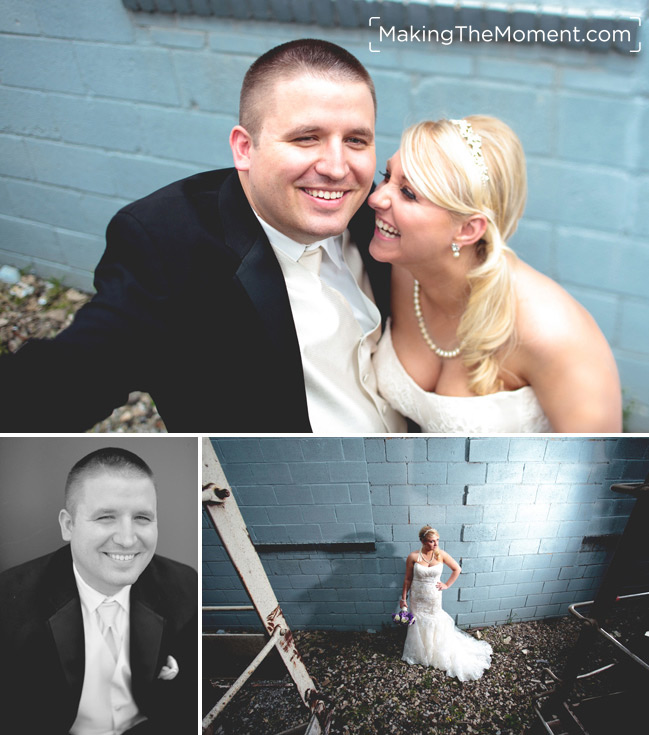 We found some really sweet & funky cleveland wedding photography locations, and it was fun crafting unique and funky wedding photography for Ashley and Adam.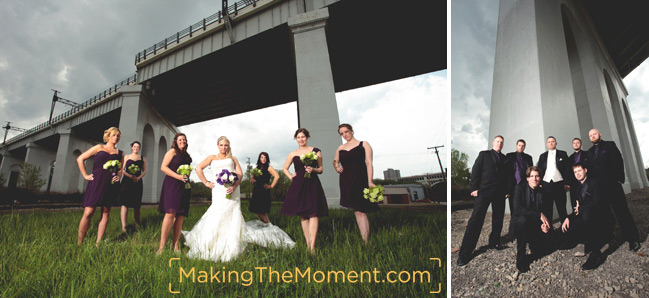 Unfortunately, the limo broke down while bringing the bridal party to our creative wedding photography session, so we only had a few quick minutes with the bridal party for group photos, but we definitely made the most of it. These are two of my favorite images from working with the ladies and guys – so awesome.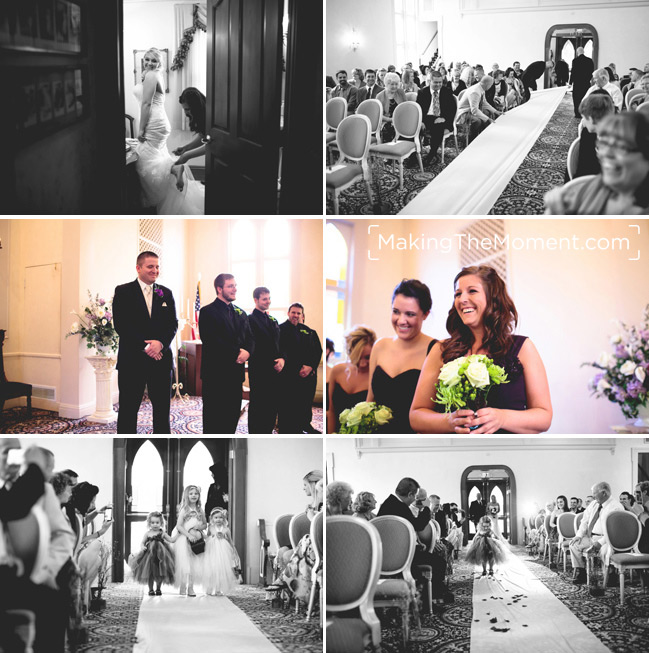 The wedding ceremony was held at the Olmsted Falls Grand Pacific Wedding Chapel, a unique old-timey venue for wedding ceremonies in Olmsted Falls. The men struggled a bit with the aisle runner. It was a nice comedic moment of levity for everyone in attendance.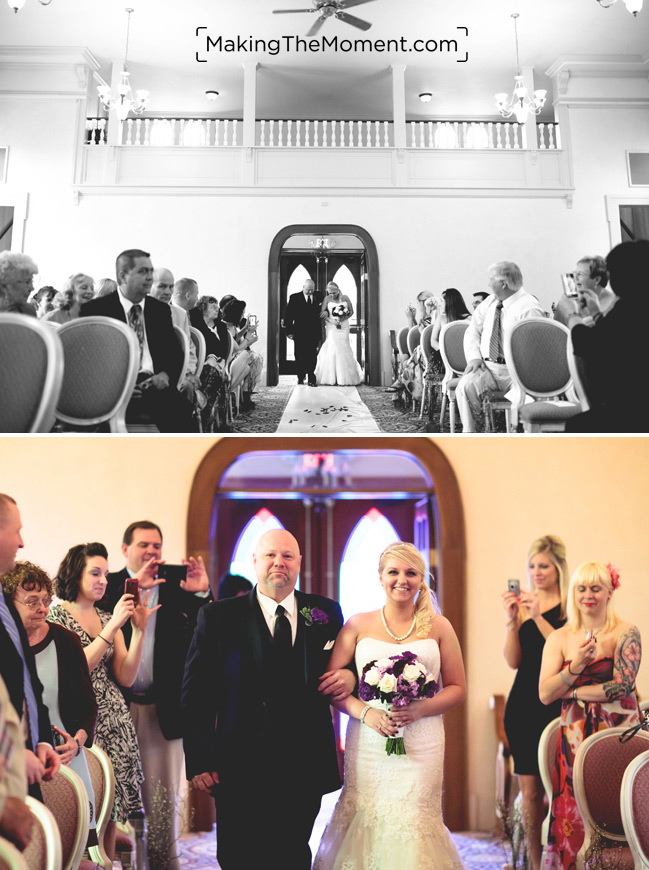 Ashley was shining as she came down the aisle of the Grand Pacific Wedding Chapel in Olmsted Falls. All eyes were on her as she entered.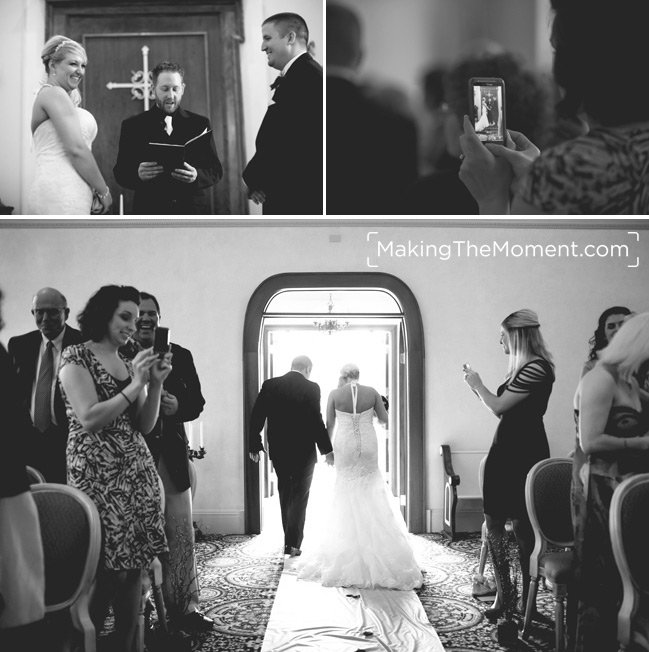 Their ceremony was officiated by one of their dear friends. It was the definition of personal and authentic.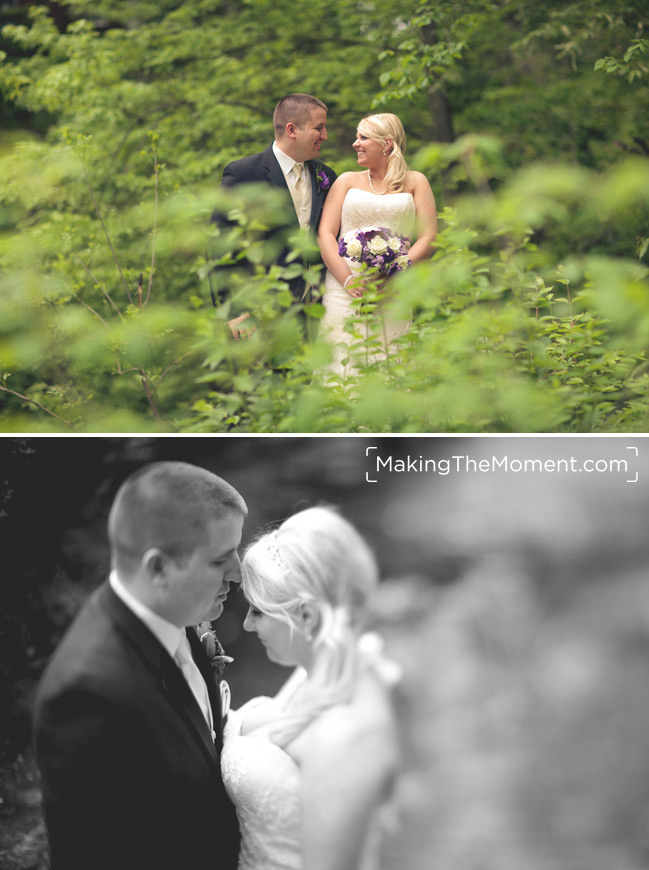 We took a few quick minutes to craft some artistic wedding photography in the nearby park – this is where Ashley and Adam had been engaged, and seemed all to fitting for their wedding photography.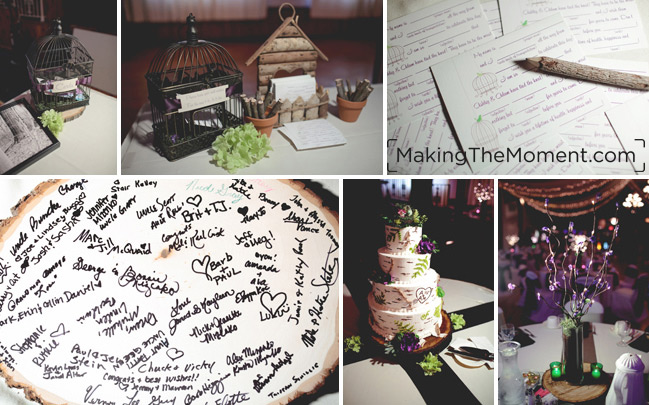 Their wedding reception was at Springvale Ballroom, a reception venue in North Olmsted. Ashley had put so much work into the details of her wedding reception at Springvale Ballroom. Every custom feature was themed and perfect for her and Adam. Adam had even spent time hand cutting the tree stump plates they used for table decorations and a signing board.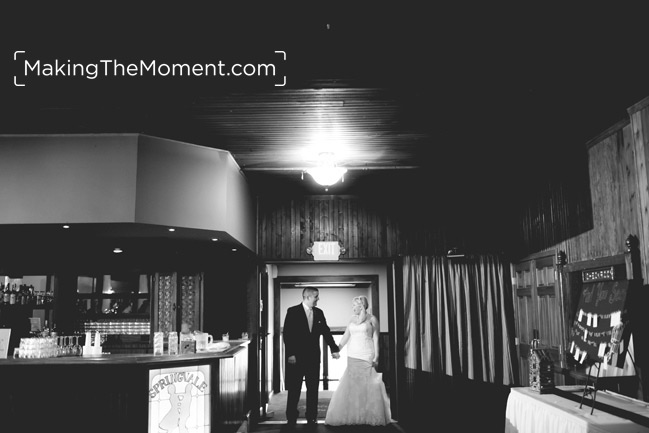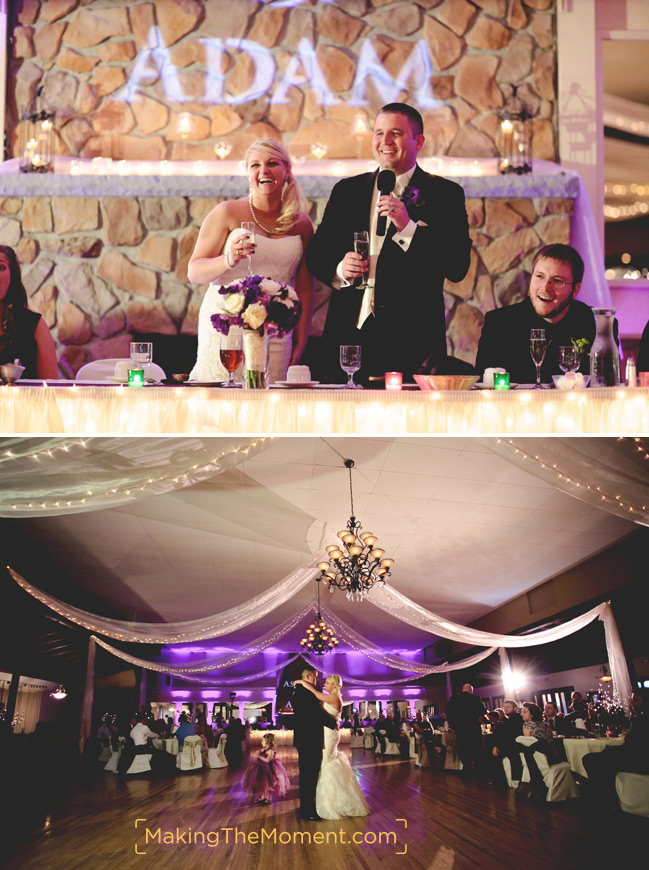 Their speeches and first dances were enhanced by their custom up-lighting and music by Sound Proof Entertainment. It was a fun night of dancing and laughter.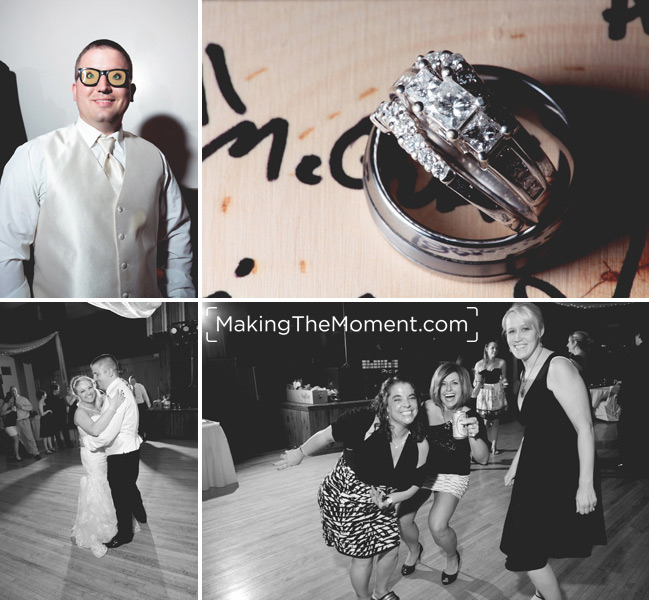 Seriously, how could you not love these two? I had so much fun at their reception at Springvale Ballroom, and such a joy serving them as their wedding photographer.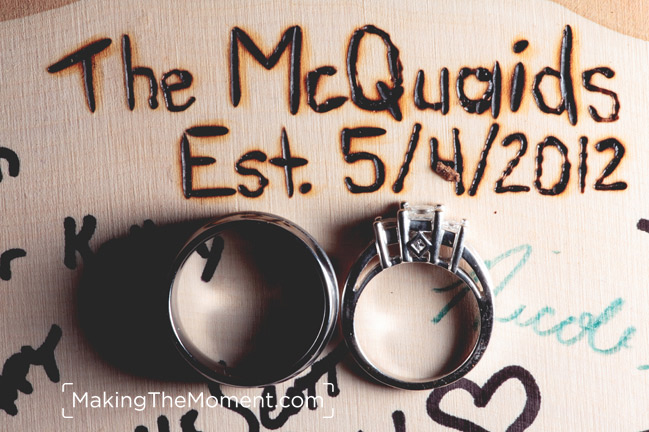 Posted In photos, Wedding