I know I talk a lot about how much I love our clients (and I do) but I can't start this blog post any other way. I really really really like these two. I mean, how can you not?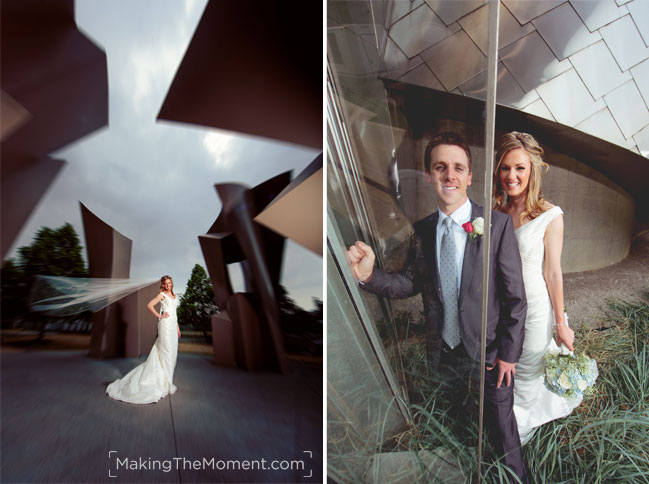 Jacob is a rock-solid guy. Cool – calm – collected – and yet full of life. Melissa? Her smile says it all. She has a joy and kindness to her that you don't see in our world as much as you should.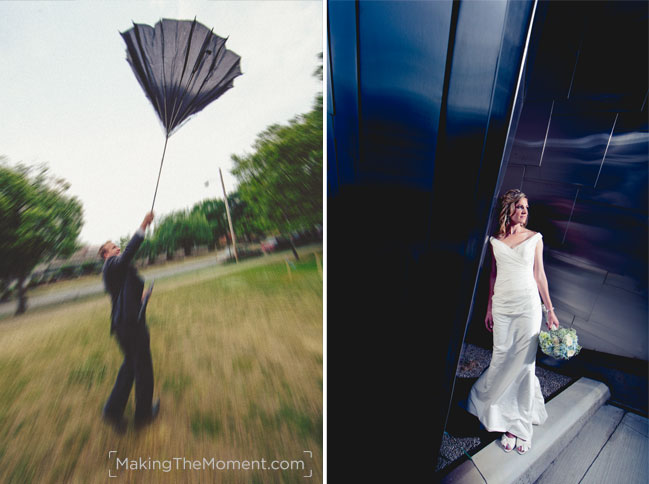 The two together are one amazing team, and so fun to be around. Going off subject here – the two images above are perhaps my favorite of the entire day. On the left, a sudden wind gust from the coming summer rain storm inverted Jesse's umbrella. I love Melissa on the right – the diagonal line in the image really brings your eye back to the beauty of Melissa (oh how I love architecture in wedding photography!)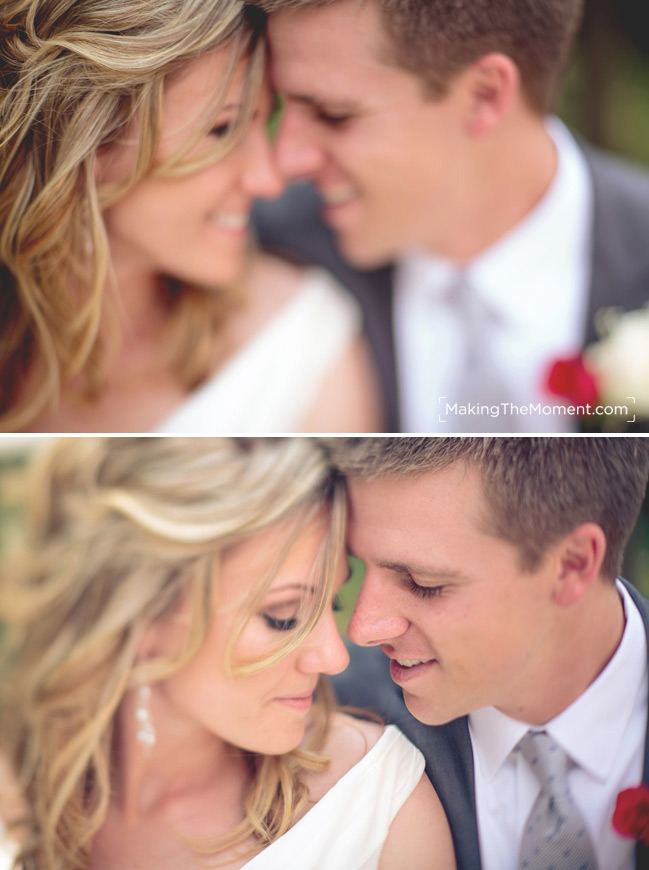 Back on subject. Jacob and Melissa – they are an awesome couple, and I'm so thrilled I got to craft and create with them. I'm a nut for natural wedding photography – rather than the overposed / overdone images that seem to come from everywhere. The above is what happens when a good wedding photographer helps a couple relax and be themselves.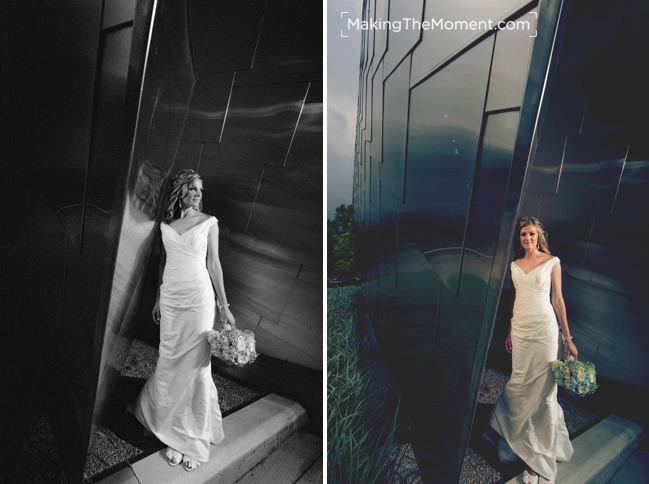 Yes – I helped Melissa get here – but the images above truly are a statement about her. She is a classy girl – and her wedding images speak that of her. I think the difference between good wedding photography and great wedding photography is simply this; the ability for the image to encapsulate the heart and essence of the subject, and then communicate that to the viewer.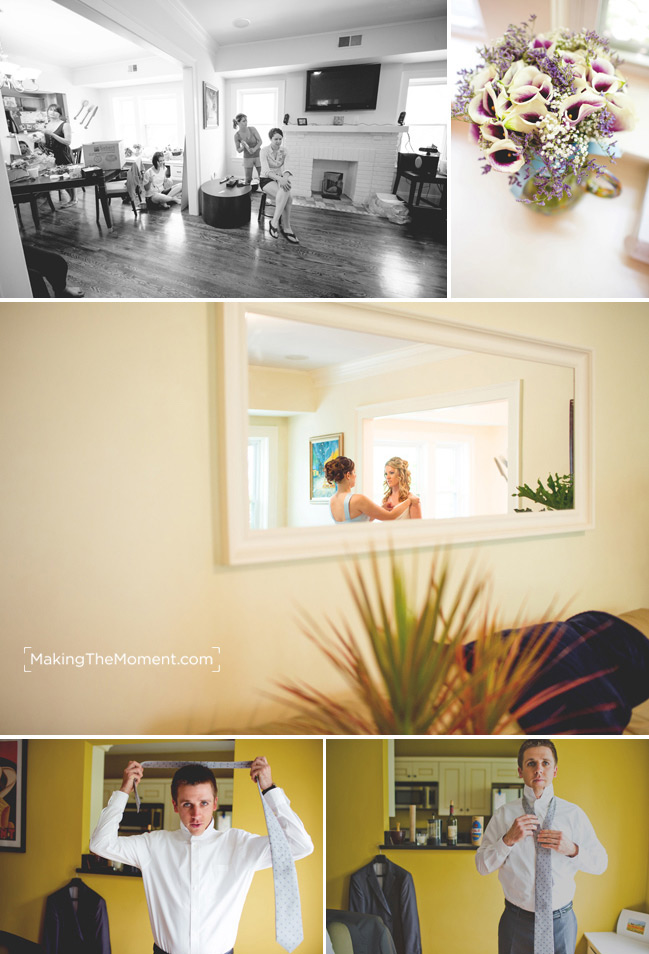 As a modern wedding photographer in cleveland, I am in love with the idea of telling story with wedding photography. Chiefly, I enjoy communicating the story of a couple's wedding through being a photojournalistic wedding photographer. I enjoy spending the entire day with my couples – getting ready in the morning through to the party at night.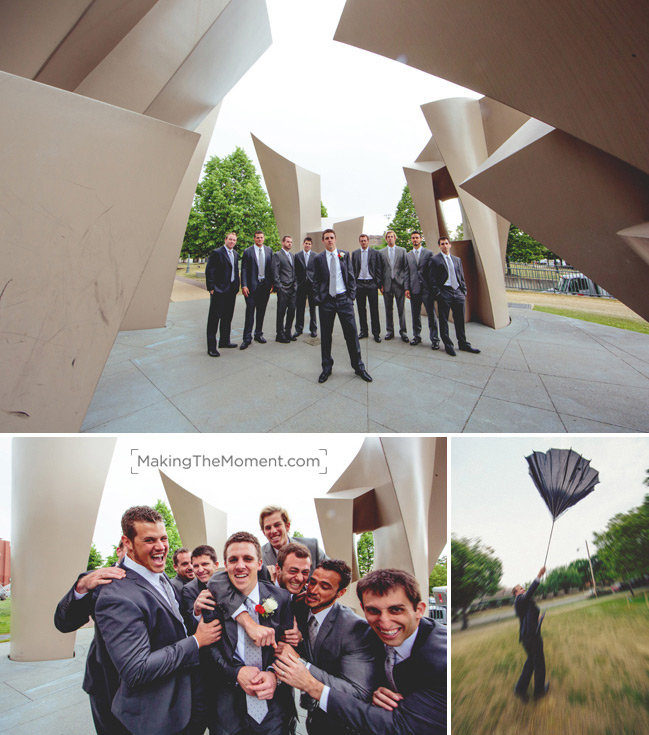 After I snapped an image with the groomsmen, I laughed as they bum-rushed Jacob, nearly pulling him down in a frantic array of man-wrestling. I love having fun as a cleveland wedding photographer – sometimes wedding photography can be so stiff and lifeless. Why not break it up a bit?.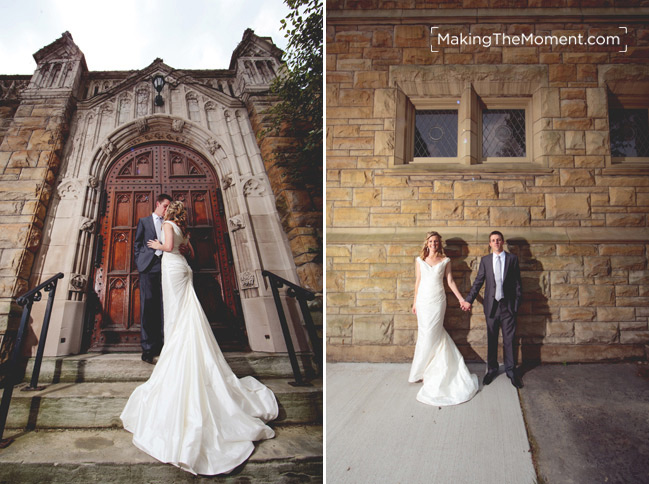 I had so much fun with Jacob and Melissa throughout the day. I took them on a tour of some fun locations in cleveland for great wedding photography, and we made some serious wedding photography art.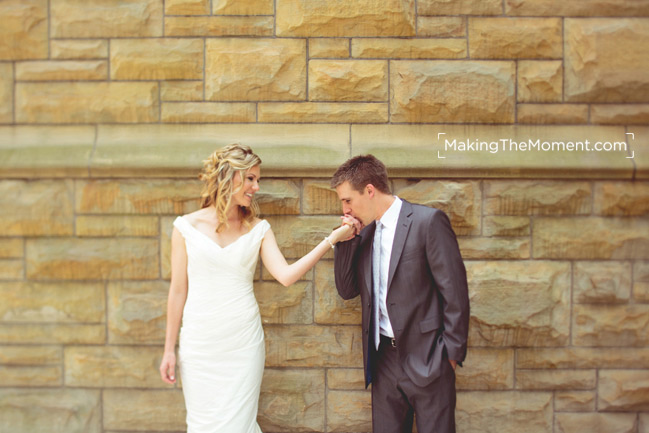 I love this candid and unexpected image of these two.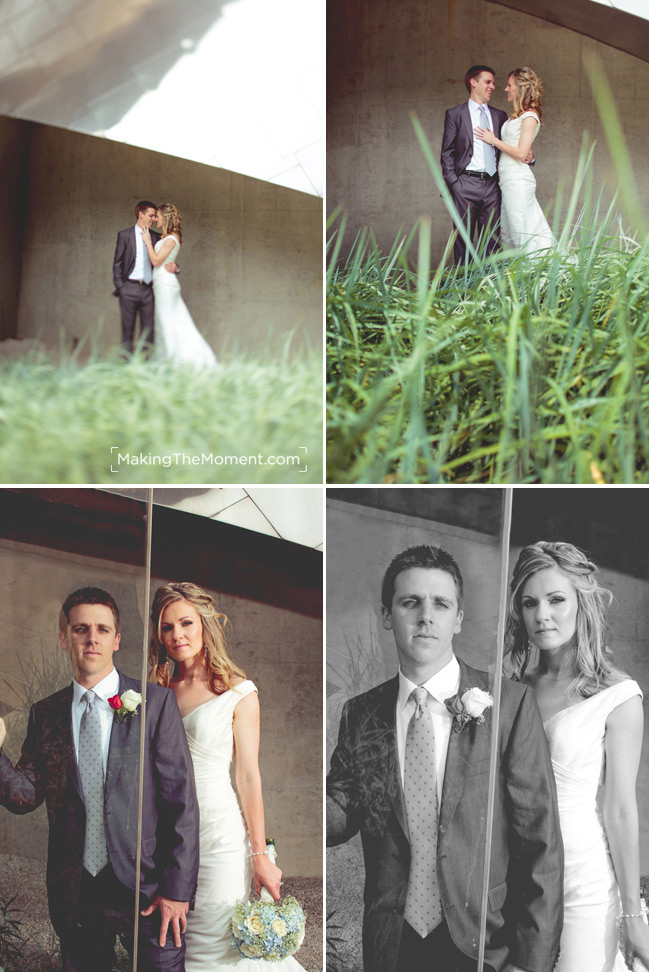 One building we were photographing near had an amazing pain of glass – I used it as a dividing line between these two. It's amazing that somehow that division draws them closer together visually.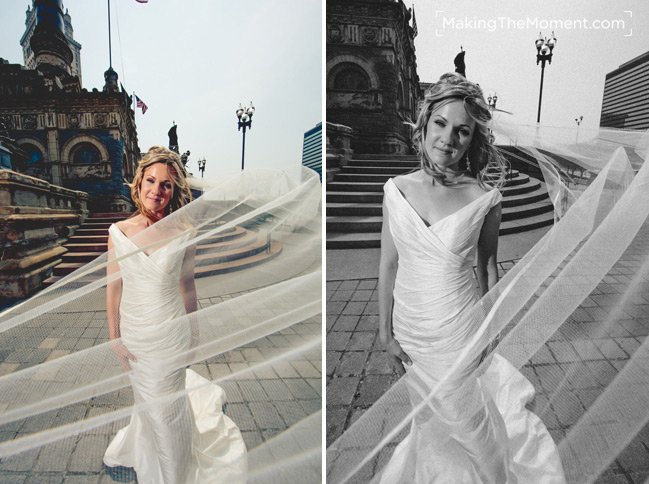 As I mentioned earlier, there was a summer storm passing through, and it brought about some fun wind. I had a great time just letting things happen with Melissa's long veil.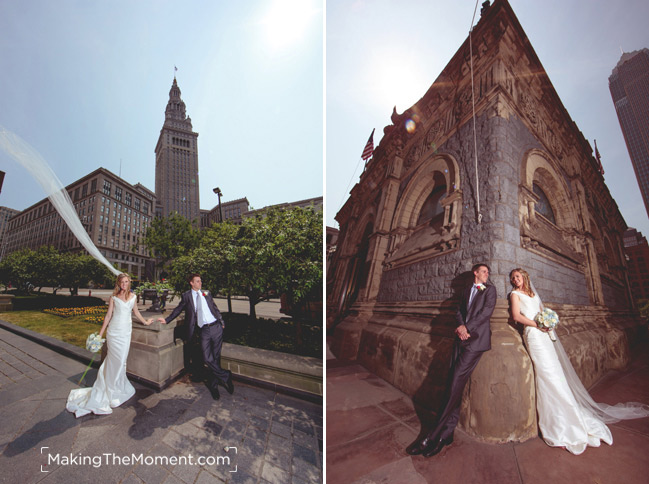 Our creative wedding photography session in Cleveland wrapped up soon there-after, and we hustled on over for their wedding at the Cleveland Wyndham hotel at Playhouse Square.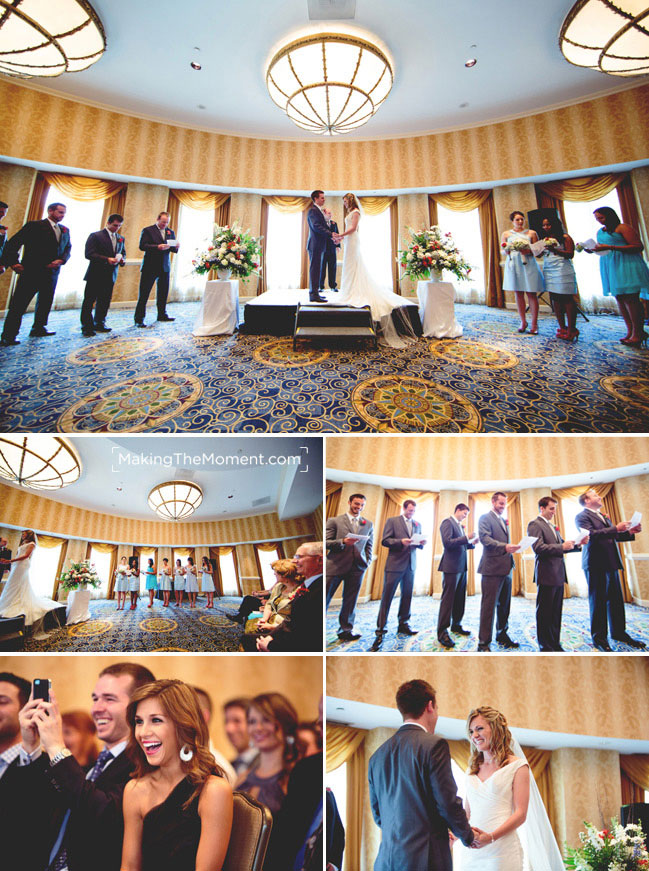 Having your wedding at the Cleveland Wyndham at Playhouse Square is an awesome thing. The Wyndham hotel is a beautiful place for a wedding in Cleveland – the ballroom has a beautiful array of windows that let in this gorgeous natural light.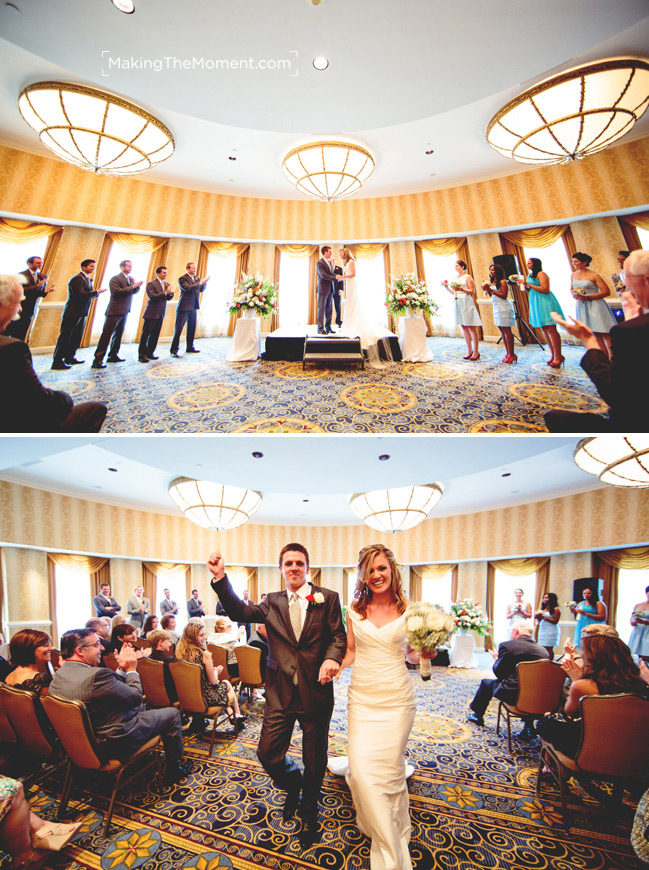 During Jacob & Melissa's Wedding at The Wyndham Hotel in Cleveland, they had their bridal party simultaneously read out their vows to each other. It was such a sweet and unexpected change of pace from the typical wedding vows. The crowd loved it – and so did this wedding photographer.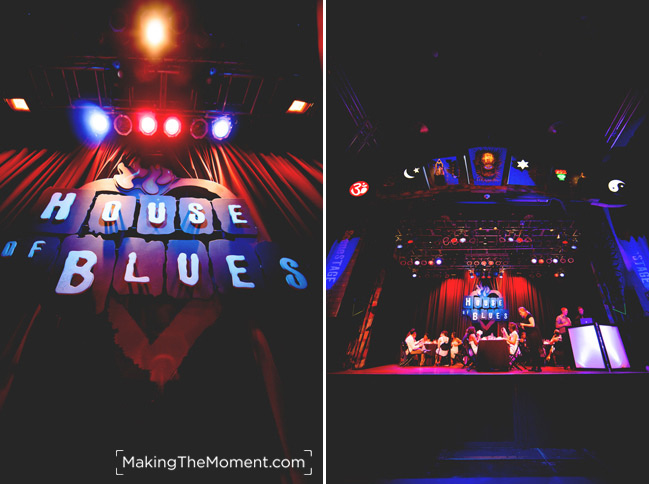 One of my all time favorite cleveland wedding reception venues is the House of Blues Cleveland.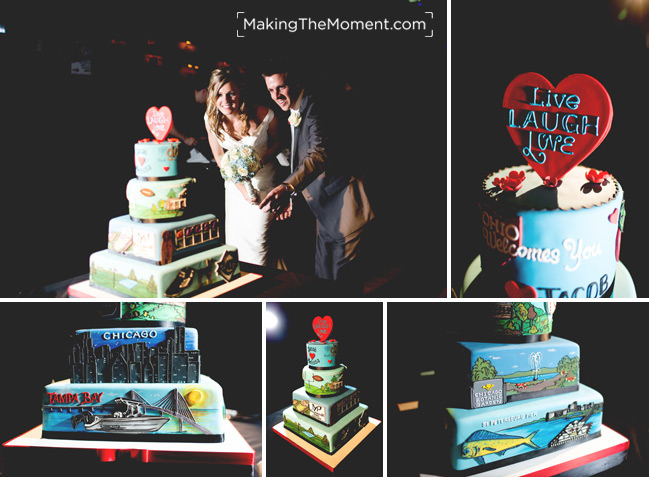 I rarely use the word "favorite" around here – but Jacob & Melissa's cake is my favorite I have ever seen. Their wedding cake was custom made by White Flour Cake, and they deserve some serious credit. Each side and each layer was set with hand drawn artwork of where they had lived in their lives. It was just insane. And tasty.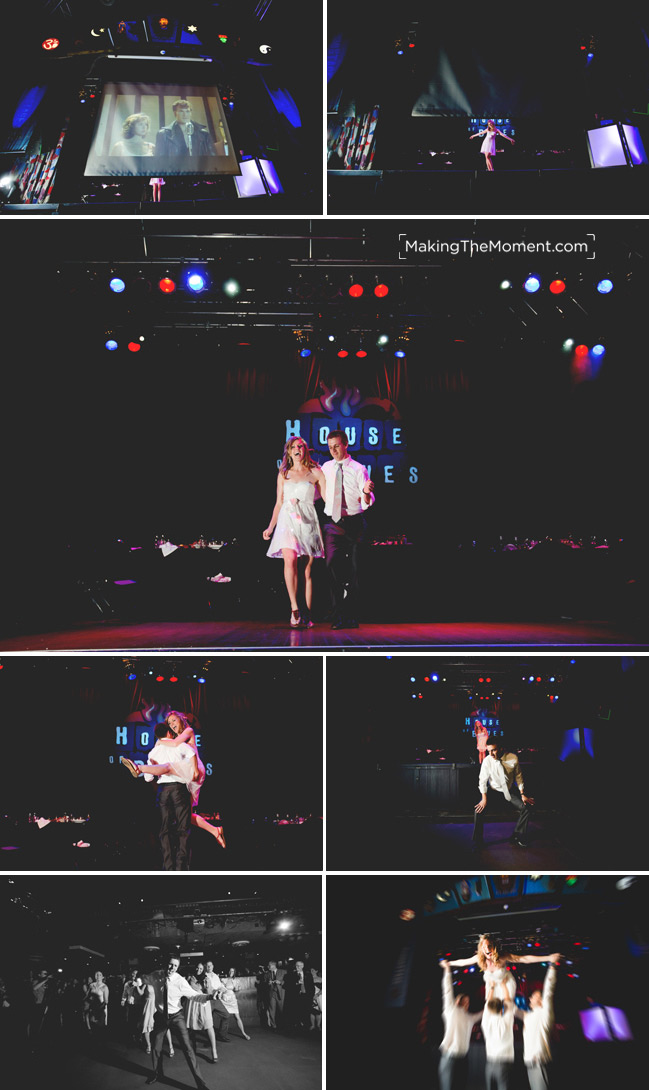 Melissa & Jacob's first dance was like something out of a movie – literally. They recreated the famous dance from Dirty Dancing. It was awesome. The screen at the House of Blues in Cleveland rolled up to show Melissa in a dress similar to Jennifer Grey's, who was quickly joined by Jacob for a highly choreographed dance. At the height of it, Jacob leapt from the stage and was joined by the bridal party in a flashmob style dance towards Melissa. Of course, Swayze Jacob escorted her from the stage with a double hand lift (with a bit of help from some groomsmen). It was amazing.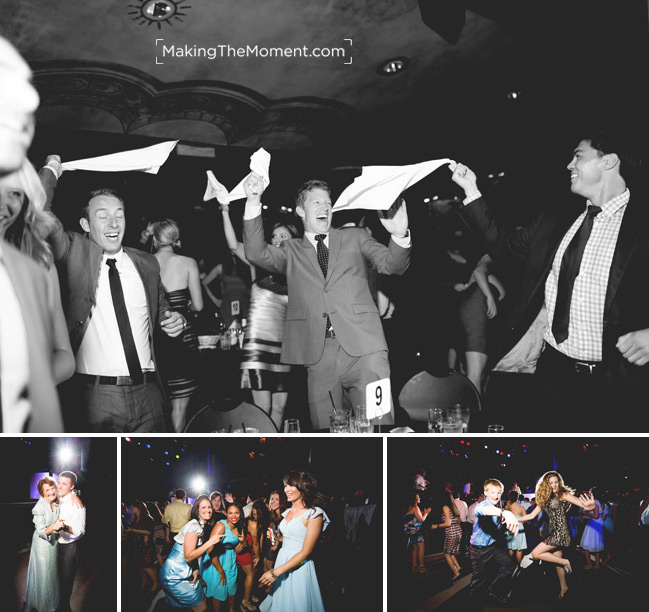 The rest of the night was outright epic. I know that word gets overused. But really… this party was unbelievable. A wedding reception at the House of Blues often feels like a high energy concert – and that's exactly how this wedding reception went.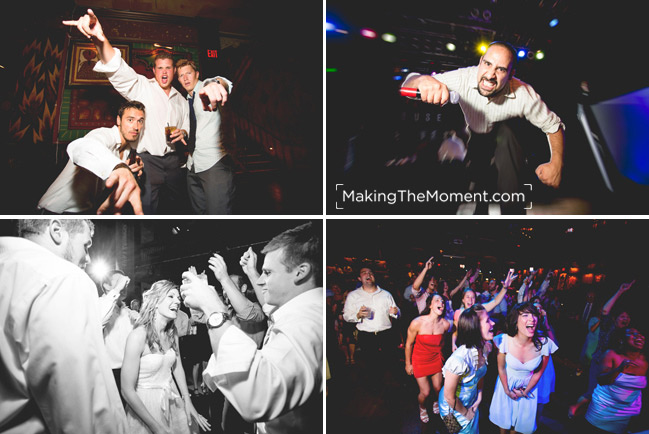 One look at these photographs from this wedding reception at the House of Blues in Cleveland tells you all you need to know about how much fun it was. With the stage lights glowing and the music thumping, everyone was dancing and celebrating. Speaking of Dancing – the fierce-looking gentleman on the upper right is Eli from Rock the House Entertainment. He is one stellar DJ, he kept the party going all night.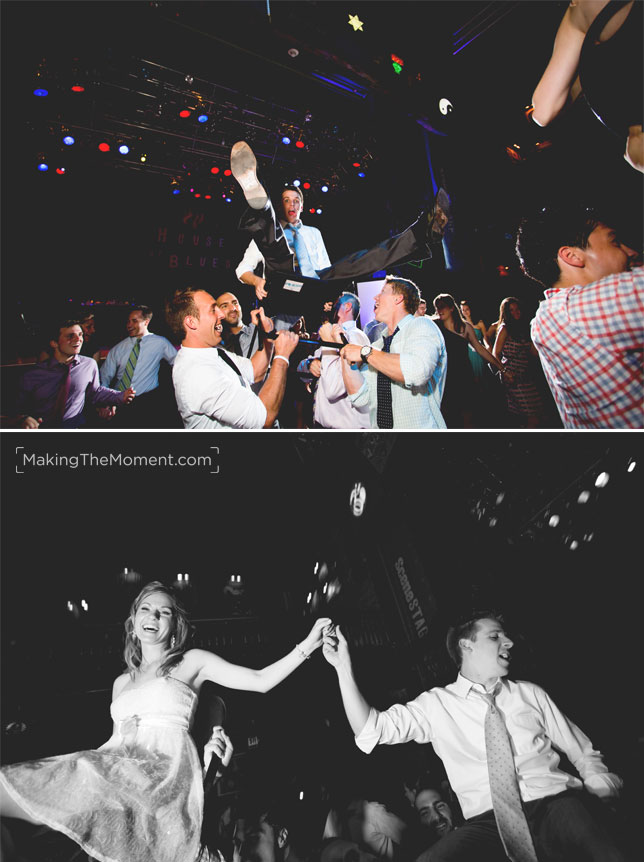 At one point in the evening Jacob and Melissa were lifted high in the air on chairs – I love the black & white image above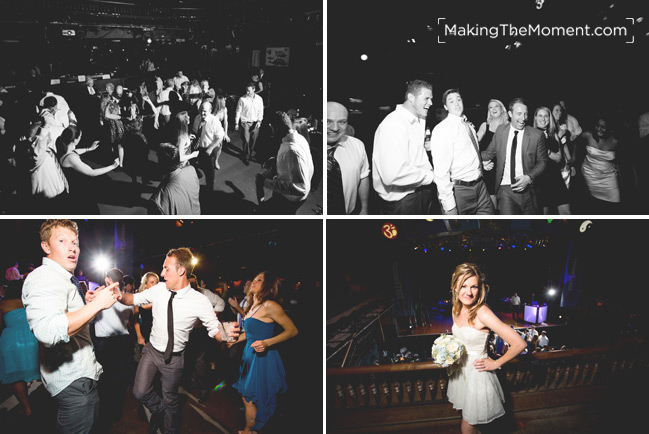 What a party.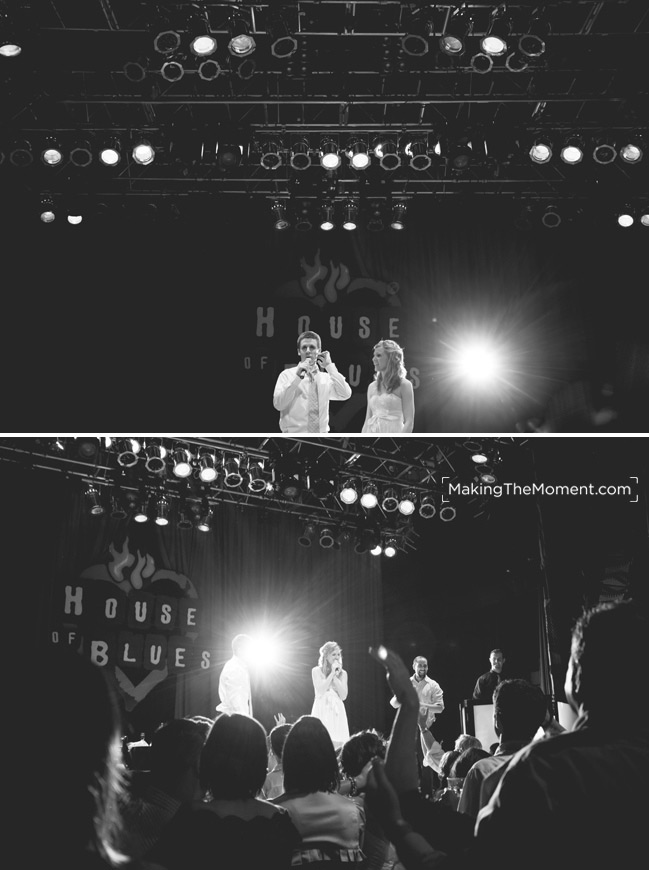 And now hopefully you can see why this wedding photographer loves wedding receptions at the House of Blues in Cleveland. They are unreal.

Many many many congratulations to Jacob & Melissa – you two are such a sweet couple – I am so thankful I got to be your wedding photographer!
Posted In photos, Wedding