It is so funny sometimes how life works.  Both Andy and Alyson grew up in Cleveland.  They both grew up in the same neighborhood, only a few blocks from each other ironically enough.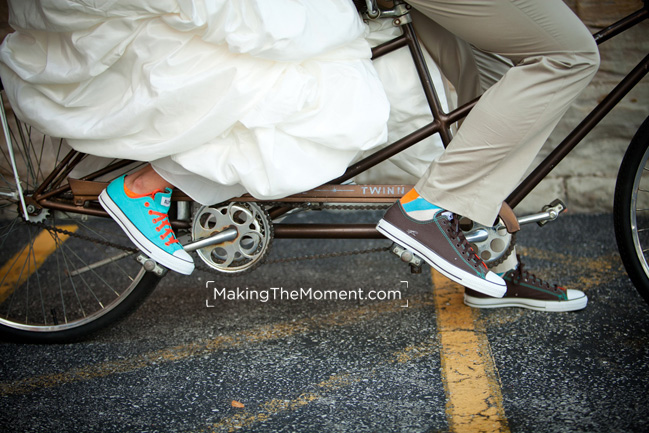 But it took them both moving to Denver, Colorado to meet and fall in love.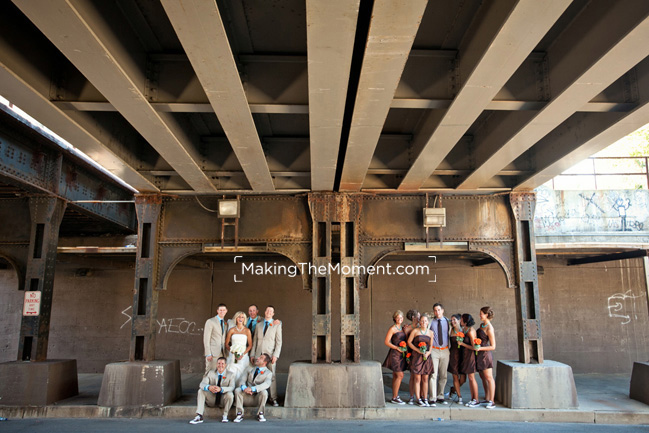 What are the odds? When you meet these two you know they where meant for each other – wild fun sport fanatics who love life and being together.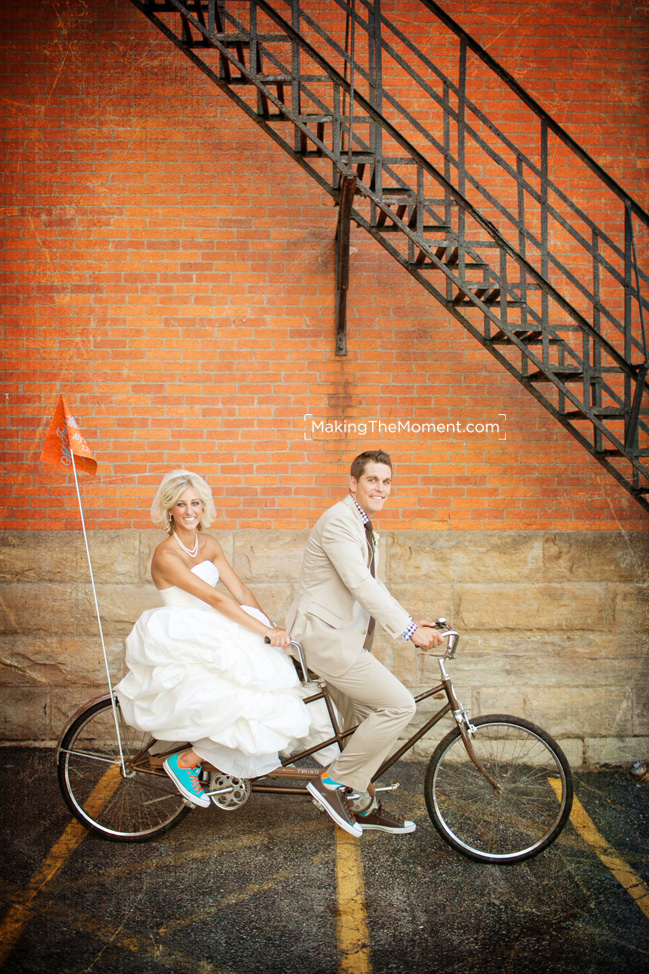 It was so fitting that these two tied the knot and then road off together on one bike made for two.

One of the coolest things on the market right now is Converse custom made shoes for weddings.  Thats right – you can design a pair, pick the color and even put your name on the side.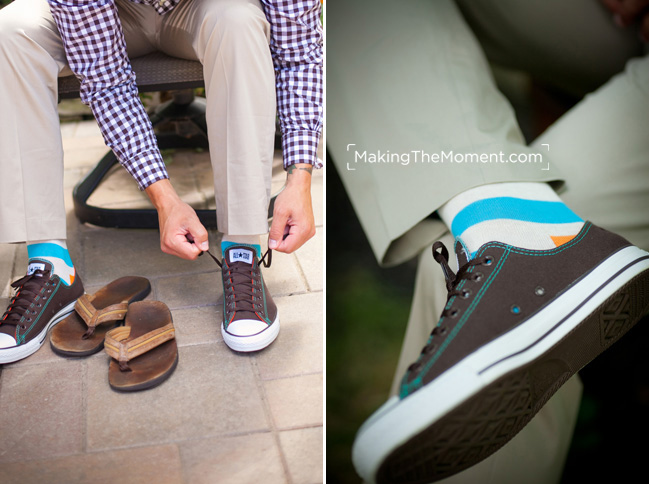 As a cleveland wedding photographer, I have photographed several guys choosing this option instead of dress shoes, but Alyson and her girls wanted to join in the fun.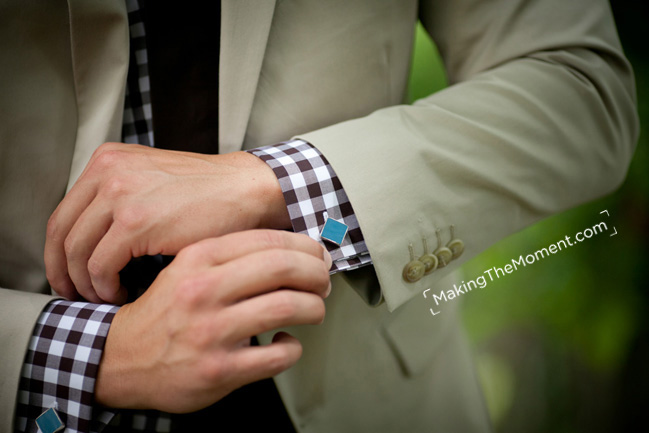 These extra details like Andy's custom cuff links and their shoes help bring something special to their wedding day.  That is also our goal at Making The Moment photography, to photograph theses special details in a fun creative way, making images unique to each couple.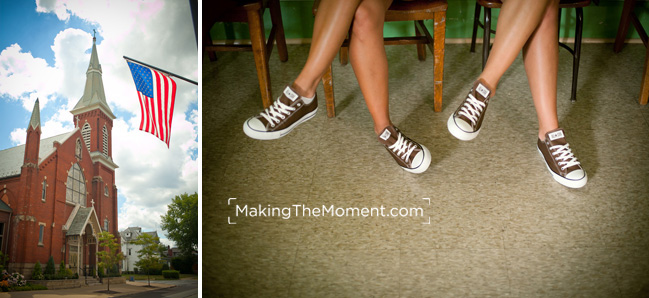 Andy and Alyson's wedding ceremony took place at  St Mary's Church in Elyria.  Aly got dressed in a downstairs room that had this awesome window that filled the room with beautiful light.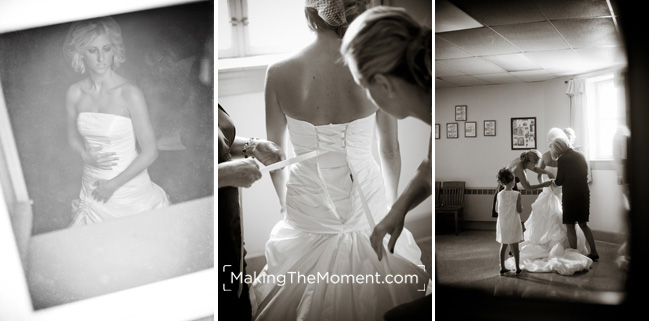 That window light really set the mood for these romantic, timeless wedding photographs.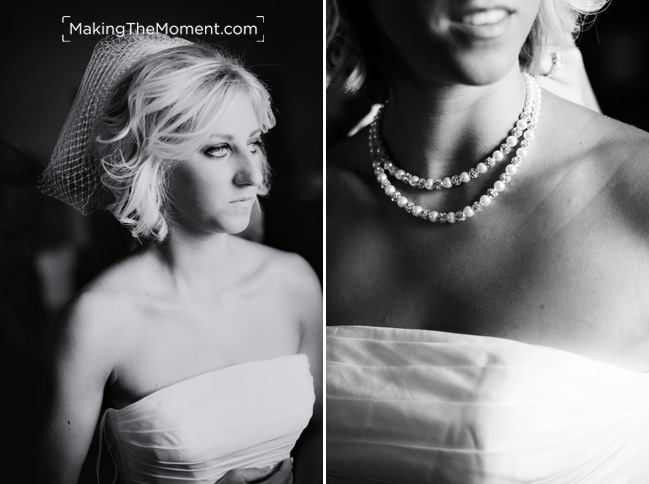 being a photojournalistic wedding photographer in cleveland, I believe highly that all the little details and moments matter to tell the story of a wedding day.
Really so much fun seeing a bride in these colorful shoes.  Aly rocked them for sure.

Alyson was truly a beautiful bride – one of the joys of being a modern wedding photographer in cleveland is getting to work with awesome brides like Aly.
We hand tone and edit each of images here at Making the Moment Photography, believing that the best wedding photographers are those that bring the art of wedding photography all the way through.
Little moments like Aly receiving a letter from Andy previous to the wedding are important moments for a photojournalistic wedding photographer in cleveland to be able to capture.
Andy was moved to tears when we saw Aly his sole mate coming down the aisle.  It is a true honor to photograph these special moments.
It was fun to be a wedding photographer at St. Mary's Catholic Church in Elyria, Ohio. There are some really special ways to create unique wedding images in that church.
And let the fun begin 🙂
The creative wedding photography session got of to an amazing start when the bridal party decided a little jump rope was in order. To be a fun and creative wedding photographer in Cleveland, sometimes you have got to go with the flow and follow the art where it takes you. 
As I shared, all the ladies were wearing custom made converse shoes for wedding shoes – awesome!
I love the feel of this image of Aly and her ladies!

We made several stops on our way to downtown Cleveland where Andy and Alyson decided to let of some steam with a little bowling.
Truly one awesome reception venue is the House of Blues in downtown Cleveland.  Edgy in style this place was a perfect fit for these two rock stars.
The Cleveland House of Blues is one of our favorite wedding reception venues in Cleveland. We are super honored to be one of the recommended wedding photographers for the House of Blues in Cleveland – we love their staff and totally mesh with their style.
Entering into their wedding reception at the House of Blues in Clevleland, Andy, Aly & the crew did a little jump rope action to keep it fun.
The house of Blues is such an awesome wedding reception venue in cleveland, because you feel such energy and life there. It's so unique, and has loads of personality.
At the heart of Cleveland, you get to really treat your guests to a fun night on the town – pretty darn awesome if we do say so 🙂
The dance floor at the House of Blues was hopping all night – thanks to the ever-amazing and ever-awesome musical talents of Cleveland wedding reception DJ's Rock the House. Rock the House is one of our favorite wedding DJ's to work with – they always know how to get a crowd moving!
And with a bride and groom like Aly & Andy, you know everyone wanted to be on the dance floor with them all night!
This image does such a good job of sharing very quickly what the reception at the House of Blues in Cleveland felt like that night!

And who gets to stage dive off of the stage at the Cleveland House of Blues on their wedding night? Aly does!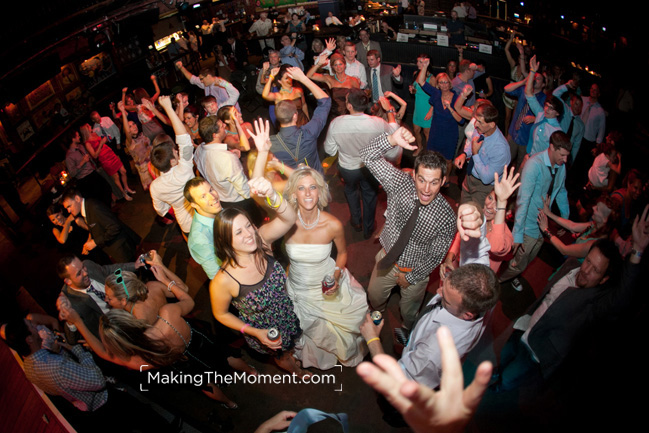 A perfect way to end the night.  Indians win, fireworks, and the beginning to and amazing life together for Andy and Aly.