These two are hot stuff. I had a fabulous wedding day with the two and their bridal party, and couldn't' be more excited about sharing their wedding day – many congrats to my friends Rachel & Ryan – I'm so pleased we made these awesome images happen. Being your Wedding Photographer was sheer bliss!
We found this random tunnel while out and about and exploring the Cleve. A fun little stop for the limo created the opportunity for some fun wedding photography in Cleveland.

Most of my Wedding photography in cleveland is based on the idea of telling story through photojournalism. Being a photojournalistic photographer in Cleveland means that moments like the above are preserved forever.
After Rachel got dressed – we took a quick moment and captured a few quick and elegant images. She is super beautiful and loves to smile – that makes my job as a wedding photographer in Cleveland very easy.
I found the gentleman getting dressed at the church. I love this candid wedding image of Ryan getting dressed in the reflection of the car. Fun real moments like this hold so much value.
The Wedding was at Our Lady of Angels Church in Rocky River Ohio. I have been the wedding photographer for weddings at the Our Lady of Angels Church quite a few times in the past year, and I must say I love Wedding Photography there. The classic look and long aisles make for some awesome imagery.
Ok, this is where it's at – being a creative wedding photographer in Cleveland, I kind of freak out when couples allow me to have fun and create some unique imagery for them. I escorted Rachel and Ryan and their bridal party all around Cleveland, making fun stops at some really cool locations we found along the way.
I don't believe in ultra-posey pose photography, but I do believe in helping couples relax in front of the lens and be themselves. This is the result of that approach.
Rachel & Ryan were awesome to work with, Rachel's smile and Shine, combined with the presence and strength Ryan carry made for some awesome artwork.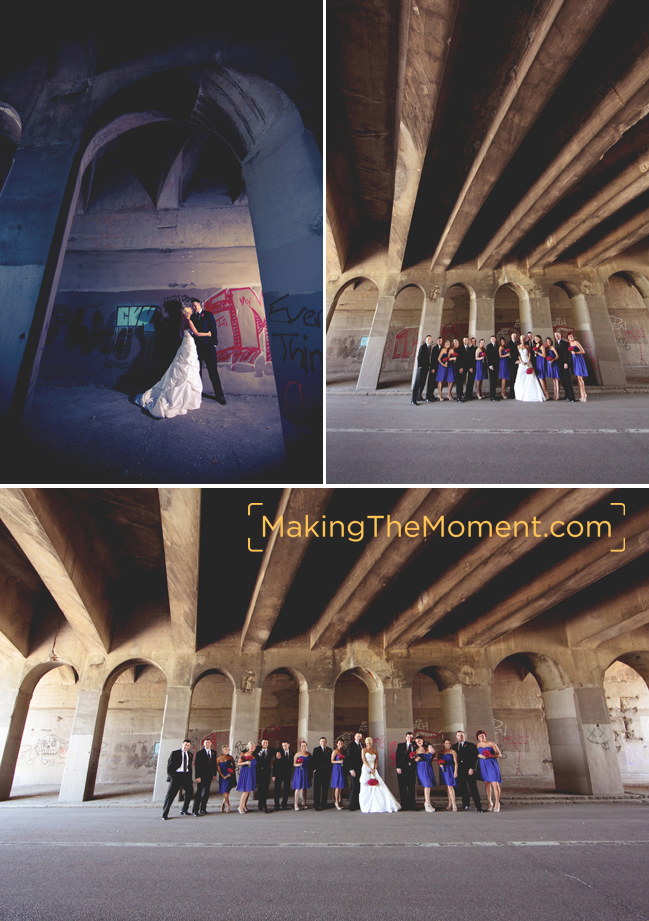 I love working with large & small bridal parties alike. We found this epic tunnel during our creative wedding photography session in Cleveland, and made fun group shots happen. While not getting run over by cars 🙂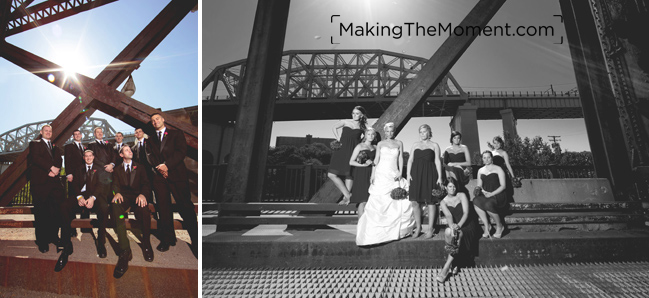 We also found a really cool suspension bridge – I totally ♥ nondescript and sometimes grungy locations for creative wedding photography in cleveland. They take time to find, but really create some awesome contrast for people and environments in wedding photography.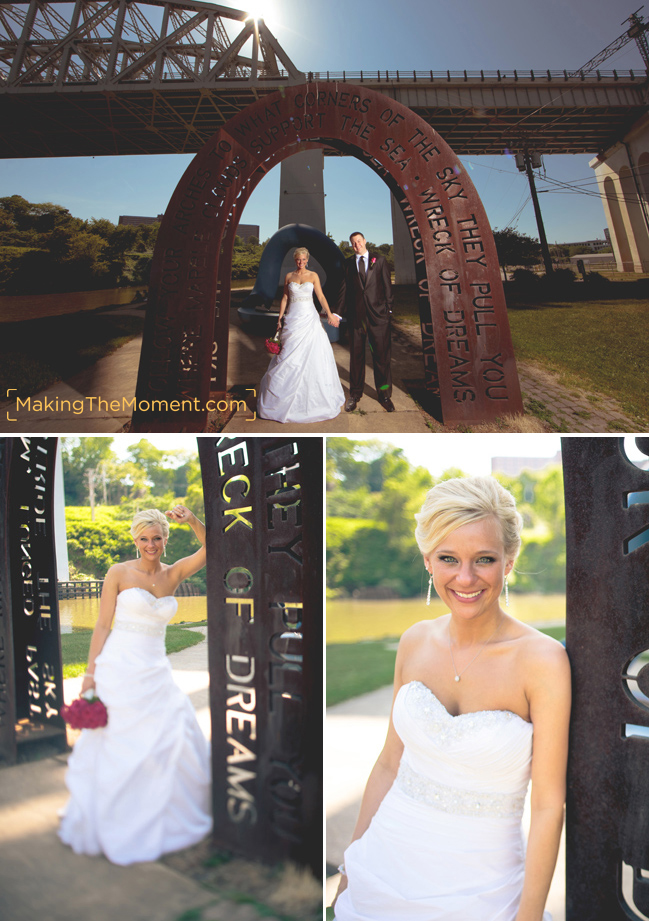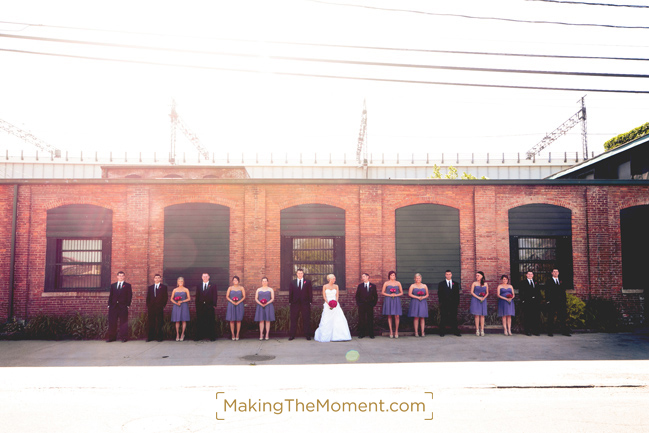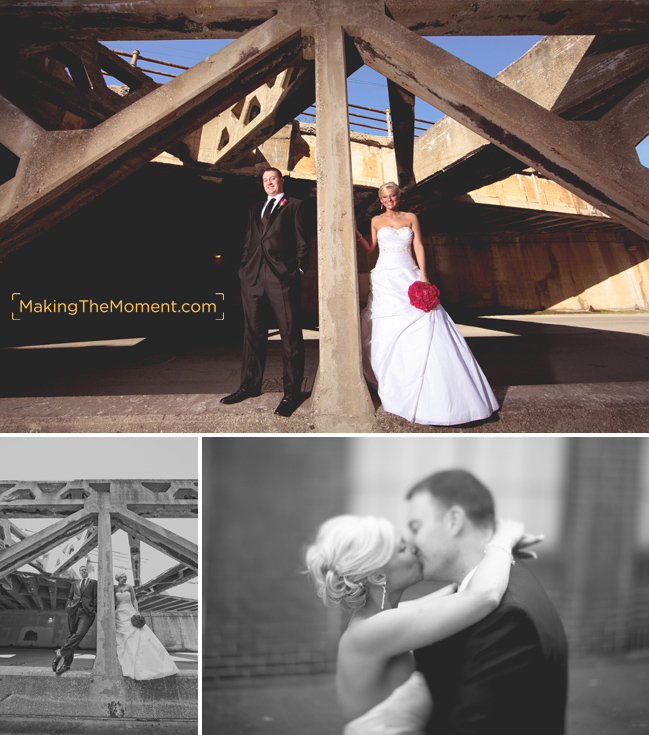 I absolutely LOVE the lower right image here – not created with photoshop filters, this completely natural image is the result of some fun & experimental techniques I've been working on.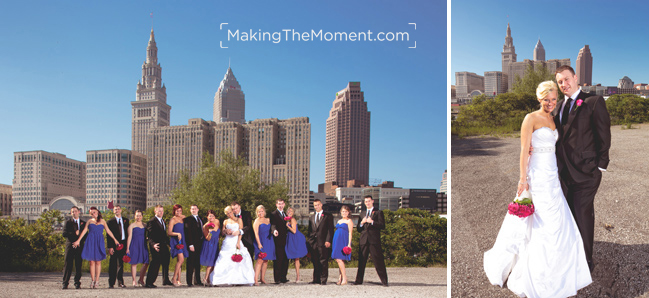 Rachel & Ryan asked me to find a unique location for a cleveland skyline shot. As a creative wedding photographer in Cleveland, I pride myself on knowing little spots here and there that provide awesome imagery. It was fun to take them to this cool little spot and make a really epic image for them.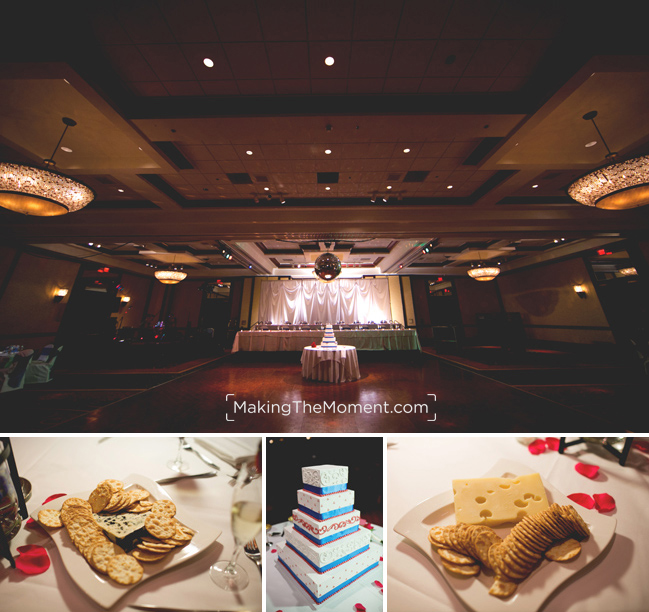 Their Wedding reception at theThe Marriott at Key Center in Cleveland was nothing short of epic. The room was gala and set up awesome – complete with tables marked not with numbers, but rather by cheese type!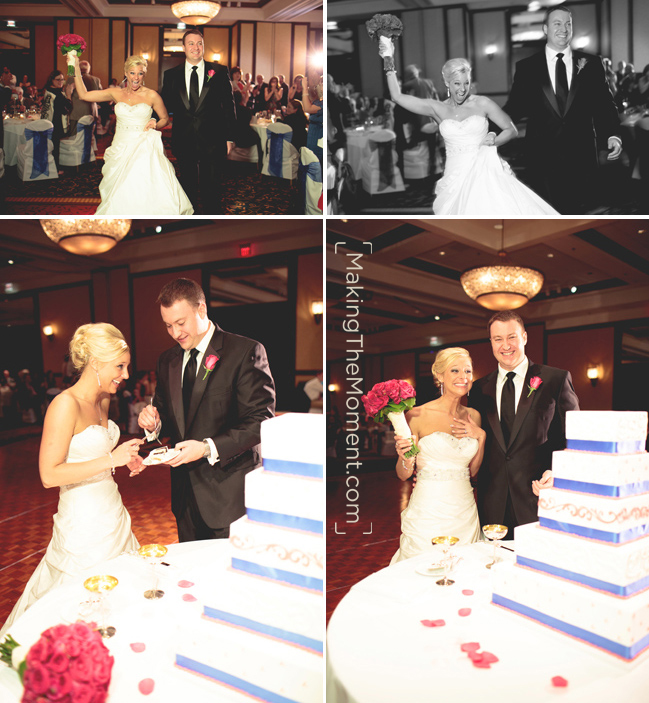 Their wedding cake was made by one of my favorite cleveland cake artists – Wild Flour Bakery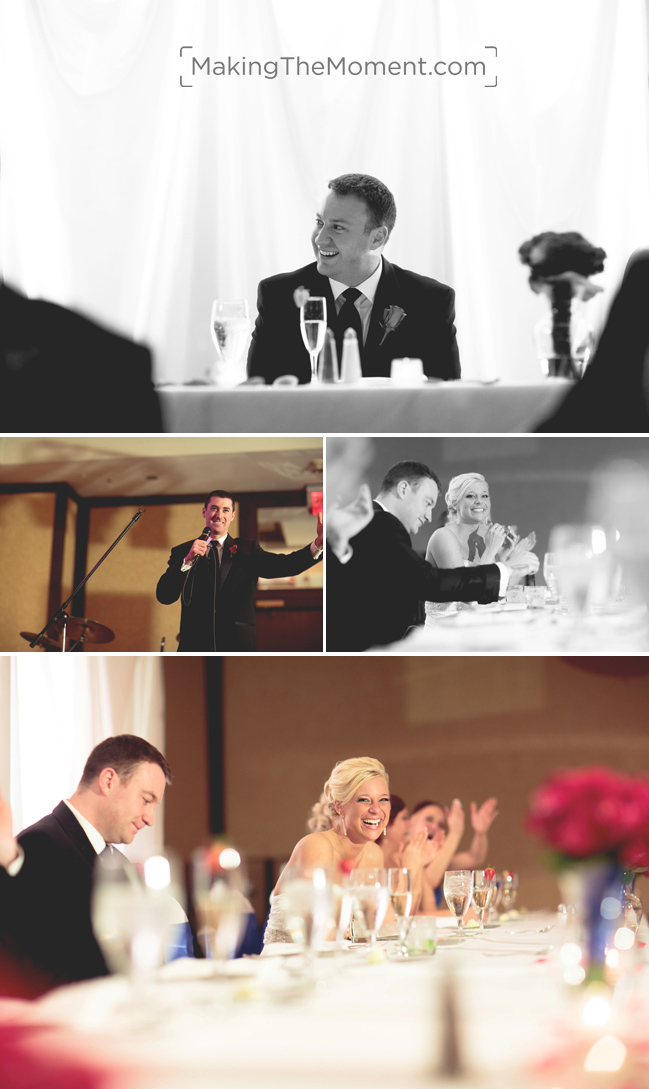 I LOVED their speeches from the bridal party. Super classy and meaningful, and full of some awesome reactions by both Rachel & Ryan. Again, I can't press the importance of a photojournalistic wedding photographer. Candid moments like this cannot be replaced, but can be preserved when captured correctly.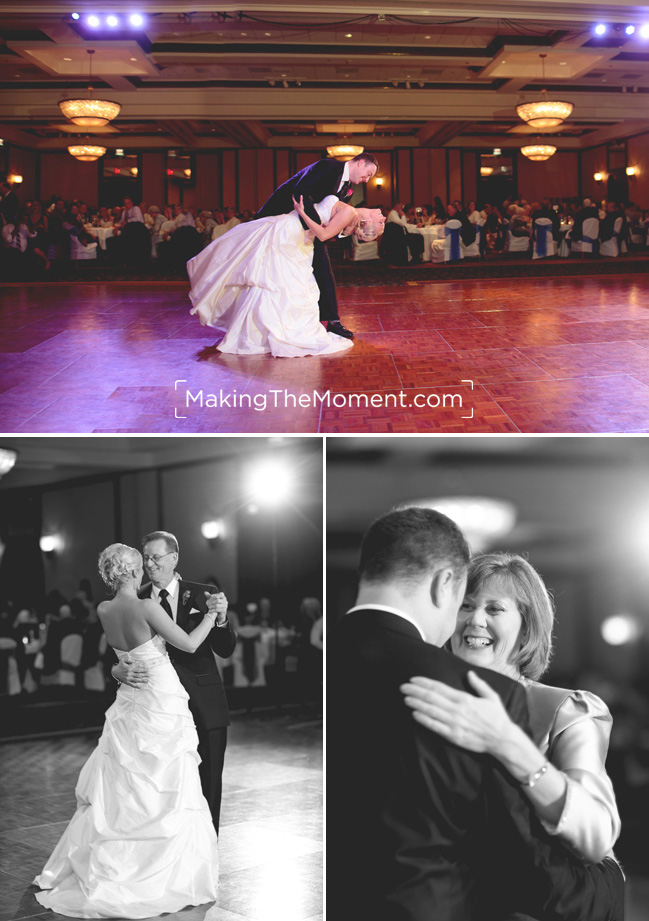 Rachel & Ryan had a super sweet first dance, with tunes provided by the very talented Rockin Ravers. The Rockin Ravers are an awesome reception band in clevelnad, managed by [Jerry Bruno Productions]
The dance floor at the Marriott at Key Center in cleveland was packed. I absolutely love wedding receptions at the Marriott at Key Center in Cleveland. Thanks to the talents of the musicians, and some phenomenal uplighting handled by our friends at Rock the House Entertainment the dance floor was packed all night.
I am forever thankful to these two for giving me the opportunity to create art capture their wedding memories. Thank you so much Rachel & Ryan!!