It gives us great joy and honor to present to you our winners for this years "Image of the Year"" competition at Making the Moment Photography. Congratulations to all of our 92 nominees, as well as our top 20 finalists. It was a hard fight for you all, with nearly 10,000 votes being cast over the two week voting period. We proudly anounce the top three images of the year!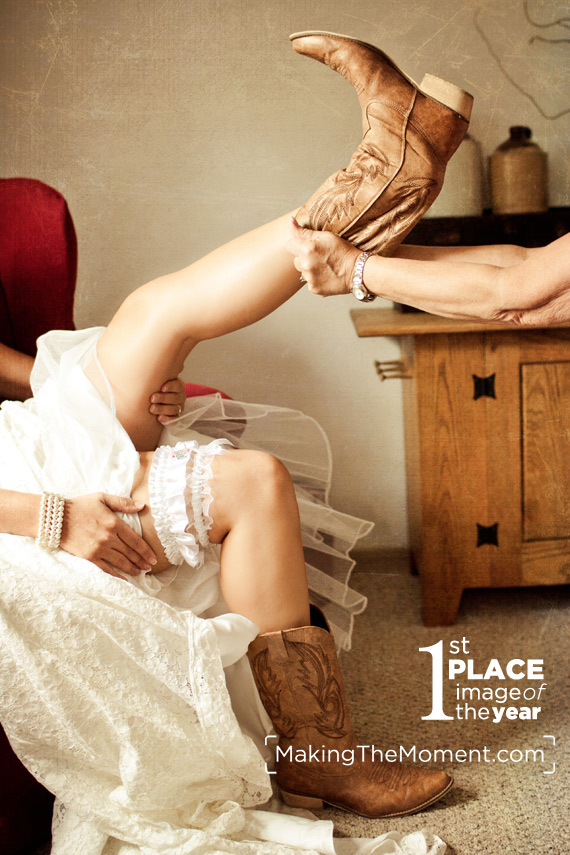 1st Place: "If the Boot Fits"
Crafted by Vince, this candid wedding photograph of Rachael and her mother assisting her with her wedding ware is a moment full of Story. Rachael & Jace's wedding on the farm (blog post right here) was one of our favorite weddings of 2011, full of tender moments and real joy. Rachael's iconic image is full of character and authenticity. This image truly represents much of what we value in photojournalistic wedding photography – story, clarity, composition, art & charm. Over 1000 votes were cast for this image on our facebook fan page – amazing.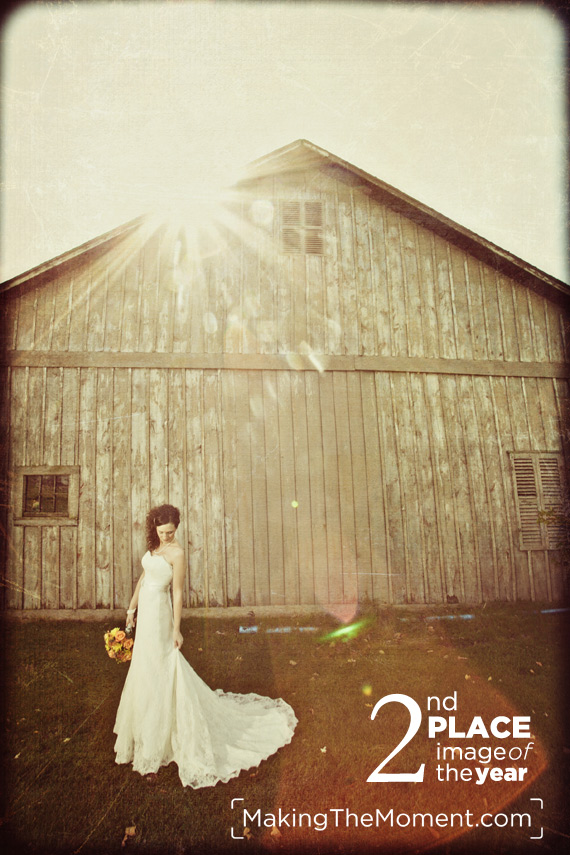 2nd Place: "Vintage Flare"
Second place doesn't mean that this image doesn't rock – the vote margin between this image and first place was razor thin. When we work with couples, we embrace a very non-traditional style of creative freedom. Rather than posing our brides and grooms, we encourage coach and invite them to be themselves. While Vince was working with Jackie, a small flare peaked over the barn. Vince saw the creative opportunity and crafted this striking image of a beautiful bride. The tones in our artistic retouching reflect a vintage taste, and share so much elegance.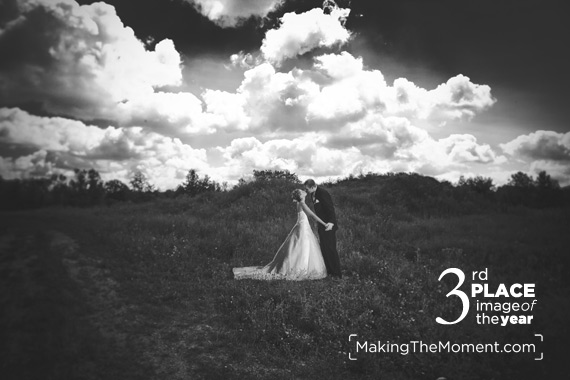 3rd Place: "First Look"
When Dale first saw Amber on their wedding day, it was truly a sweet moment. Brett captured this image candidly from a few hundred feet away, allowing the couple time to enjoy themselves in the summer sun. Rather than having their first moment together public, Dale and Amber chose to have a candid and elegant introduction take place earlier in their wedding day. Brett recommended a beautiful open field location, stepped back, and allowed Amber and Dale to enjoy eachother. While admiring, laughing, and greeting one another, this random and beautiful real moment occurred. and Brett was quick to capture. Careful toning was done to communicate the joy and aw of the moment.
The Image of the Year Competition
If you're new to Making the Moment Photography, you might be unfamiliar with our Image of the Year Competition. Just two weeks prior we nominated 92 images – one leading image from each of our weddings, engagement sessions, mitzvahs, family & creative senior image sessions. Each image was then submitted to our facebook fan page for open voting by our awesome community of friends, clients & fans. Here's the original nominees if you had missed them
After a week, we selected the top 20 Images from the open voting to move forward to a second round. These images were voted on by nearly 5000 people, and they represent the best of our creative cleveland based photography company. If you'd like to see the top 20 finalists, here's the post on our top 20.
Image of the Year Grand Prize
Rachael & Jace have won our grand prize for this year's competition;
24×36 Gallery wrapped canvas of the Image of the Year
$500 gift card to the Making the Moment Photography print lab
A high five from our staff **
Image of the Year Runner-Up
Jackie & Jeremy? Still getting hooked up for their awesome image;
$183 gift card to the Making the Moment Photography print lab
Limited edition signed photograph of a member of our staff pretending to sleep
A low five from our staff **
Image of the Year Almost Winner (3rd Place)
And not to leave Dale & Amber in the dust – they still get some pretty awesome stuff from us too;
$50 gift card to the Making the Moment Photography print lab
Limited edition signed photograph of a cat that bothers us at our office
What is left on a gift card to starbucks that somebody gave Brett last year
Posted In Around Here, photos, Wedding