I legitimately don't know where to start – how to describe these two – how to explain the awesomeness that Uni & Charlie are.
I'll start here… they rock. 🙂  From the moment we connected over coffee – we bonded – we were buddies.  When 999% of your work as a wedding photographer is derived from the chemistry you have with a bride and groom, you have to love couples like this.
I'm not just saying this either folks – I proudly call Uni & Charlie friends of mine – I couldn't have had more fun at their wedding day, and could fill this blog with all the little things these two have done to impress me with not only their love for eachother – but their love for people.  I'm just a huge uni/charlie fan!!! Alrighty – onto the pics themselves 🙂
Above? Yes – this is an awesome bridal party – one of my favs to date. I had so much fun coaxing them into some non-traditional creativity – it's so much fun getting pictures of people being themselves!
And below? Check it all you soon to be brides – Uni & Charlie are MASTERS of wedding branding. No joke – their entire wedding day is branded to who they are – from wedding invites, to reception coaster – everything bears their branding & wedding colors. From a person who absolutely adores creative branding and wedding creativity, I'm such a fan of what they did.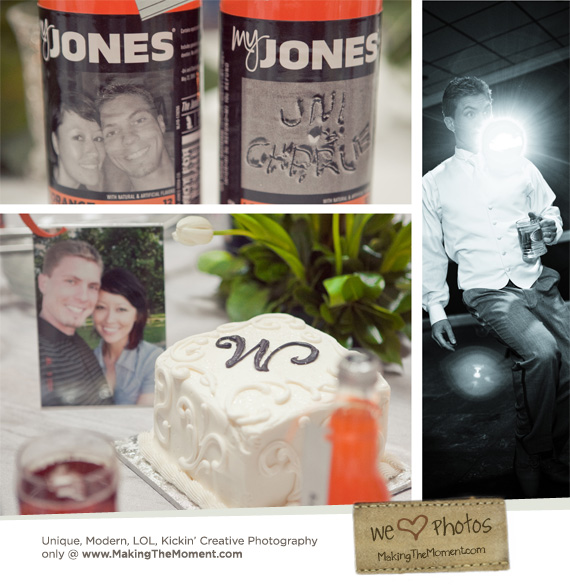 And I can't tell you how much I loved the Jones Soda Bottles they customized to be as favors for their wedding reception – how much fun is that? Every Jones Soda Bottle had fun pics of them together, and came accompanied with a wedding hang tag with the guests name on it – perfect for reception seating assignments.
Above you'll see some of my favorite guilty pleasures of being a creative modern wedding photographer – creative & unique ring shots! The hang tags & coasters – made perfect for a few fun photographs.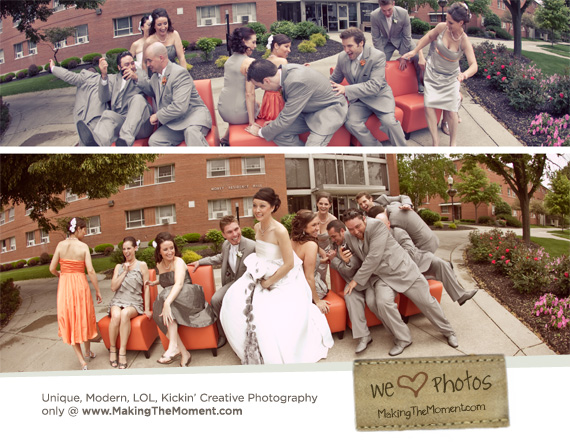 One of my all-time favorite moments from the day was when we pulled out the couch from the University of Findlay office of admissions (where Uni & Charlie work, met & got engaged), and had a little impromptu fun outside the building together. This particular series is from our "musical chairs" contest – where my man Luke (up & coming awesome photog & amazing assistant!) beat boxed a little music for us them to work with. Love it. 🙂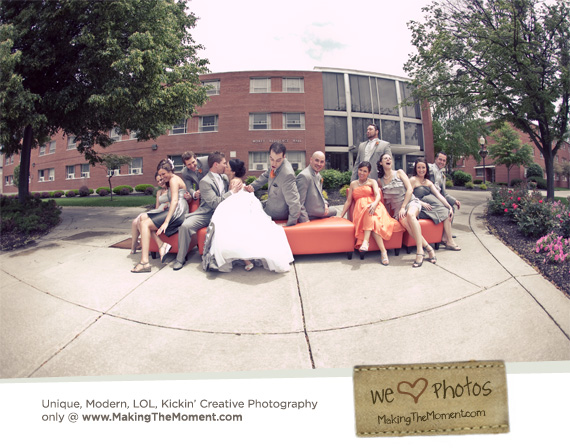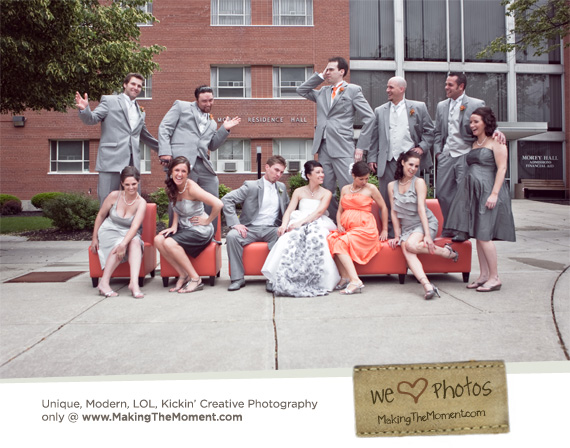 Did I mention how much fun it was creating wedding photographs on the grounds of the university of Findlay? Probably not – it was a BLAST. The best part was exploring Findlay's possibilities, and creating some really modern & unique wedding photographs!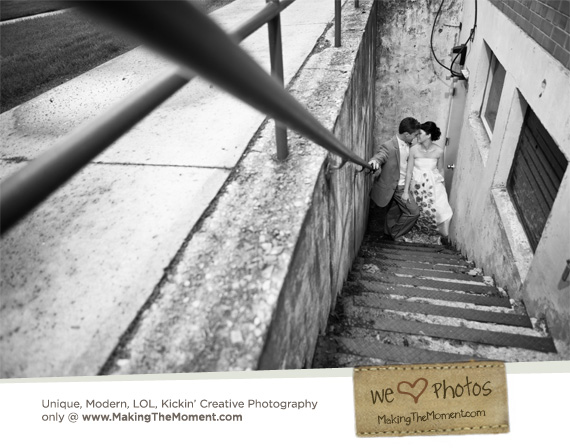 I simply loved the iron work, stairs & architecture I found I could work with on campus, what fun! It couldnt' have been easier than with these two – Uni & Charlie were so easy going and fun – perfectly adapting to our non-traditional style of creating images. I absolutely love couples like this – people are ready to throw off the "posey-pose" photography, and ready to embrace and create some art!
Uni & Charlie's wedding party was on-board too – we spent so much fun time exploring the city of Findlay too – just having fun, laughing, eating buck-doubles at burger-king ( I seriously think 30+ were purchased at one point?!) and of course making some off-beat & artsy photos.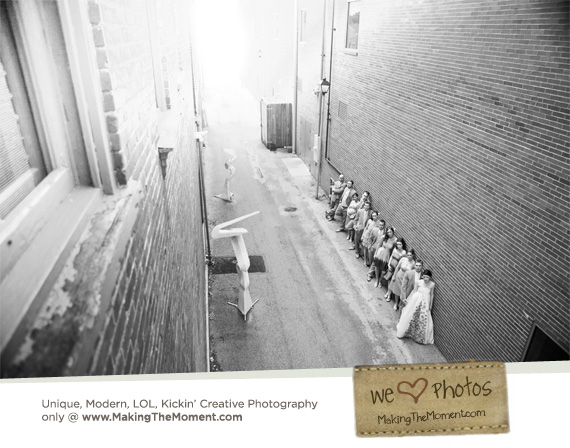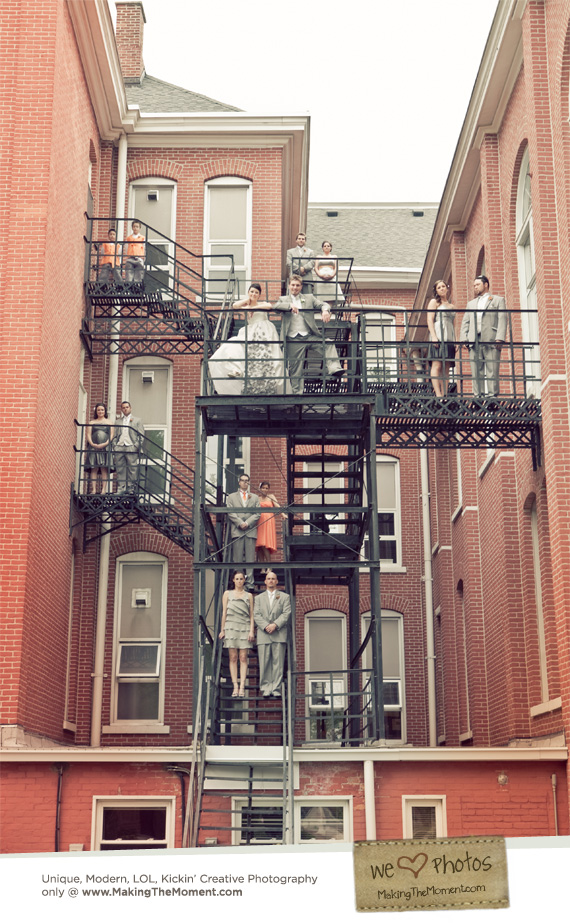 Some of my fav shots are from their wedding reception entrance – the silly string they employed was down-right hilarious – I'm such a fan of silly string now. I guess I always have been anyways, lol.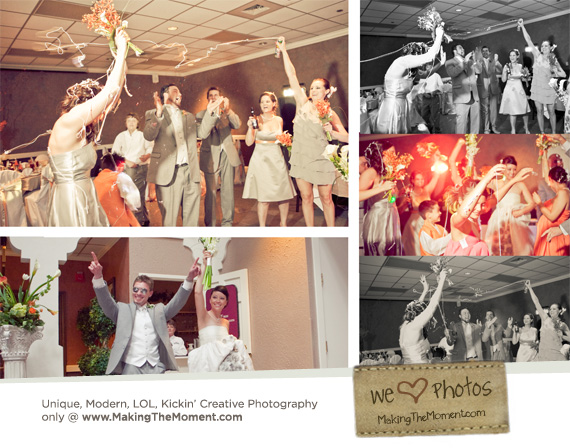 Findlay Inn was their wedding reception venue – we've photographed a few wedding receptions there – the Findlay Inn is a GREAT venue – I love their classy elevators and beautiful set-up. And what could have made a reception better in North-west ohio than the awesome DJ's at Decorative Sound? Seriously – if you're getting married anywhere in NorthWest ohio, these are the guys to call – www.decorativesound.com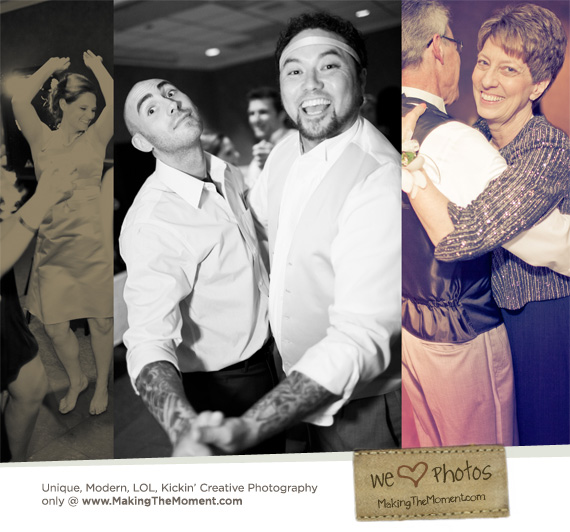 Alrighty folks – I hope you enjoyed my write-up on Uni & Charlie's Wedding Photos! Uni & Charlie – shine on friends – so stoked about you two – and all the years you have ahead. You two have been such a huge blessing to me, I'll never be able to thank you enough for allowing me the privilege of serving you – rock on – and enjoy your photos!