Lights, camera, action…. for Nick and Sara their wedding had all three, and for a creative wedding photographer like myself, this wedding was a true delight.  It was also a dream for Sara and Nick's who's love of Hollywood action movies is one of the many reason these two hit it off and fell in love.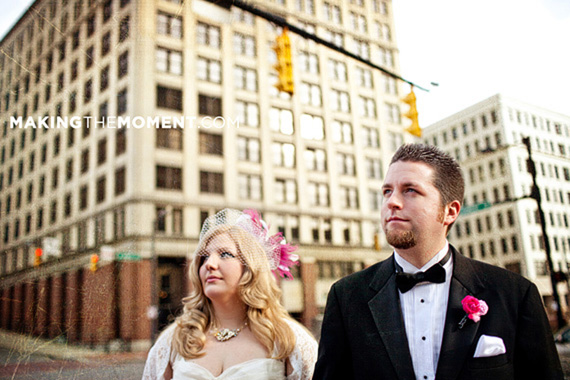 Action and intrigue thrillers like "Fight Club", to cult classics like "Pulp Fiction" fill their DVD shelves at home.  So it only made sense for the wedding day to be full of  drama, action, suspense, and of course love.Our story begins at a place like no other, the Akron Civic Theater,  which had dressing rooms that fit the bill for these two movie stars.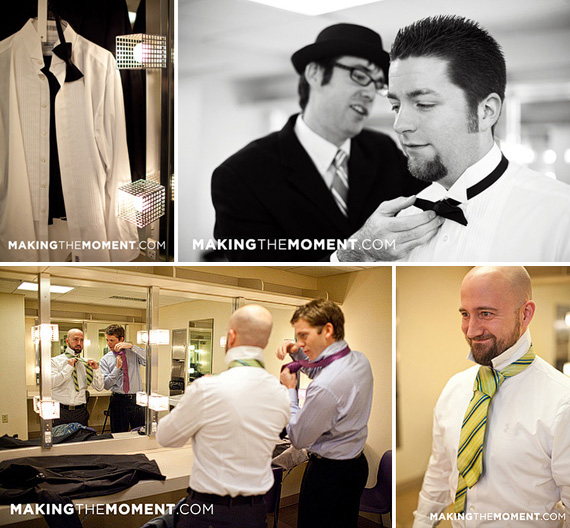 One of the many cast of charters on this day was Brett (our lead wedding photographer & Owner!).   Always fun to have good friends in the wedding, even though he had trouble tying a tie.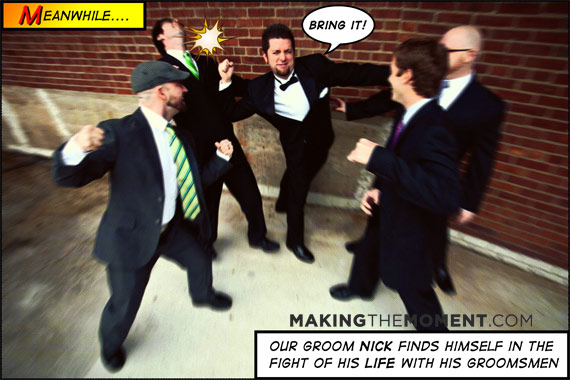 Because this was a themed wedding, the whole "pulp-comic" feel seemed appropriate.  What's that, a fight is breaking out?  At first Brett, J, Josh, and Brent were jealous of Nick and his beautiful bride, that is until Nick set them straight with his right cross.
After the fist-a-cuffs I used the Akron Civic Theater's outdoor exit ramps for some great wedding photography.  One of my favorite things to do as a wedding photographer, is to find very unique places to creative artistic wedding pictures.  Light, lines and depth of field are what make for amazing wedding photographs. This is what makes Making the Moment's creative wedding photography so incredible. Well, that and the fact that we really do have the most amazing couples to work with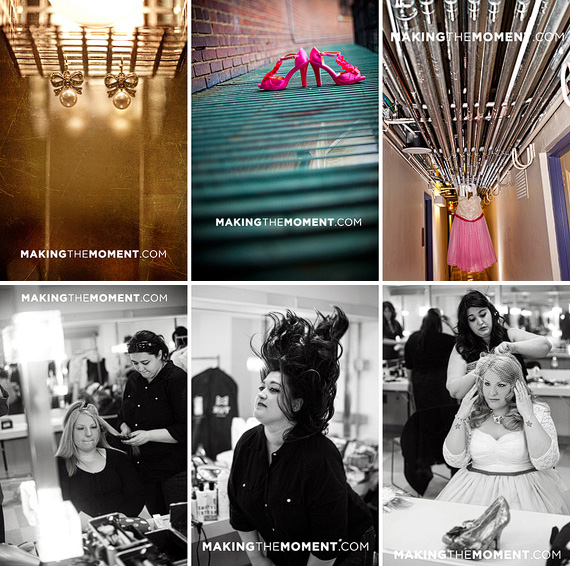 I still can't say enough about the location for this wedding!  Akron Civic Theatre is amazing for creative wedding photography. Everywhere I pointed the camera the light was perfect, as well as the backgrounds.  The most magical moment was seeing Sara once her dress was on. Sara's dress was perfect for her retro style, and like any movie star, Sara had three pairs of shoes for her wedding day.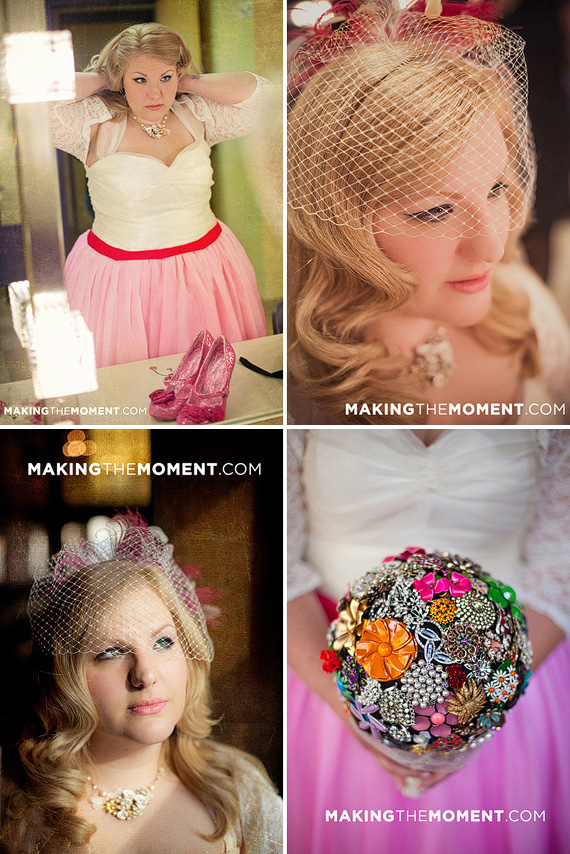 Sara had, absolutely, hands down, the best bouquet I have every seen, and she came up with the idea all on her own.  Her bouquet was made completely of vintage brooches!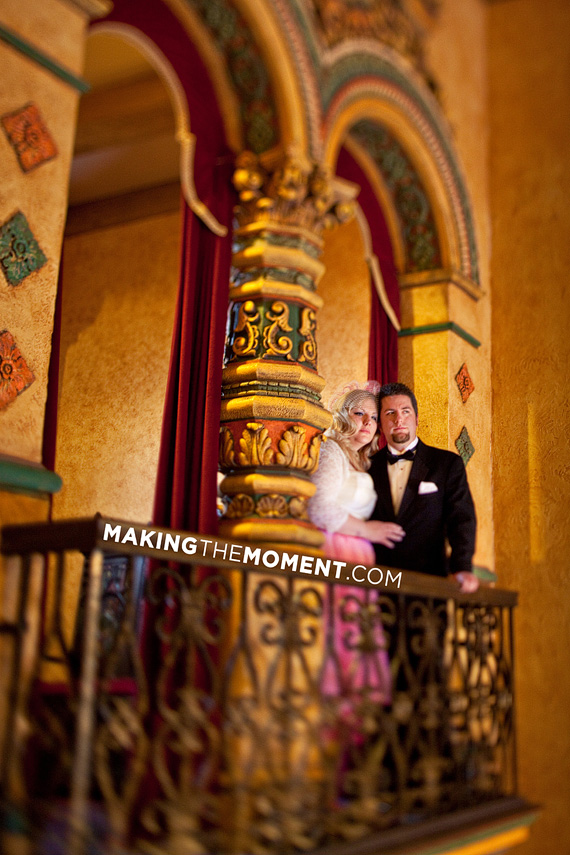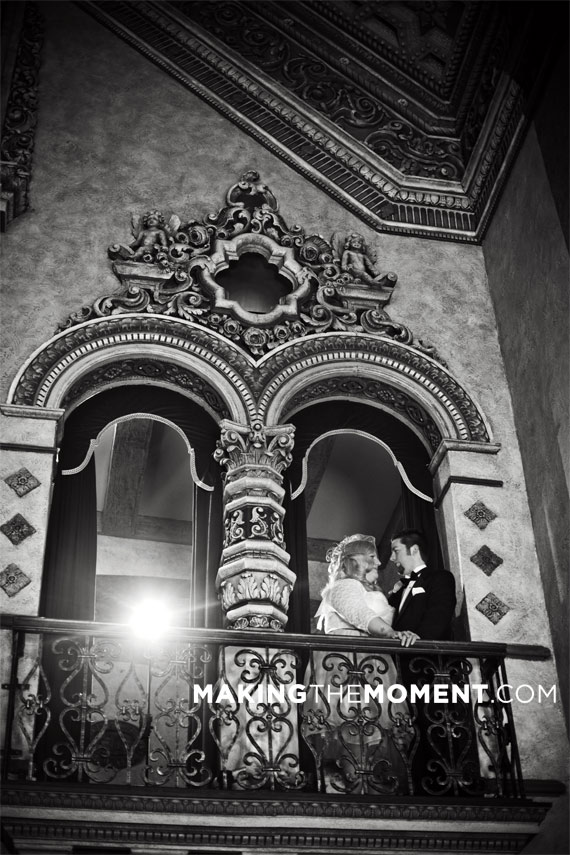 Sara and Nick saw each other for the first time on the grand staircase at Akron Civic Theatre.  Even a hand built set in Hollywood could not touch this majestic place.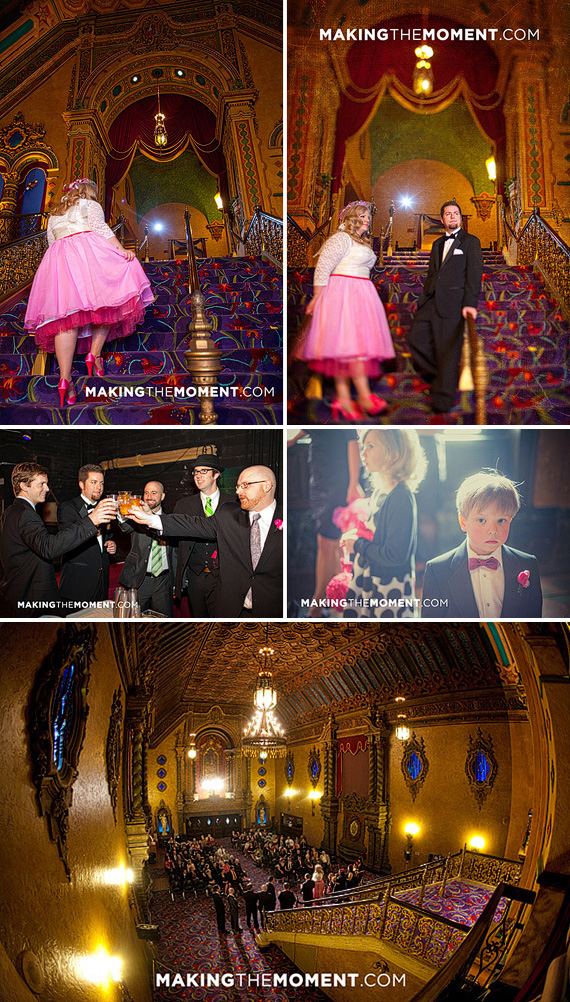 Bright lights, big wedding…what a room!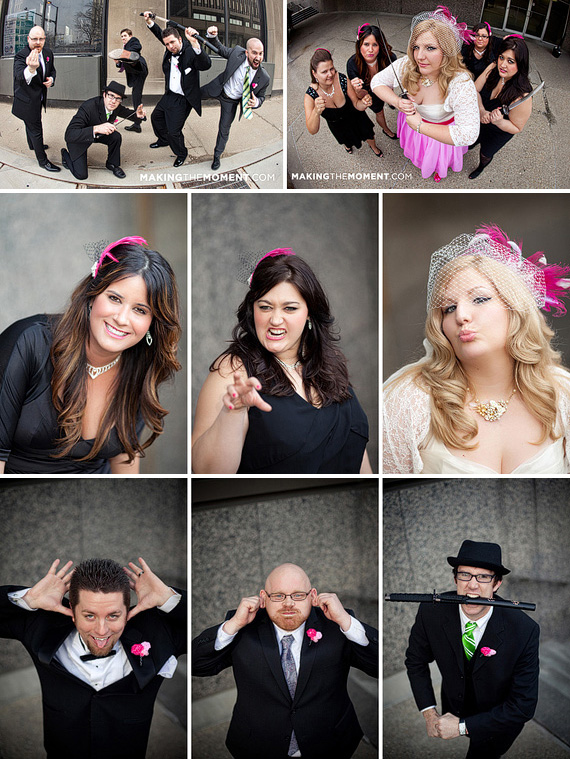 After the wedding, the groomsman and bridesmaids teamed up to fight the toughest of villains, "Photomaster", and yes they did defeat me.  This is the second wedding I've been the photographer at where couple's have used weapons as props!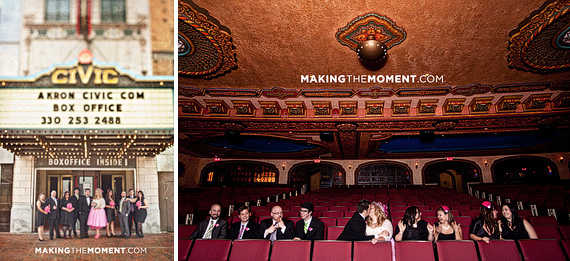 The Akron Civic Theatre is one of the coolest places ever to be a wedding photographer.  The images above are stunning, I'm so proud of these!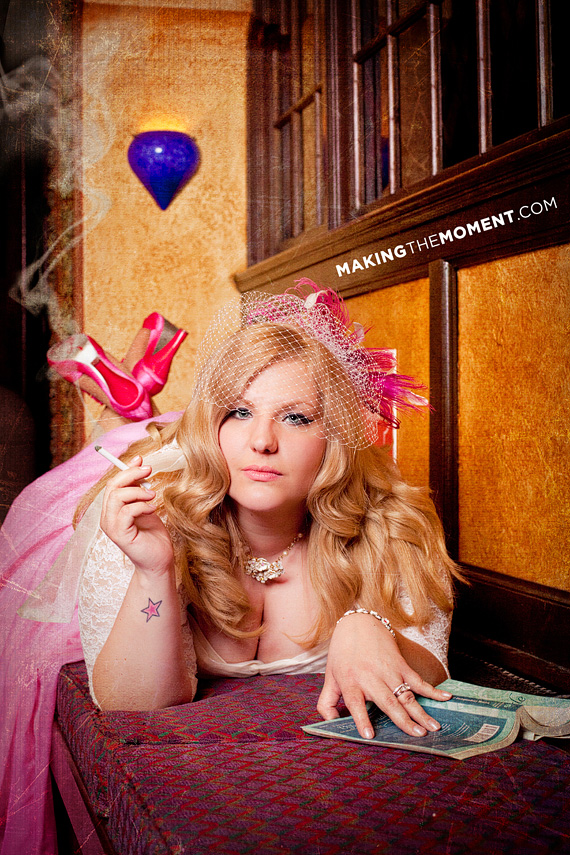 Knowing that one of Nick and Sara's favorite films is "Pulp Fiction", it was a must to do Sara in a DVD cover pose, and in my opinion she pulled it off better than Uma.

All the details of this wedding were a perfect fit, from the popcorn table toppers to a cupcake tower, and film inspired props for the photo booth.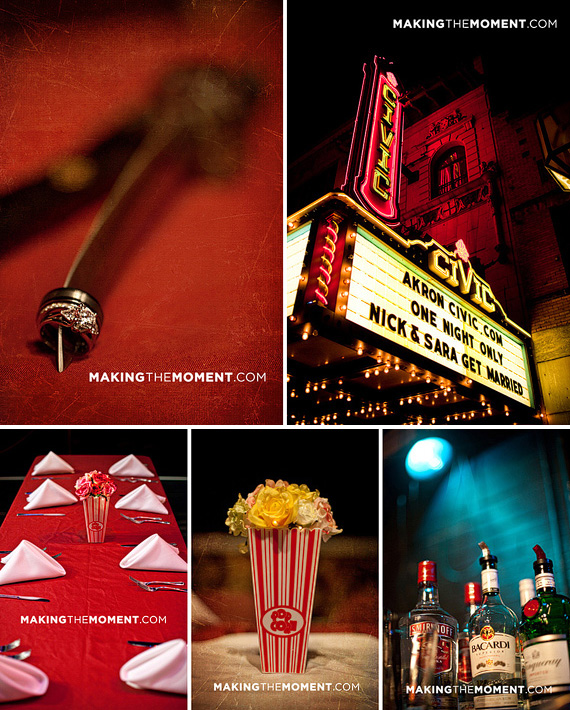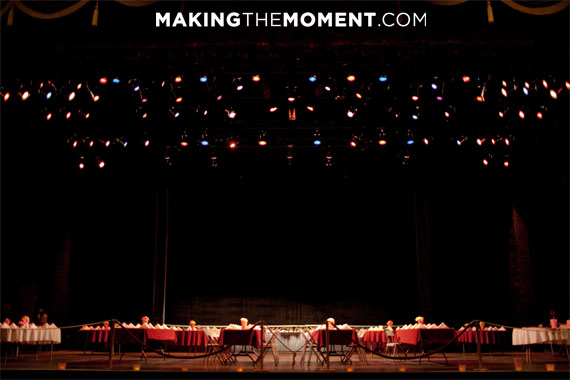 Is that Uma and John dancing….no, but Sara and Nick made their first dance something special, just like the rest of their day.  Nick and Sara's first dance at their wedding reception was straight out of the movie "Pulp Fiction", from the music to Nick pulling "scissor fingers" over his eyes.  It was pretty sweet!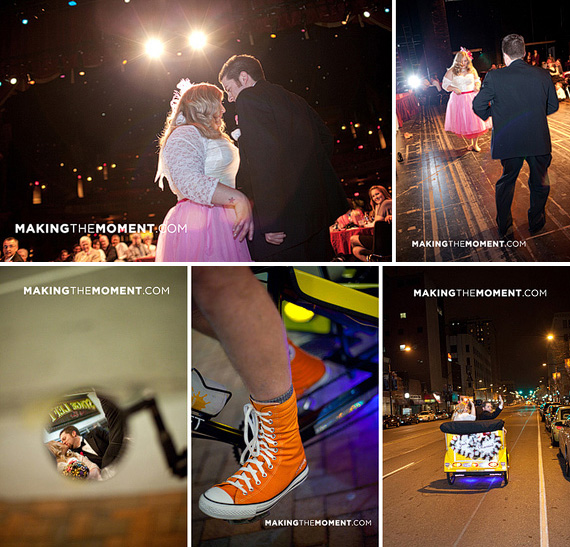 The night ended with Sara and Nick being biked away on a rick shaw through Akron, Ohio, but credits on this film didn't roll because their lives together are just getting started.
Posted In Around Here, photos, Wedding