Yeah. It was seriously in my top 5 most fun and enjoyable engagement sessions ever. How could it not be with an awesome couple, a sweet pups and some balloons? I won't share the other 4, but you know who you are 🙂
Jessie and Jake are getting married in September (coming up fast!) and are seriously very very very cool. I loved spending time with them, and really enjoyed laughing and creating with them.
They brought balloons to compliment their "UP" themed wedding (how cool is that?). Right as the sun was setting we let them lift off into great blue yonder (always wanted to use that word, thank you for allowing me).
It was such a sweet summer night engagement session. I took them out to some fun and obscure country locations I know of, and we rocked out the creative engagement session photography.
This is Jessie and Jake. Tell me – are they not two of the most awesome looking people you've ever seen? Yup – they are pretty darn hot. Not only are they good lookin' – but they are brimming with personality and a love for each other that shines through these engagement session images.
I like couples like this – not because they are good looking (although they are) – but because they are in love and fun to be around. Couples like this allow me to create the unique art and creative wedding images Making the Moment photography is known for.
I don't think I mentioned the water-tower I found while driving with them. It was pretty cool, and made for a quick little pull over of spontaneous creativity. I like that approach to photography – spontaneity. As an artist, I'm a huge fan of creating whimsically – in the moment. Not just planning and recreating staged set ups, but rather seeing where the moment, the light, the couple and the art of it all take us. It's fun.
I'm not too huge a fan of "stand over here and kiss" photography – so whenever you see a couple kissing in my work, it's because they legitimately felt it and made it happen. I think that provides a level of realism to the images that most wedding photographers lack. How "romantic" is it if some guy with a camera is walking around and making you kiss everywhere? Not too much – I just like letting couples flirt and "be" – it makes for very authentic and honest images.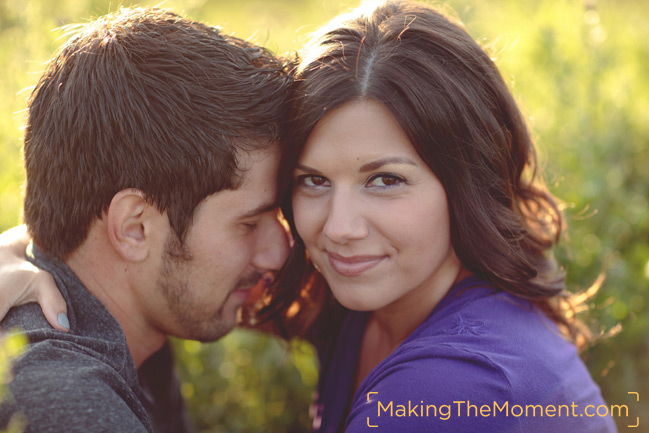 I also love when couples bring their furry friends to our engagement sessions – so much fun!