Sarah. Ben. Words to describe them? Let me start here; Easy going + Ready for Fun + Architected [ is that a word? ] + Warm + Adventuresome Spirits.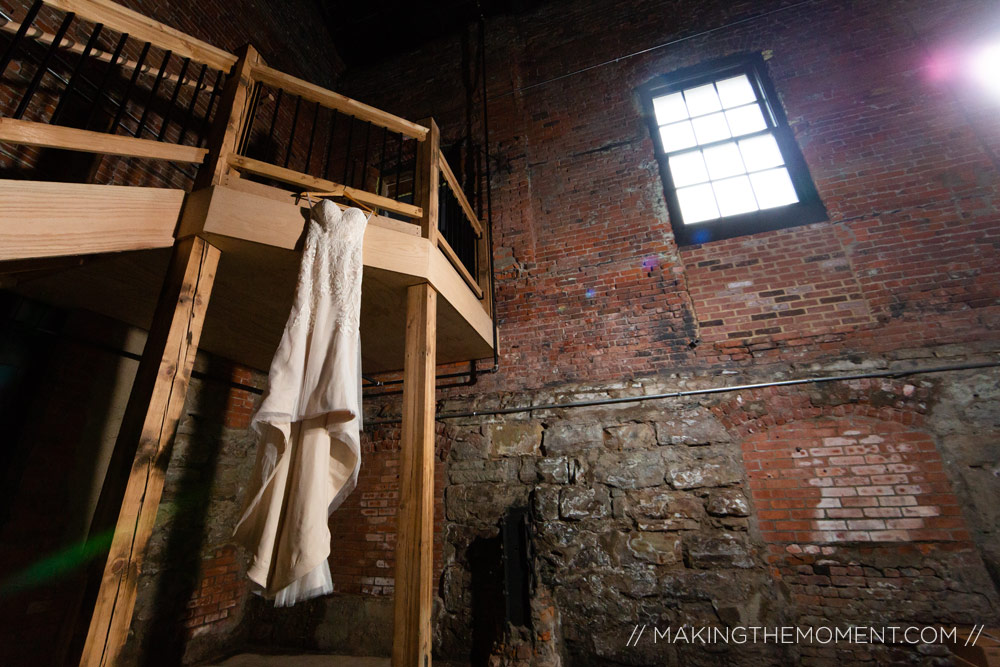 They enjoy eating on patios and trying new places together [ maybe eating on new patios together too? ]  They enjoy exploring new neighborhoods with the other at their side, and best yet; they like to travel.
The two went to Naples this year and San Francisco this month.  Next up?  Costa Rica for New Year's.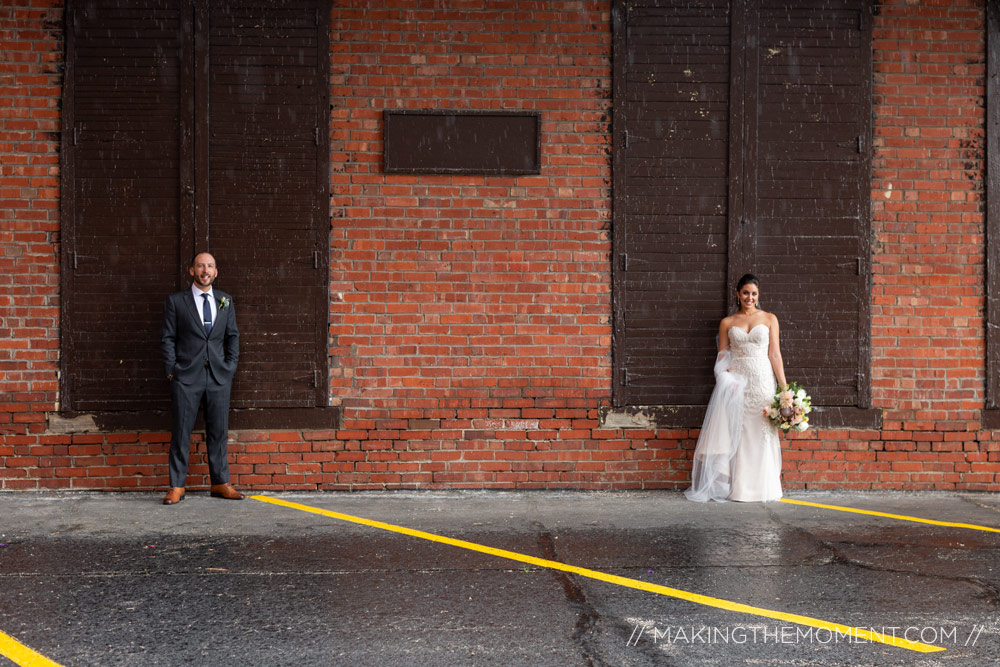 Oh, and also this; they're incredibly good communicators and listeners.  Point in case?  I photographed their engagement session prior to their wedding, and while I was out 90% of my vocal capabilities [ I had a small case of laryngitis ] our communication wasn't hindered in the least.
The two chose to have their wedding reception at Tenk West bank in the flats of Cleveland, one of the hot new cleveland reception venues.  Stephanie @ KirkBrides and Twig Florals were on point with their reception decor and design.  I LOVE when we get to work alongside amazing wedding vendors like these two!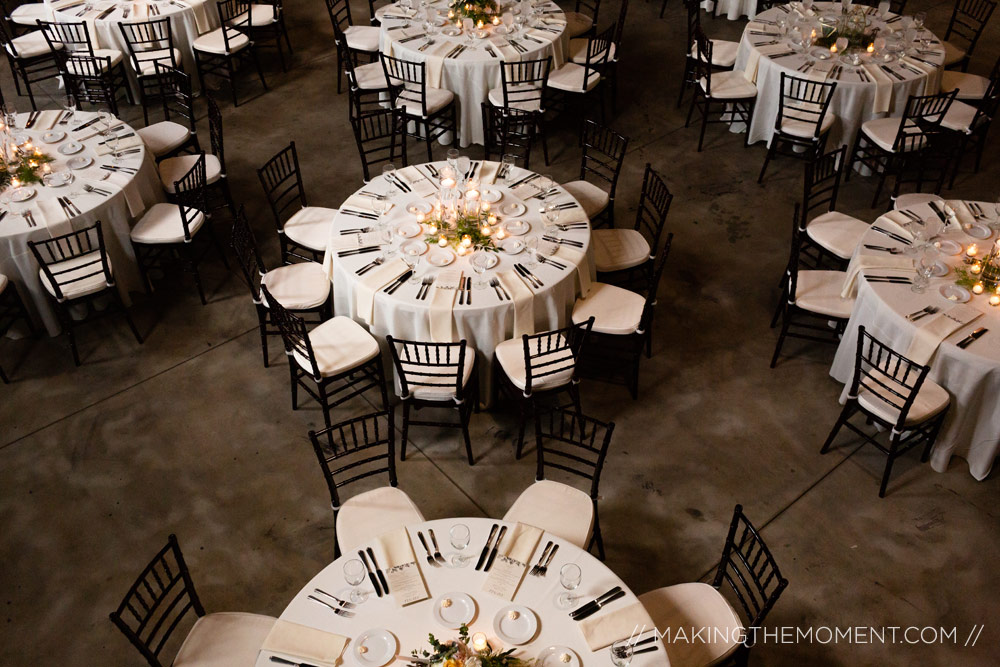 And if you can't tell why they chose it from looking at the above, you're crazy.  Tenk is an amazing repurposed factory turned wedding reception venue in Cleveland, and is quickly becoming one of the area hot spots for great wedding receptions.
Blue Water Kings band KILLED it that night.  Two weeks in a row we've photographed wedding receptions at Tenk in Cleveland, and they were the headlining band.
And two weeks in a row resulted in epic dance floor images like this one with Sarah [ above ]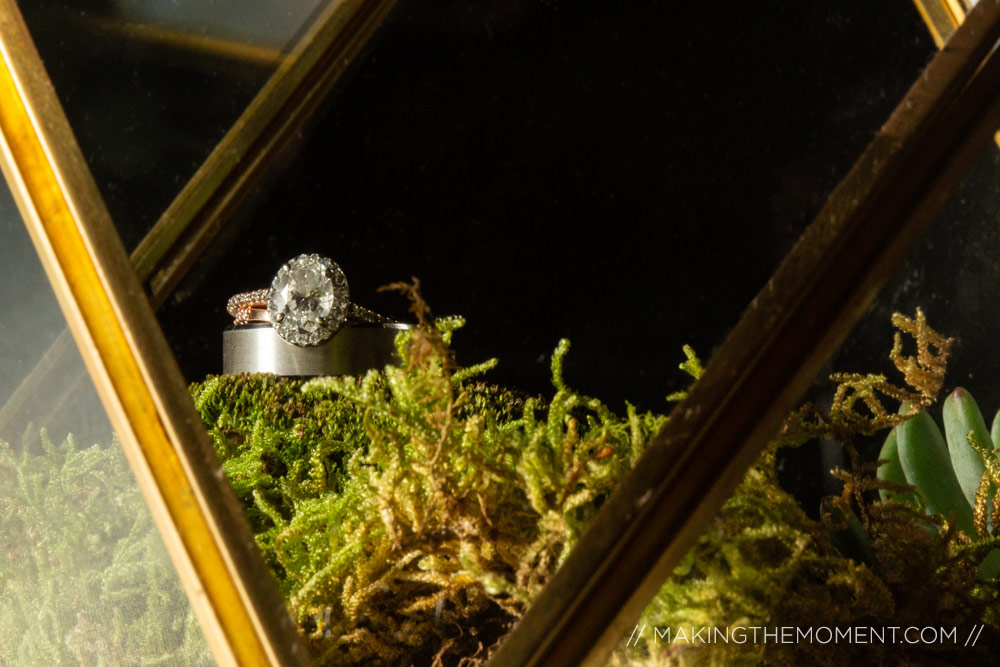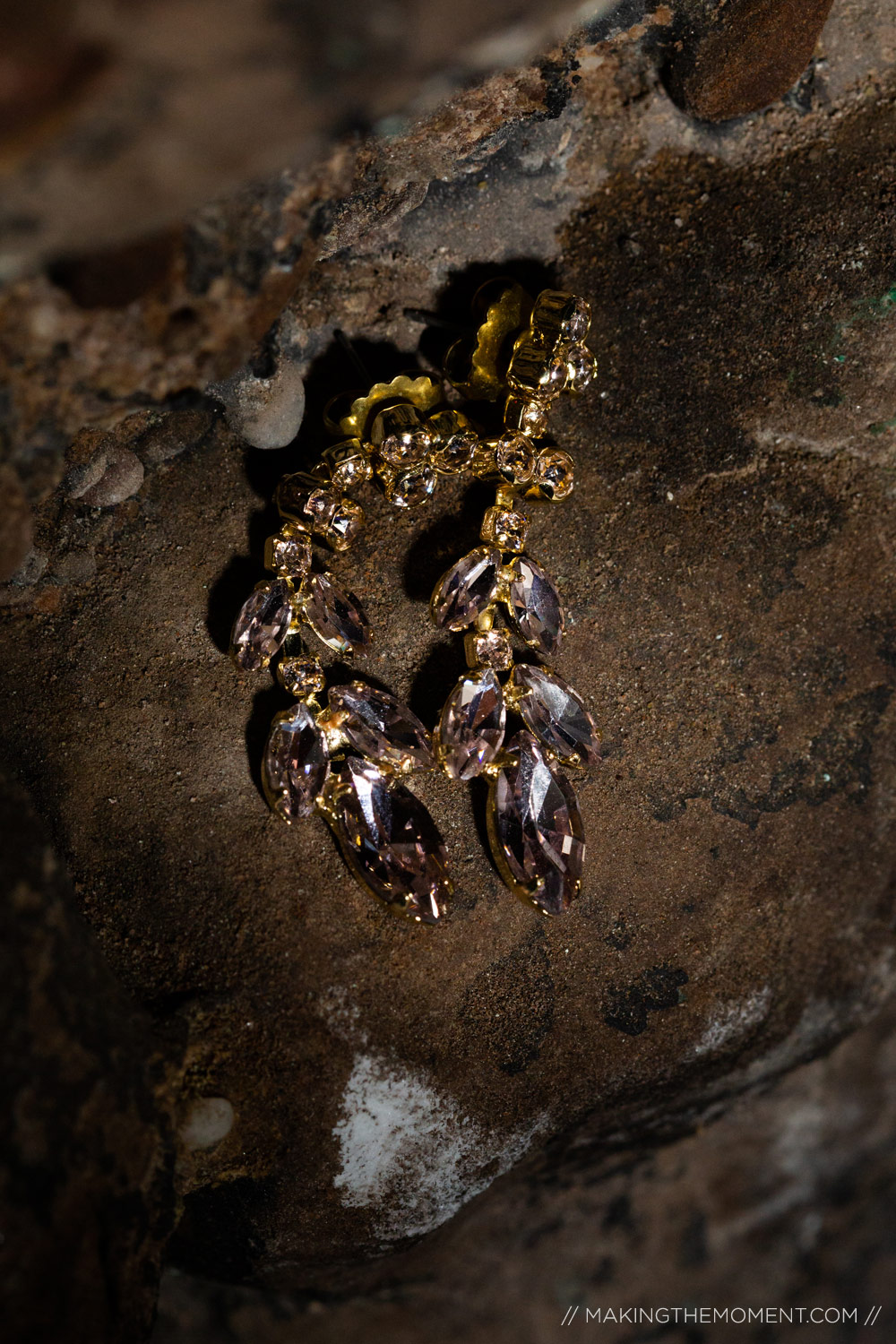 I love the slow pace of the morning before a wedding. It was so nice to get to know Sarah's friends and closest people.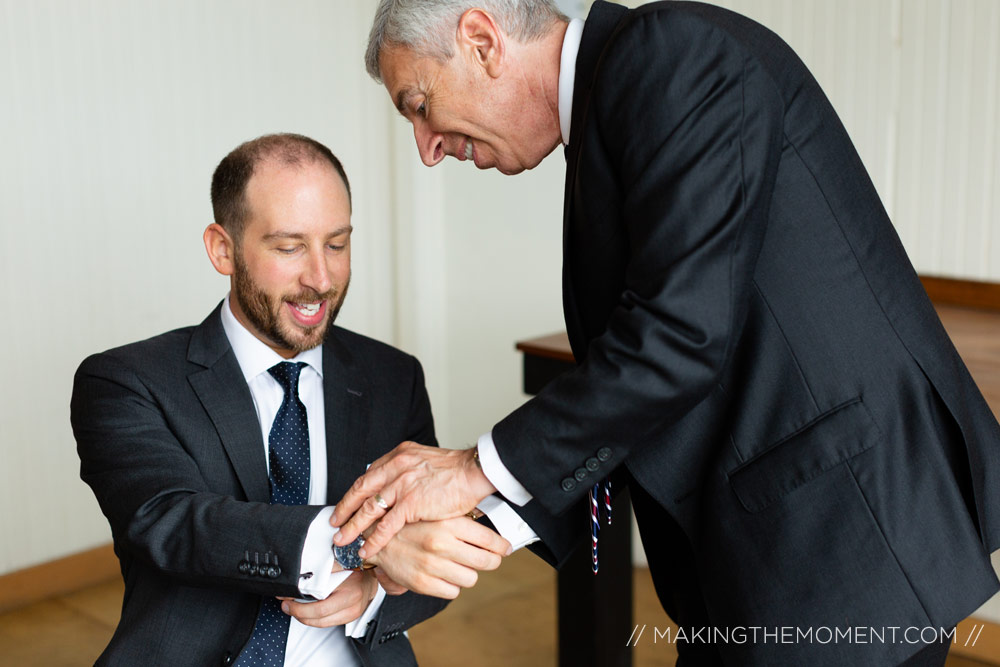 Ben's father Rion helped his son put on a watch Ben received on the wedding morning from Sarah. Sometimes the subtle moments of passing heritage are the most important images I produce on a wedding day.
If you hadn't caught it, Ben is a Buffalo Bill's fan.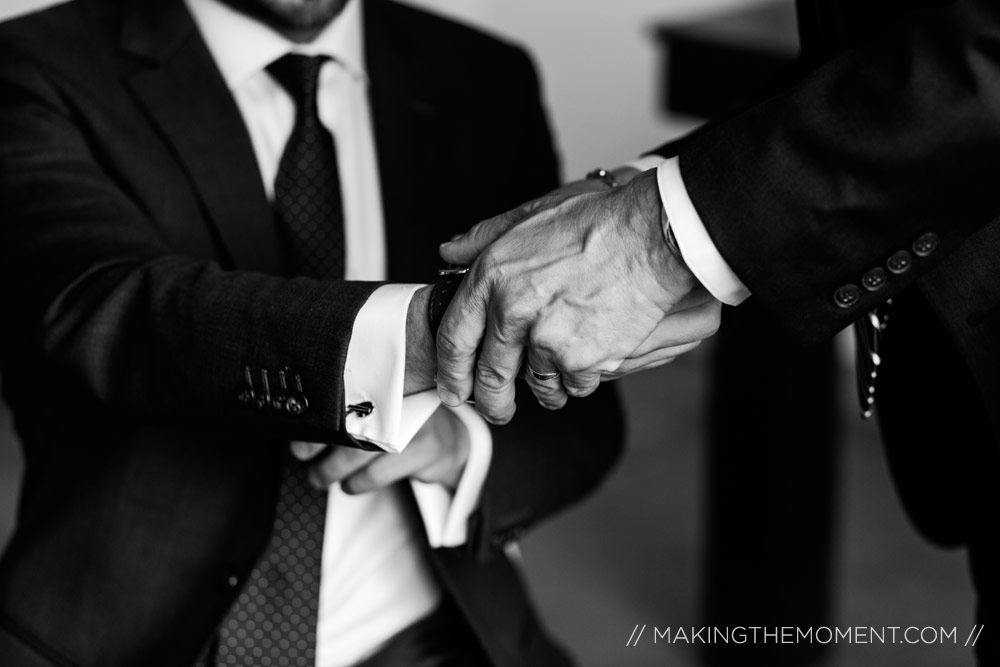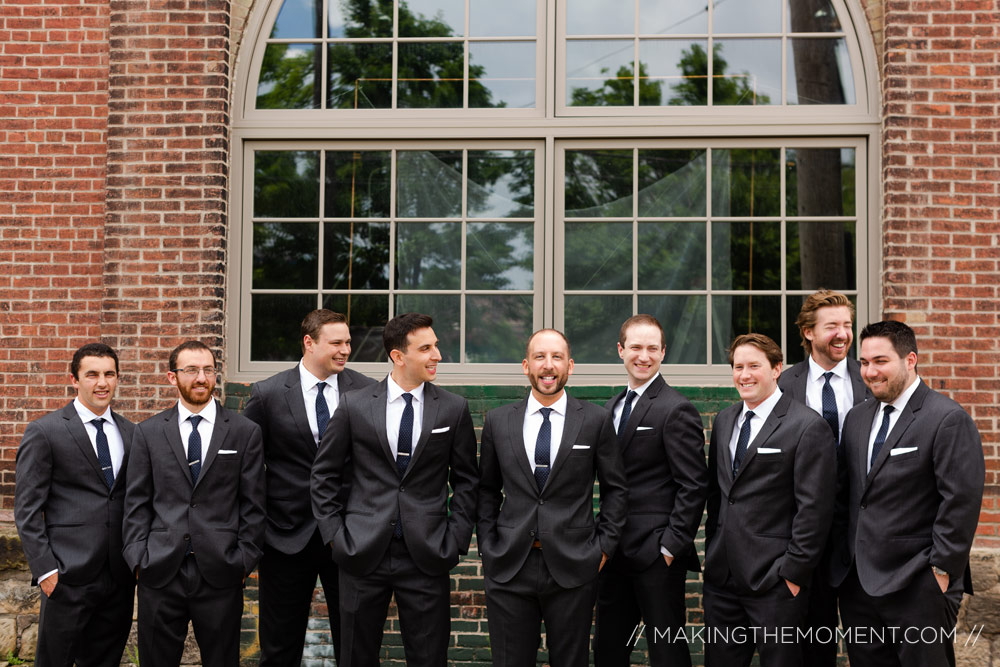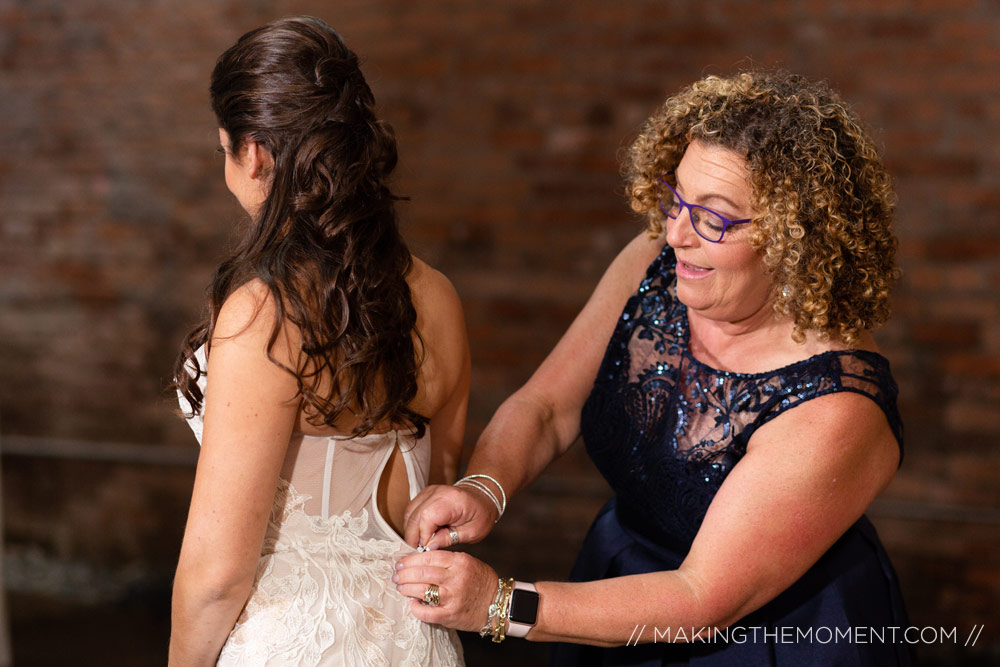 Again, it's those quick moments; like Marilyn helping Sarah into her dress.  Sarah LOVES her dress, and was really excited for her ladies to see her in it for the first time!
And you can see why; Sarah is lovely in her wedding gown.
And clearly her ladies felt the wait to see her and her wedding gown was worth it.  I LOVE their faces in this image, they say so much about how much joy they are carrying for their friend.
Before the wedding ceremony later that day Tenk, Ben and Sarah were privately introduced for the first time.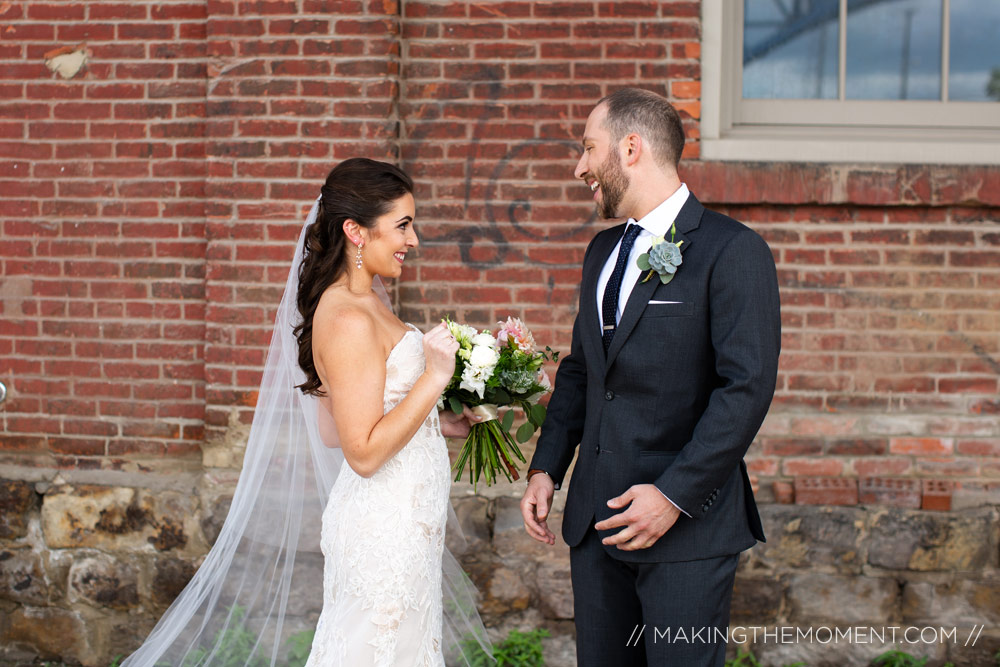 That smile says it all.
Sarah was smiles ALL day.  Wonder why?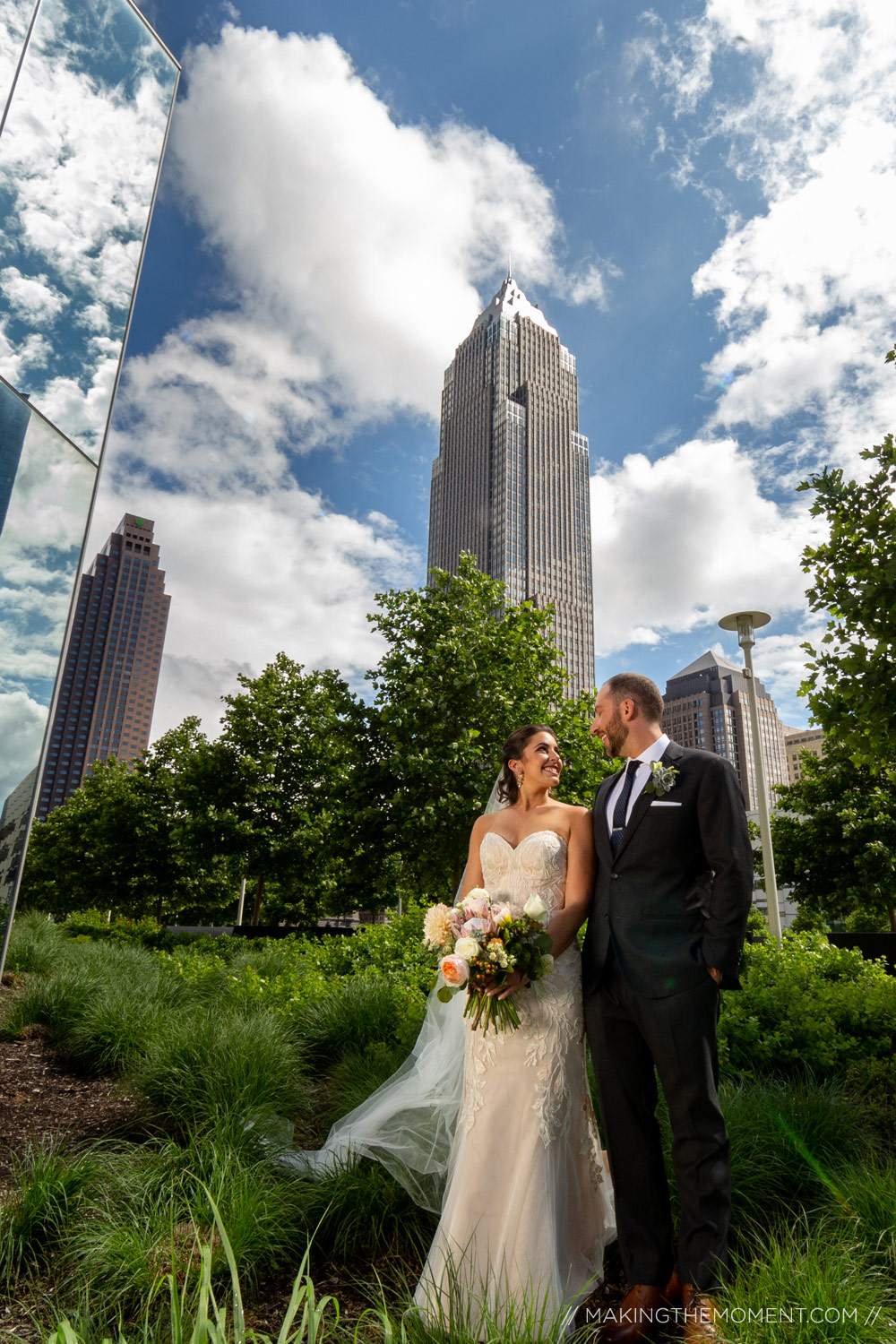 Their day was perfect; blue skies and lots of sun.
Again, thanks to the hard work of Kirkbrides, Twig Florals, and all the good people at Tenk, the jewish wedding ceremony chuppah was incredible to see.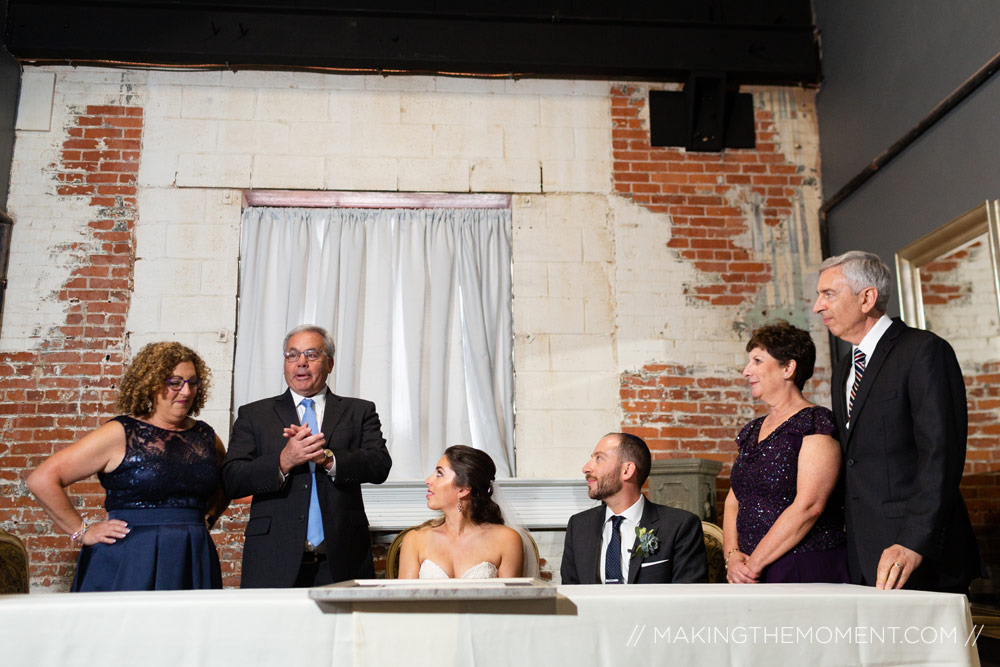 Before the public wedding ceremony, Ben and Sarah's family gathered for the Ketubah signing.
Sarah walking down the aisle. I love that she's first focused on her parents before making the walk to Ben.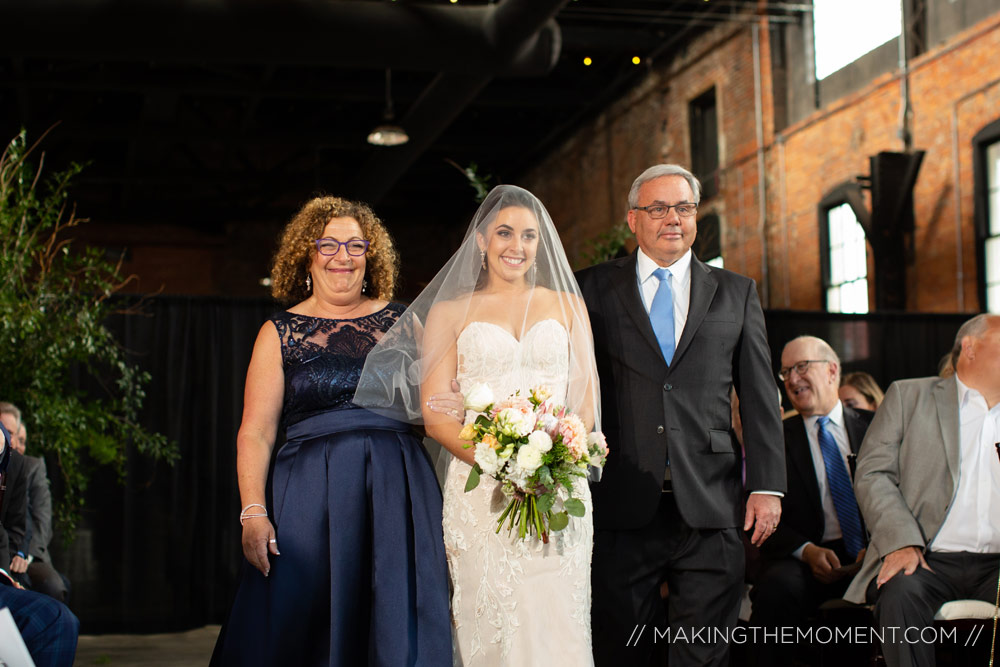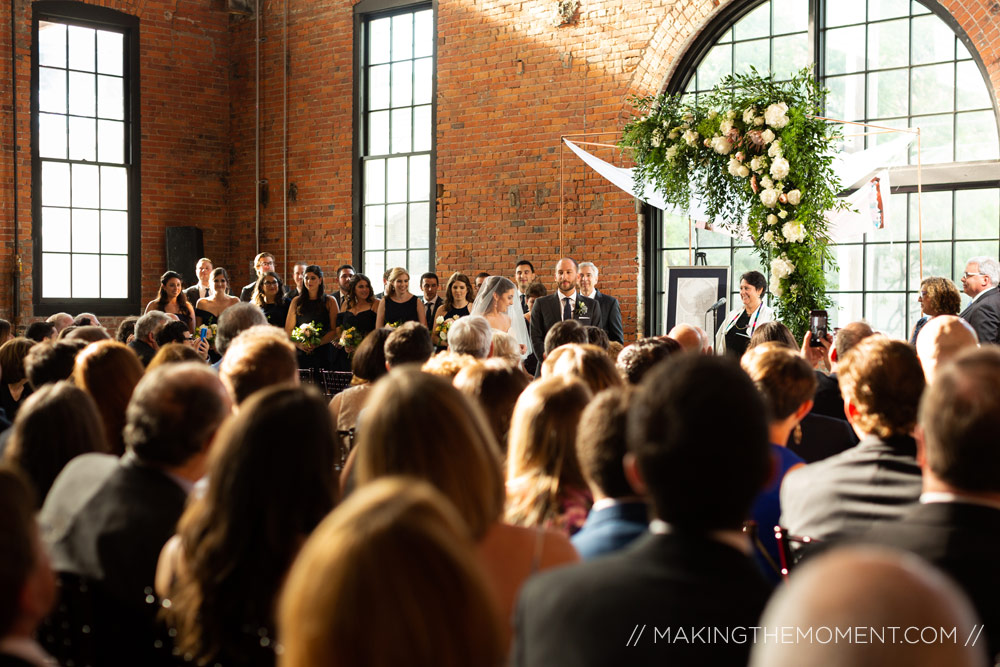 An afternoon wedding ceremony at Tenk in the flats of Cleveland carries so much light and texture that my camera can hardly contain.  The old world brick marries [ pun ] so well with the youth and vibrancy of the florals and the couple that you can't help but smile.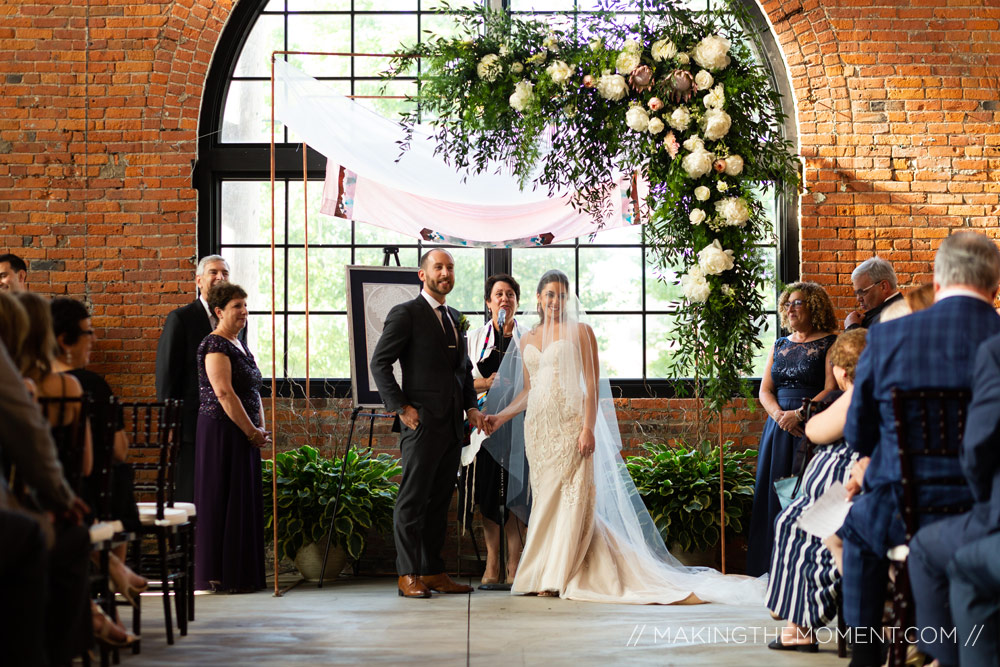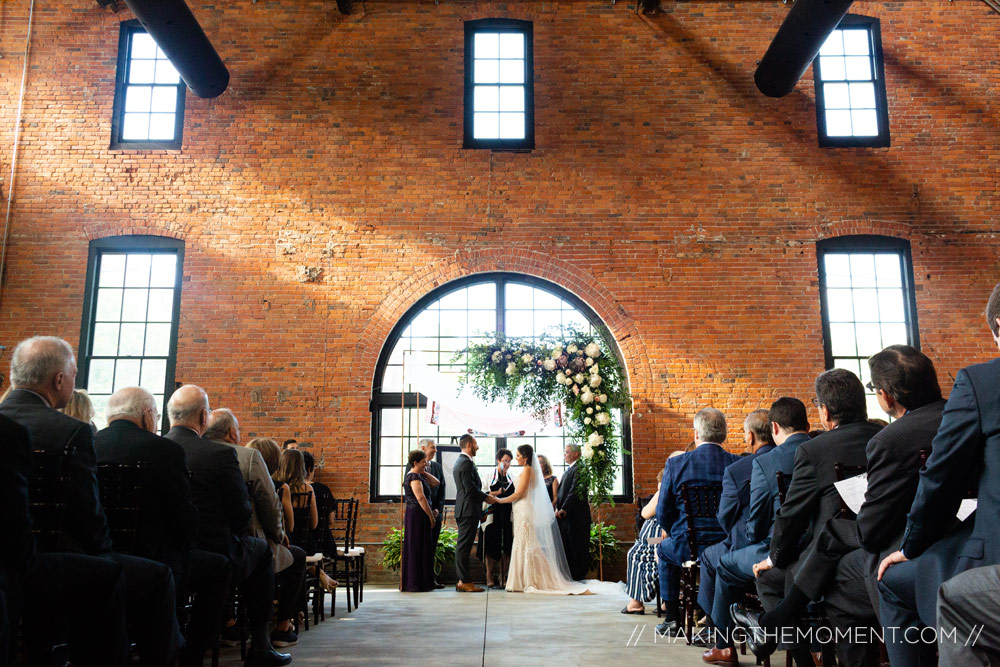 After the ceremony?  The wedding reception at Tenk was set up promptly, and was held in pristine beauty for the first guests to view.
Twig Florals; you are AMAZING.  You put a TREE in their wedding reception. #whataTREEt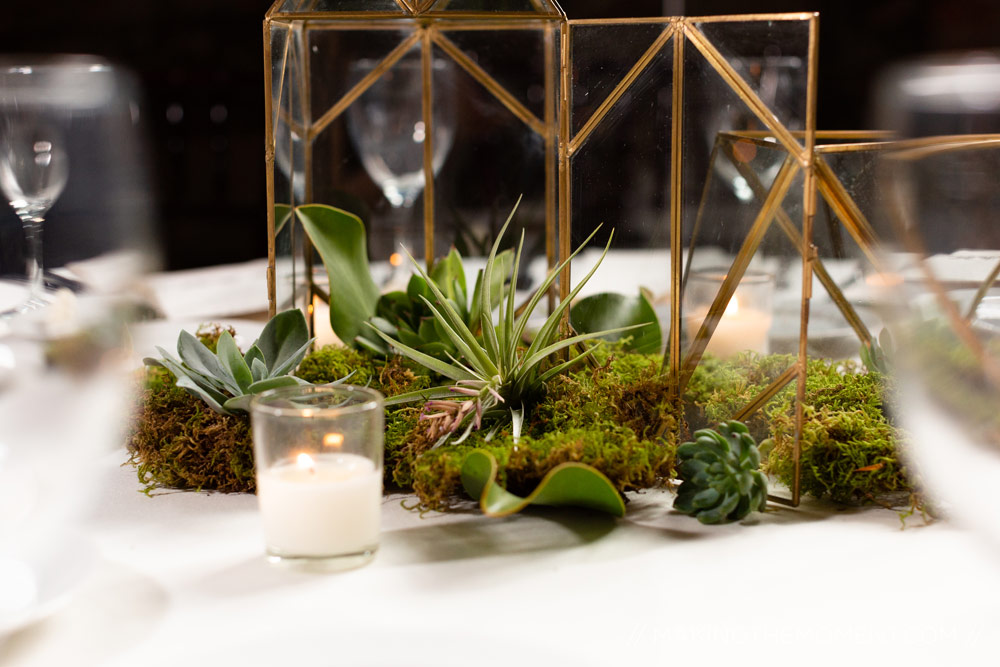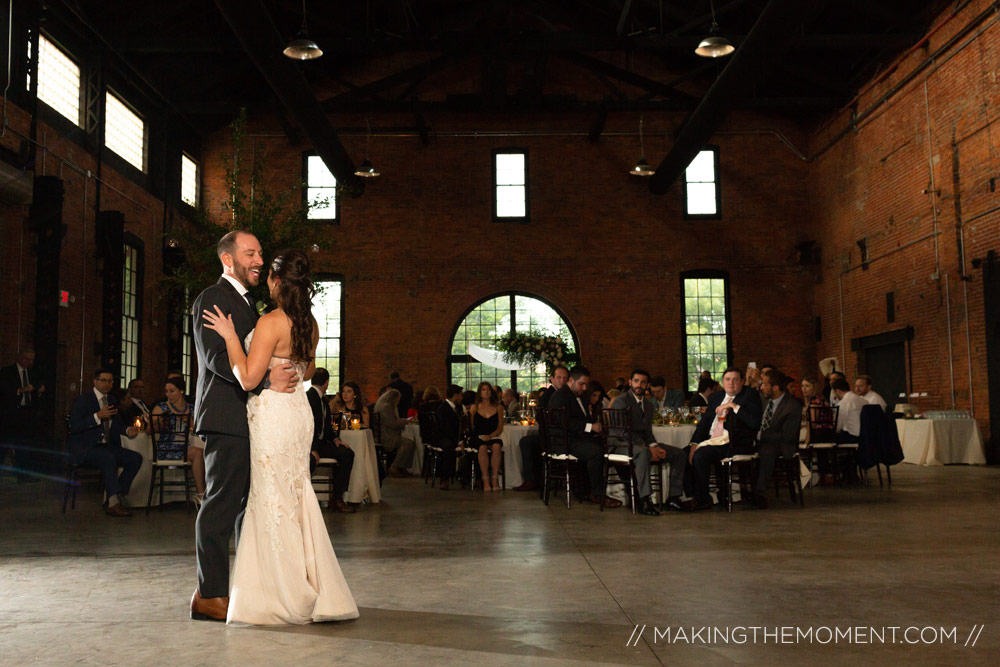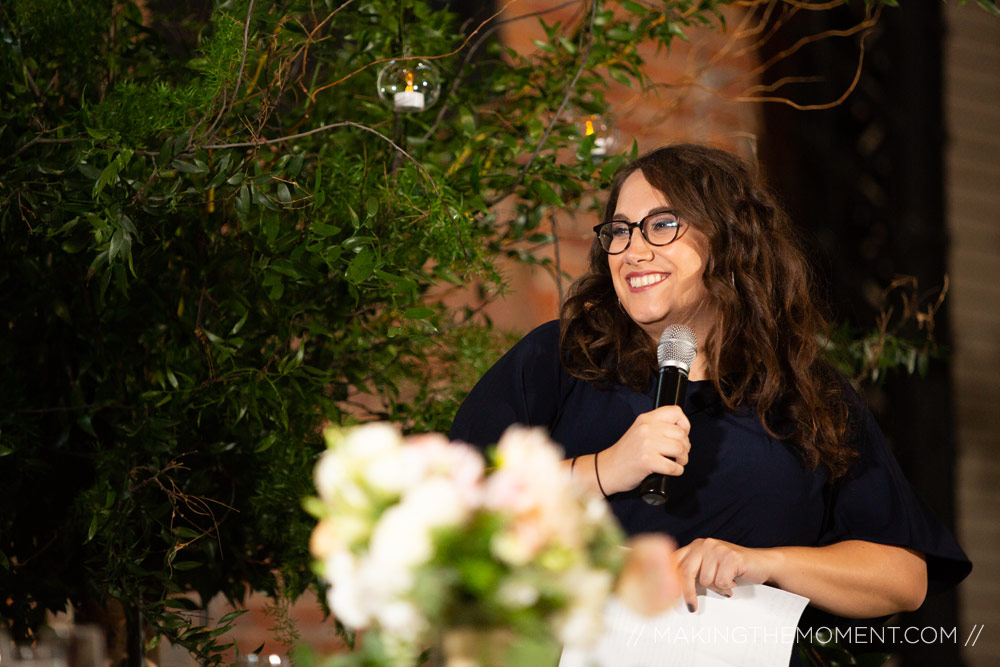 I love toasts; the audience and the couple get to enjoy the content of the speech, and while I'm listening, I'm more intently searching for that beautiful authentic smile [ or heartfelt tear ] that so quickly emerges while people are sharing so openly.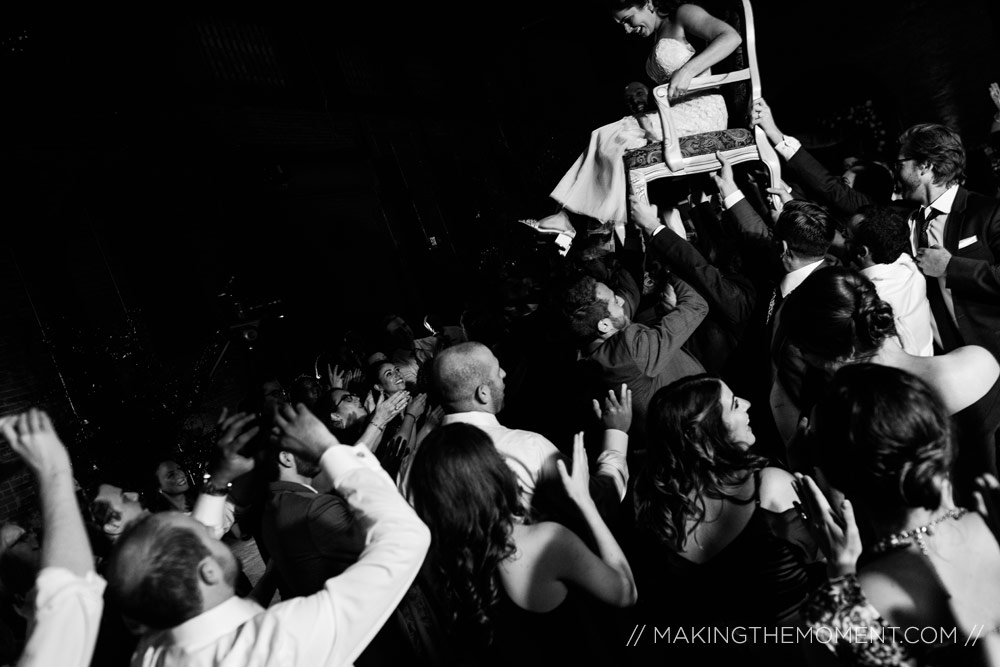 And my favorite part of a jewish wedding reception?  The Horah.  Not only do the couples get lifted high in the air.
But parents too.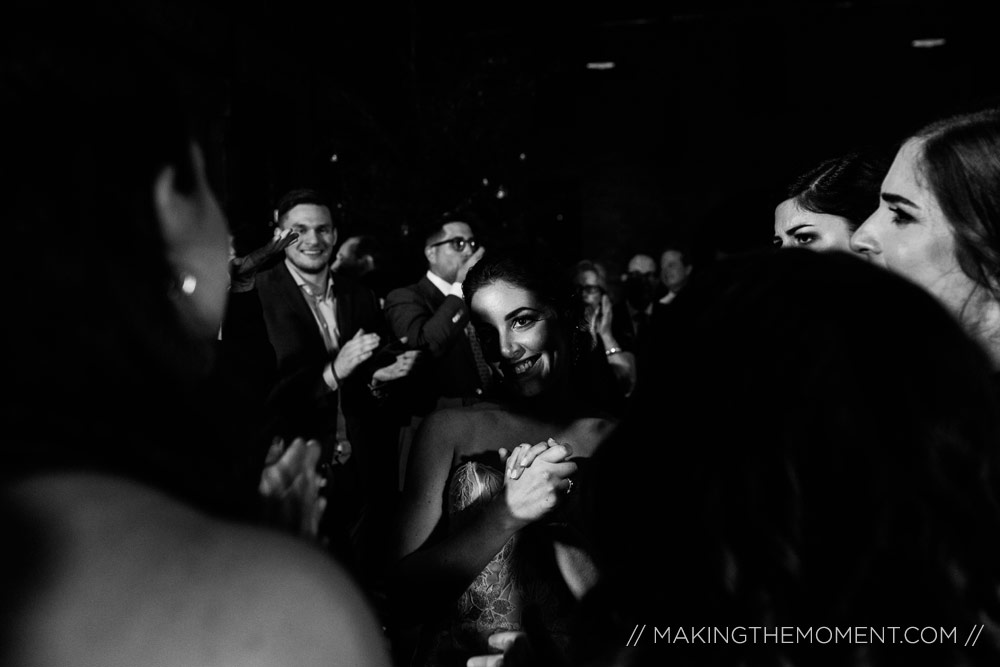 One of my favorite candid images on the dance floor that night is of Sarah making her way through the crowd.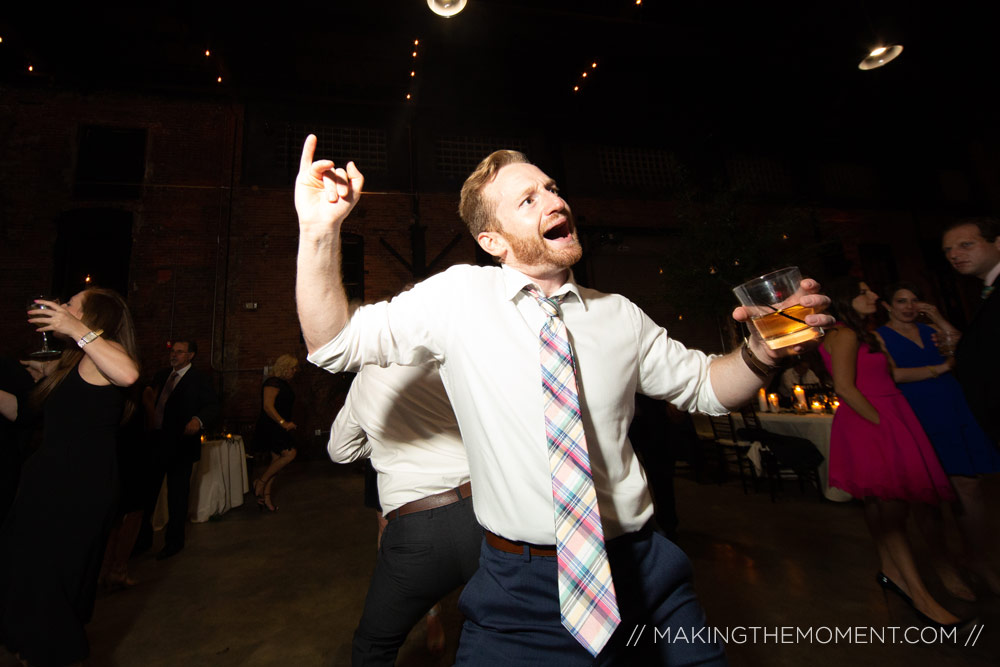 And of this guy artfully balancing his old fashioned whilst hitting the dance floor.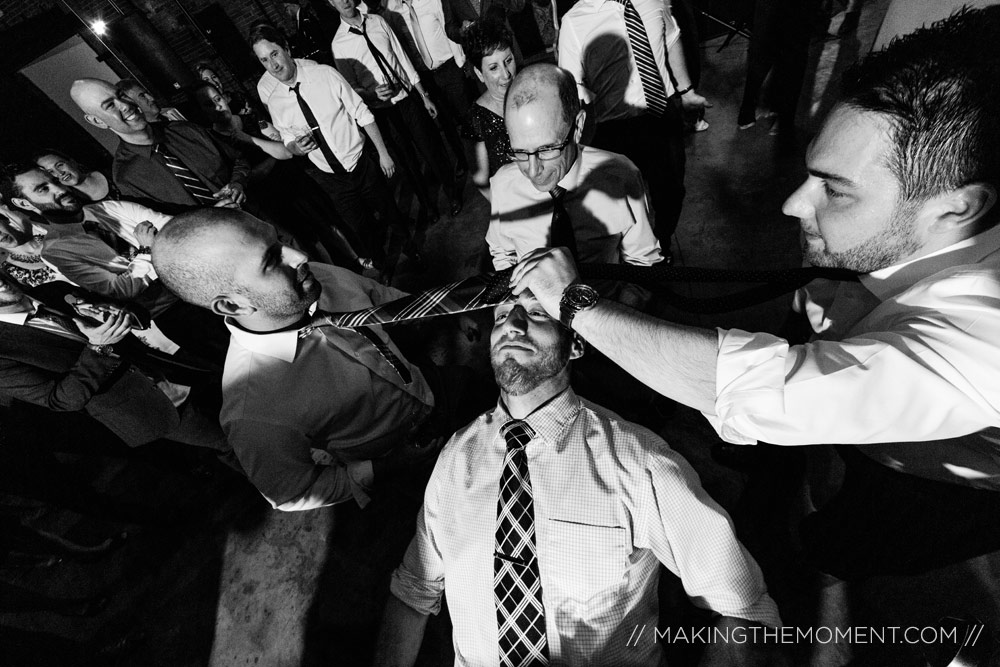 Ok; I told you wedding receptions at Tenk in Cleveland are on point; so please enjoy the next few images that are a tribute to the fun that this venue brings.
"Who Got Married? This guy!"
Beyond just an amazing wedding day, beyond a great party; are great people.  Sarah and Ben; thank you SO much for choosing me as your wedding photographer.  I wish you two many great years ahead and that you would be able to share all the travels and adventures of a life well-lived together.