Soft rock summit. I know, that's an incredible way to start a blog entry, but this is the first phrase that comes to mind when I think of the very first time I met these two.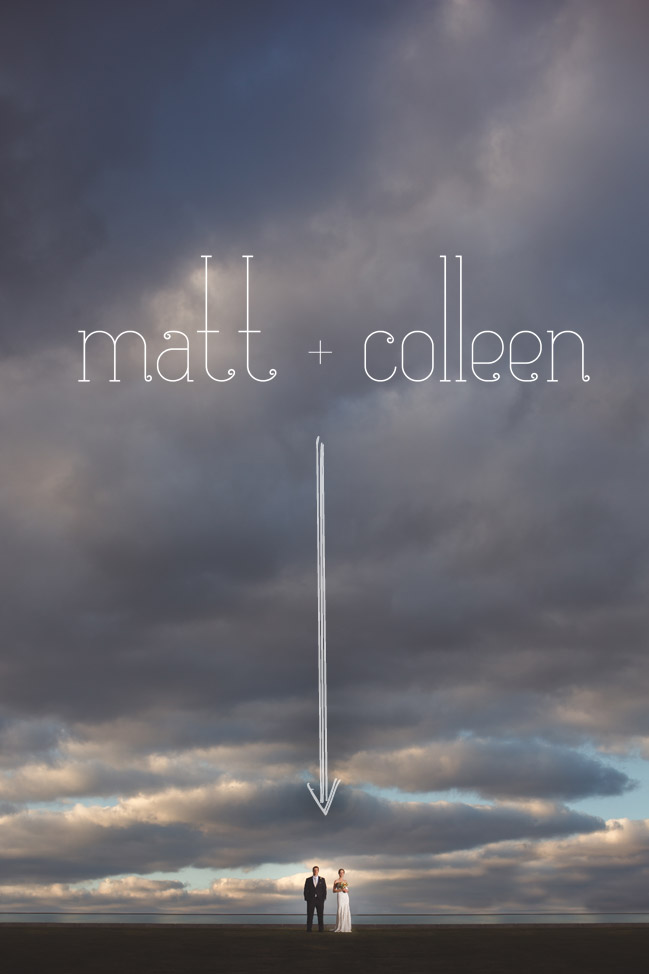 Yes – there is a story behind that. When I first sat down with these two, we had an insta-ship. An insta-ship is when you feel an instant friendship with someone. Never heard of that phrase before? That's because I'm coining it right here, right now. Instaship © Brett Yacovella 2014.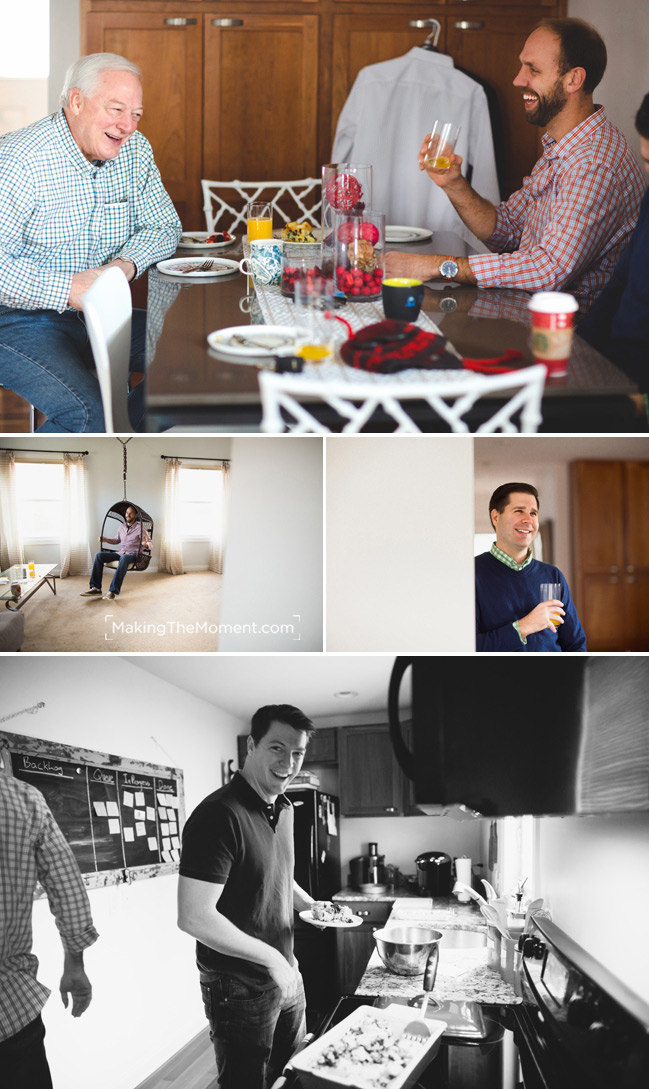 Any-who – during our first meeting of instaship goodness, Matt regaled me with tales of the friendship he has with Jon (the gentleman above sitting in the bird cage seat), and how they always dreamed of having a "Soft Rock Summit" with hard hitters like Peter Frampton and Kenny G headlining. It's more of an inside joke at the expense of soft rock fans (highly doubt any of you are reading this), but it made me laugh a ton and I just knew we'd be friends after that.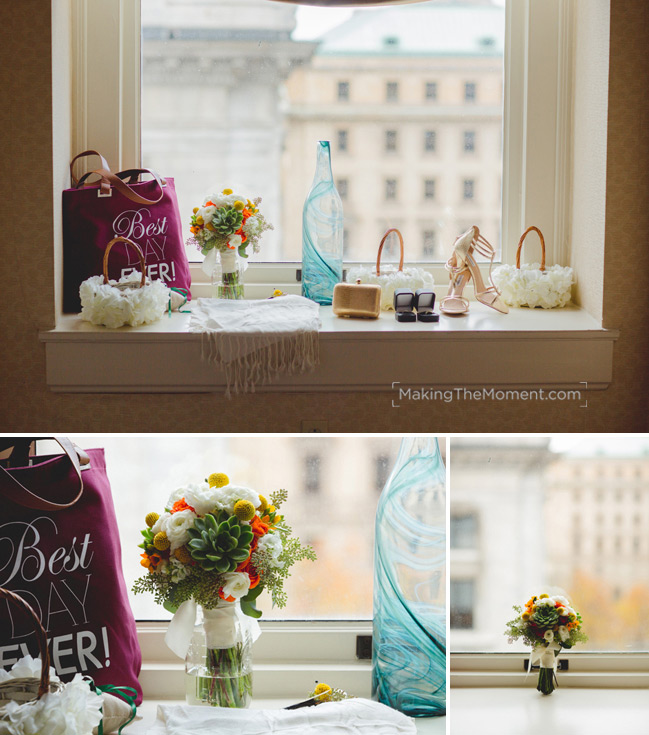 I ♥ Colleen too. She is / was / will always be super sweet and so kind. We became buddies that first meeting, and I knew their wedding day was going to be a blast. And it totally was.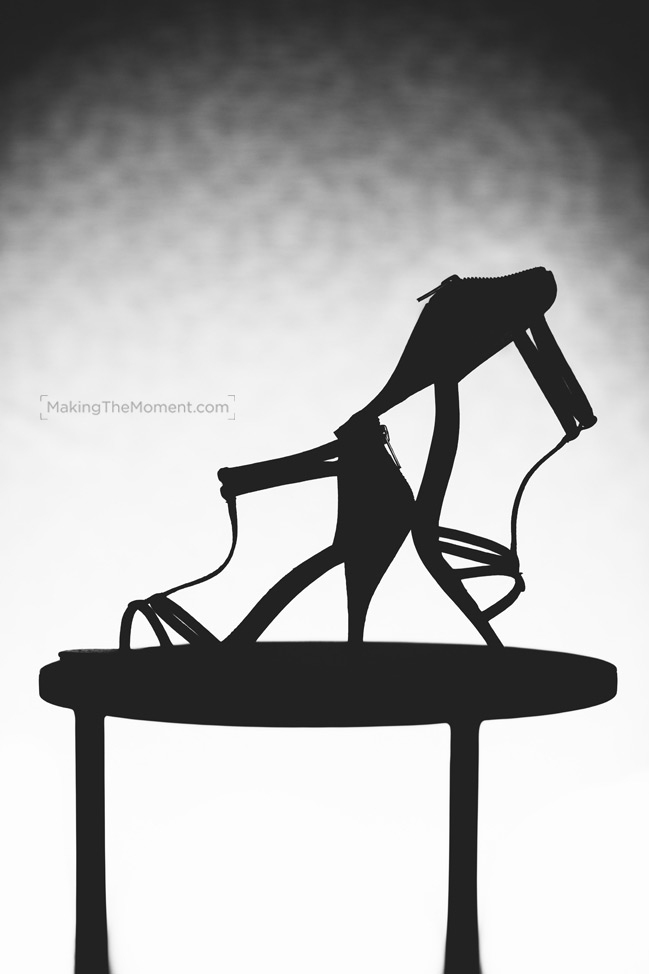 Speaking of Colleen. Check out those shoes. Dang.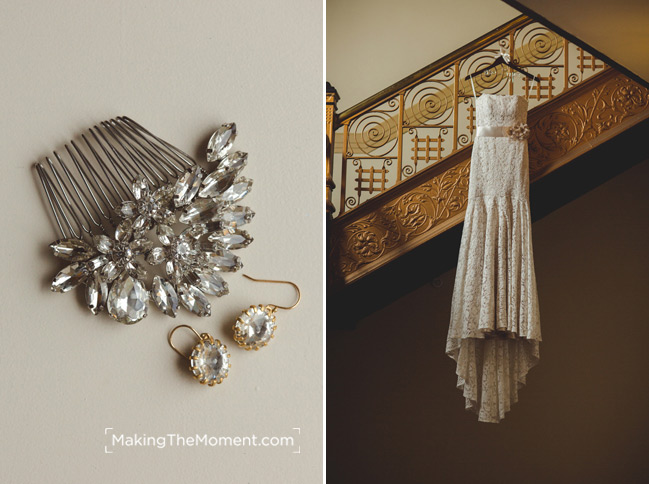 While Colleen was getting ready in her suite at the Hyatt Arcade, I took her dress around and got some swanky imagery of it. Colleen got her dress at Leonardo's Bridal FYI – great place!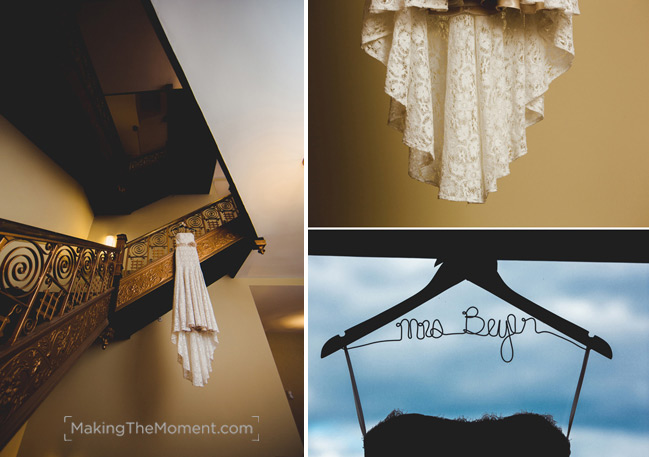 One time a housekeeper came out and was staring at me while I was photographing the hanging dress. And then she left. I know – lame story. But that's all that happened, she really didn't care. If you want, I can make up something about how she ended up being a unicorn or something.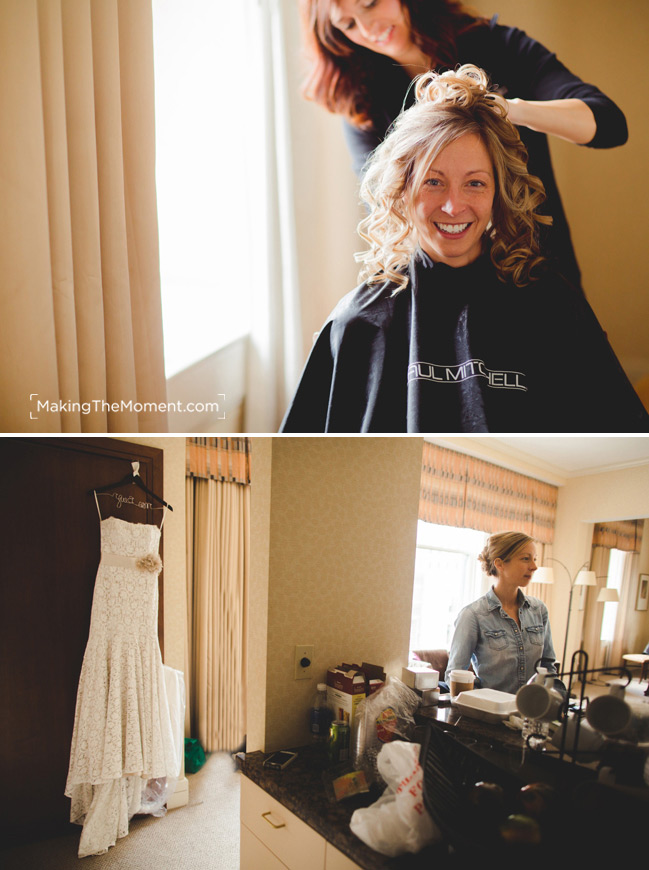 And so after meeting the housekeeper that became a unicorn (see previous paragraph for reference), I spent the rest of the morning in Colleen's suite with her. I love this image above – I captured a candid of her talking with her mom, with her dress hanging in the background.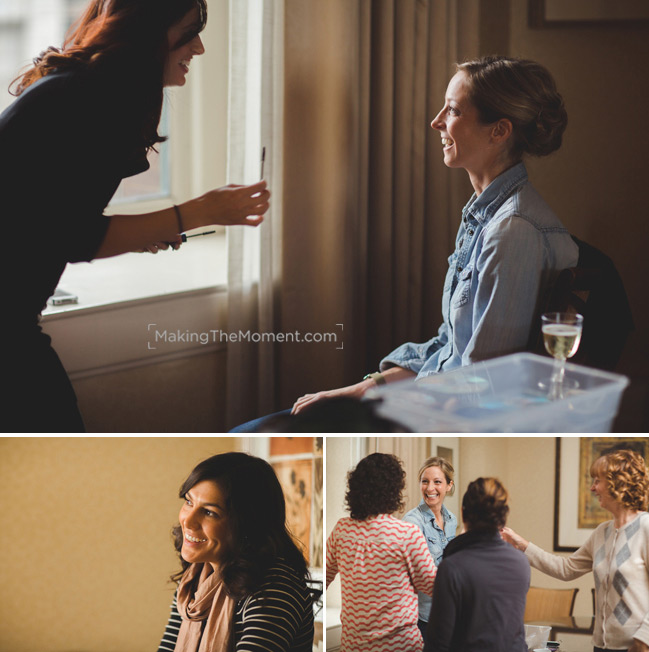 Ooohh – this is cool – so the awesome lady in the lower left image (dark hair, swanky striped shirt) is Lindsay Longacre – a super awesome wedding planner from California with LVL Events. She and Colleen made this day awesome. If you're getting married in L.A., Napa, or Hawaii look her up. She is simply wonderful.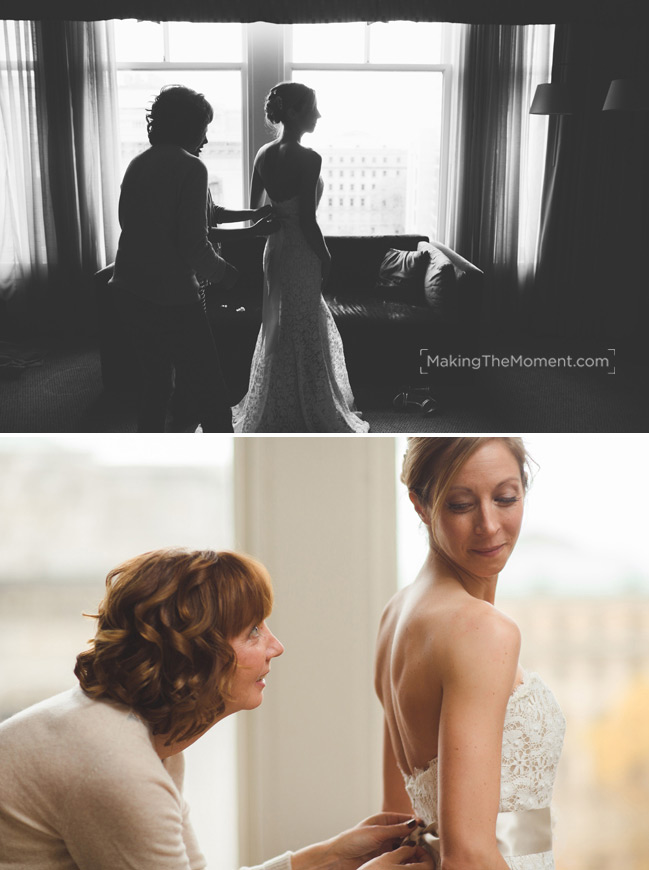 Wow – I love this. Simple moments. Colleen's mom is a sweet person, and totally loves her daughter. I love these true to life natural candids of her helping her daughter dress.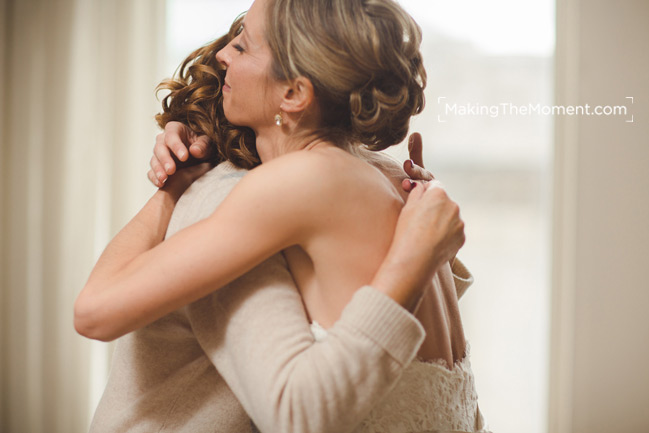 I love REAL photography – real moments. Not manufactured stuff. It's too prevalent in our photographic world to see faked out moments. Real stuff like this happens once and is gone just like that.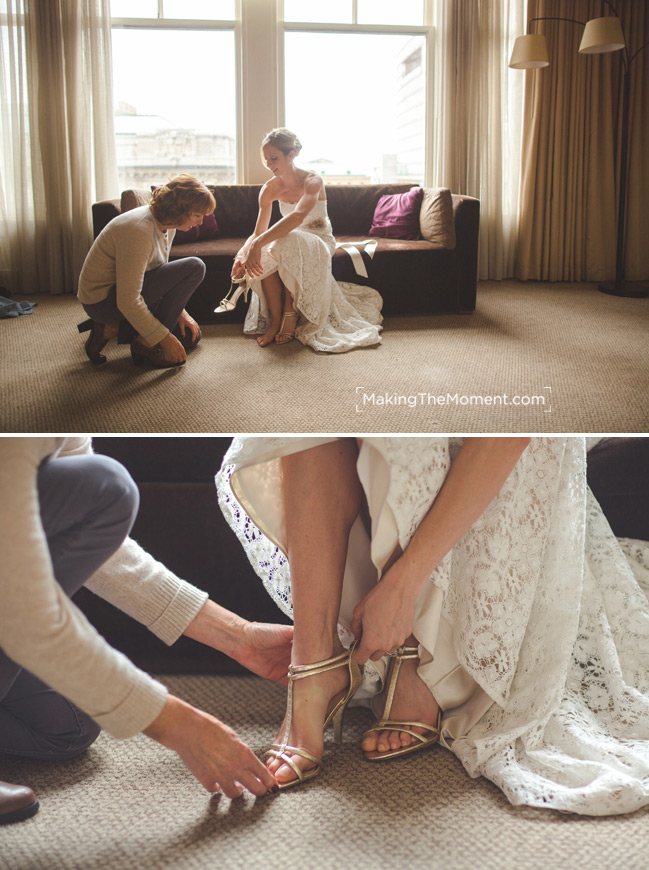 Colleen is beautiful. If you know her, you already know this – but as she was finishing up, I was so excited for Matt to see his bride in a few minutes.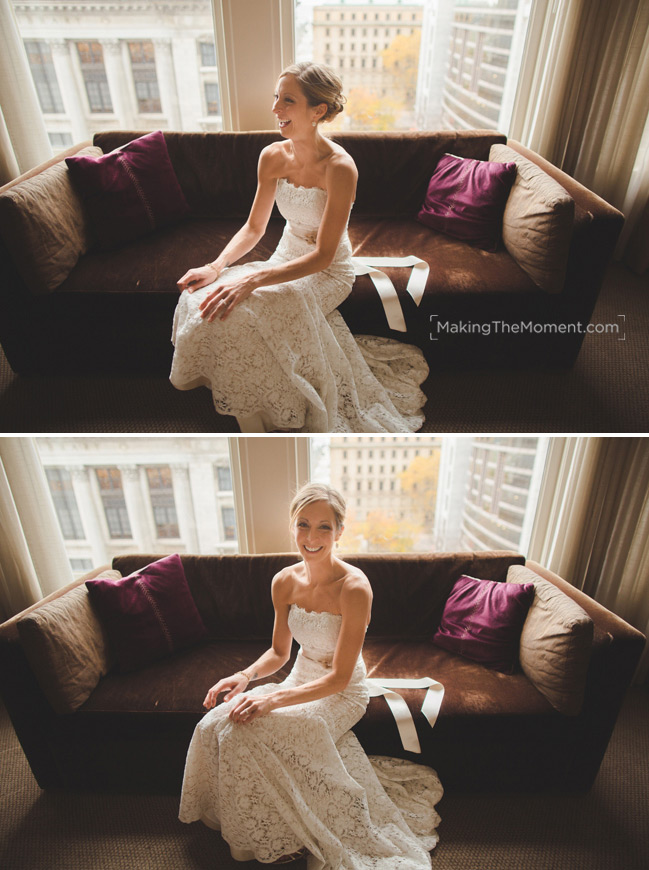 We snapped a few natural and relaxed images very quickly on the couch. I love how real these are.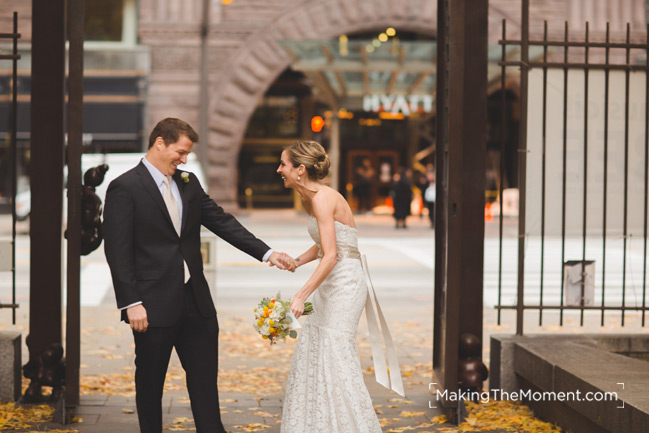 And then I introduced the two right across from the Hyatt Arcade where they were soon to have their wedding.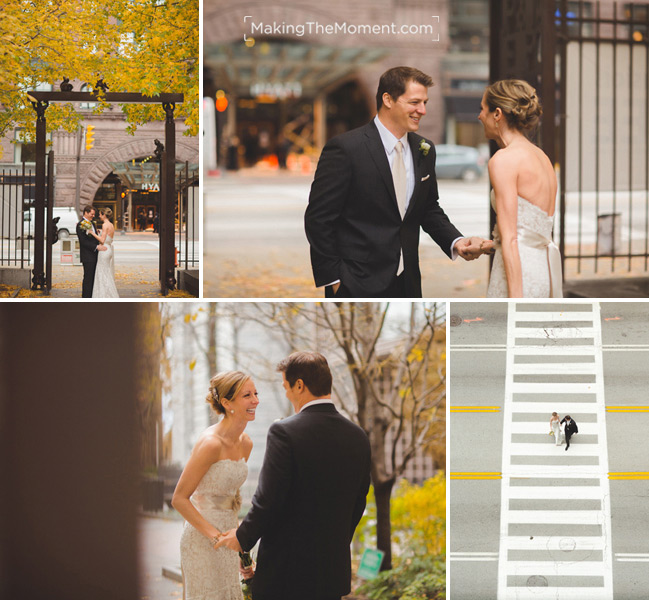 Matt and Colleen are in love. I mean for real – they really really love eachother. I know that's easy to say about a couple that just got hitched, but if you were around them, you'd know what I mean.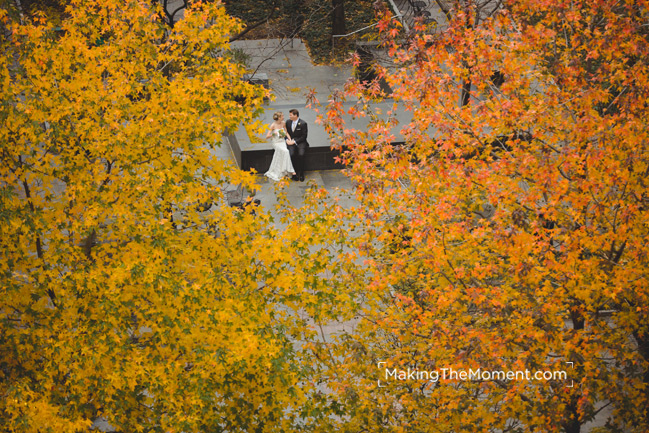 I knew this before I shot their wedding actually. When they first stopped into our offices in Westlake and spent some time with me, I'll never forget how flirty and in love they were. No joke – they actually snuck in a quick kiss with eachother while talking. I know that sounds weird or something – but it was 100% natural and not all "oh crap – P.D.A. is so awkward" and junk. It felt natural and almost a part of the conversation. It made me realize how excited I was to photograph them.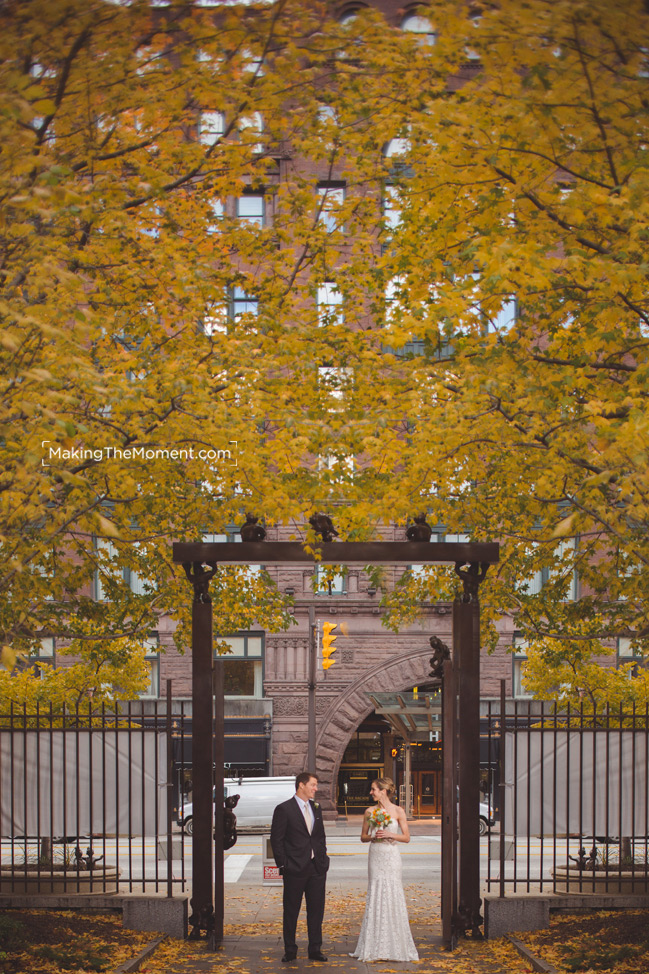 Geez. I love photographing in Cleveland in the Fall.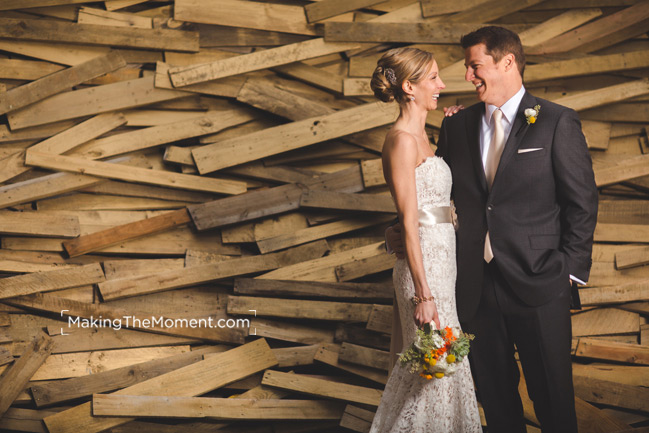 So we took some time, and created whimsical, creative images.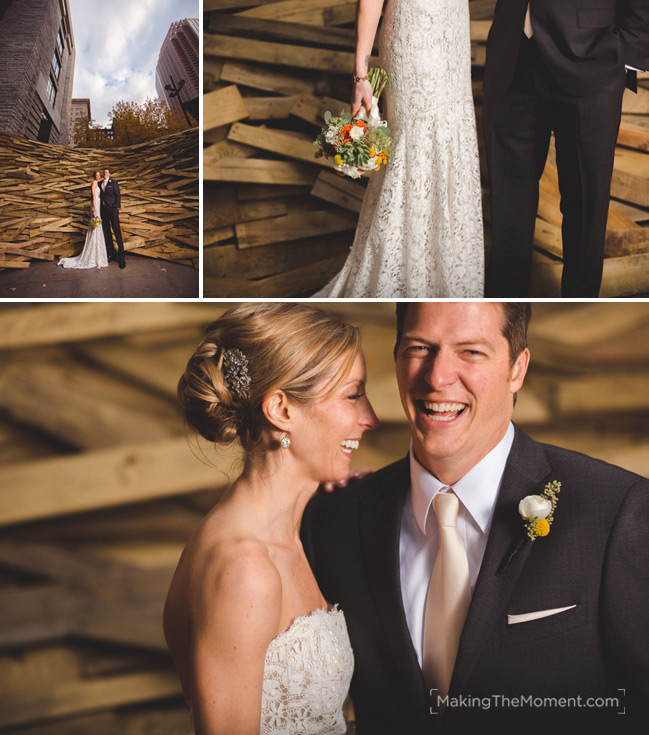 I believe in a free-flow creative process for creating my images. I like to laugh with my couples and joke – it helps us all relax, and helps make the images I capture natural. That sort of real laughter you can't get anyone to fake – it just happens and you have to be ready to capture.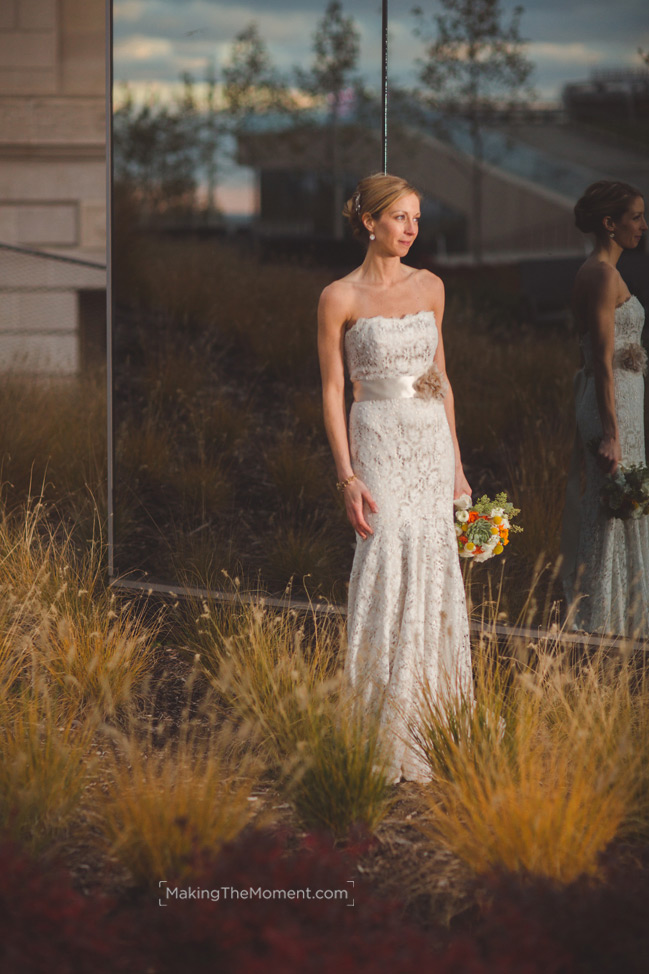 Geez – Colleen looks great. I love her dress – the lace look is perfect.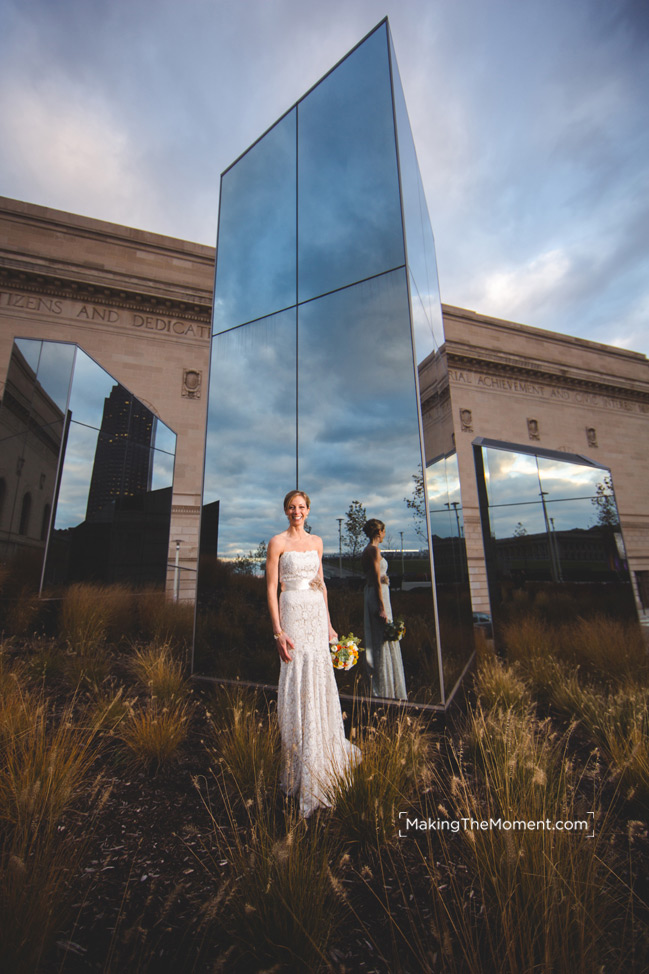 You'd never know it… but it was like 30 degrees out. So proud of these two – way to push through 🙂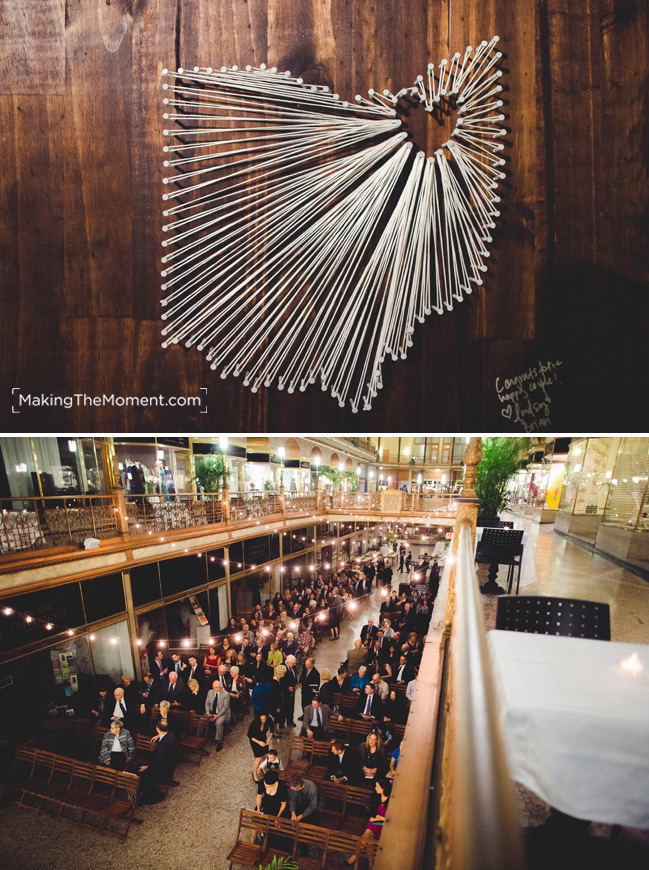 And then they had their wedding at the Cleveland Hyatt Arcade. Check out above – I LOVE this little "ohio" shaped signature board. All their guests signed it – so freakin' sweet.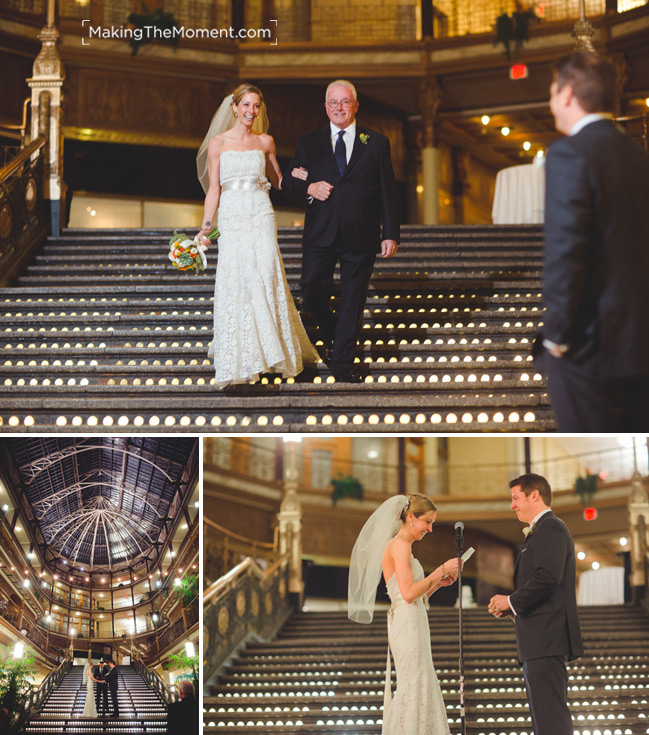 An evening wedding at the Cleveland Hyatt Arcade? Umm… yes. Yes, Yes I'll do that again and again and again.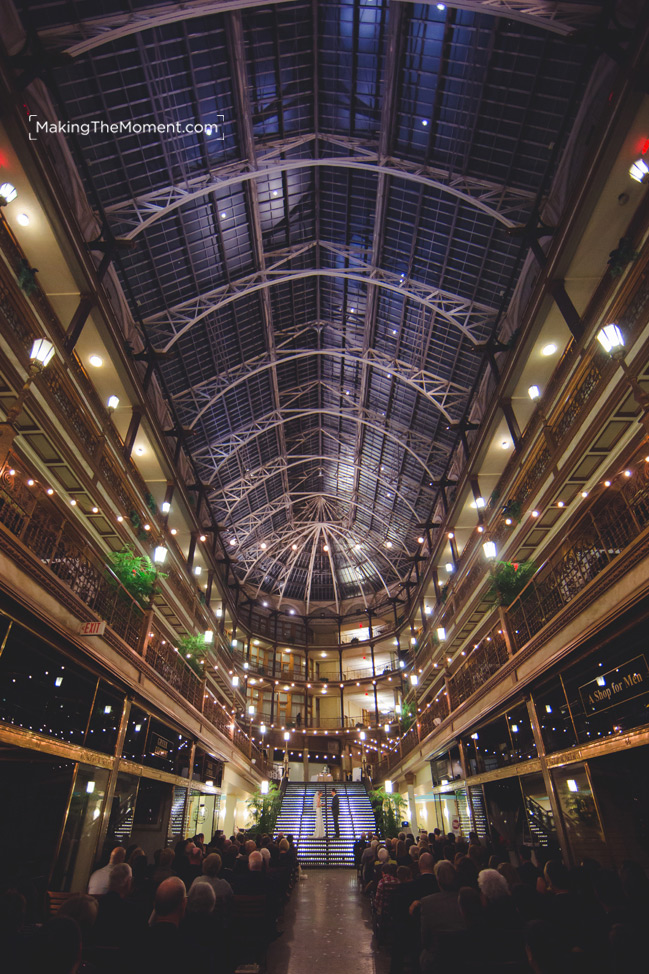 Seriously though – the Hyatt Arcade in Cleveland is one of the finest spots in Cleveland for an elegant wedding.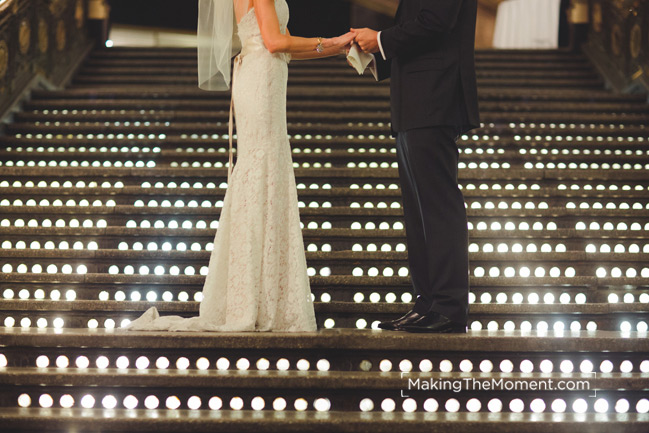 Bet you can't tell I had to photograph a microphone stand out here 🙂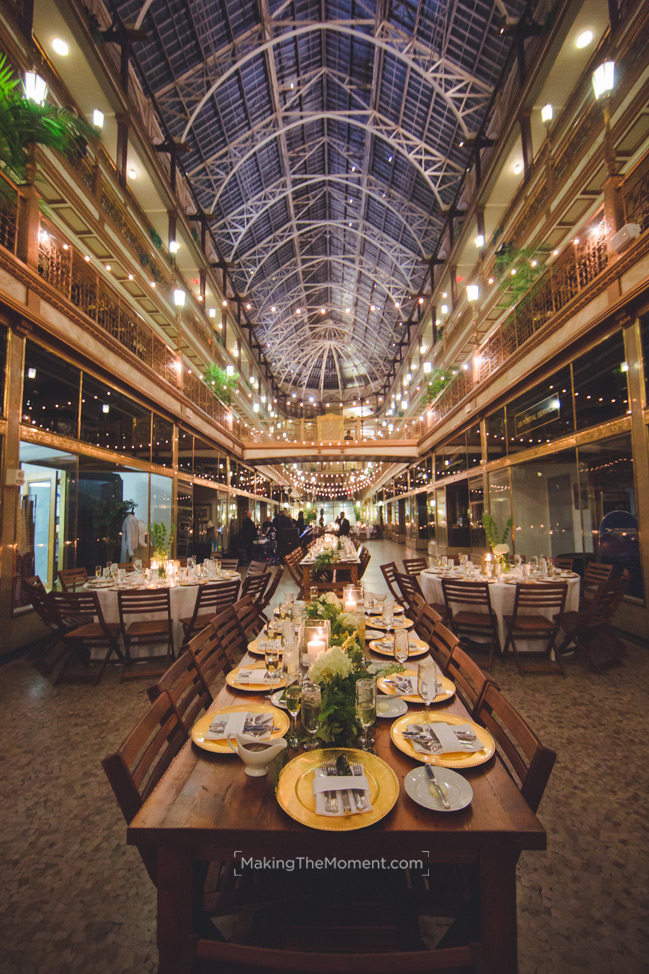 Ok – so Lindsay at LVL Events outdid herself. Her and the staff at the Arcade (kudos to Carolyn and Grace!) teamed up with Ann King from Borrow Rentals to pull this off. I LOVE these vintage rentals from Borrow Rentals. Dang.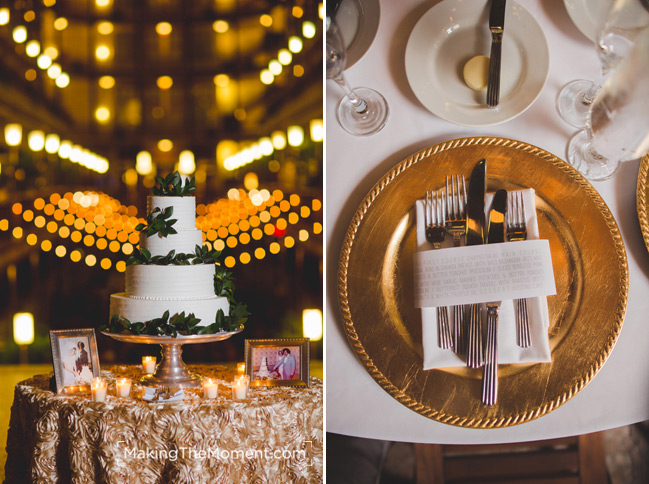 Wild Flour pulled off a beautiful cake – and tasty too.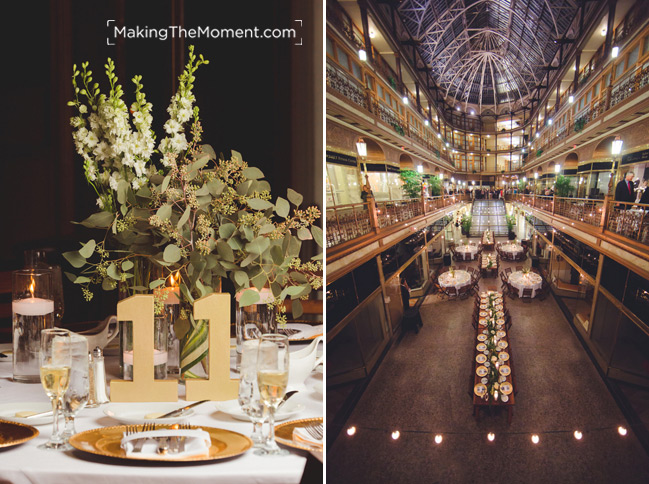 And the fine folks over at Life in Bloom florist made the flowers just perfect for the night.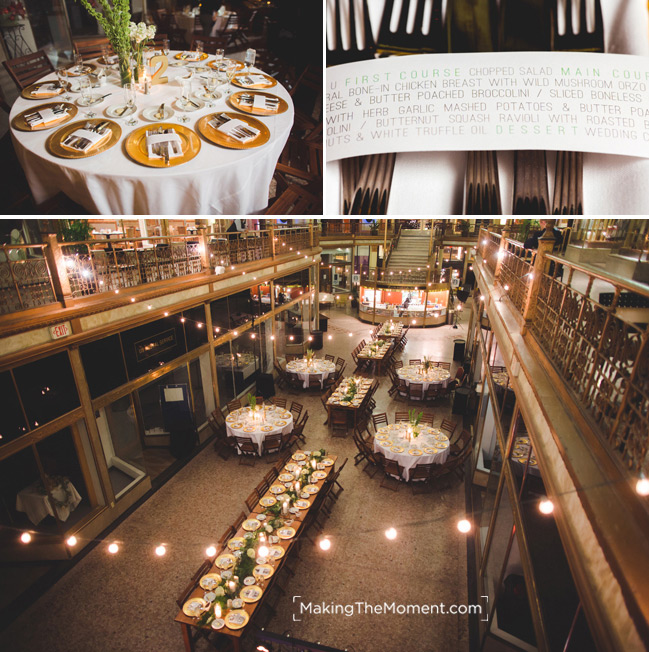 Yes – I love the Hyatt Arcade in Cleveland for a wedding reception – it's super classy, and full of vintage charm.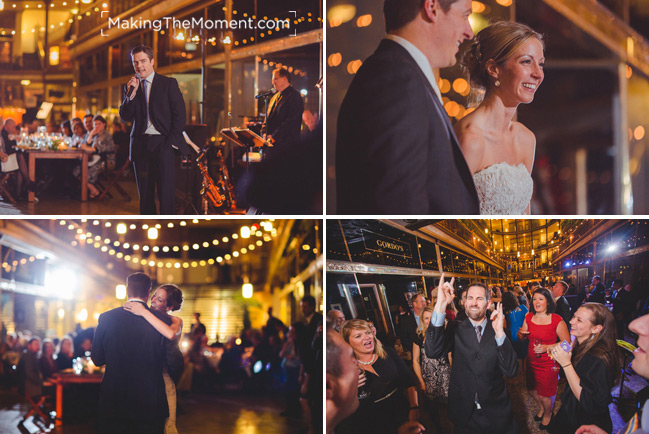 Colleen and Matt – you two are dear to my heart – thank you for being such sweet clients friends.