Pete & Julie are a once-in-a-lifetime sort of couple. Filled with love, grace and a certain charismatic kindness. They're also pretty darn photogenic too.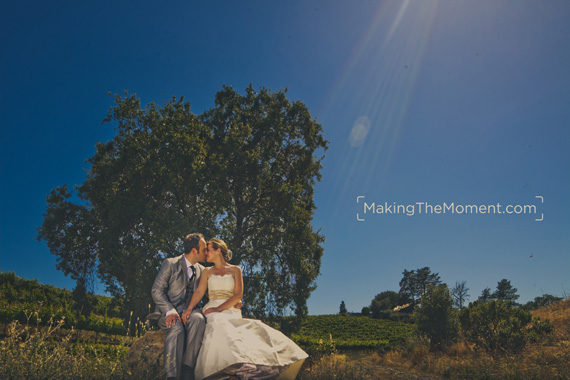 Many have asked me about my recent trip to Madrona Manor in California wine country to be Pete & Julie's destination wedding photographer, and I'm proud to share the artwork we created out on the west coast together.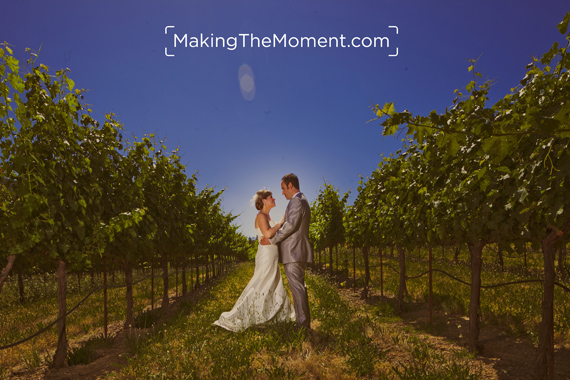 There is so much story to this day of california sun & ohio love – of course as always, the images will tell the story best 😉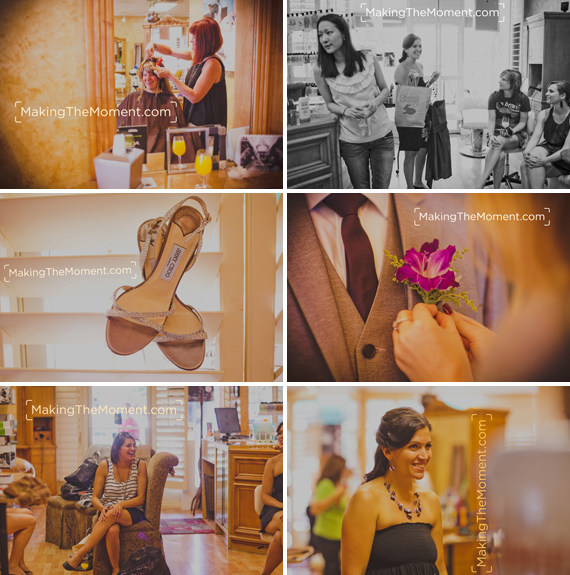 Creative candid wedding photography tells stories so well, we spent the morning getting ready for Pete & Julie's big introduction out in the vineyards.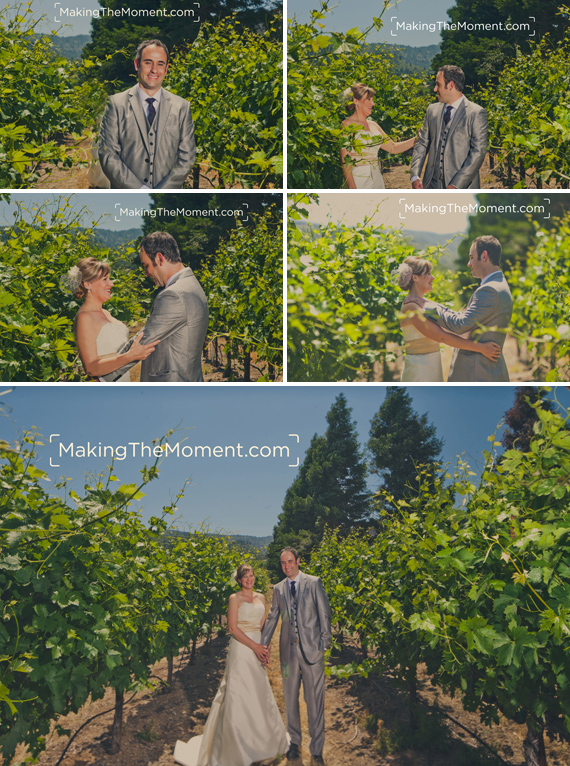 I tracked down a local vineyard that allowed us to creatively introduce Pete & Julie to each-other before we began their california creative session. It was PRICELESS watching Pete see Julie for the first time – he was so taken by her beauty. Love!

We then hopped into my rental car and toured the area. I took Pete & Julie to a few fun spots I had scouted out in the area prior to the wedding.

The plant life and scenery in california is breathtaking – it truly is the golden state.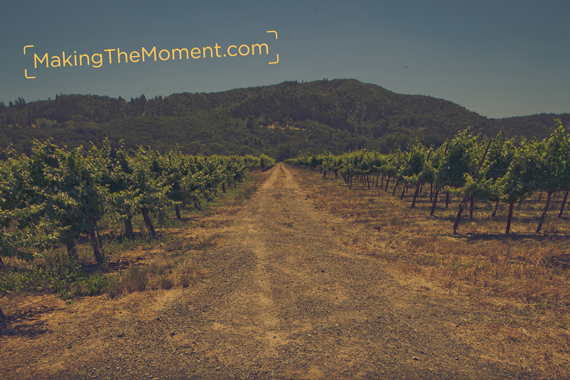 I can't wait for my next trip as a cleveland destination wedding photographer to California, it's just so fun getting to create and photograph on the west coast.


I ♥ the two images above – Pete & Julie's love just shines, and the california wine vineyards are just the perfect setting for this cleveland destination wedding photographer.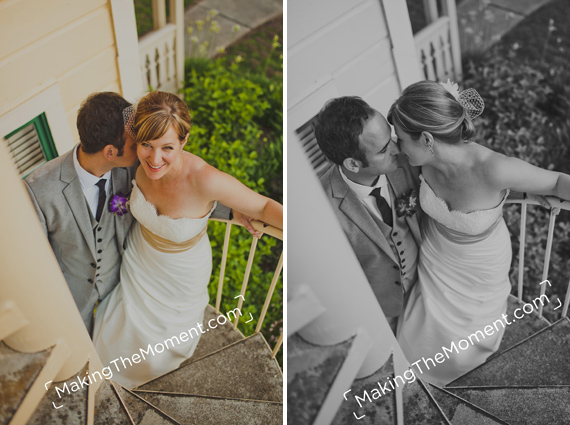 These Wedding photographs are from Madrona Manor, where the actual wedding ceremony took place. I spied this winding iron staircase & knew it would just be perfect for these two.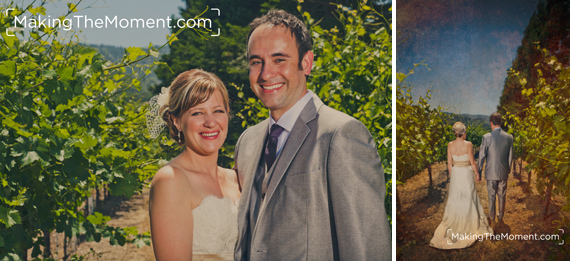 Seriously? Cutest smiles ever – love you two!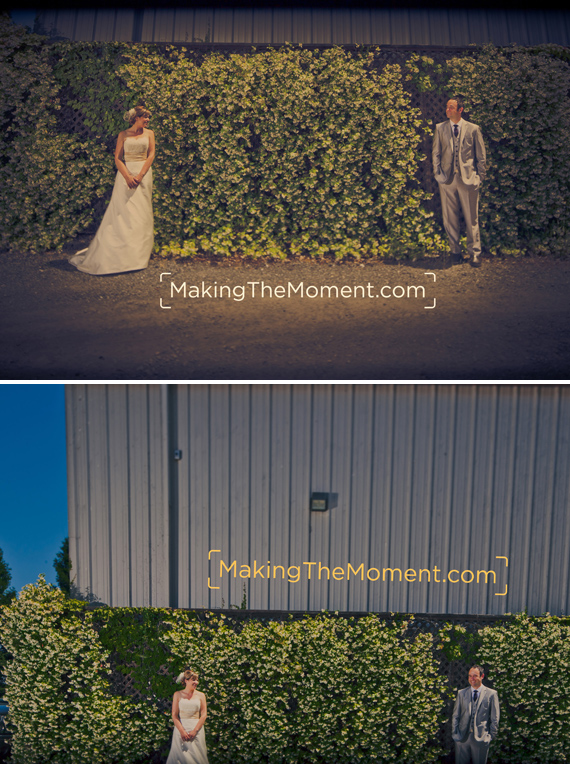 I love the tension of this image – having Pete & Julie separated from eachother. Imagery like this screams and shows our desire that these two would be united – I love that sort of feeling an image can evoke.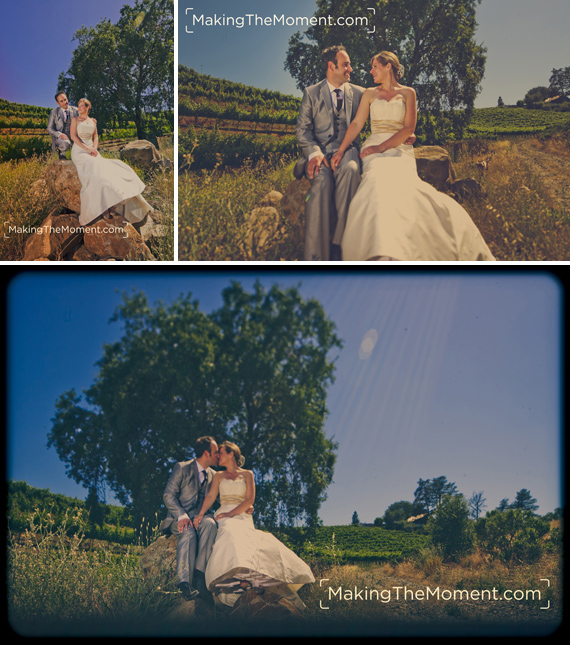 A bit of vintage treatment on the image above really allowed this image to stand out. That sweet shelf of california sunlight bleeding in from the top makes my heart smile too 🙂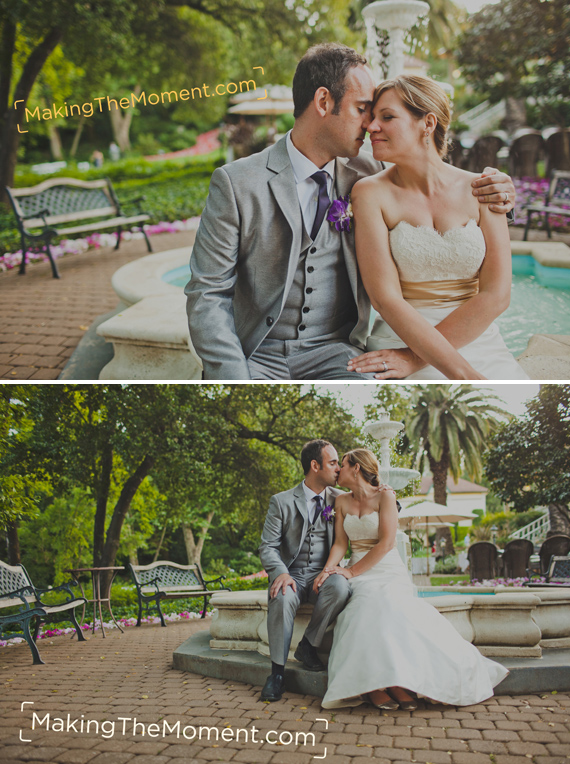 We chose to spend a few minutes of our creative wedding photography session at Madrona Manor, and created these sweet & fun images around the grounds.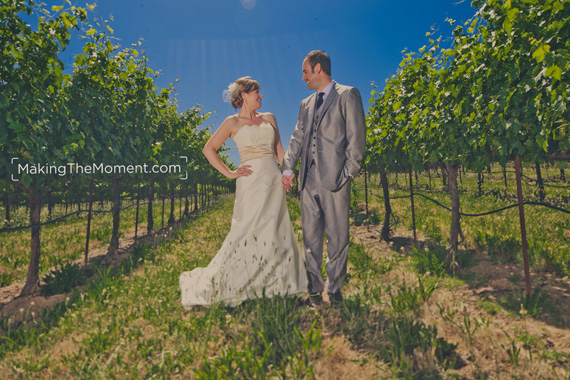 Honest to goodness one of my fav images from our day – I just love the california light mixed with a healthy dose of Ohio love.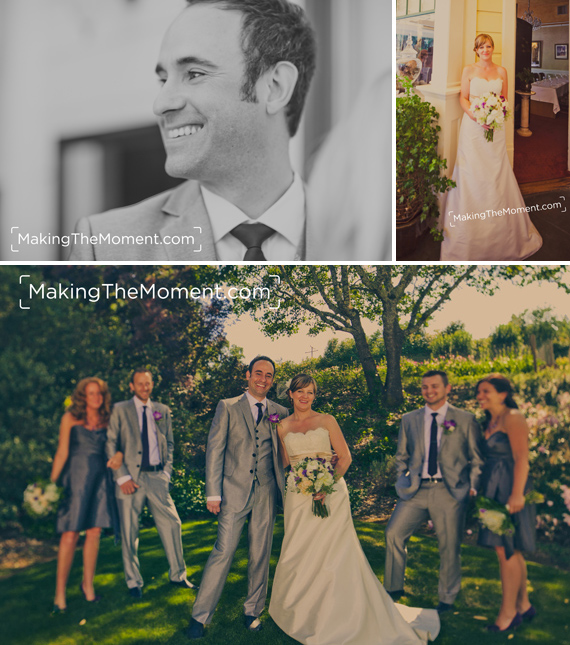 Madrona Manor is a beautiful venue in California for wedding photography, it's a heritage home nestled in the valley, just a hour or so north of San Francisco.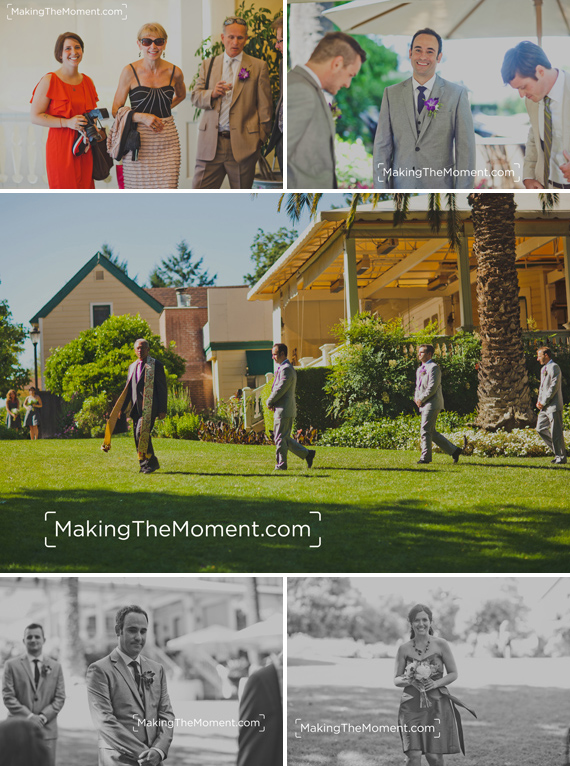 This outdoor california wine country wedding took place on the grounds of Madrona Manor, and the setting was simply gorgeous.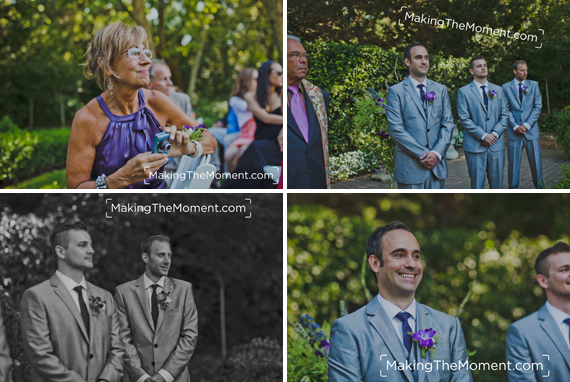 I simply love the Joy on everyone's face as Julie approached the wedding ceremony grove. These moments happen so fast, and I love being able to preserve them for a lifetime.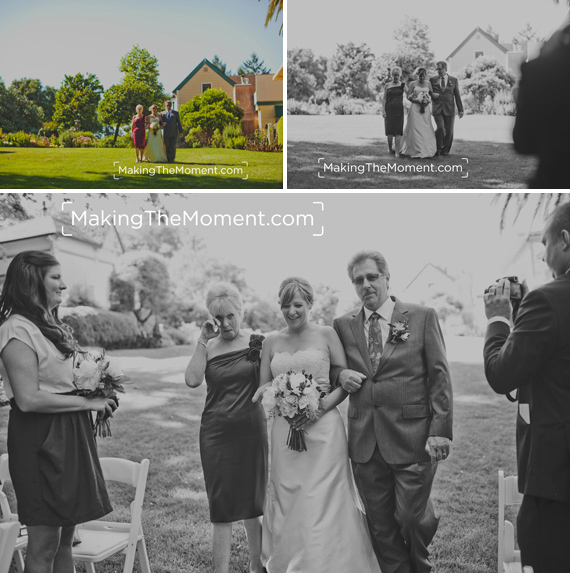 Julie's mom was so sweet, I love the raw emotion of walking her daughter "down the aisle".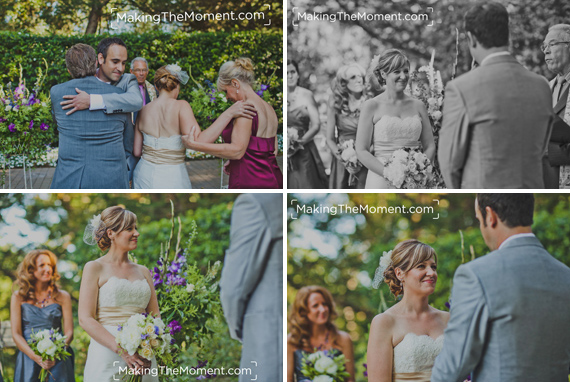 Their wedding ceremony at Madrona Manor was nothing short of emotion and class. Full of real moments and love, I laughed alongside the family and friends who made the trip from Ohio.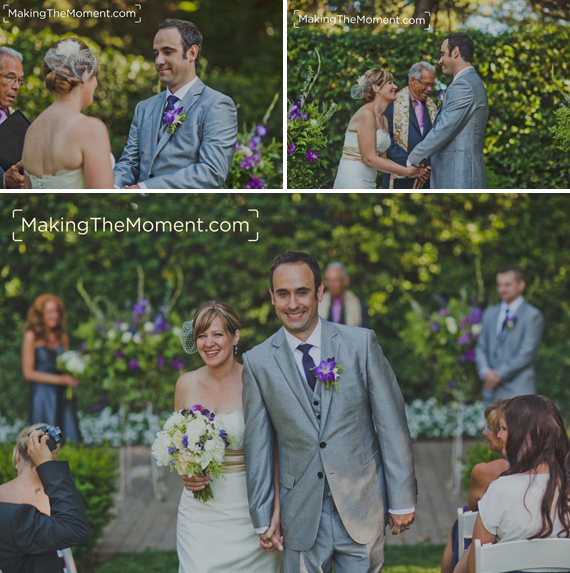 Someone mentioned this on our facebook page too – but Pete's gray suit mixed with the purple wedding color was a perfect pairing of color and style.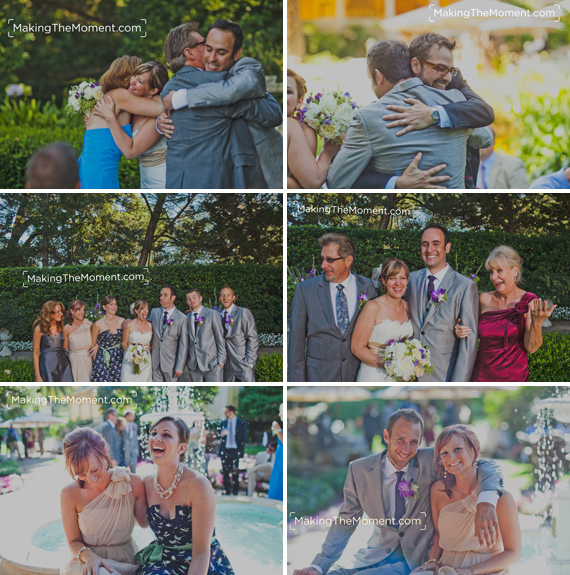 And this is the joy of hiring a photojournalistic based wedding photographer – al these little moments of fun & joy, captured for life.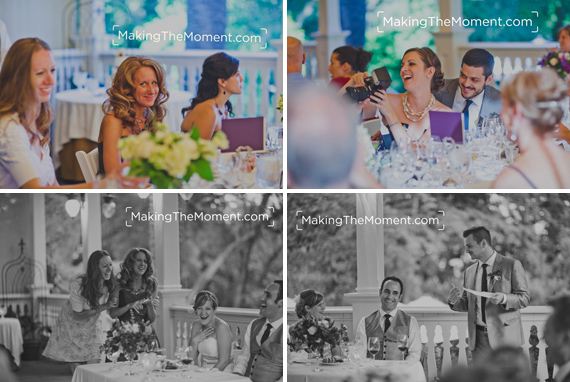 The speeches were sweet and meaningful. Pete's brother Chris compared their relationship to a review of one of Pete's favorite old-school video games, it was hilarious and priceless.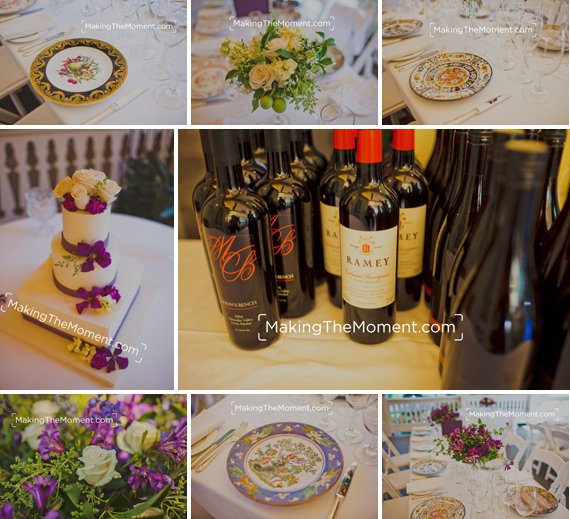 Madrona Manor served up the guests a seven course meal, complete with a choice wine pairing for each course. Amazing.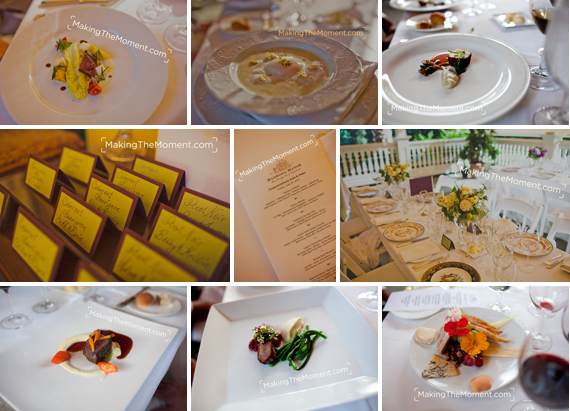 There's always been a part of my heart that's wanted to be a culinary photographer, and snapping these images of the wedding meal courses at Madona Manor brought a lot of joy to my heart.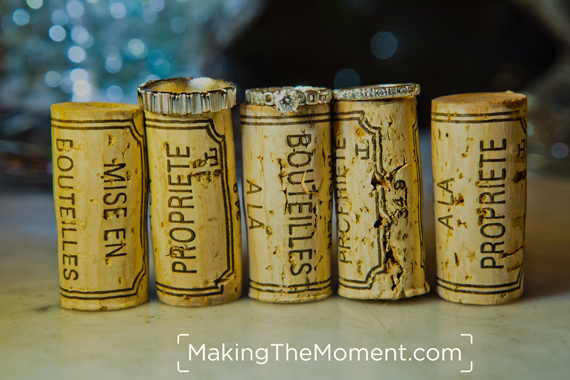 Of course, a wine country themed wedding ring shot fits right in.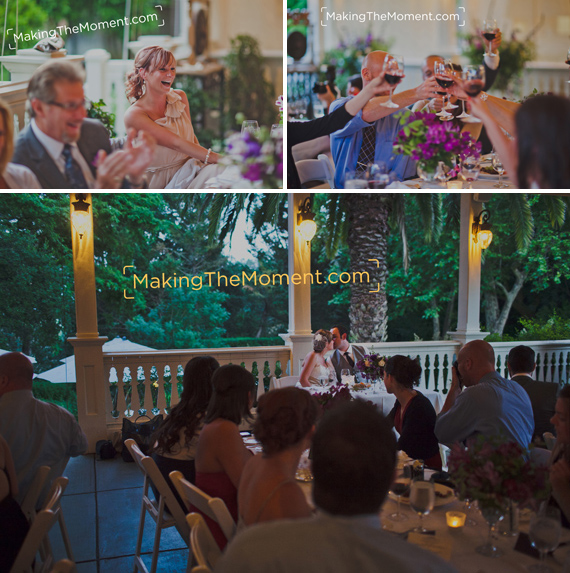 Candid Love.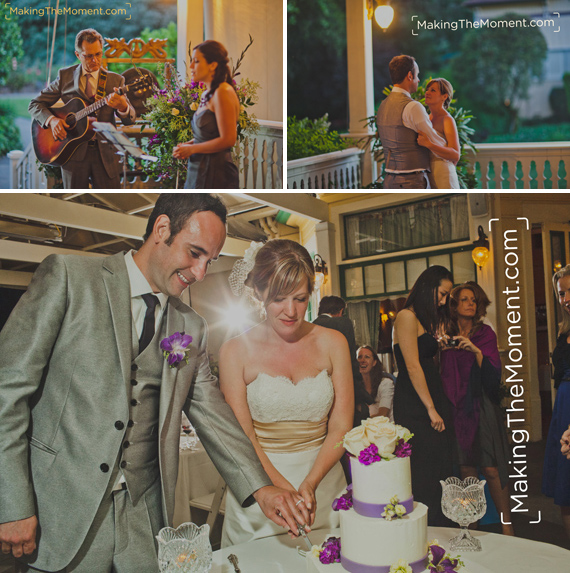 The entire party soon moved over to a local bar in Healdsburg, California for an off-the-cuff after party. So much fun.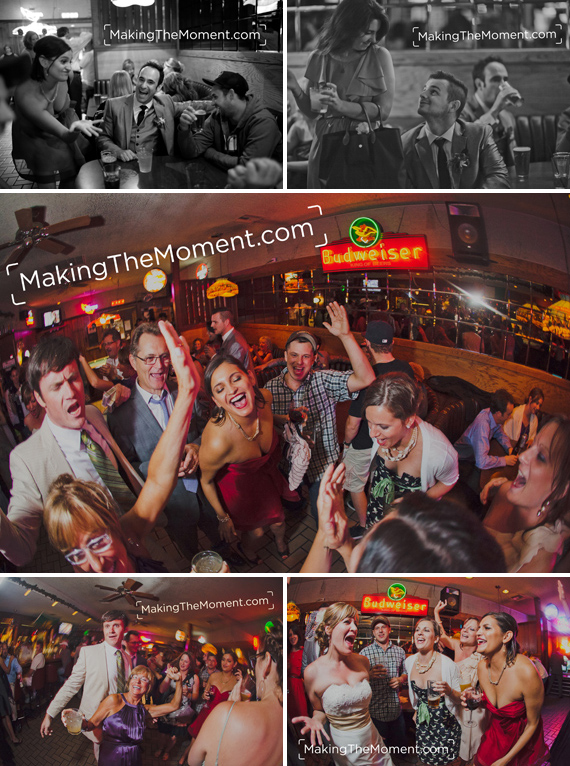 I loved that the locals joined in the party – the bar was so much fun, I've never been offered shots by so many people at once – LOL.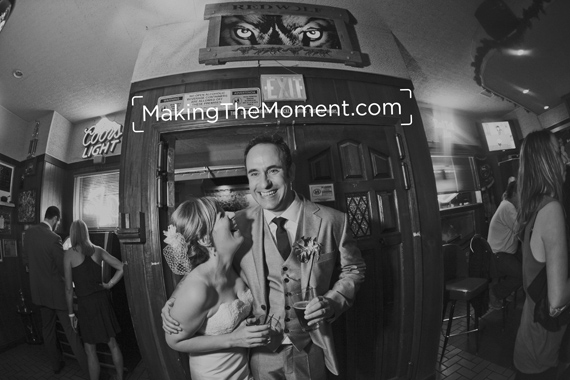 Tiger eyes, Pete, tiger eyes 😉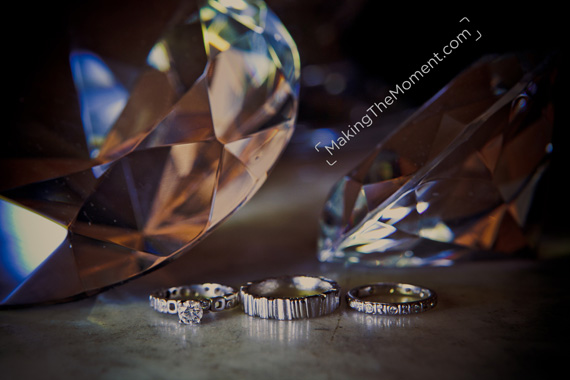 Pete and Julie – you are so wonderful – you are friends of mine, not just clients. I wish you the best for the years to come… and I cannot wait for the next time we get together – such a joy!