Oh yes. Oh yes. YES.  we will be punning hard here.  As a self proclaimed pun expert, I'm incredibly Tenk-Fun for any opportunity to work a dearly beloved Cleveland wedding venue's name [ Tenk West Bank in the Flats, if you're not familiar ] into ferocious, devastating and eye-rolling puns.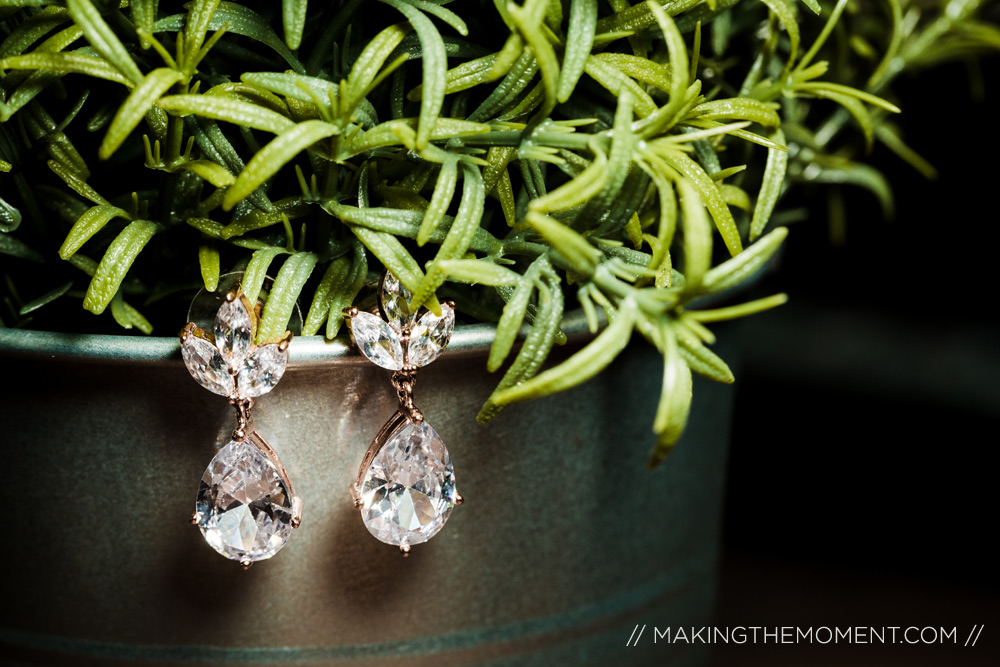 Wait. WAIT. wait. don't check out on me yet.  This post is entirely about the artisan imagery we were able to craft for the very amazing couple that is Aaron and Morgan. I won't allow us to lose focus.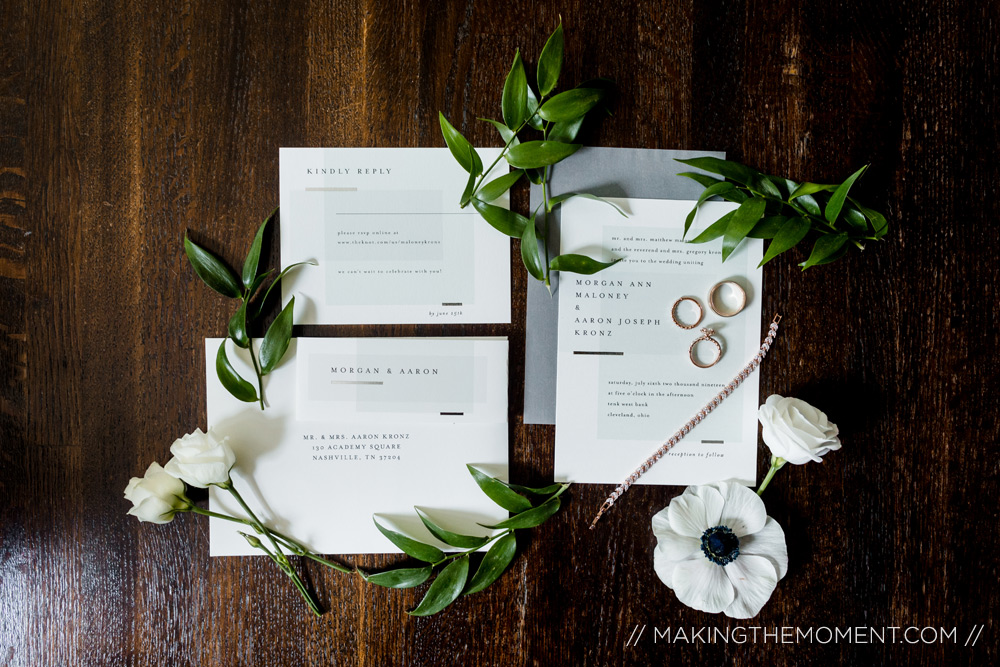 Morgan and Aaron's custom made invitation set. Wait. What's that you say? You didn't get one? That's probably because you're reading about their wedding on the internet, and weren't really invited to their wedding. Awkward. Awkward; but honest. Work harder on friending cool people like these two, and you'll get invited to cool weddings like this. #EvaluateYourLife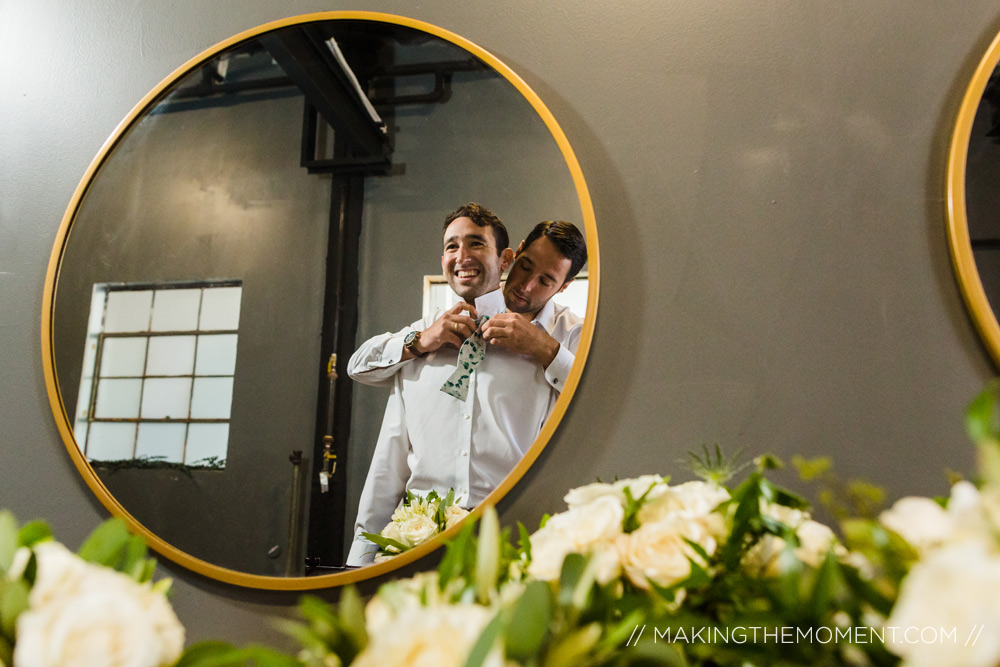 As always, we give our Tenks to all the great cleveland wedding vendors that made this wedding at Tenk in the flats outstanding;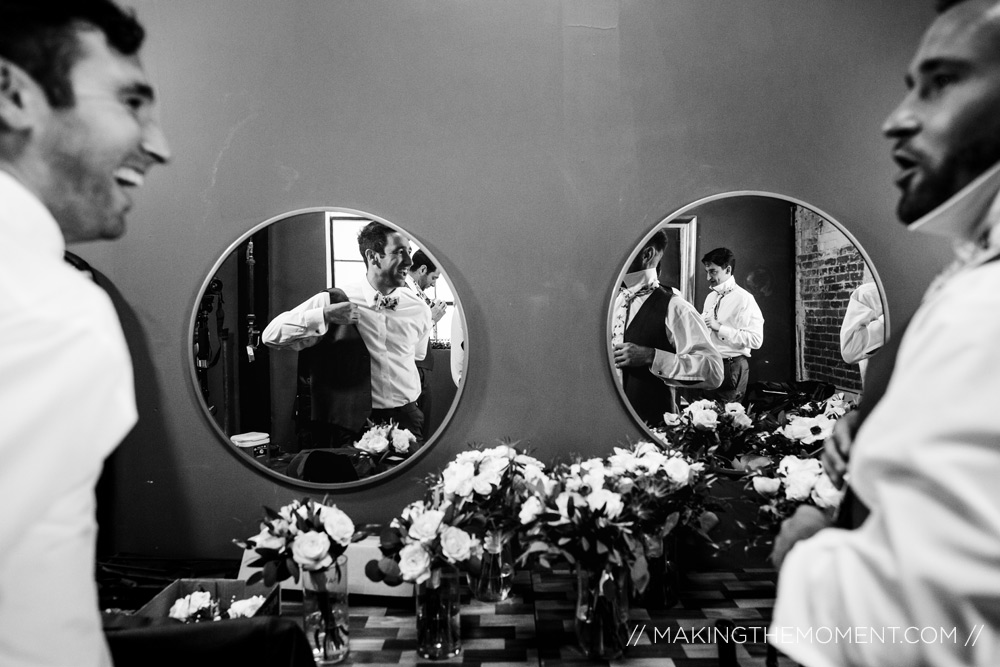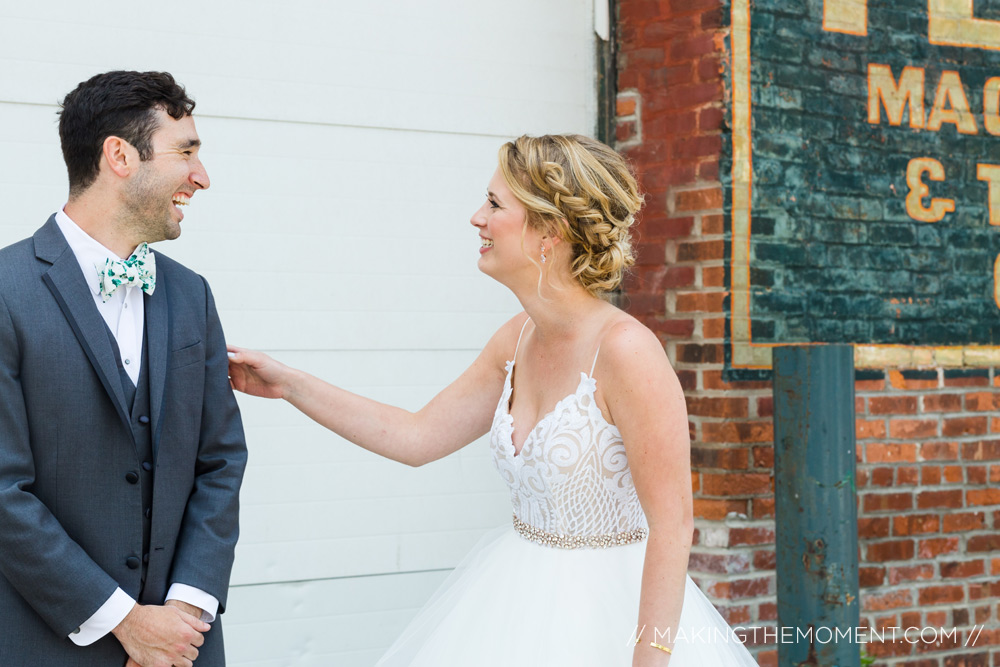 I carefully and cleverly [ alliteration ] coordinated a candid "first-look" for our couple outside of Tenk a few hours before their wedding ceremony.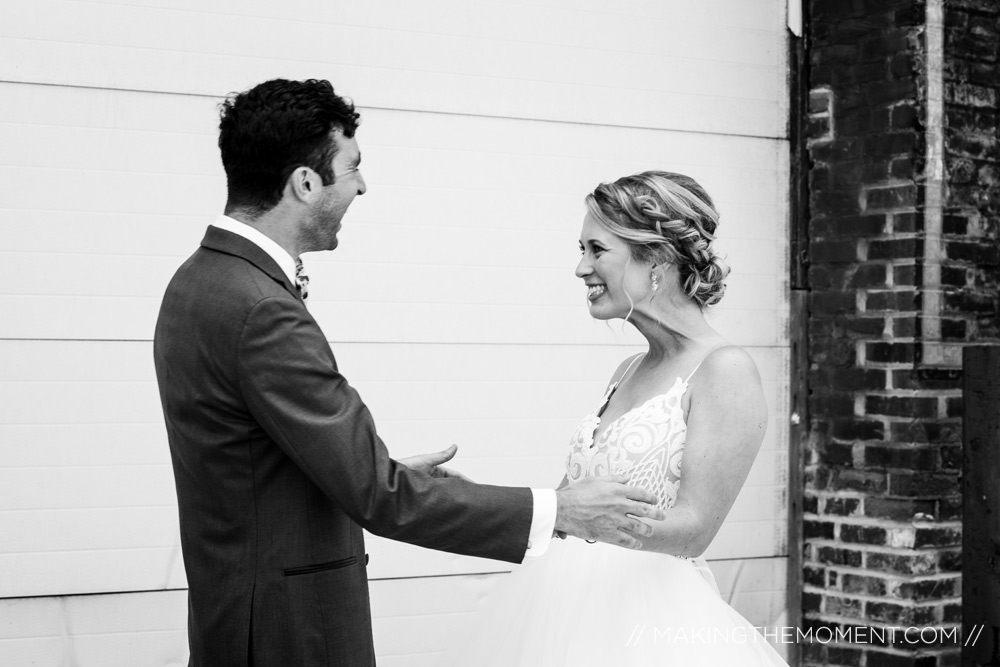 Freaking happy.  They are both so freaking happy.  And why not?  They're both beautiful and fun people.  If you haven't caught it; Aaron won't stop smiling all day [ duh; all due to the goodness that is Morgan! ]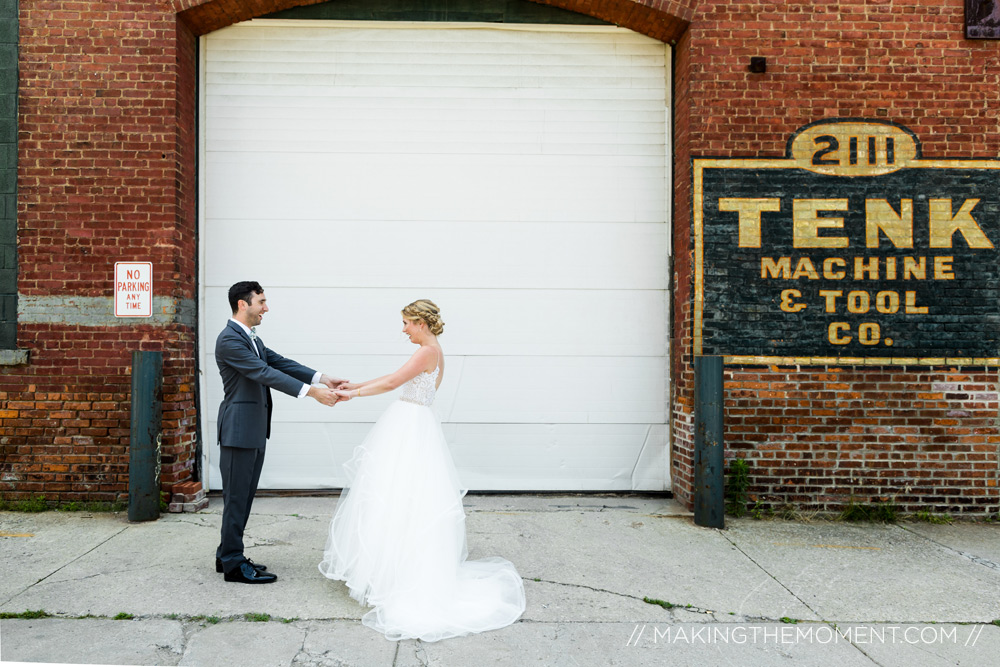 And these two?  Although their wedding was in the West Bank of the Flats in Cleveland at Tenk, the two hail from Nashville.  Morgan is originally from the beautiful land known to us locals as the CLE.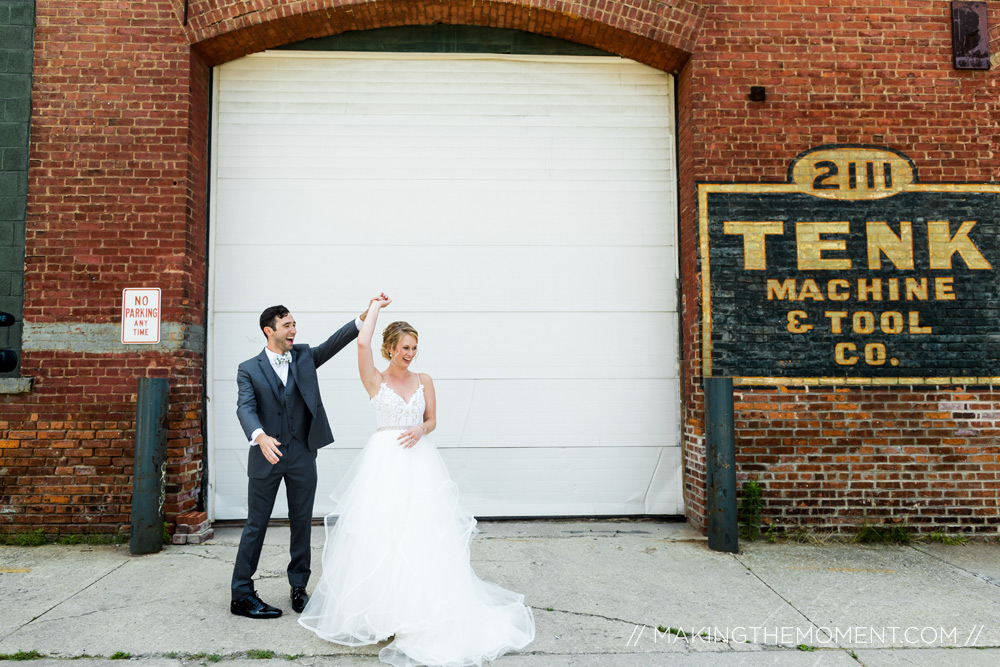 Yes, these two hop-scotch around the globe. Their engagement was in London [ as in London, England ].  Aaron asked for her hand in marriage directly in front of St. Paul's Cathedral. [ by millennium bridge ].  The two were with her family [ who all knew it was coming ] and yet still Aaron pulled off a surprise engagement.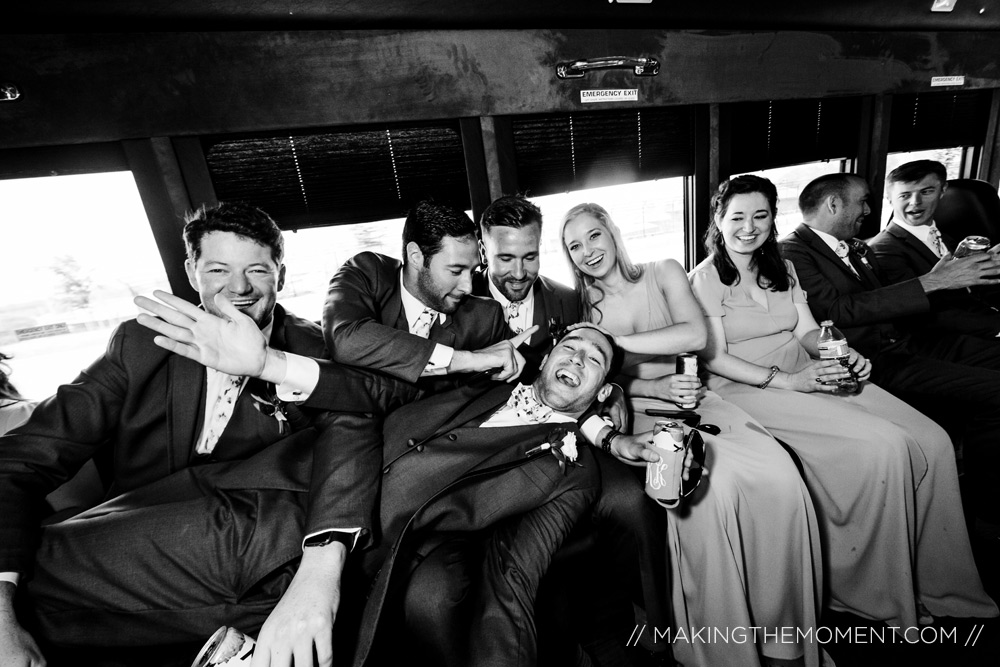 Aaron and Morgan asked us to be their wedding photographer for a few reasons.  Thankfully, the great wedding professionals at Tenk West Bank recommended us as a wedding photographer [ pretty cool ].  Obviously, we're thankful to be a preferred wedding photographer for such a great Cleveland wedding venue, but Morgan shared later that it was our fun and lively approach to wedding photography that won her heart.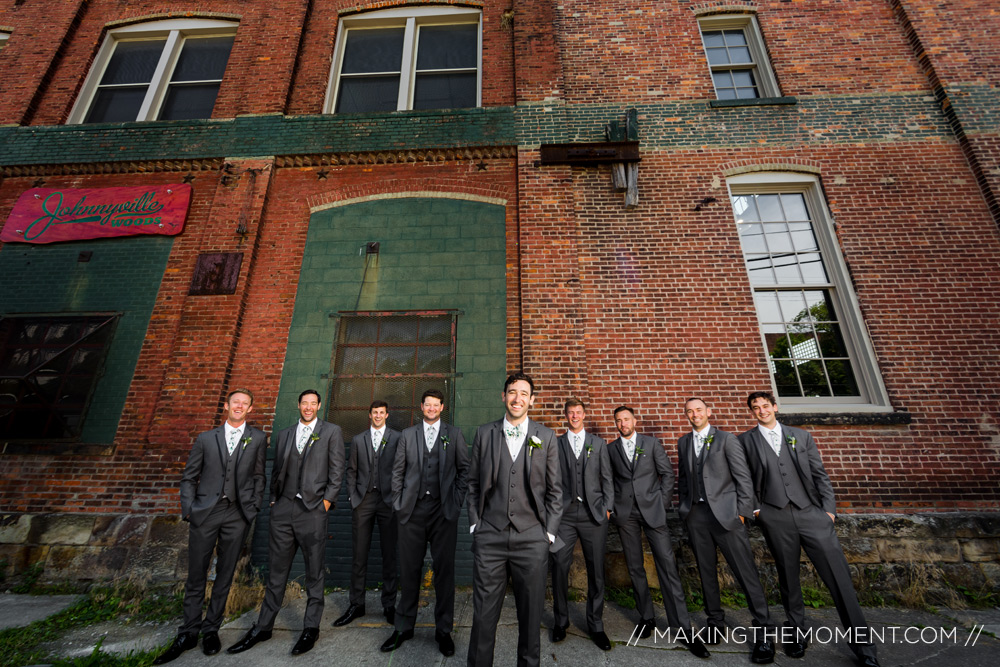 What won Aaaron's heart?  Besides Morgan [ obvi ]; he let us know it was our deeply personal approach that made things click.  Aaron is extremely personable; making friends with anyone he meets.  Not only did he love our wedding photography, but he loved who we were as people.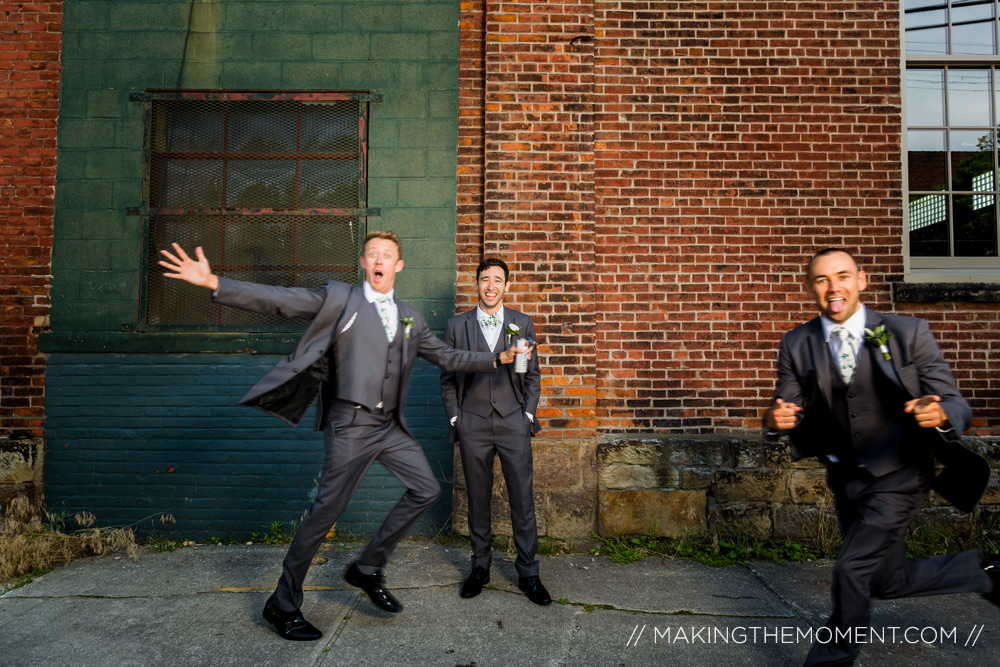 WOOOHHHHHHHH!!!  This picture says "we've been drinking!" loud and clear.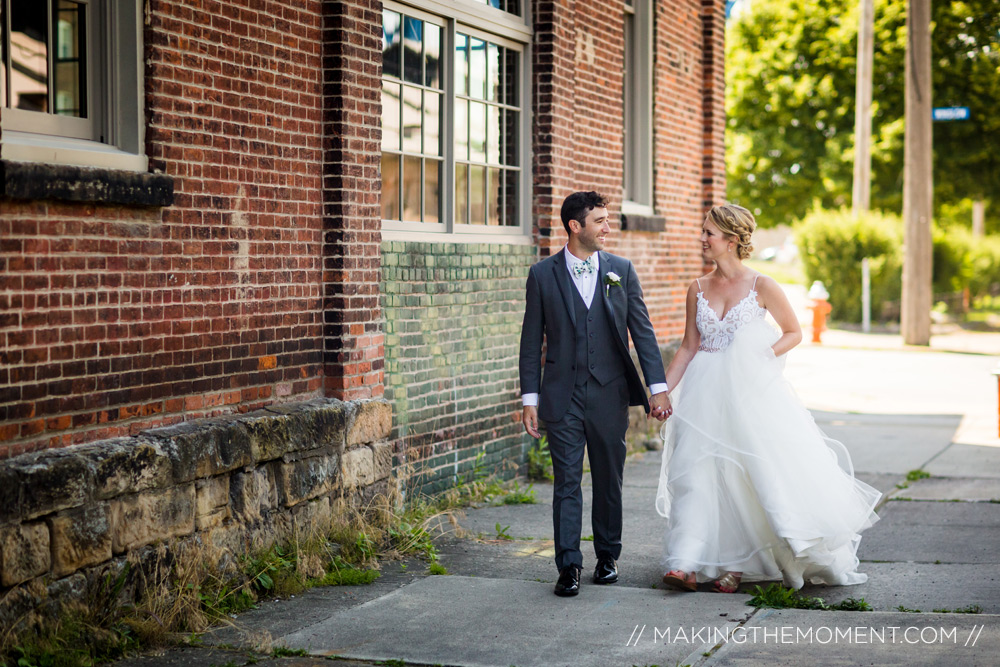 This; this is what it's about.  Getting some quiet moments together amidst your wedding day.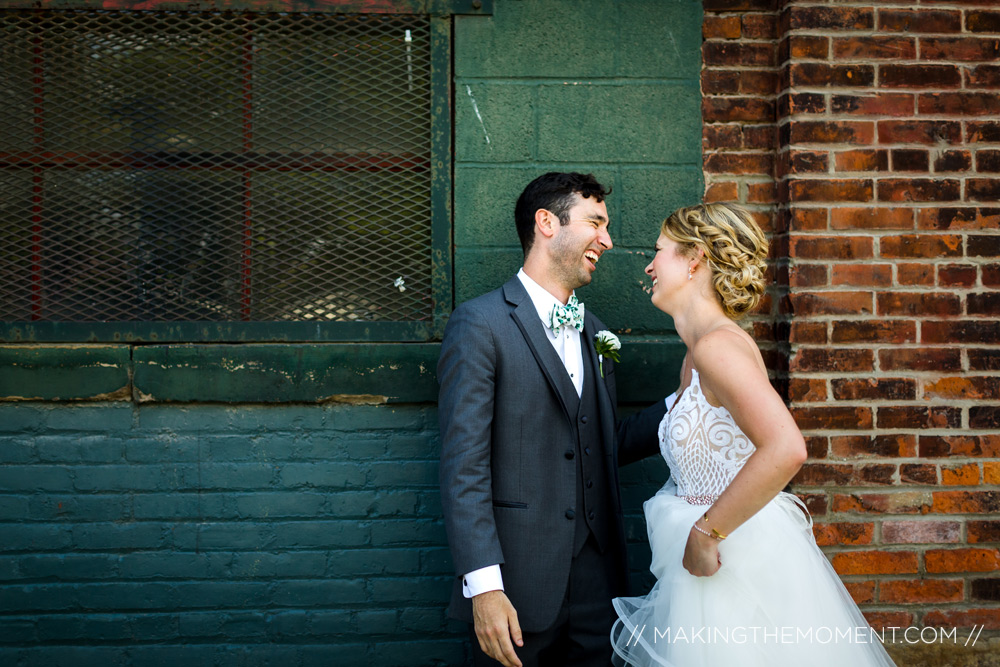 And having fun with each other.  Not just "making out" in front of the camera.  We strive for artwork that is personable, fun and real.  Morgan and Aaron do not take themselves too seriously; they're real and authentic.  What was crucial to us was capturing that in our imagery.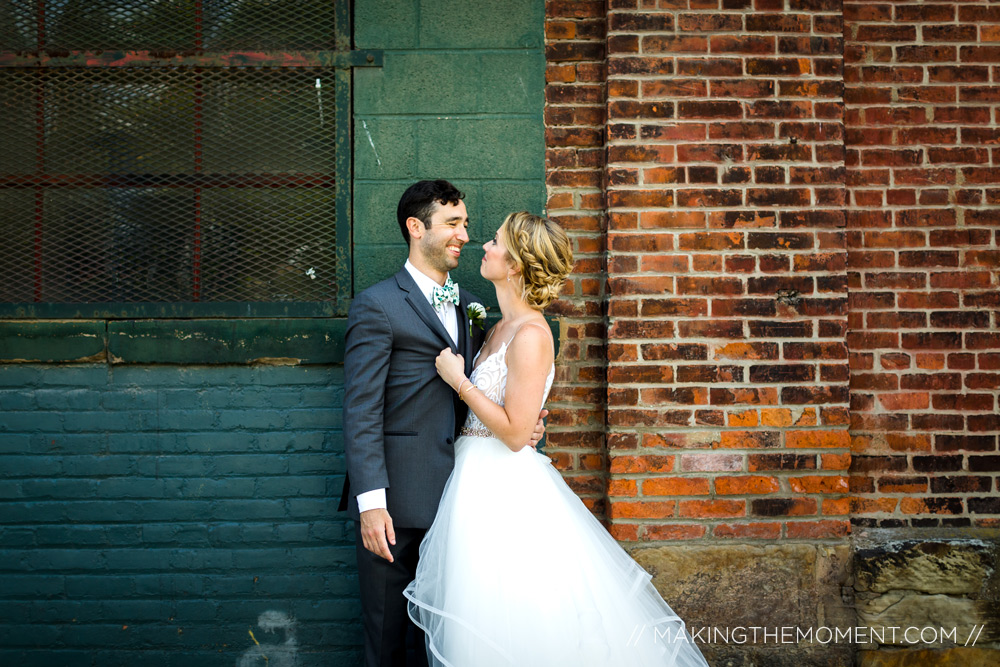 LOL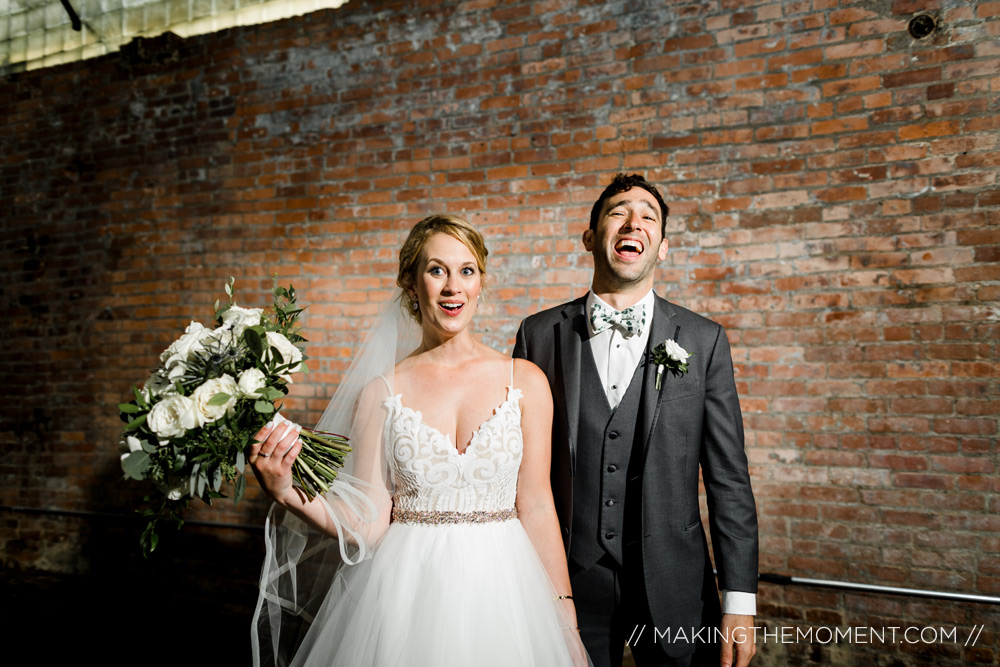 Sincerely.  Every image we craft is a reflection of our couple. You'll catch that we ask people to be themselves and invite that into them. Do you see how fun Morgan and Aaron's imagery is?  It's because they're fun.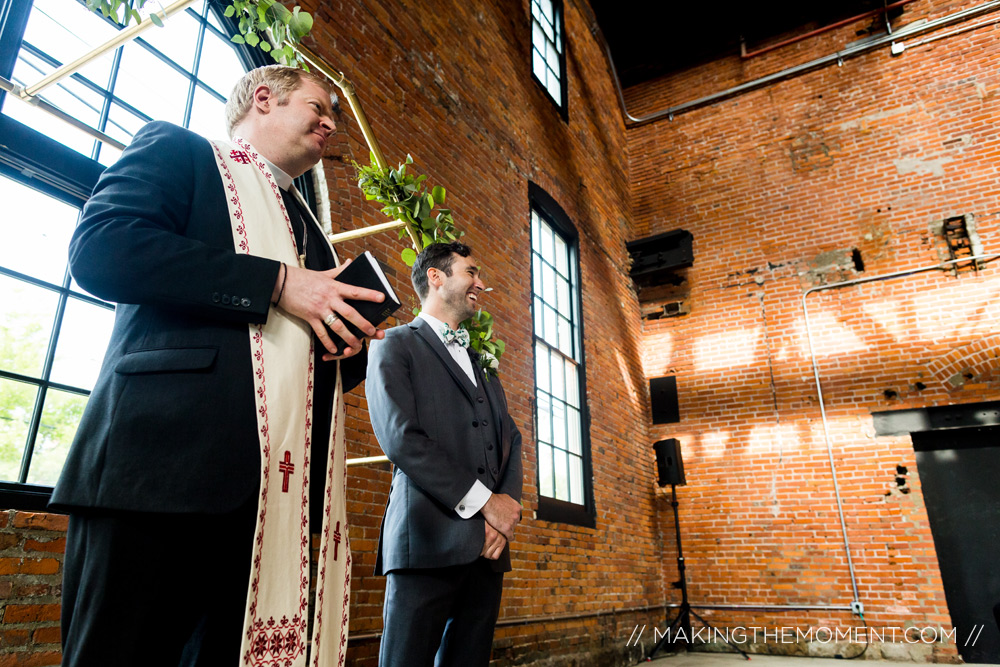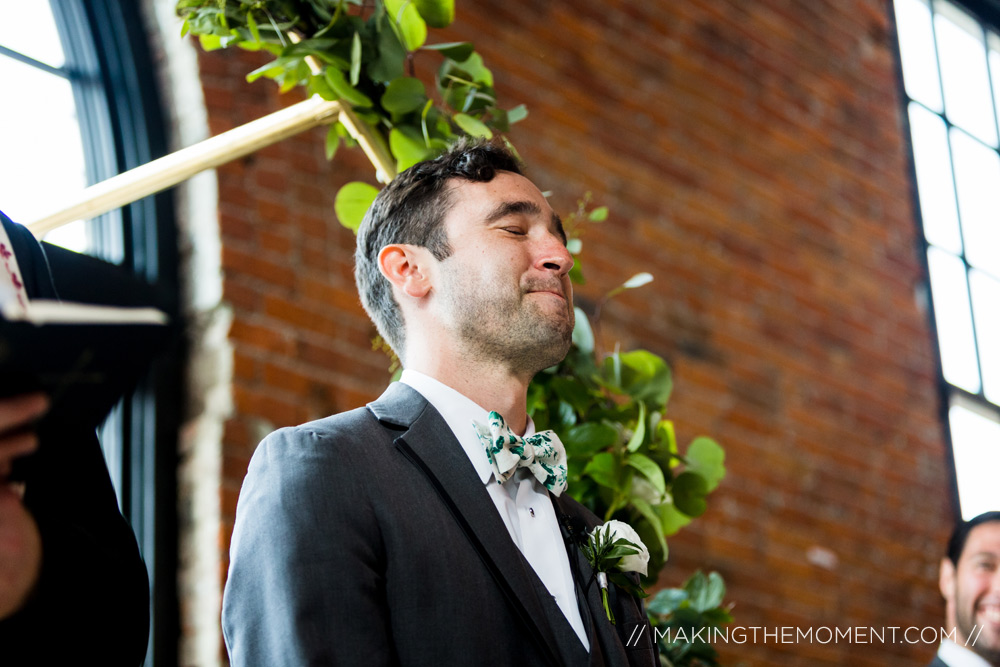 This is perhaps my favorite ever "bride walks down the aisle" moment; Aaron tries so hard to hold it together here.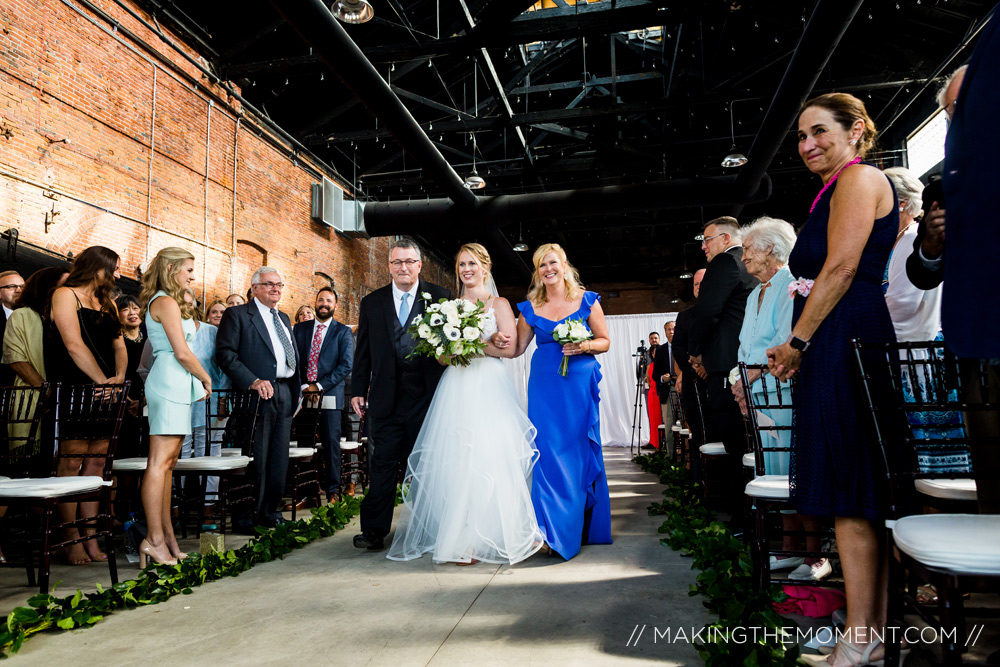 But how could you?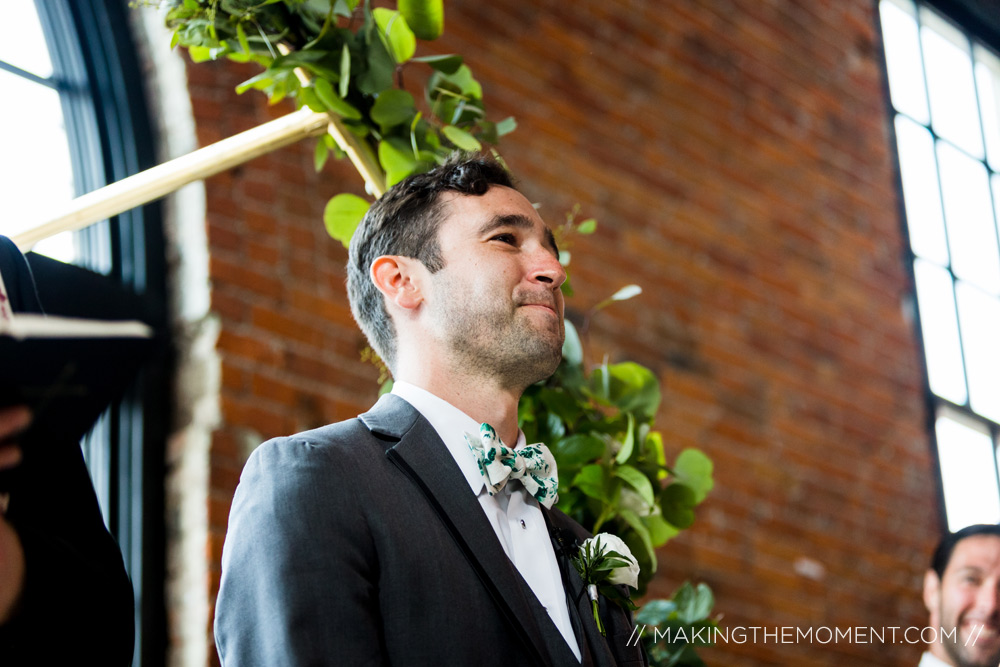 All smiles.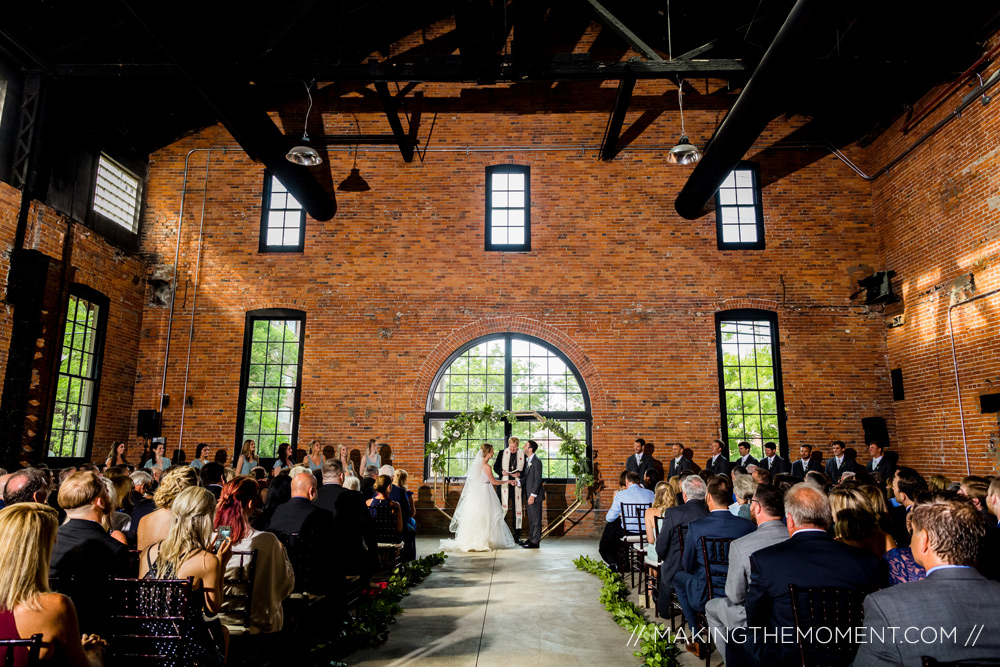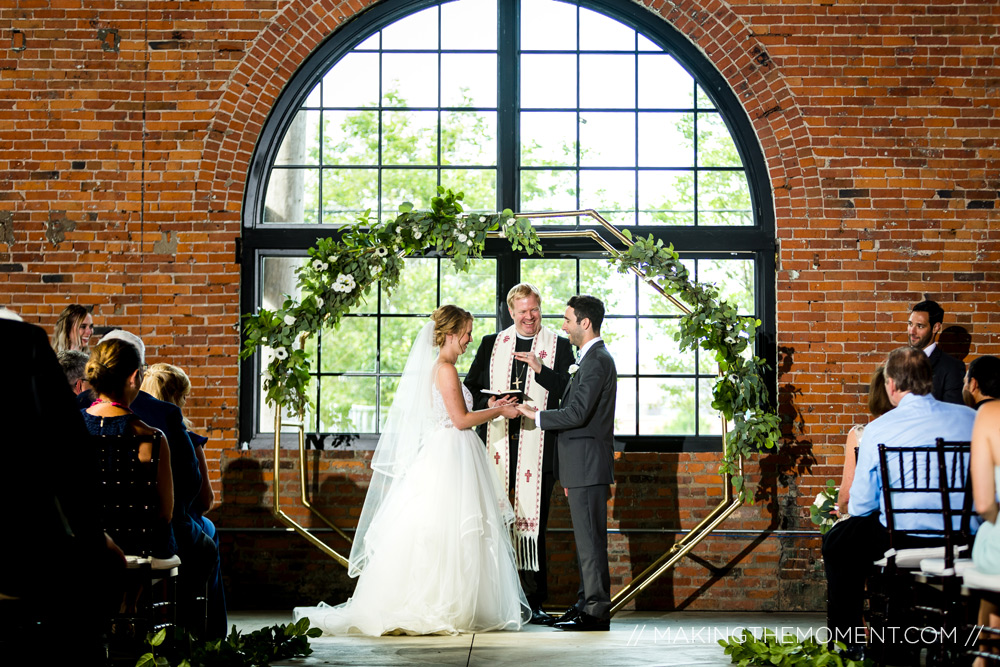 Weddings at Tenk in Cleveland are so nice. The light that comes in from every angle, and the contrast of the brick and iron bring so much.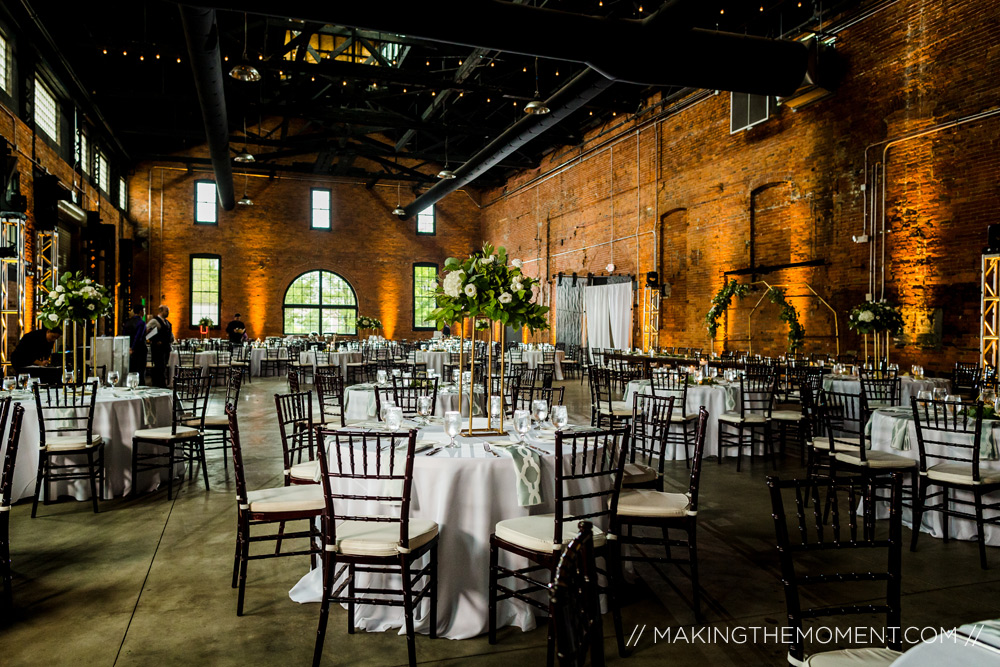 The staff at Ashley's Floral and the team at Tenk killed it.  The wedding reception decor was outstanding.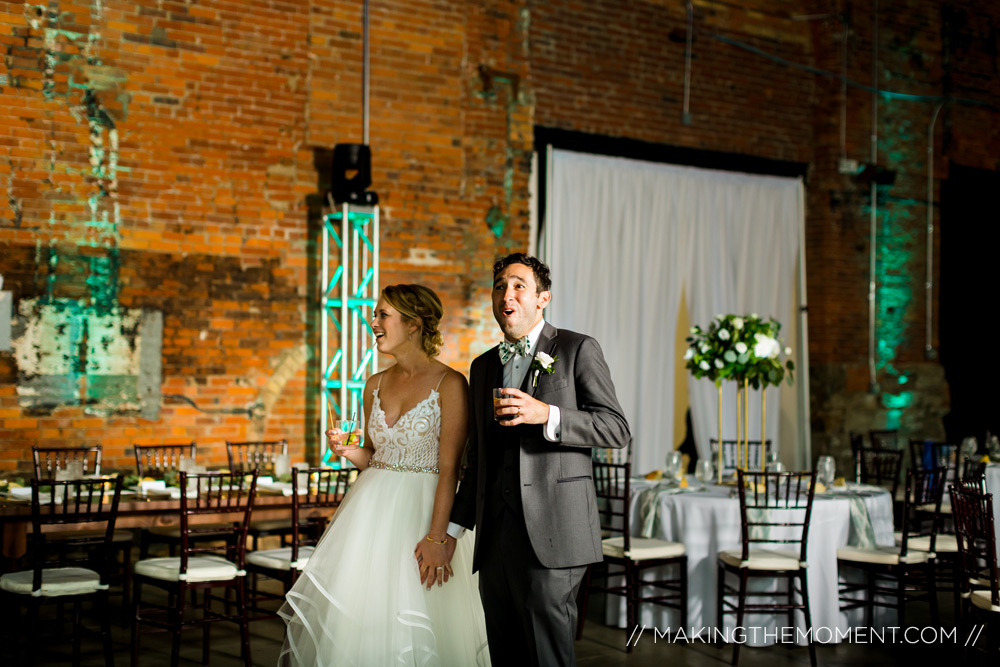 This is how you should feel when you walk into your wedding reception for the first time.  That. That right there.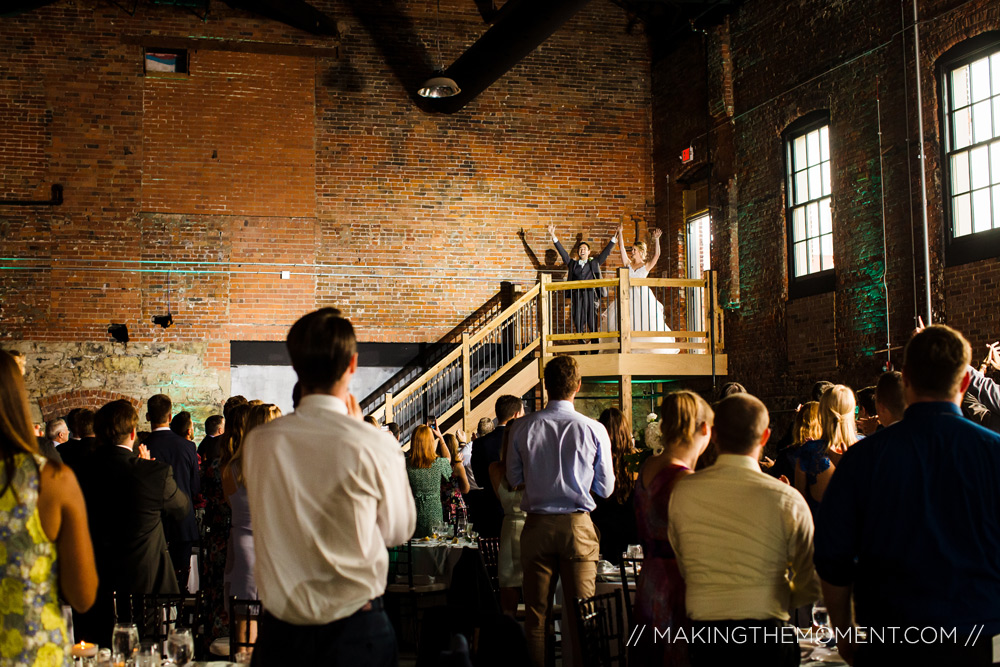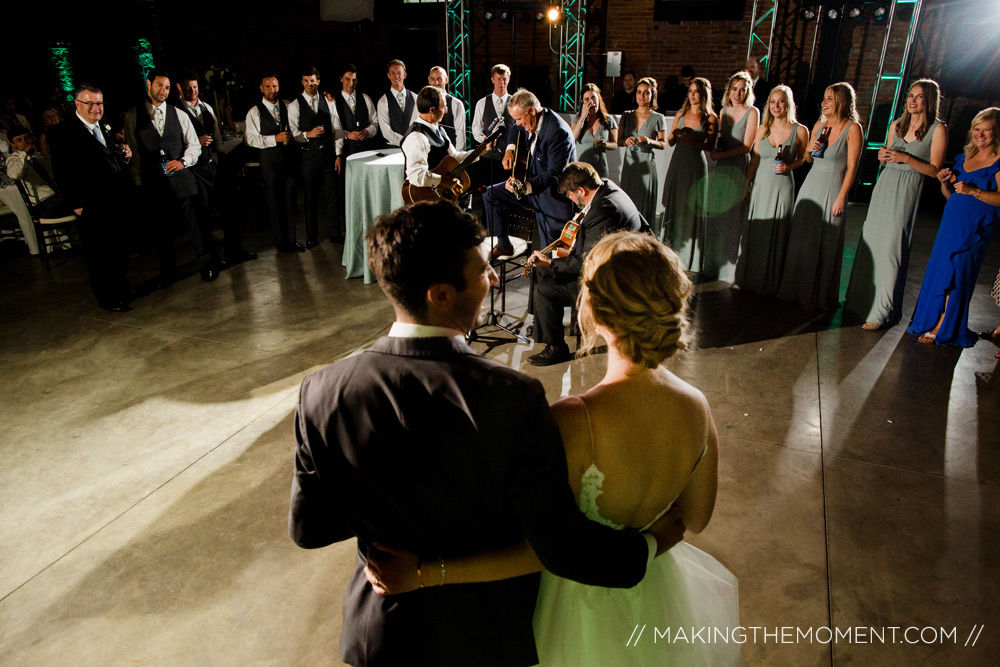 And then the party began.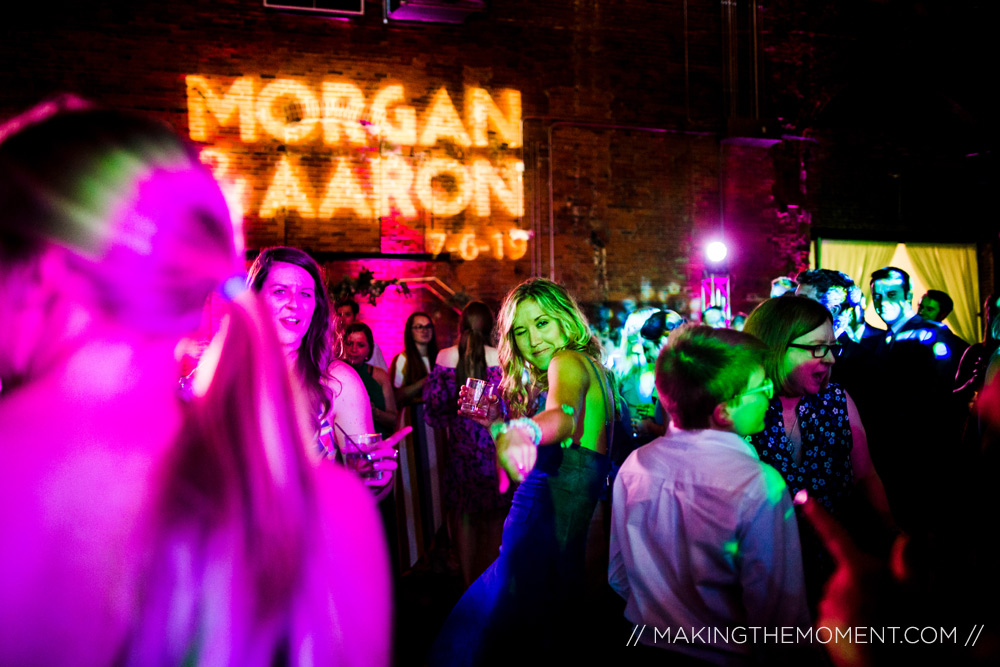 I will thank the gifted wedding DJ's at Rock the House for every image below.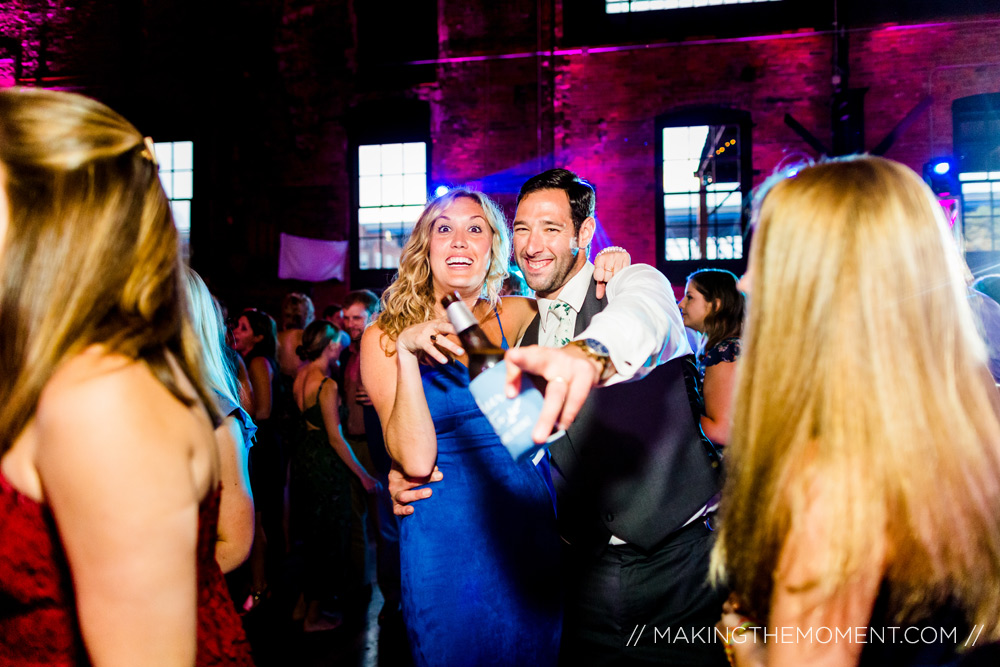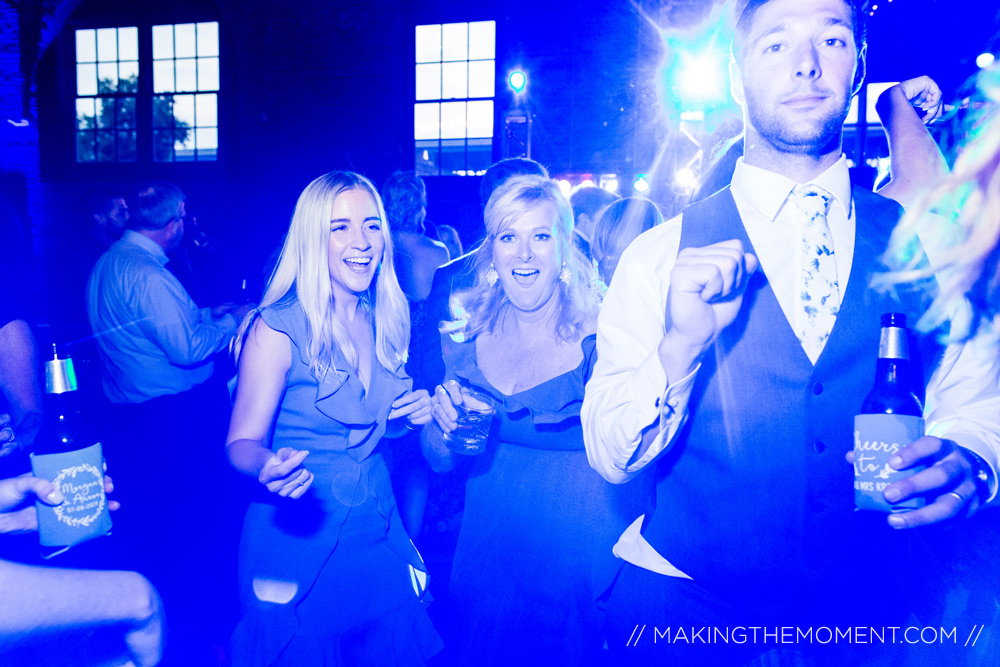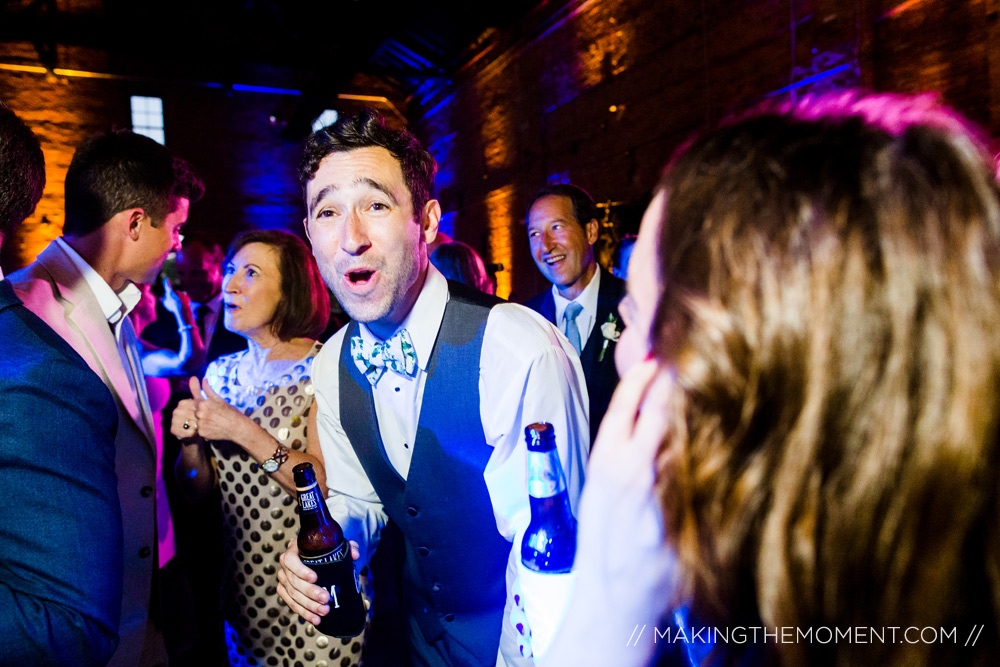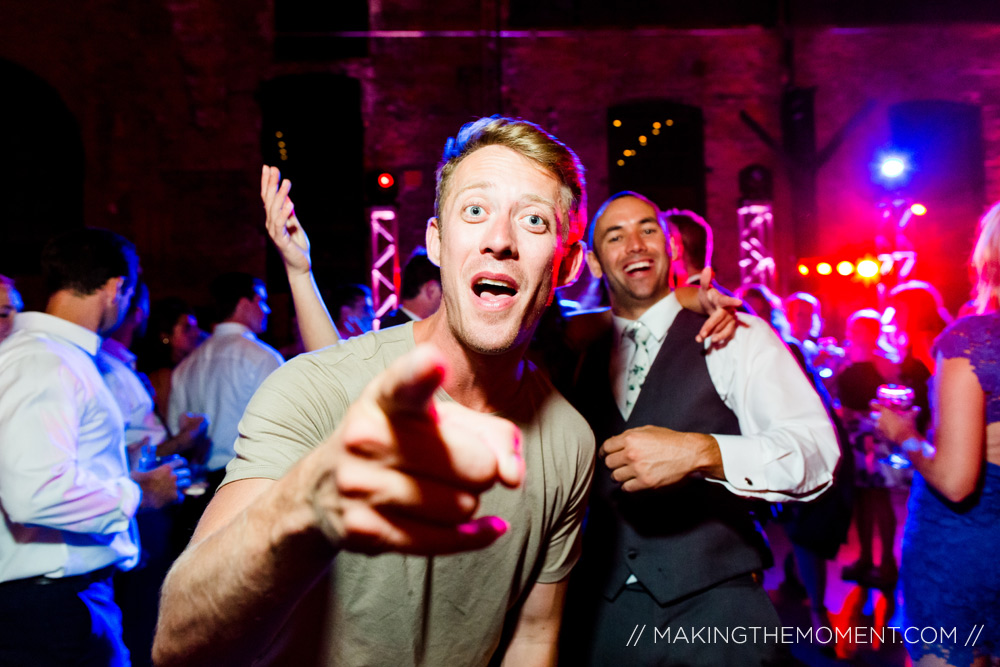 And Alcohol. I'll thank the bartenders for every image too.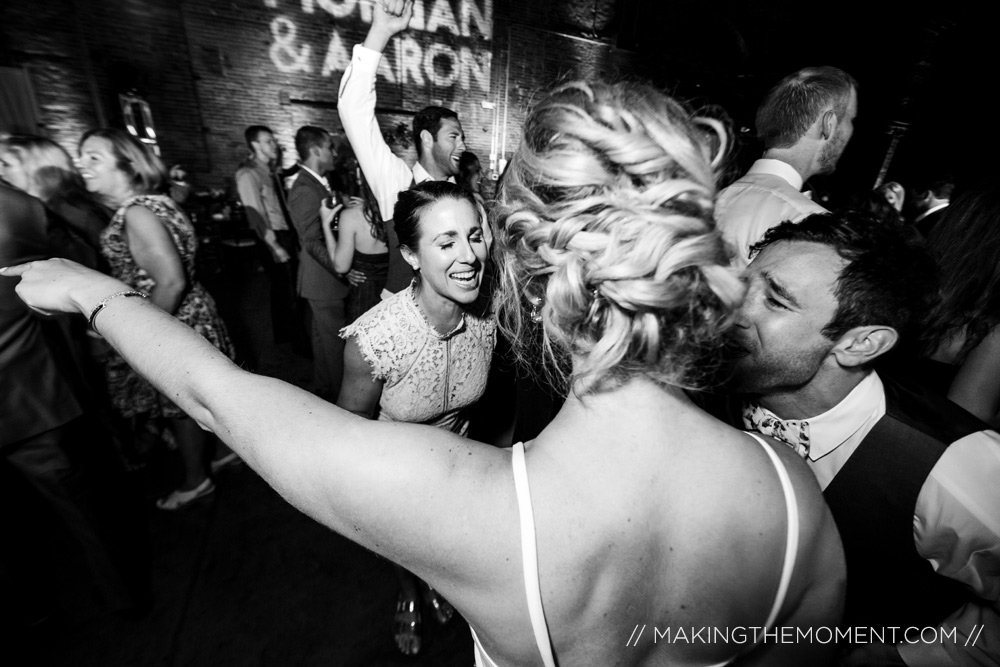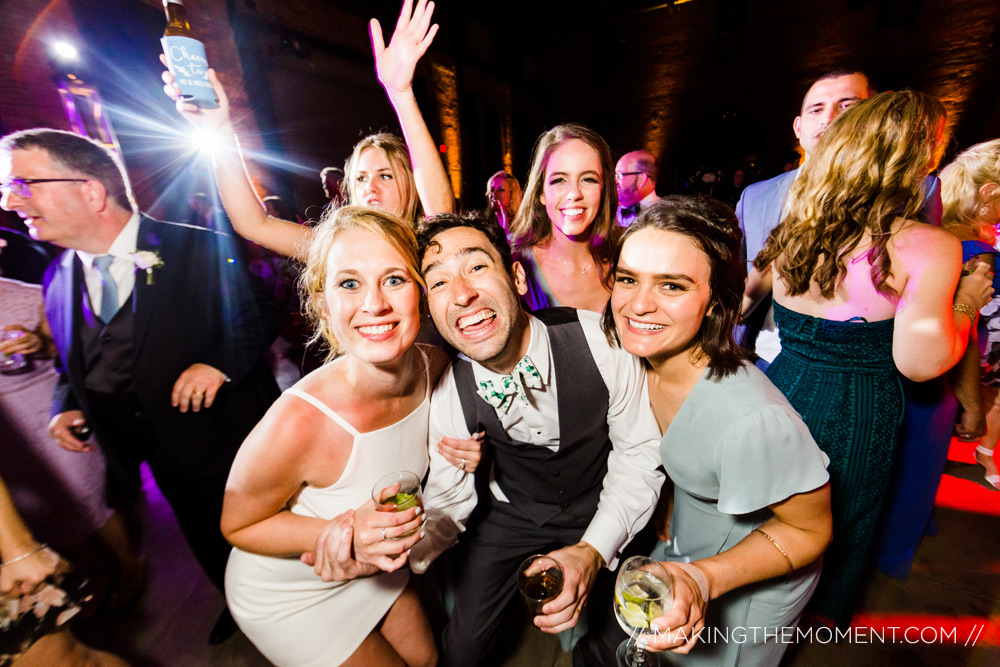 All joking aside; these images are the result of a wedding photographer staying at a reception.  So many wedding photographers leave wedding receptions early.  The best images happen near the end of the night.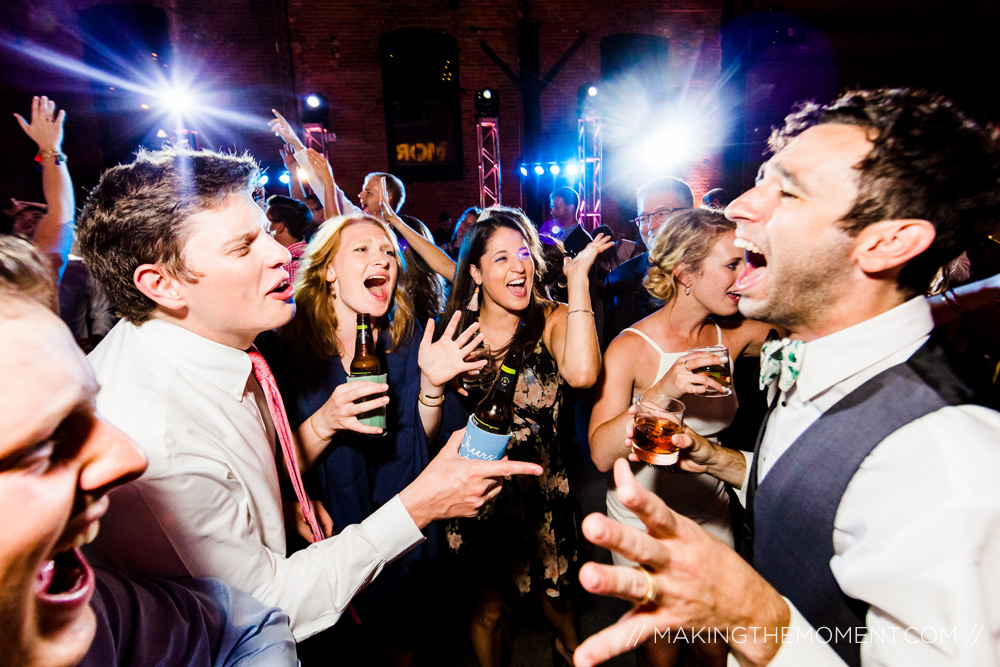 People let loose.  They cut up the floor.  They close off inhibitions and celebrate.  And the photographer sold you an "8 hour package"?  These moments are fleeting, fast, and quickly go. That's why we only offer all day wedding photography coverage.  We don't want to miss all of this.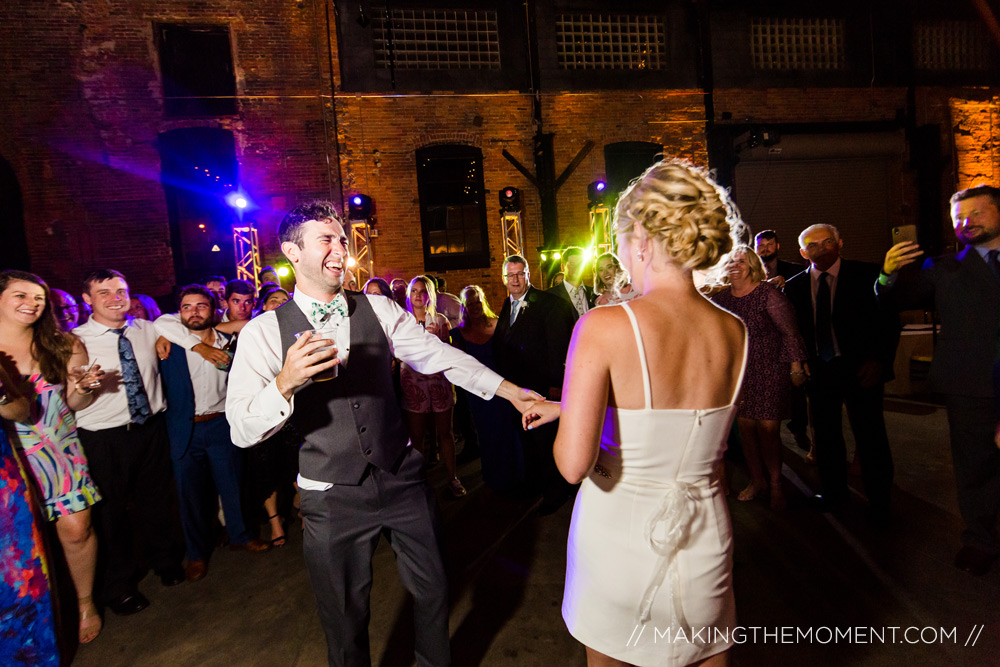 or this.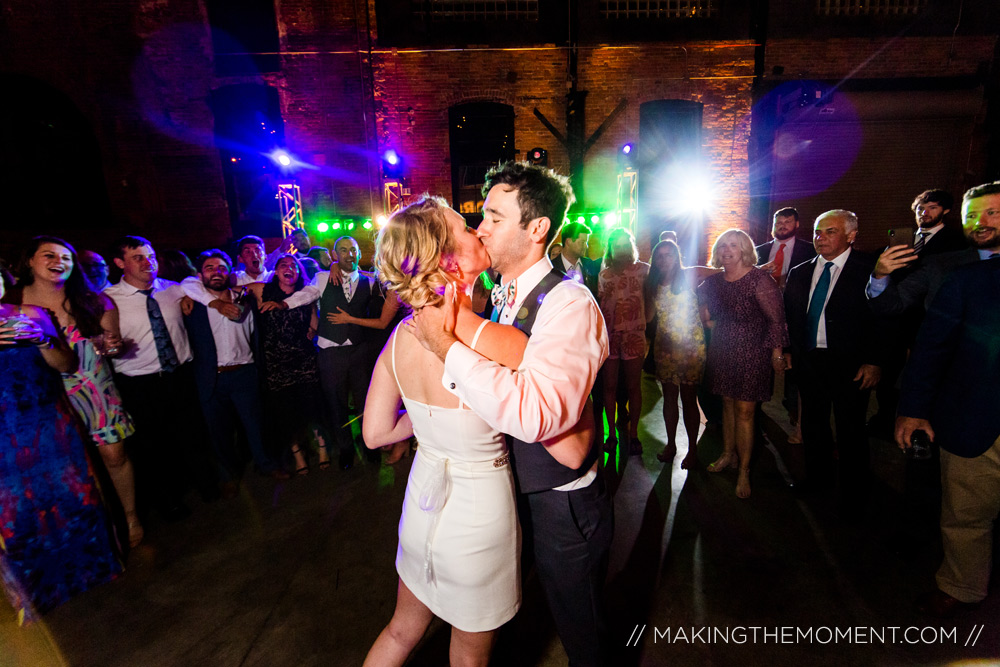 or that.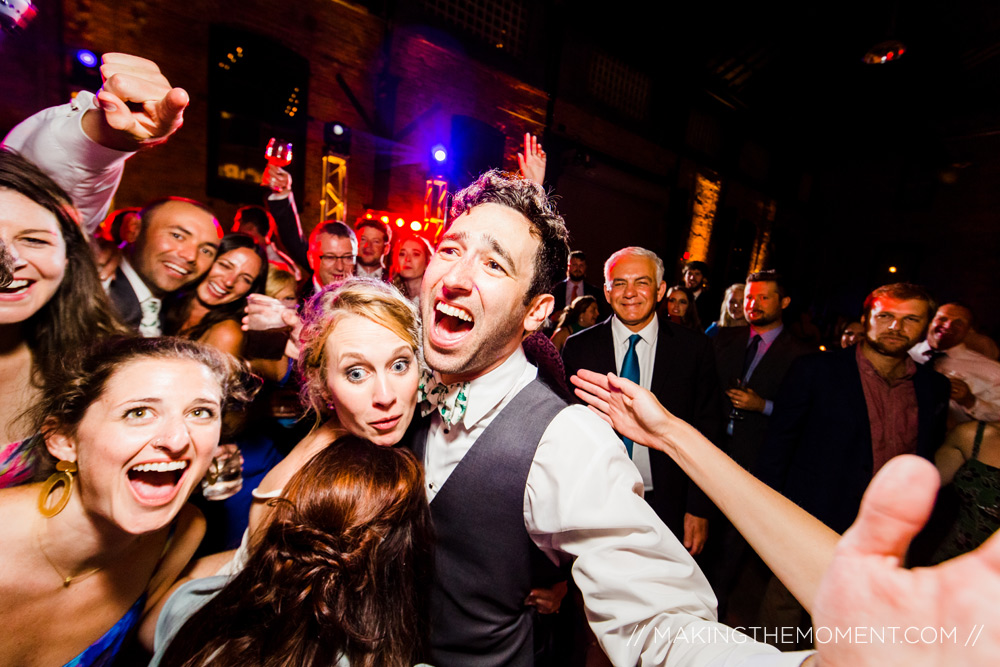 …and certainly not this craziness.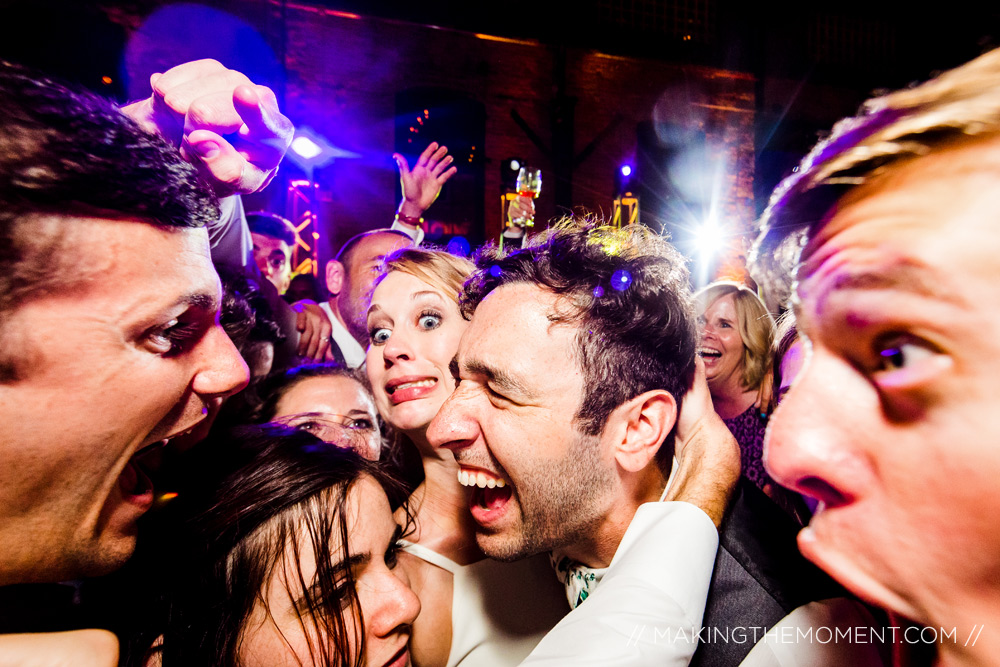 Morgan. Aaron.  Tenk you.