It's been a lot of work getting here. 8 Years in business, a few hundred weddings, and hundreds of thousands of individual pieces of artwork crafted for our clients, but here we are. It's exciting.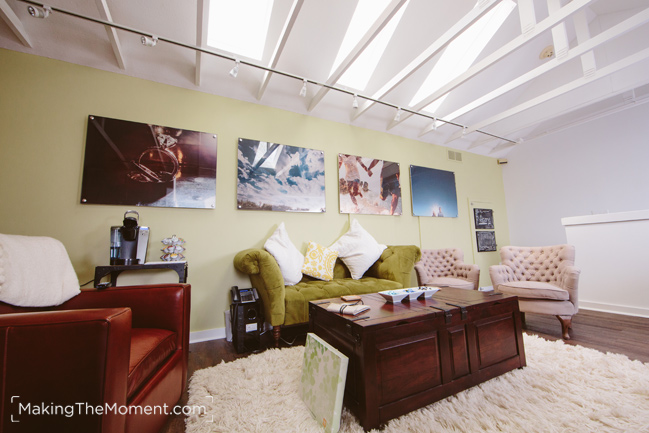 If you've been wondering why our blog has been quiet for the past 3 or so months, it's because our team (and lots of friends!) have been hard at work transplanting Making the Moment Photography's offices into our new creative offices in Westlake, Ohio. It's been a labor of love to say the least!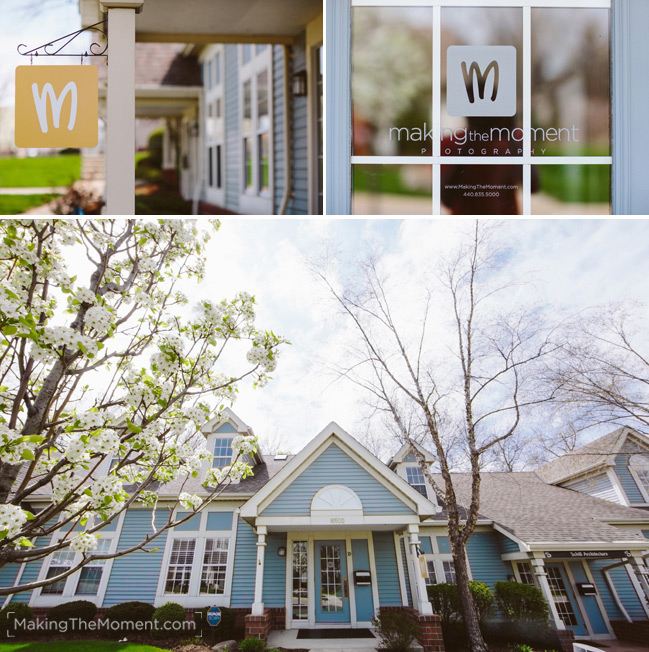 Our brand new creative photography office is located right by Crocker Park in Westlake, we're literally across the street from all the fun, shopping and fine-dining that is Crocker. It's a cool spot, and we're incredibly thankful to everyone who made this move possible!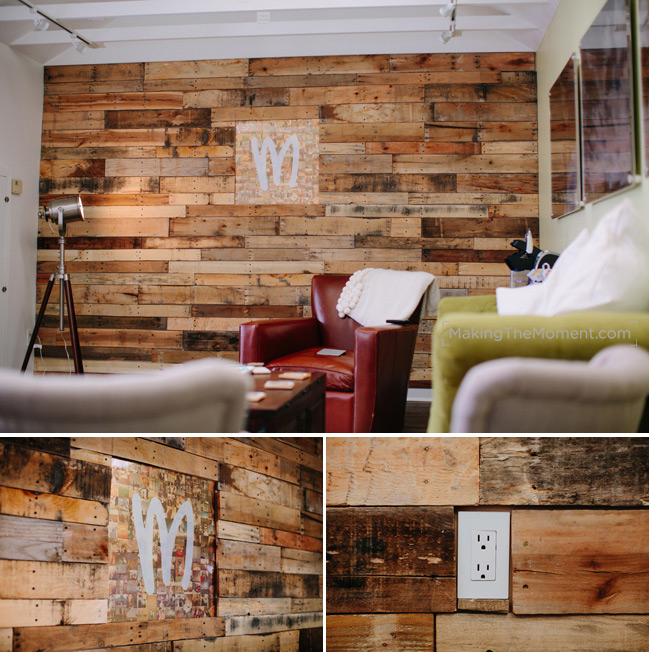 With the help of Jim & Nikki (I photographed their wedding last year, and now my wife and I count them as close friends), we transformed a typical wall into a fun and reclaimed Pallet wall. We collected and disected roughly 40 wooden pallets to build our own accent wall in our upstairs meeting room.
It took about 8 hours of work, and was a fun (and relatively cheap) undertaking. Pretty cool. We finished it off with a giant metal print of our logo with over a hundred of our favorite images pathwork overlaid.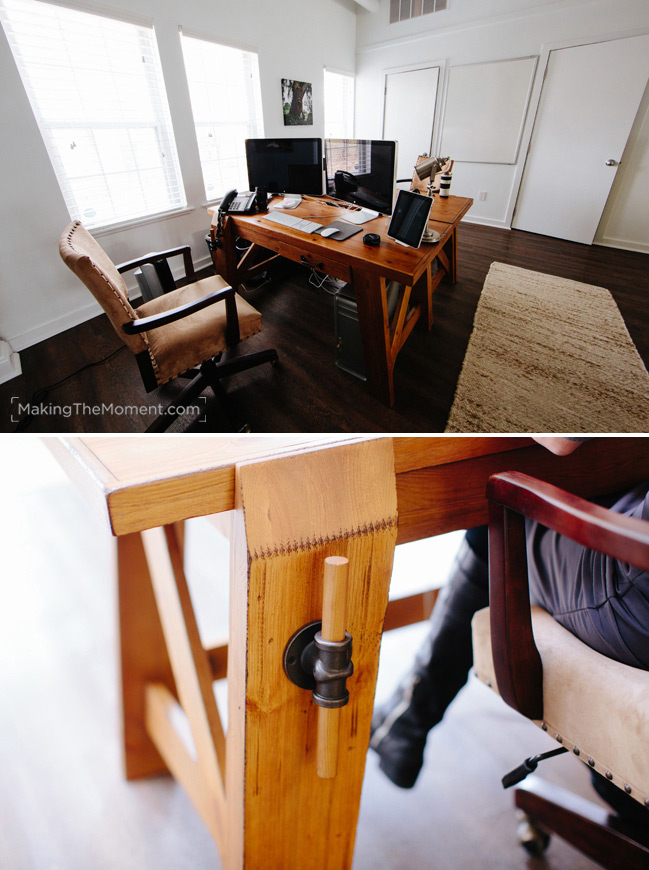 We found these really hearty wooden artisan desks at Pottery Barn.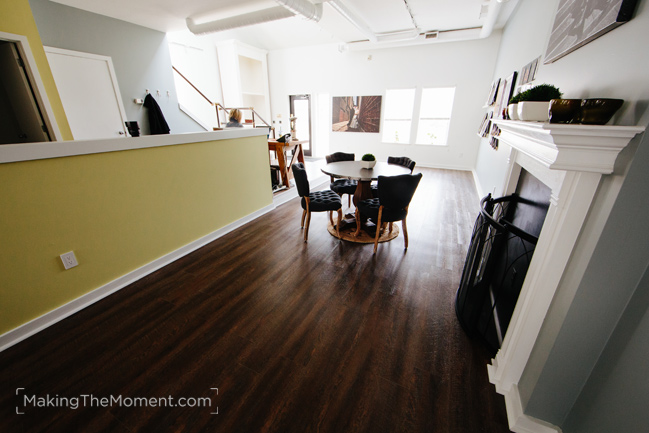 The floor was hand laid by our team and many friends. It took a LOT of time and patience, but the new floor is sooooo nice. Many thanks to Renee who lead the charge and taught us how to do it!
Check out the difference replacing the flooring, and some good painting can do above.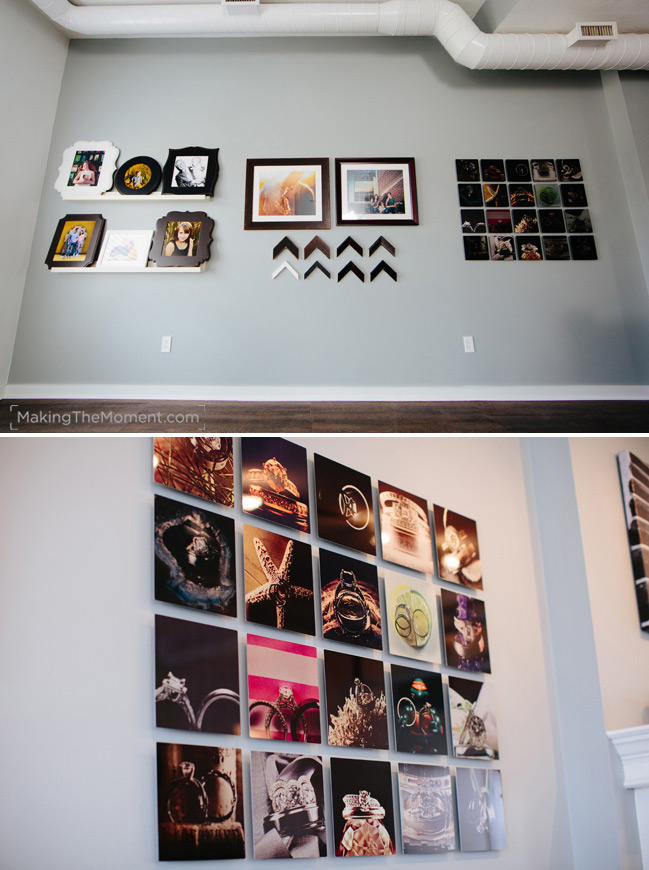 Above is our new art display wall, featuring our pretty nifty ring shot montage. One thing we're known for in our wedding photography is our funky ring shots, so we made a little tribute wall just for those.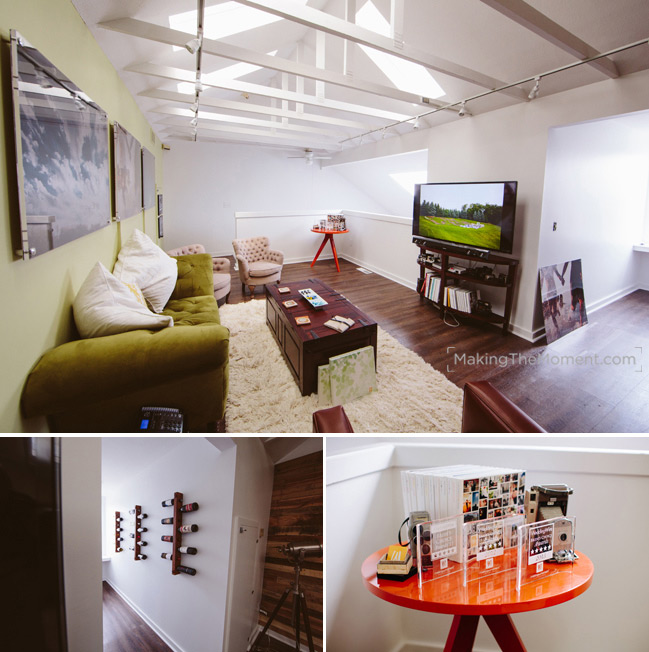 Our new office is FULL of sunlight, thanks to tons of skylights and lots of big windows. It's bright and happy and helps keep us creatives happy 🙂
Kudos, Credits & Thanks
The above transformation and work encompassed hundreds of hours of work from a mostly volunteer army of friends and clients. Words cannot express how thankful we are we are finally here in this office – and so much credit goes to those listed below. Many below sacrifced days upon days (and some nights) of hard work, and both myself, my family, and the team here at Making the Moment Photography are forever indebted to you.
Robynn & Dean – Gifted Interior Designers and Visionaries
Colleen Yacovella – Supportive and Patient Wife
Jim and Nikki Mikolich – Passionate Pallet Wall Engineers, Architects, Builders, and legendary friends
Jim Mikolich – Phenom Floor Layer, Beer Advocate, & ToolMaster
Renee Dunn – Construction Supervisor & Quarter Round Queen
Jordan Scheutzow – General Badassery & Floor Mastery
Dan Yacovella – Construction Coach, Tool Lender, Father
Luke Howell – Flooring Dude & Electrician 🙂
Jared Depolo – Flooring Achievement Unlocked
Andrew Depolo – Freaky Flooring Skills
Brian Depolo – Wall Outlet Installer & Mover Extra-ordinaire
KevBot – Wall Art Hanger-upper Master
Matt Dotson – Prince of Paint
Amber Barnes – Vinyl Flooring Friend & Mover
Dale Barnes – Mister Mover Himself!
Scottie Howard – Muscles McGee Mover