A Beautiful Summer Wedding Day
Calls for Merriment & Shenanigans
The Art and Story of
 Rikki + Josh
What do you get when you combine a cheerful, light-hearted couple with a rowdy group of groomsmen, a high-spirited group of bridesmaids, and a stunning venue? You get Rikki + Josh's super fun wedding! When I tell you there are some gems in this set of images, I am not kidding. Laughter galore, a midday game of Rock Paper Scissors, even a crowd-surfing groom, it's all here. But don't be fooled, there were also plenty of tender moments that would make anyone say "awwww" 🥲
Let's not forget about the beautiful venue they picked for their big day! After their church wedding at Amasa Stone Chapel, Rikki + Josh celebrated with a huge reception at The Old Courthouse in Downtown Cleveland. It's one of our favorite wedding venues. The amazing architecture, space to hold all your closest friends and family, and proximity to great photo ops downtown, there are so many reasons to love an Old Courthouse wedding. But I digress; let's get back to Rikki + Josh!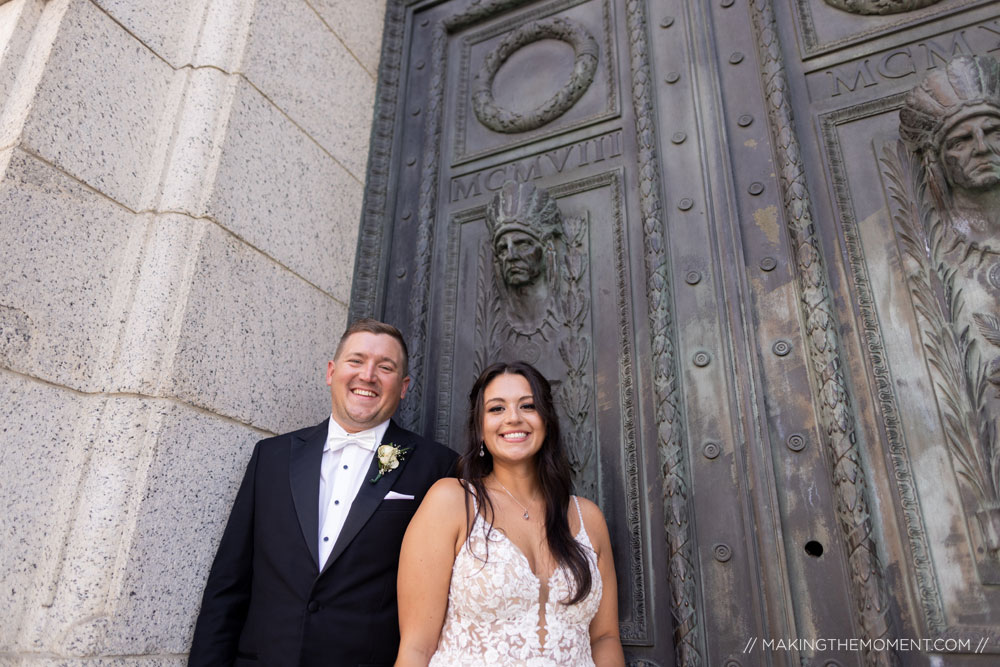 In case you've never met Rikki or Josh, here are their faces for your reference 😍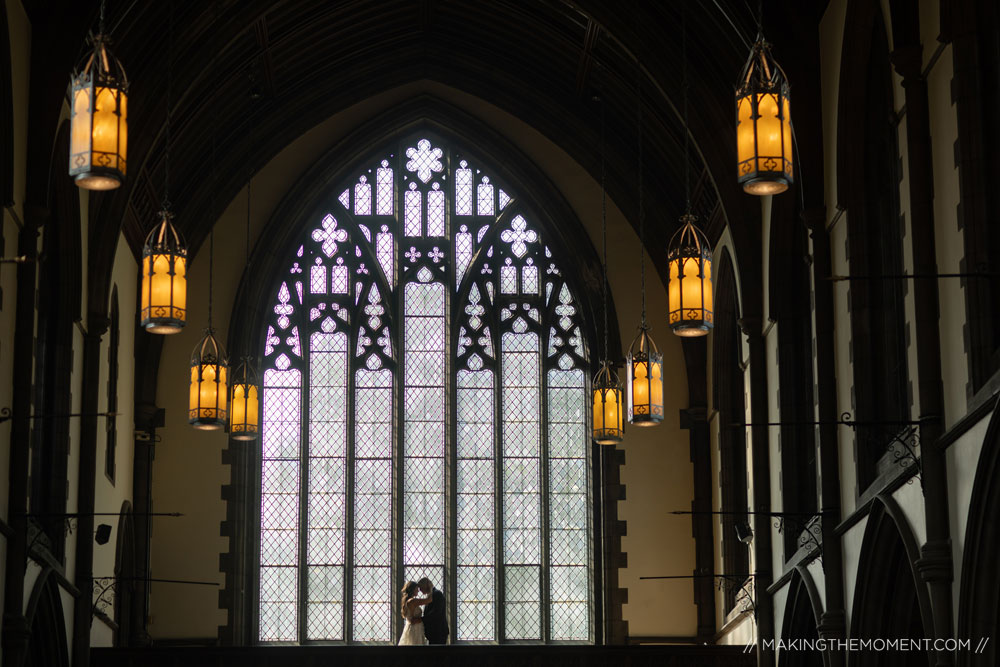 And here is the amazing Amasa Stone Chapel, where they held their wedding ceremony, located on the Case Western Reserve campus.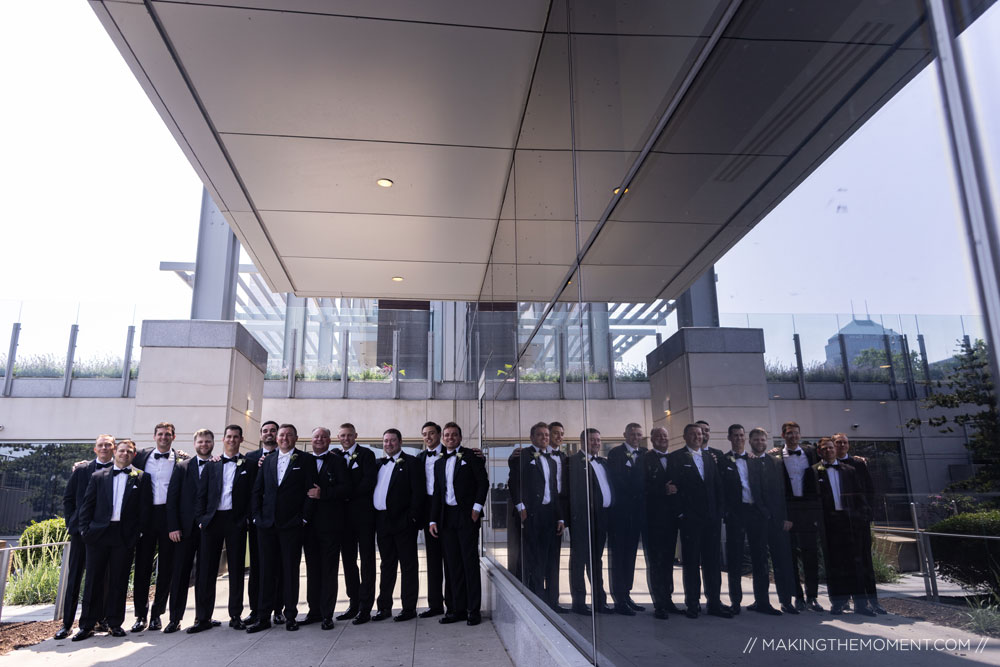 Remember that rowdy group of groomsmen? We'll see more of them in a little bit.
Our Wedding Photography is not possible
Without
AMAZING

Cleveland Wedding Vendors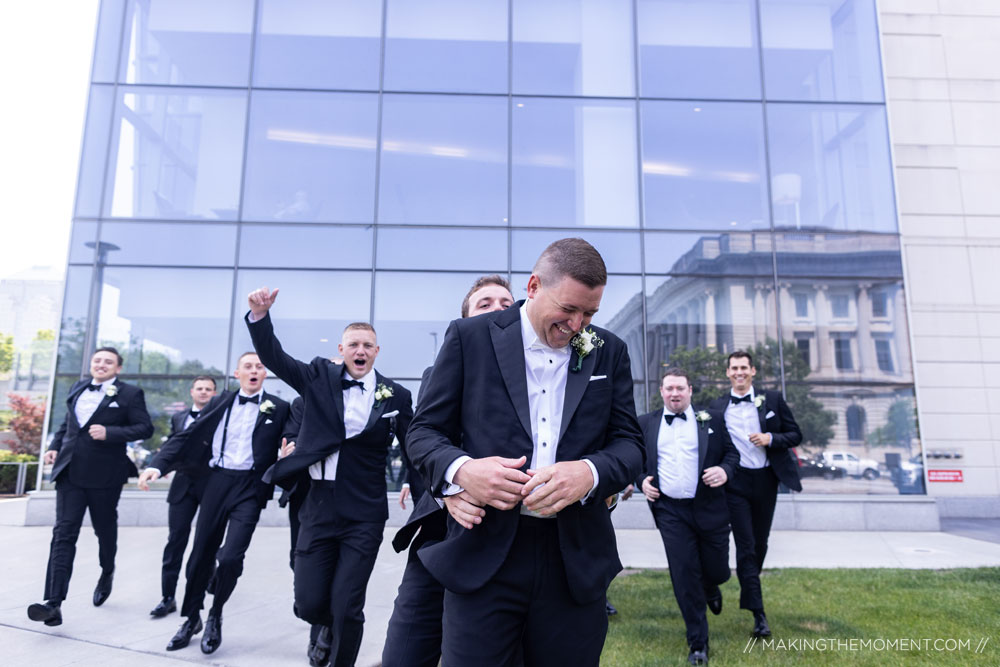 Ah here they come! Wait for it…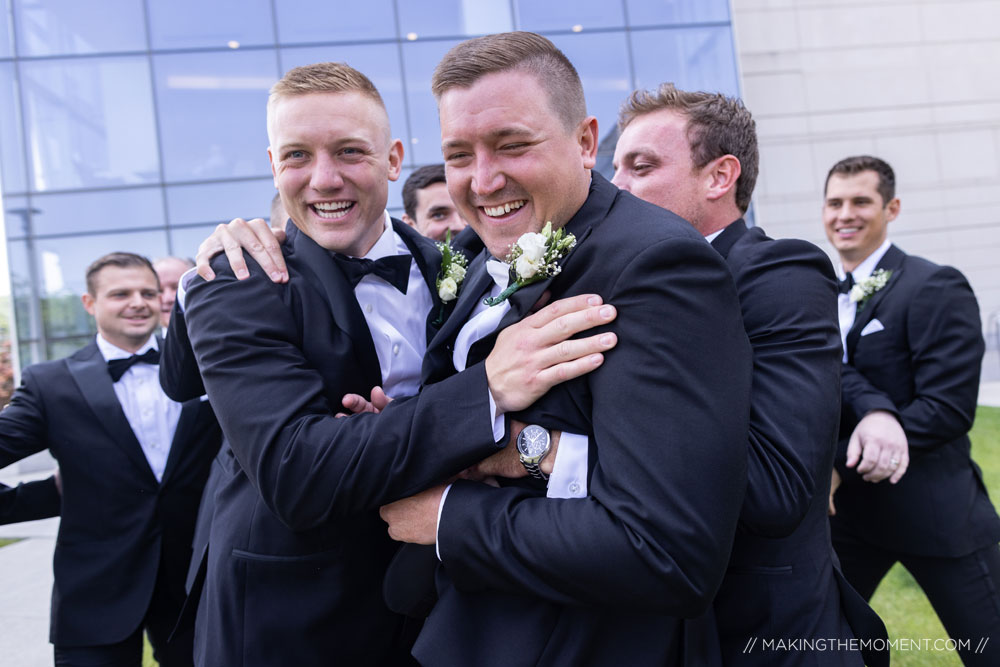 Wait for it…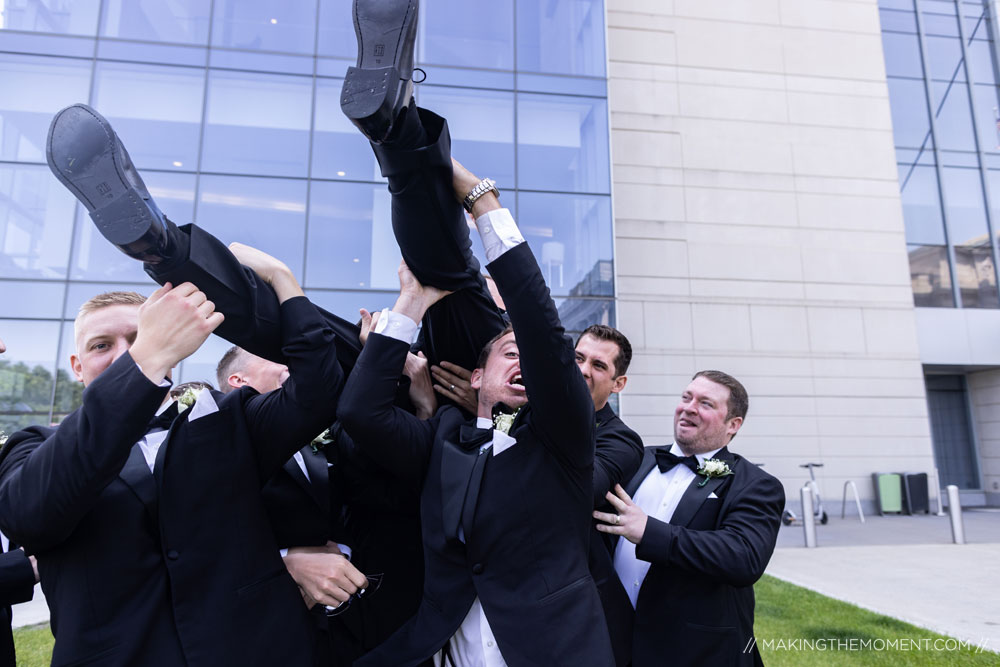 Josh didn't stand a chance against the groomsmen. I was told later that several groomsmen "credit card" swiped josh [ whatever that means 🤷‍♂️ ]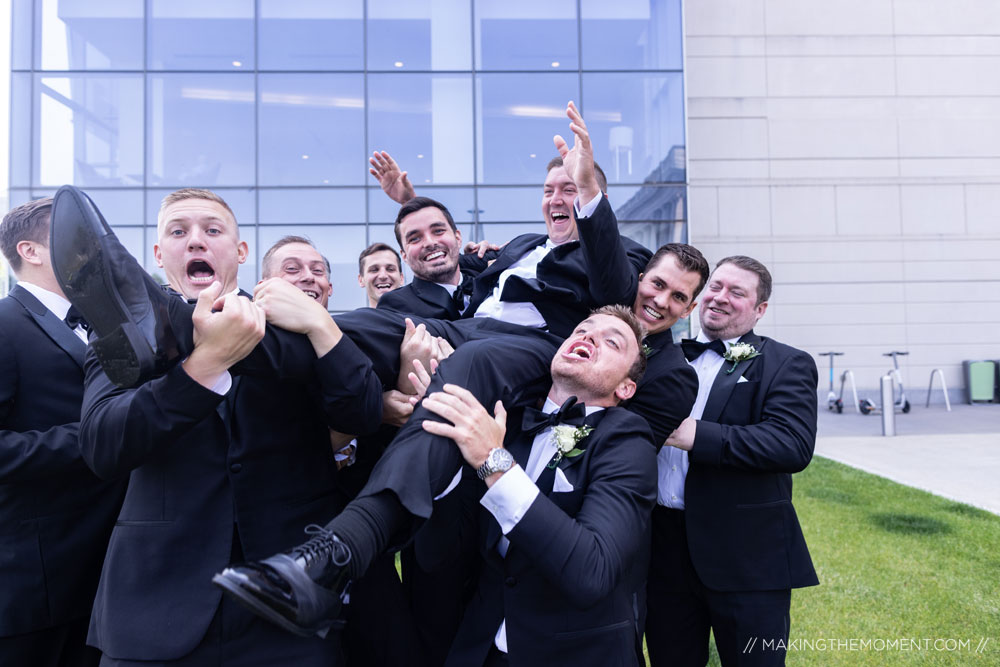 I told you! Rowdy. The groomsman holding Josh's leg up front and center, his face says it all.
"Our experience with Making the Moment was honestly incredible... It was the perfect mix of offering direction without being over bearing

Rikki

The Bride
In Their Own Words.
That's right. Every word you've read on this page so far regarding this wonderful wedding [ catch the alliteration there. Pretty brilliant, right? ] has all been word-smithed and crafted by us [ we're not only gifted wedding photographers, but also not too shabby in the content writing department ] Humble Brag / Self enthusiasm aside; we mean every word on this page, but it's important that you hear from our couple too.
We asked a few questions of them about their wedding; and hope you enjoy their answers 😀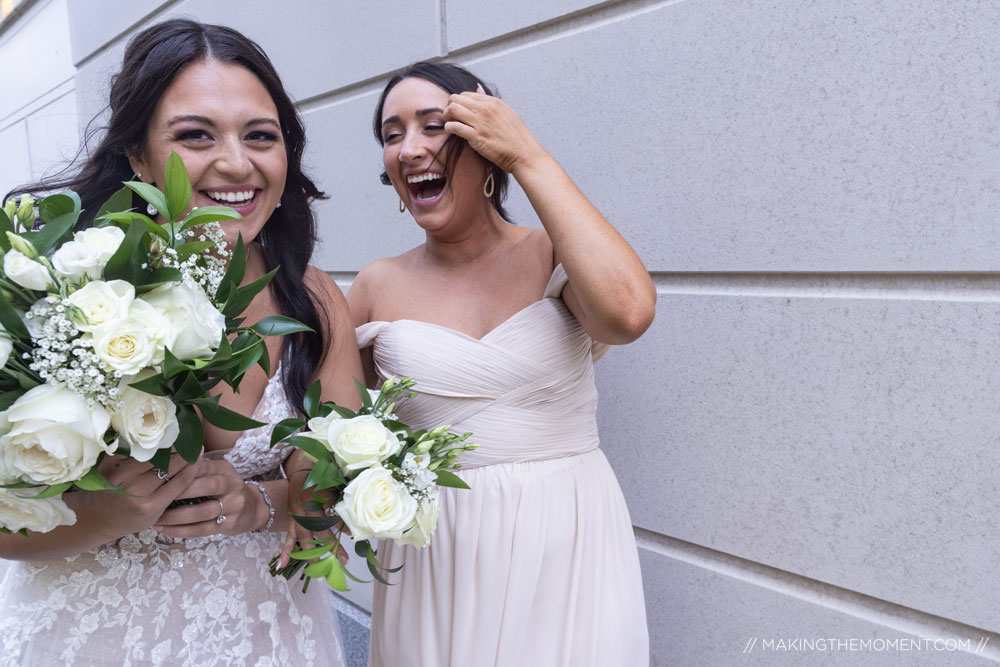 The ladies showed a bit more restraint, but you can tell they were still having a blast and enjoying the day together 👯‍♀️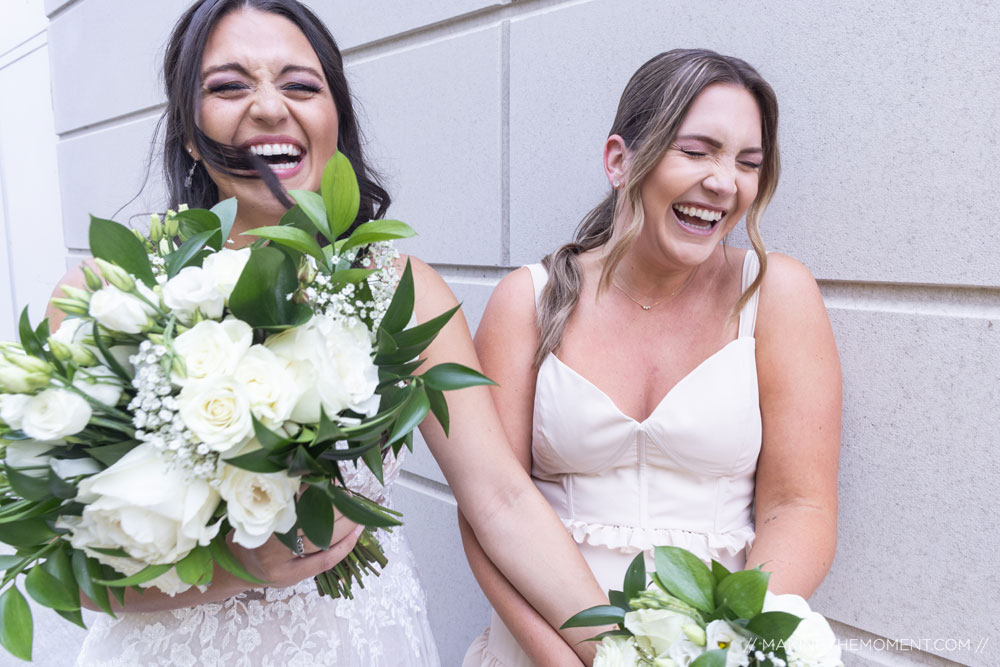 Who said what to get this reaction?!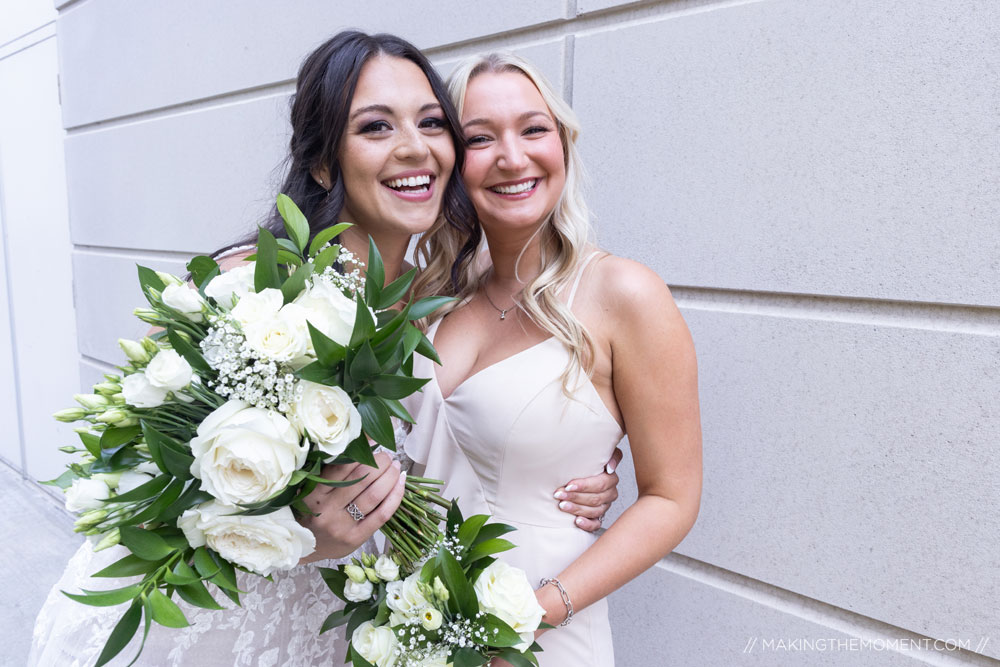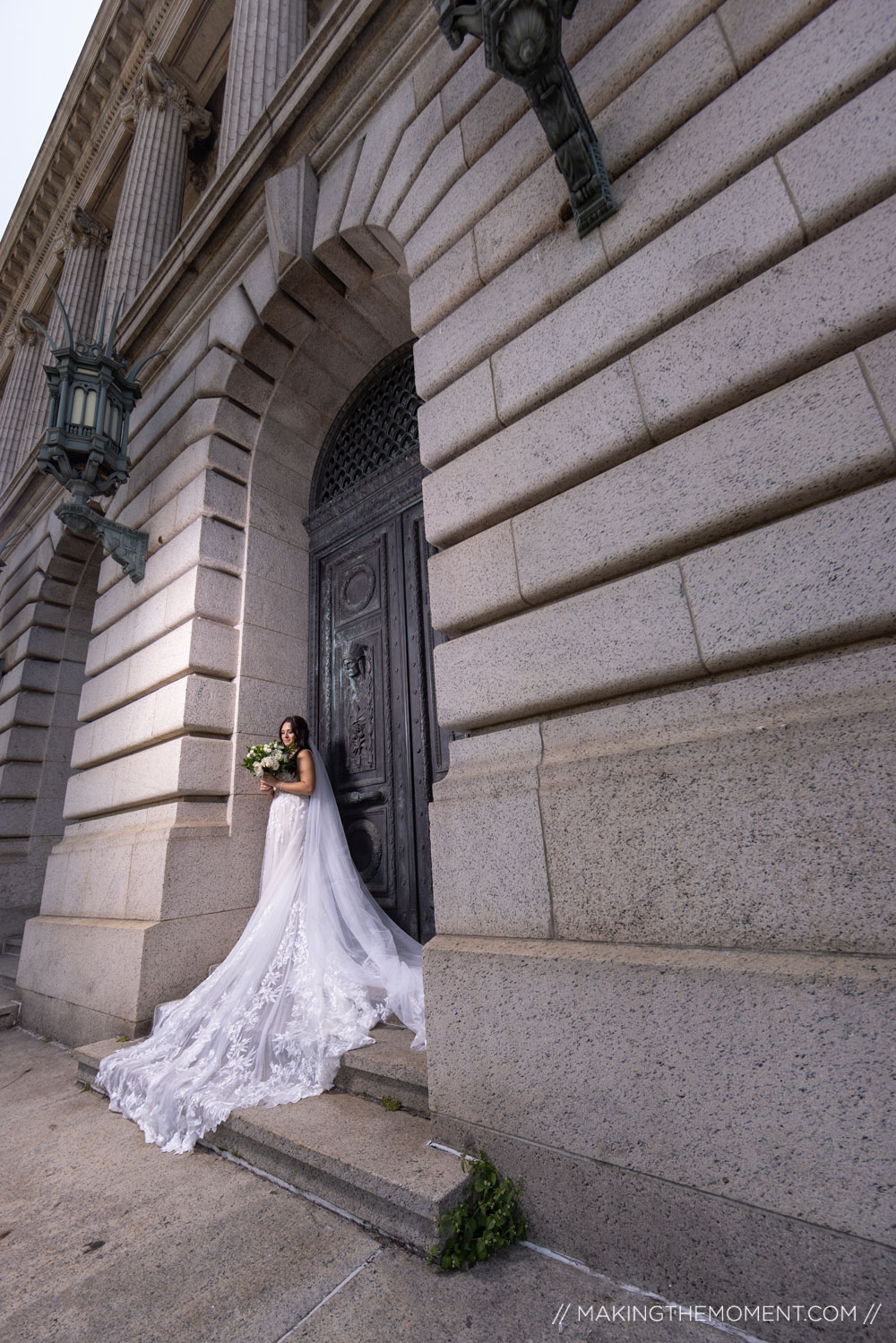 Rikki was a truly stunning bride. This image really does make a statement, doesn't it? With her lace train flowing and the elegant building rising up behind her; I ALWAYS take a moment to capture a timeless [ and yet modern ] bridal portrait.  Bonus points that I was able to photograph this right outside the courthouse where their wedding reception would be in a few hours.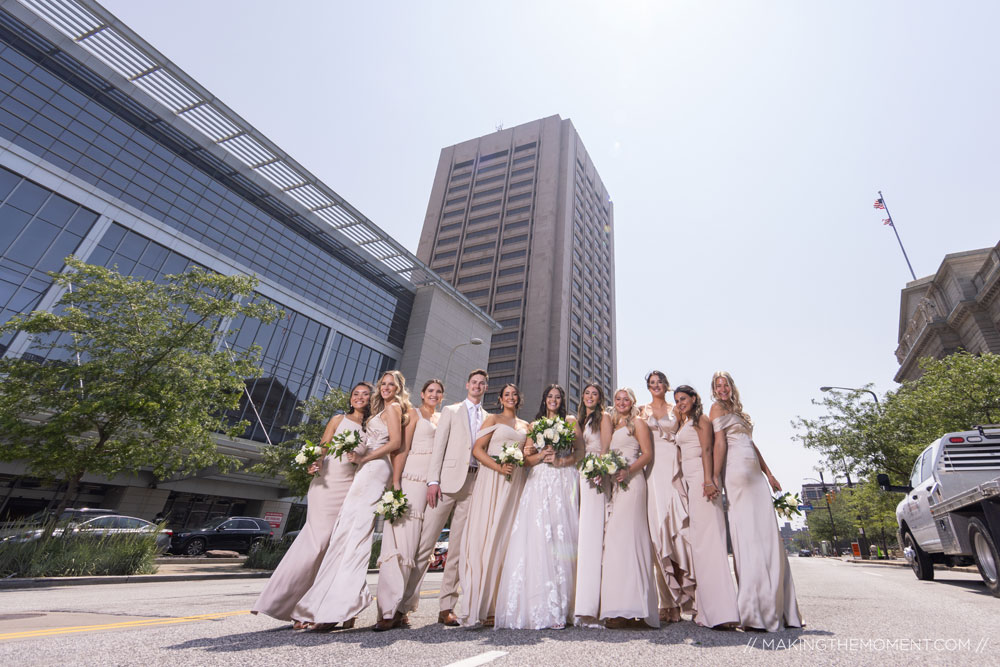 And this bridal party; brave enough to step in the middle of lakeside avenue with me for a quick pic!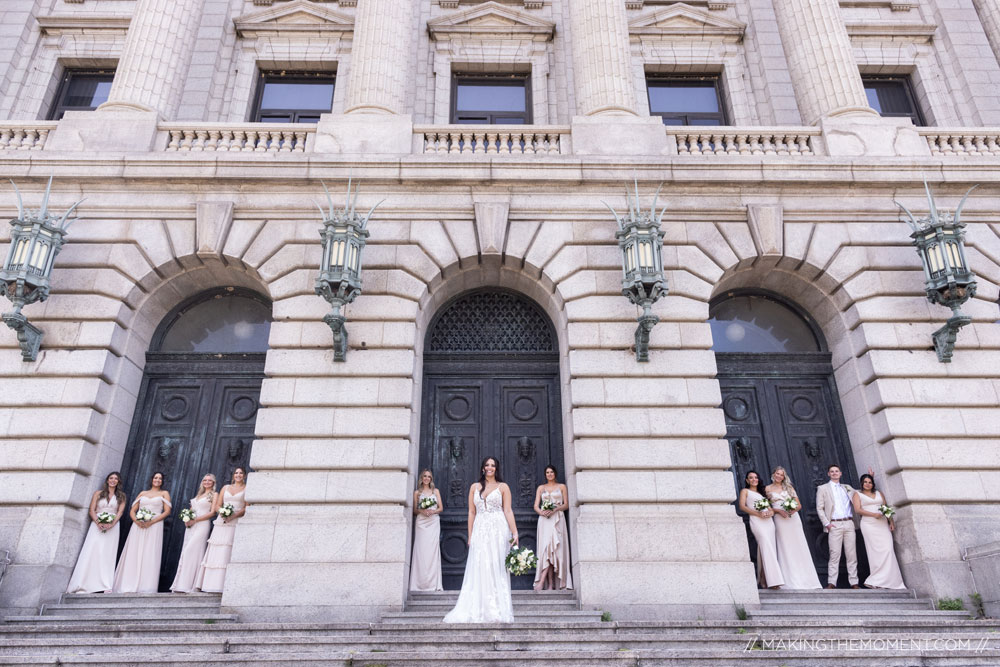 If that doesn't stop your scroll, I don't know what will.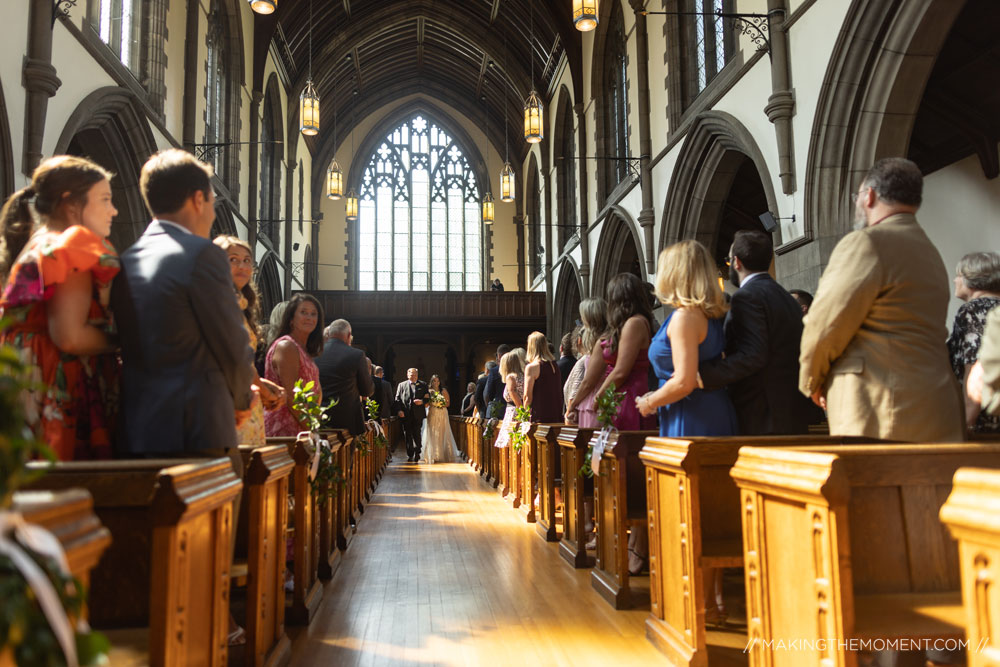 Time to get married! I used to be nervous at the wedding processional at a church wedding. As a photographer you sense the emotions rising, and when I was less experienced as wedding photographer I was always afraid I'd miss these moments.  Fast forward to 17+ years as wedding photographer in Cleveland and I've mastered the art of not only capturing the bride's processional itself, but also capturing so many little side stories as she comes down the aisle [ groom crying, mom's crying, drunk uncle mike crying, etc ]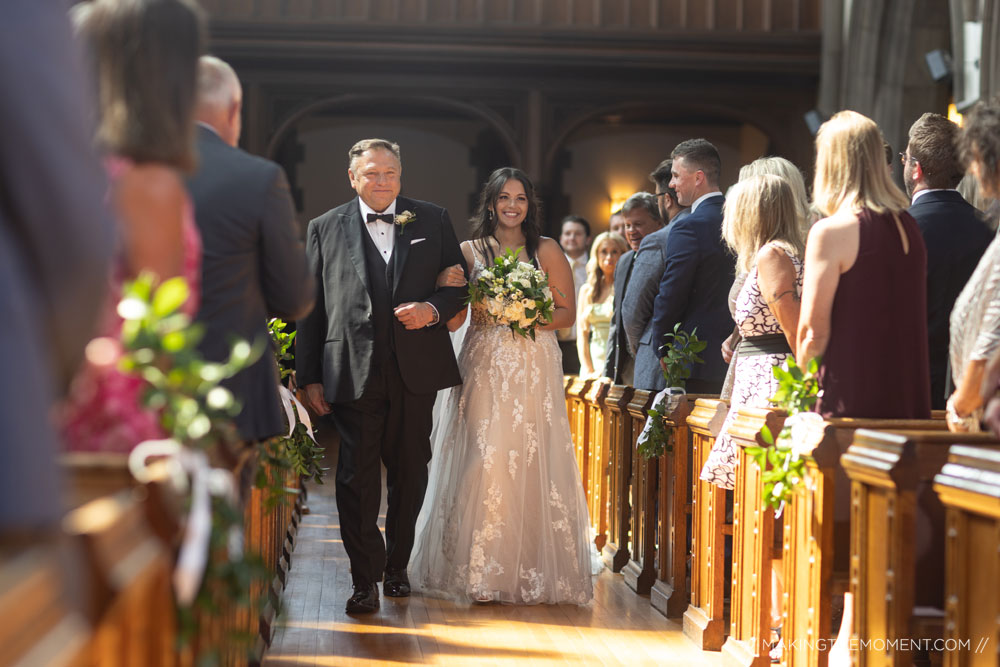 I love the looks that dads give as they walk their daughters down the aisle.  I have 3 daughters; I know I'll give this look a few times myself [ cue the tissues please ]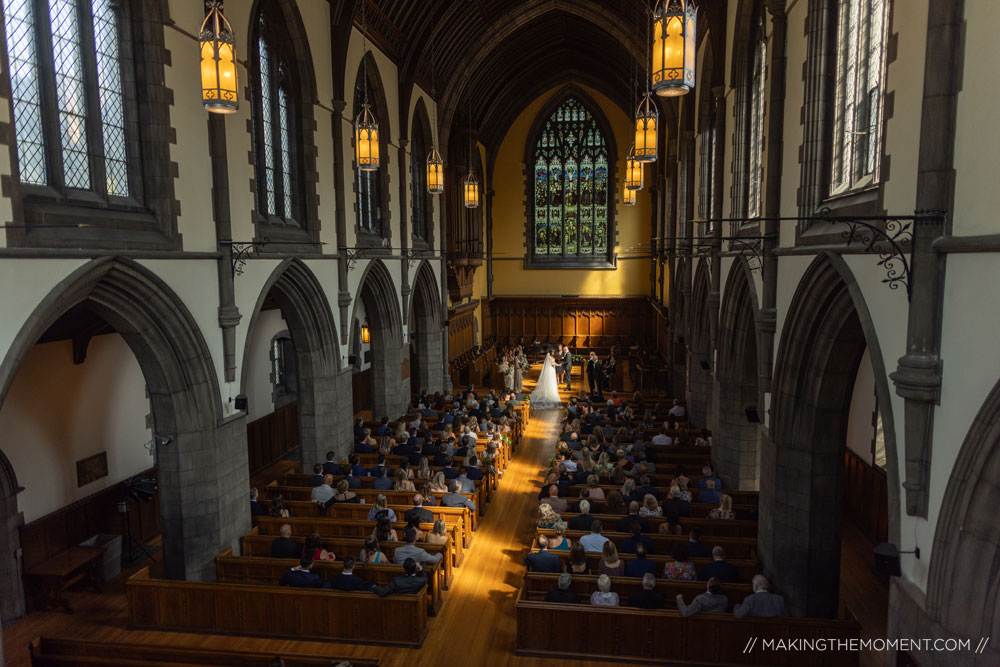 It's amazing how a space so grand can feel so intimate during these quiet wedding moments.  The amasa stone chapel is a fantastic location for a wedding ceremony in cleveland.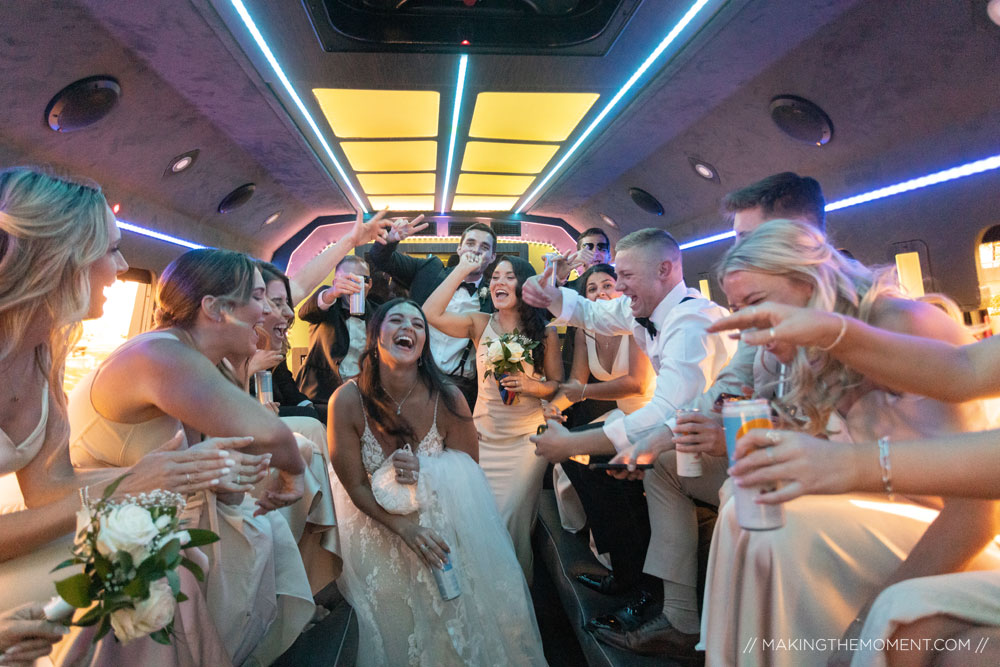 But the quiet sure didn't last long!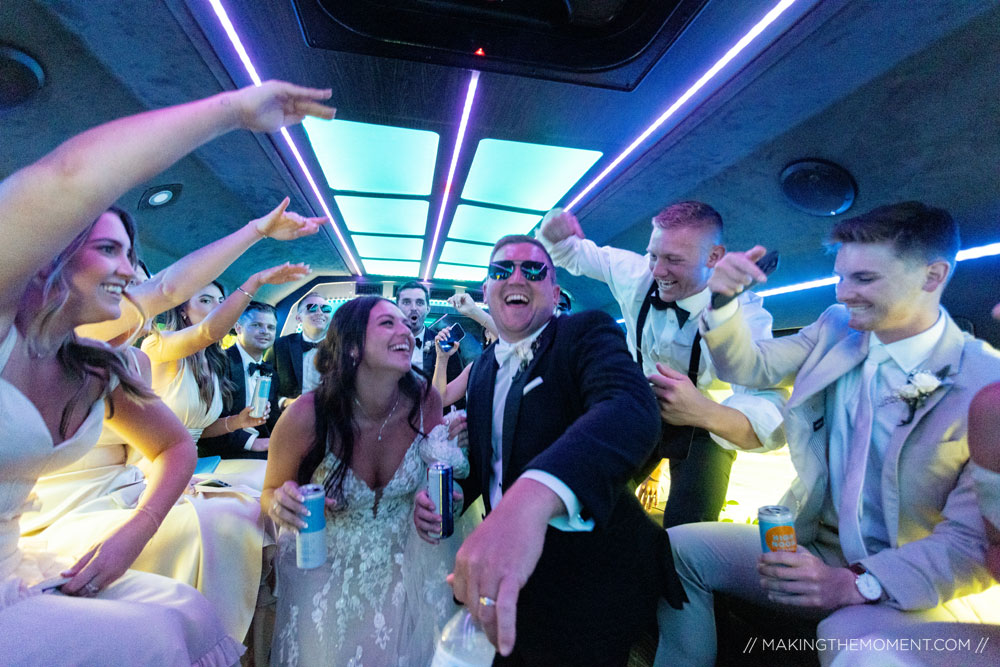 It's time to PARRRRR-TAYYYYYYY 🎉🎉🎉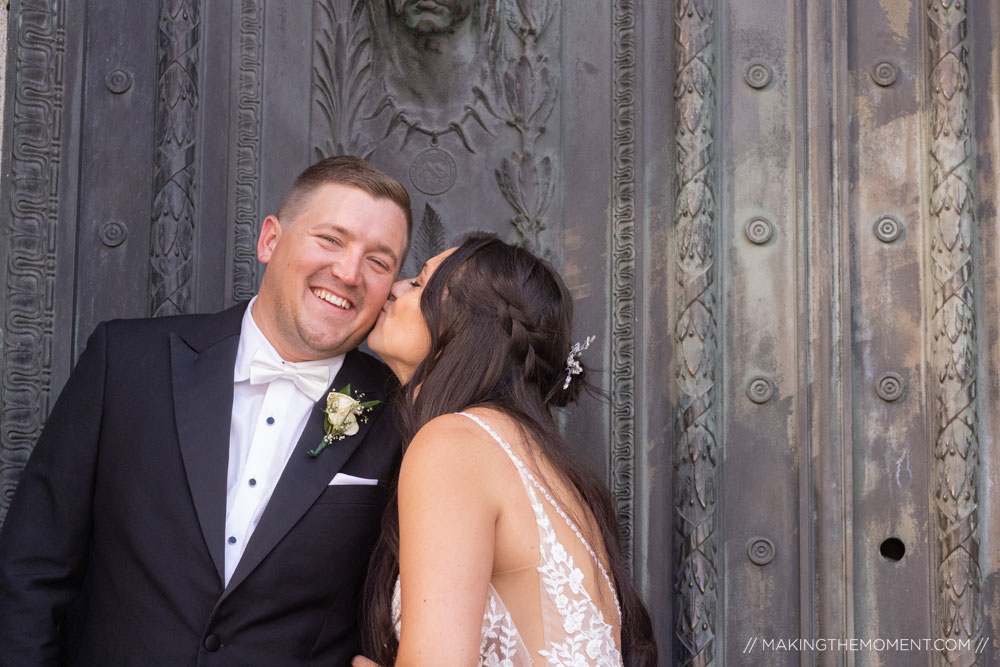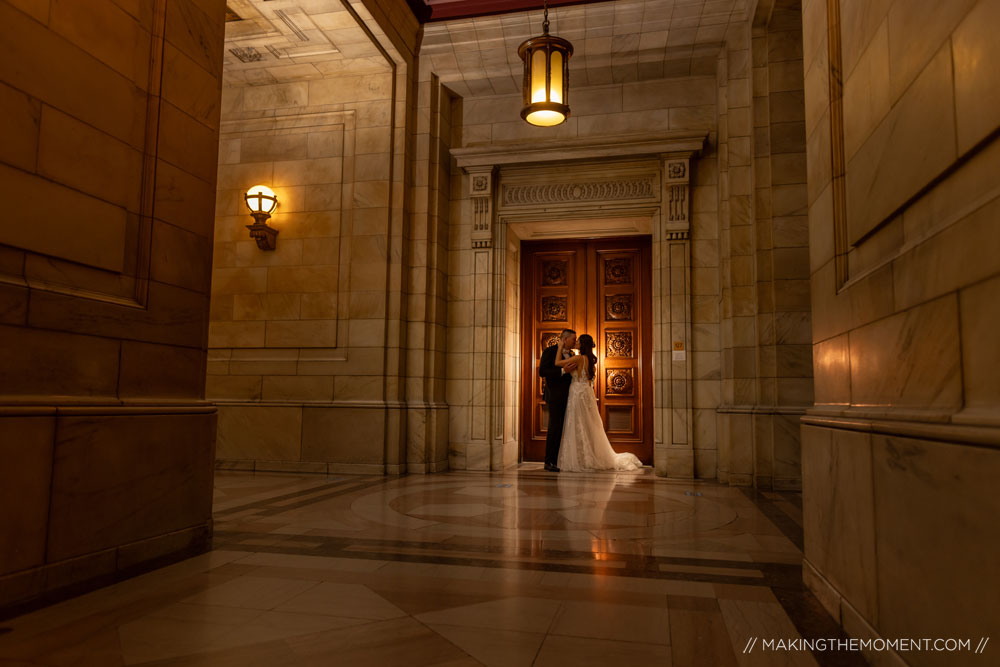 I love photographing weddings and wedding receptions at the old courthouse in cleveland. Every time I'm inside the courthouse I work hard as wedding photographer to use it's unique and classic architecture for wedding portraiture.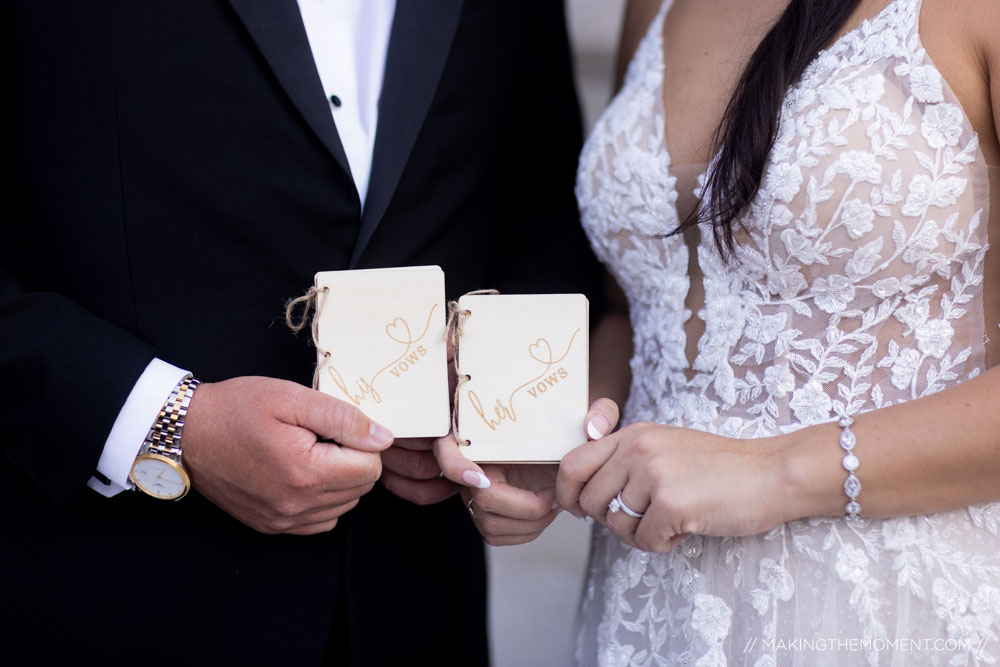 Rikki and Josh chose to share private vows before entering their wedding reception at the old courthouse in cleveland.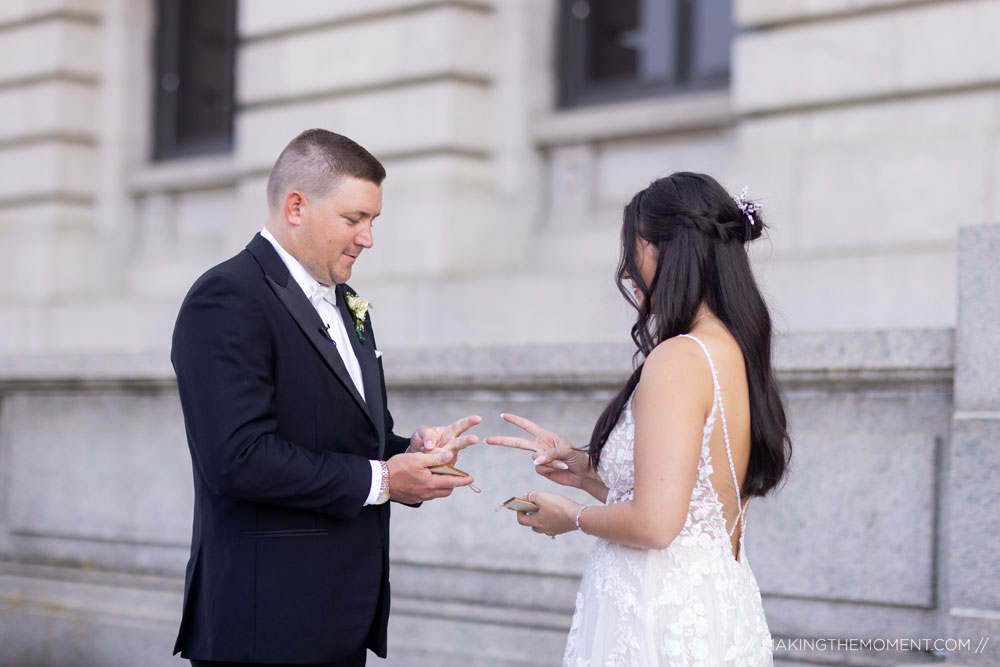 Remember how I mentioned that midday game of Rock Paper Scissors? Here is the photographic proof.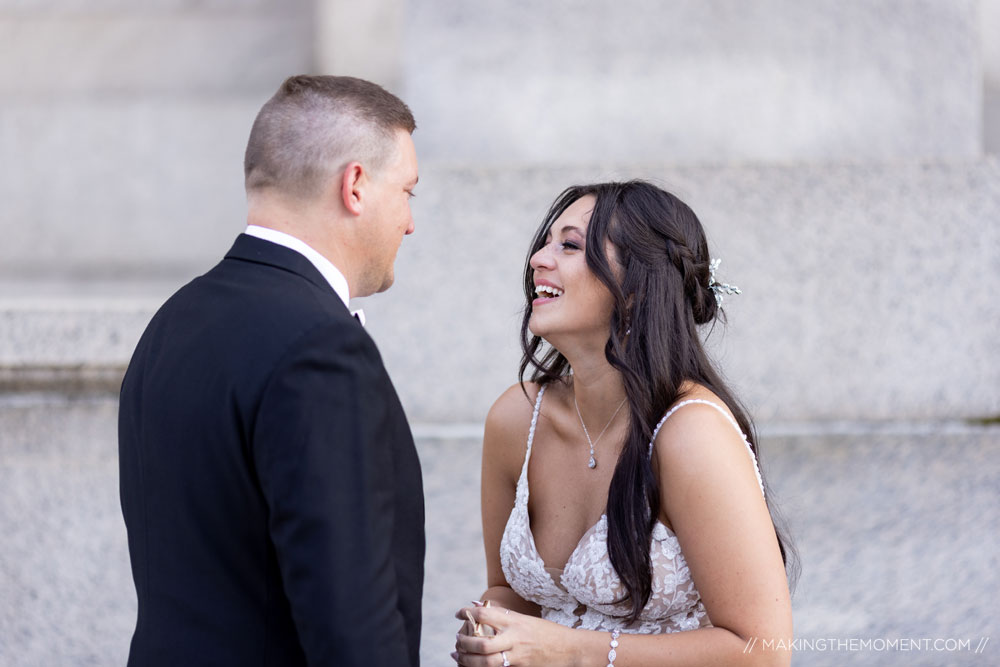 Rikki won.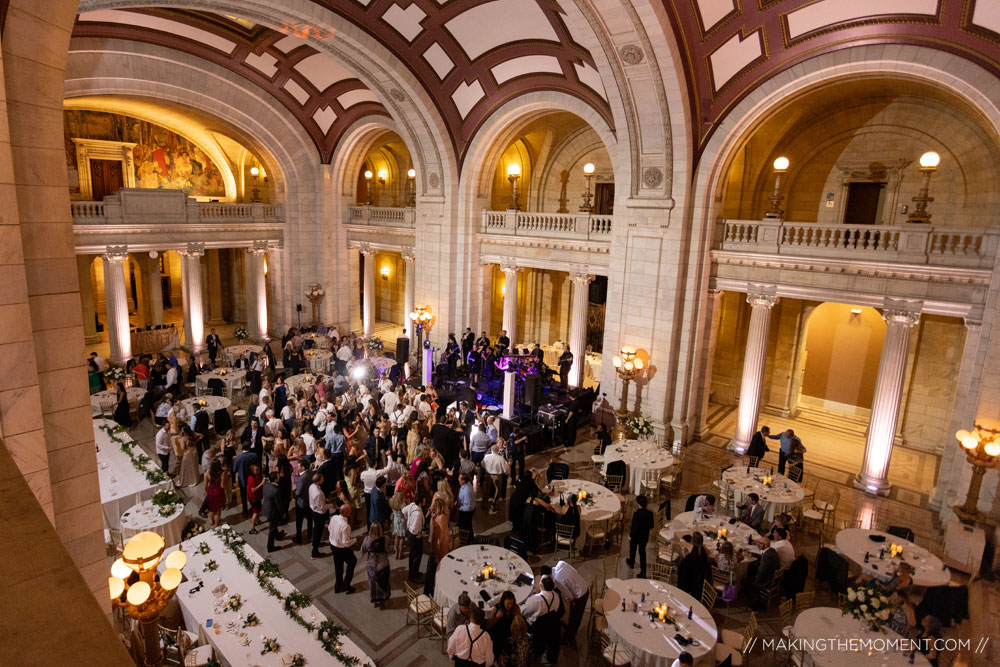 Ahhh the Old Courthouse. So majestic. So classic. So beautiful. Probably a little sweaty right now too 😓🕺🏽💃🏽.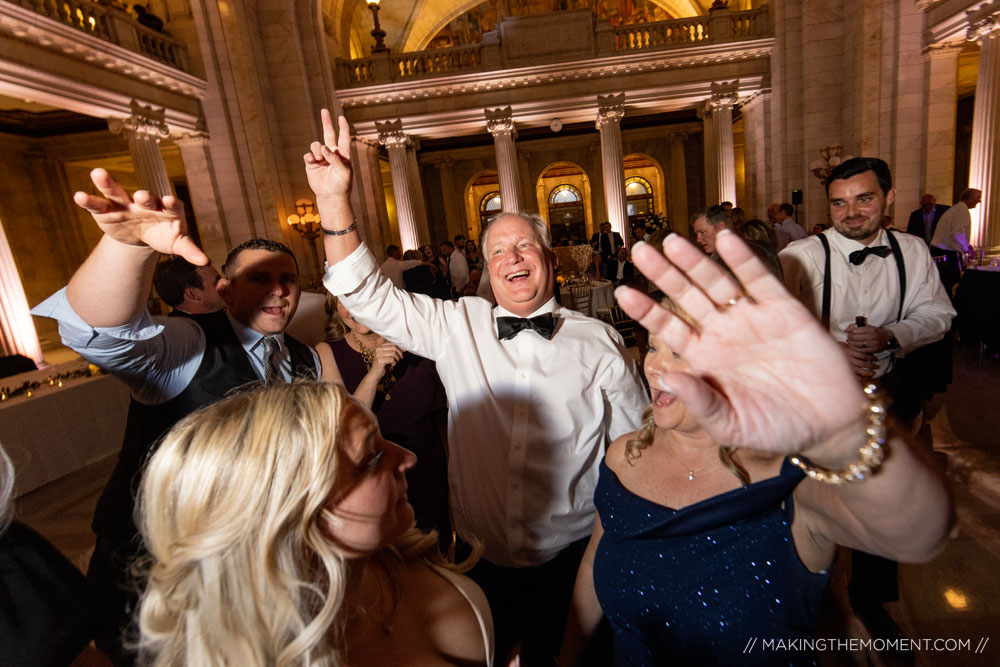 Hands up! I sometimes high five guests during reception dancing. I've discovered that drunk people REALLY love to high five the wedding photographer.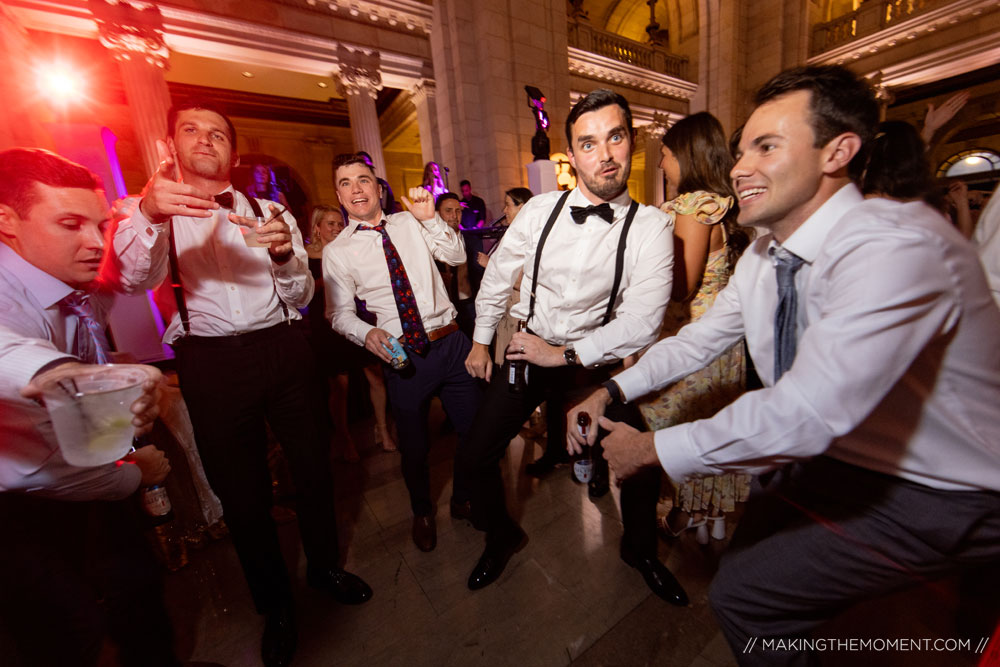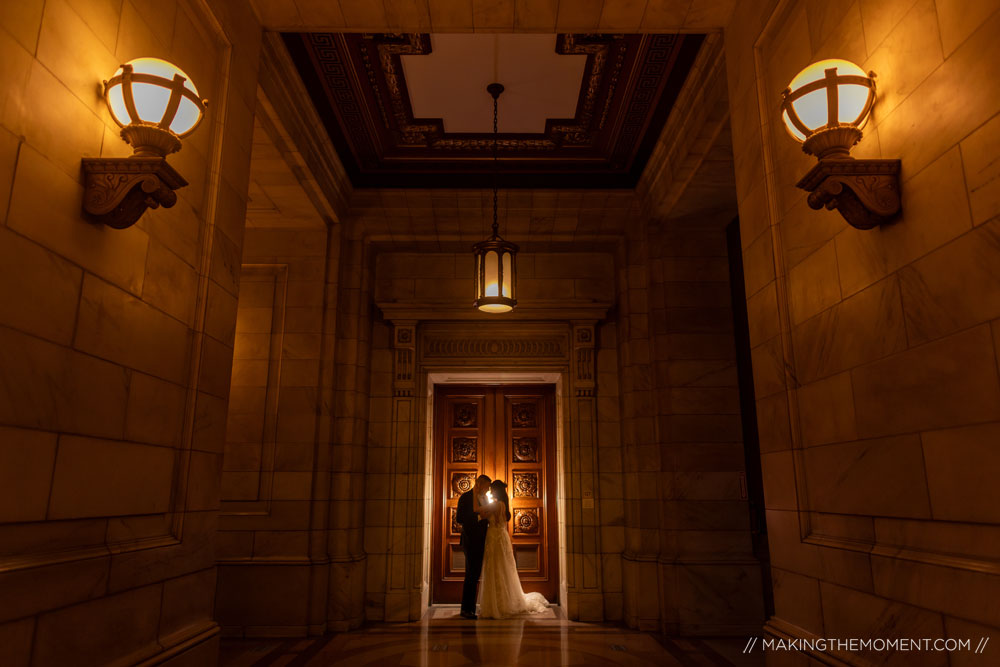 Thank you, Rikki + Josh, for trusting us to capture your special day! It was an honor to share in your joy with you 🥰  I am SO proud of your wedding photography; and had SO much fun with you two!